---
USA. 2015.
Crew
Director – David Gelb, Screenplay – Luke Dawson & Jeremy Slater, Producers – Jason Blum, Matthew Kaplan, Jeremy Miller & Cody Zweig, Photography – Michael Fimognari, Music – Sarah Schachner, Visual Effects – Ghost Town (Supervisors – Jeff Licthfuss & Brendan Parvani), Special Effects Supervisor – Zachary Knight, Makeup Effects – Fractured FX, Inc. (Designer – Justin Raleigh), Production Design – Melanie Jones. Production Company – Blumhouse/Mosaic Media Group.
Cast
Olivia Wilde (Dr Zoe McConnell), Mark Duplass (Dr Frank Walton), Sarah Bolger (Ava), Evan Peters (Clay), Donald Glover (Niko), Ray Wise (Mr Wallace)
---
Plot
At St Paternus University in Berkeley, Dr Frank Walton and his fiancee Zoe McConnell co-head a research project into reviving brain cells. With the discoveries they have made, they believe they are now able to revive the dead. The process is first attempted on a dog and they are startled when it makes a complete return from death. However, some of the team note that the dog is behaving in odd ways. Before they can do anything further, the project is shut down by an anonymous call to the ethics committee and then all of their materials commandeered by the pharmaceutical company that funds their research. Frank decides they should break back into the lab at night and repeat the experiment, documenting everything on video to prove they created the process. They do so and are about to revive another dog when the mains short and Zoe is electrocuted. A heartbroken Frank then insists that they use the process to revive her. This is successful but it soon becomes apparent that Zoe has returned not right. Scans show that she is using 90% of her brain, giving her the ability to read minds and levitate objects. Seemingly taken over by something evil, she begins to attack the rest of the group as they remain trapped inside the lab.
---
The Lazarus Effect is another effort from the rising Blumhouse production company of Jason Blum who specialises in medium-budget horror. Blum found a great deal of success as producer of Paranormal Activity (2007) and sequels and has gone on to fund a series of medium-budget films for theatrical release, which have enjoyed a great deal of success in the last couple of years. (See below for Jason Blum's other films).
Jason Blum may well have struck it big with the Paranormal Activity series but as he has grown in popularity the canniness of what he is capable of doing is being stretched thinner. He has had a good run with the Paranormal Activity sequels, yet for every modestly effective horror film he was turning out a couple of years ago with the likes of Insidious (2010) and sequel or Oculus (2013), we are now getting an Ouija (2014) or a The Boy Next Door (2015) and, sadly to report, The Lazarus Effect. The film comes from David Gelb who has previously been a documentary-maker whose most well-known work was the festival hit Jiro Dreams of Sushi (2011). The Lazarus Effect is Gelb's first venture into fictional subject matter. Gelb subsequently returned to documentaries with A Faster Horse (2015), Wolfgang (2021), Obi-Wan Kenobi: A Jedi's Return (2022) and Stan Lee (2023).
The afterlife experiment is something that has been overused – see recent efforts such as The Apparition (2012) and The Quiet Ones (2014) for two tired and unimaginative examples. The Lazarus Effect reminds of two films in particular – Flatliners (1990) with its experiments in stopping people's hearts and then reviving them from the dead only to find they have brought something back from the afterlife with them, and Pet Sematary (1989), which had a very similar plot arc about a process that first revives an animal and is then used on a human, which in both cases return not right (although the process in Pet Sematary was an Indian burial ground, while here everything is dressed up in pseudo-scientific jargon).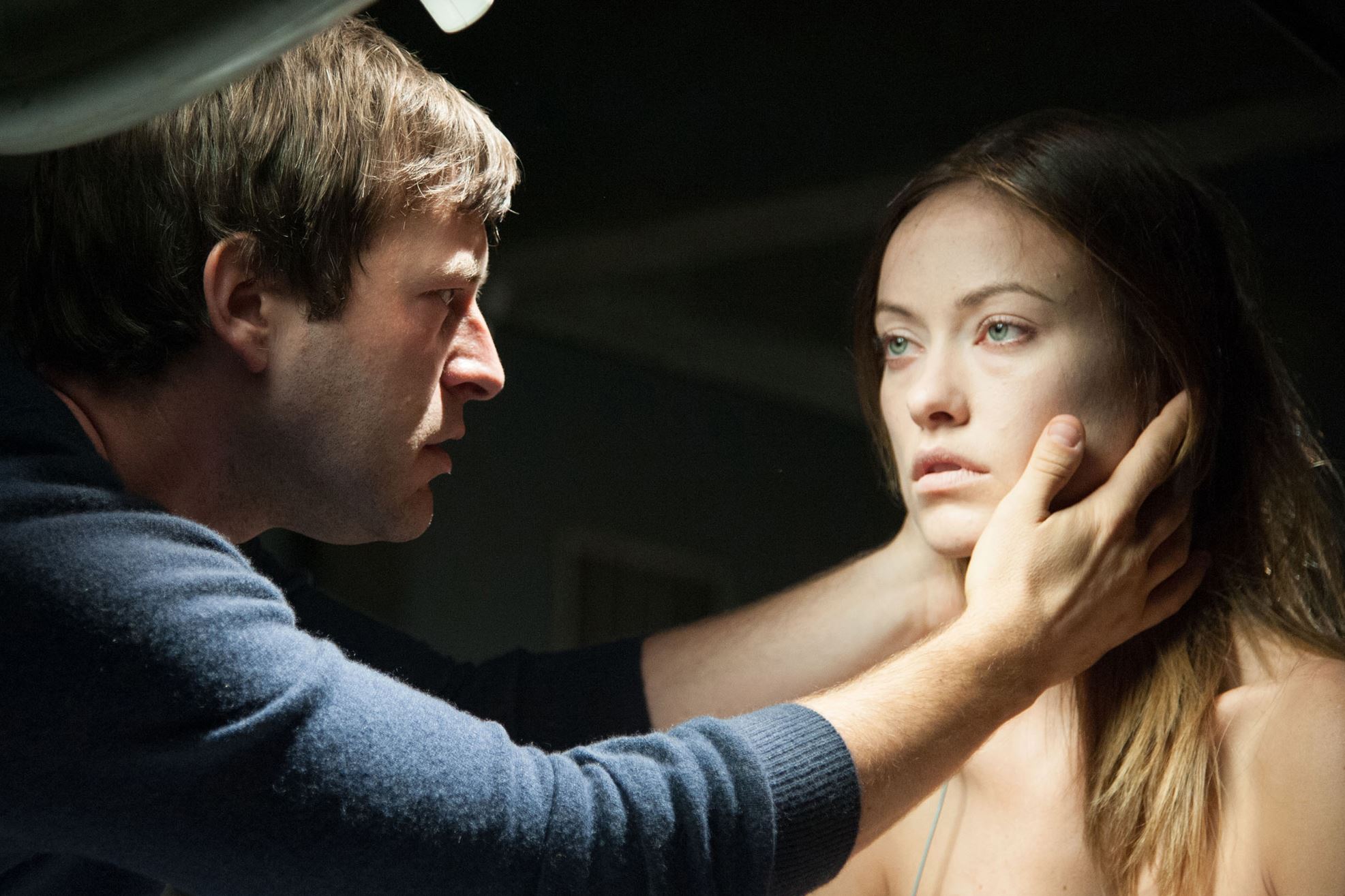 As the film opens, David Gelb depicts the experiment with a sense of verisimilitude and scientific believability, while the scenes wondering what has happened to the dog come with a foreboding. However, from about the point that Olivia Wilde is brought back from the dead, The Lazarus Effect slides into the dull and predictable. You start to sink into your seat from about the moment the film has people talking about Olivia Wilde using the untapped 90% of her brain – the claim that the human brain only uses 10% of its capacity is a myth that has been widely dispelled by neurologists, even as it has been repeated by other films such as Limitless (2011) and Lucy (2014) in recent years. Seeing a widely debunked myth repeated here again is starting to feel tiresome and cliched – moreover, you lose respect for filmmakers who have not even taken the time to properly do some basic fact checking when it comes to their script.
Almost the latter half of the film consists of Olivia Wilde lurking around the laboratory, reading minds, levitating things and then killing people. The rationale offered up for such seems as scanty and arbitrary as the end means whereby she is defeated. We are not even clearly sure what has happened to her – the film gives no clear explanation as to why she has not returned right. Her continued appearance with black pools of eyes seems to suggest that she is possessed, although this is not born through in anything the script offers up. The film often seems on the verge of creating some modest suspense only for these to fall into tiresomely predictable punchlines and set-ups. In the end, the premise dissolves into no more than a series of novelty deaths backed up by a frustratingly vapid and unoriginal premise.
Blumhouse productions make a virtue of all being made on medium budgets (under $5 million). With The Lazarus Effect, David Gelb has notedly made a film that is constrained to essentially a single set. This has allowed the film to bring in a better cast than usual, including Mark Duplass better known as a director, writer and star of indie efforts like Baghead (2008), Cyrus (2010), Jeff, Who Lives at Home (2011), as well writing/starring in Safety Not Guaranteed (2012) and the horror film Creep (2014) for Blumhouse. At the centre of the show is Olivia Wilde whom I have admired since she turned up as a regular on House M.D. (2004-12), although she has yet to find a cinematic vehicle that has allowed her to shine with the potential she clearly has. The Lazarus Effect is not something that does anything to change this and only shuffles her around doing little more than giving ambiguously malevolent sidelong glances and looking evil with black pools for eyes. There is also Evan Peters who has emerged as a promising name of recent in various seasons of American Horror Story (2011– ) and X-Men: Days of Future Past (2014). Here he shines with characteristically laidback wit but the film makes little use of him and he is killed off without getting to do much.
Jason Blum and his Blumhouse production company have produced a number of other genre films including:- Hamlet (2000), Paranormal Activity (2007) and sequels, Insidious (2010) and sequels, Tooth Fairy (2010), The Bay (2012), The Lords of Salem (2012), The River (tv series, 2012), Sinister (2012) and sequel, Dark Skies (2013), Oculus (2013), The Purge (2013) and sequels, the tv mini-series Ascension (2014), Creep (2014), Jessabelle (2014), Mercy (2014), Mockingbird (2014), Not Safe for Work (2014), Ouija (2014) and sequel, 13 Sins (2014), The Town That Dreaded Sundown (2014), Unfriended/Cybernatural (2014), Area 51 (2015), The Boy Next Door (2015), Curve (2015), The Gallows (2015), The Gift (2015), Jem and the Holograms (2015), Martyrs (2015), Visions (2015), The Visit (2015), The Darkness (2016), Hush (2016), Incarnate (2016), The Veil (2016), Viral (2016), Amityville: The Awakening (2017), Get Out (2017), Happy Death Day (2017), The Keeping Hours (2017), Split (2017), Stephanie (2017), Bloodline (2018), Cam (2018), Delirium (2018), Halloween (2018), Seven in Heaven (2018), Truth or Dare (2018), Upgrade (2018), Black Christmas (2019), Ma (2019), Prey (2019), Don't Let Go (2019), Sweetheart (2019), Black Box (2020), The Craft: Legacy (2020), Evil Eye (2020), Fantasy Island (2020), Freaky (2020), The Hunt (2020), The Invisible Man (2020), Nocturne (2020), You Should Have Left (2020), Black As Night (2021), The Black Phone (2021), Dashcam (2021), Firestarter (2022), M3gan (2022), Mr Harrigan's Phone (2022), Nanny (2022), Soft & Quiet (2022), Run Sweetheart Run (2022), Sick (2022), They/Them (2022), Torn Hearts (2022), Unhuman (2022), The Visitor (2022), The Exorcist: Believer (2023), Five Nights at Freddy's (2023), There's Something Wrong With the Children (2023) and Totally Killer (2023).
---
---