---
Crew
Director – Christopher Smith, Screenplay – David Beton, Dean Bogdanovich & Ray Lines, Producers – Maya Ansellem, Laurie Cook, Sharon Harel & Jason Newmark, Photography – Sarah Cunningham, Music – ToyDrum, Visual Effects – Umedia Visual Effects (Supervisor – Jelmen Palsterman), Special Effects – Steven Langfield, Makeup & Prosthetics Design – Melanie Lenihan, Production Design – Chris Richmond. Production Company – Bigscope Productions/Umedia.
Cast
Jessica Brown Findlay (Marianne Forster), John Heffernan (Linus Forster), Sean Harris (Harry Reed), Anya McKenna-Bruce (Adelaide Forster), John Lynch (Bishop Malachi), Jean St Clair (Betsy), Jason Thorpe (Dr Sutter)
---
Plot
England, 1938. Marianne Forster and her daughter Adelaide join her husband Linus who has been appointed the vicar of a rural community. The position comes with a home provided at Morley Rectory. Even though they are married, Linus will not sleep with Marianne. War with Germany is brewing but Linus sides with Prime Minister Neville Chamberlain's belief in Hitler's peaceful intentions and vows pacifism and non-violence. Both Marianne and Adelaide see and hear things in the house. Against the wishes of Linus and his bishop, Marianne befriends Harry Reed who they call an occultist and try to drive out of town. Harry tells Marianne how a breakaway faction of the church performed terrible things in the house.
---
British director Christopher Smith made a strong debut a few years ago with the London Underground horror Creep (2004). He went on to make Severance (2006), a witty comedy that poked fun at the Backwoods Brutality films of the 1970s, and the extraordinary likes of the timeloop film Triangle (2009) and the mediaeval horror Black Death (2010). On the basis of these, I would have been more than happy to label Smith as a highly promising genre director. However, Smith seemed to disappear off the radar for much of the 2010s, making the cross-historical tv mini-series Labyrinth (2012) about the search for the Holy Grail, Get Santa (2014) and the thriller Detour (2016) but not doing much more than direct occasional tv episodes, which seemed to let down on the enormous promise he held at the start of the decade.
Smith reappears with The Banishing. It becomes apparent soon into the film from the Edwardian period and big old mansion setting that Smith is venturing into the venerated tradition of the British Ghost Story. This turns out to not quite be the case. Rather than a ghost story, the story becomes more about the activities of a strange breakaway church sect who have done abominable things in the past, which may have had something (it is not fully clear what) to do with taking a very stringent view on sin and punishing women who behave in a wanton way/become pregnant out of wedlock.
It is not always clear what is going on – Jessica Brown Findlay at one point even seems to go back in time (?)/have an hallucination (?) that she is being sacrificed by hooded cultists. Nor is it at all clear why bishop John Lynch digs up the remains and travels to Nazi Germany with them at the end.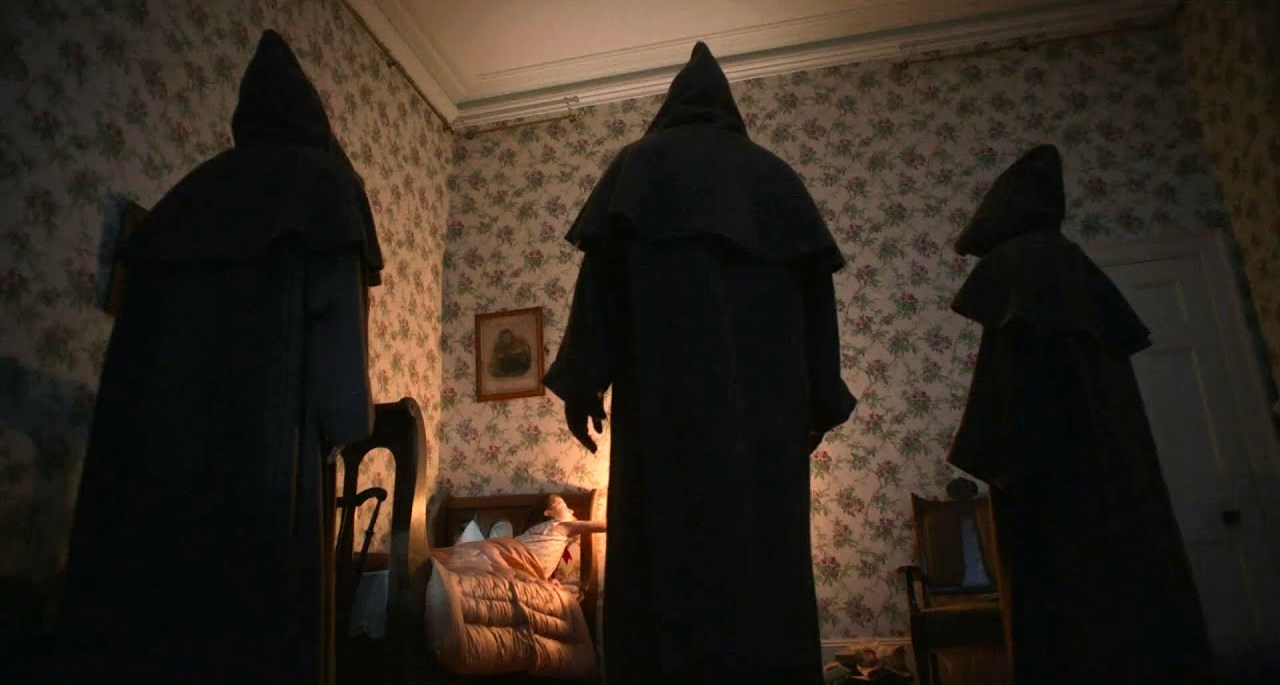 In terms of a ghost story (or whatever it is trying to be), Christopher Smith never does much that stands out. There are a few unusual moments with mirrors and reflections. Things however do pick up right near the end. Like the scene where young Anya McKenna-Bruce switches on her bedside lamp to suddenly find herself surrounded by hooded figures. The other is the moment Jessica Brown Findlay turns and looks down a hallway to find strange figures hanging halfway up the wall.
Smith has a strong cast, including Jessica Brown Findlay who came to attention in Downton Abbey (2010-5) and previously had been the lead in Smith's Labyrinth. The rising name of John Heffernan plays the tightly wound vicar husband, while Irish actor John Lynch provides sinisterly ambiguous support as the bishop. Cast as the character referred to as an occultist is Sean Harris, an actor who specialises in strange roles. In mustache and dyed red, permed hair, Harris for all the world resembles Harvey Keitel.
---
Trailer here
---