---
Crew
Directors – Henry Joost & Ariel Schulman, Screenplay – Christopher Landon, Story – Chad Feehan, Producers – Jason Blum & Oren Peli, Photography – Doug Emmett, Visual Effects – Industrial Light and Magic (Supervisor – Eddie Pasquerello), Special Effects Supervisor – Mark Gullesserian, Production Design – Jennifer Spence. Production Company – Blumhouse-Solana Films/Room 101..
Cast
Kathryn Newton (Alex), Matt Shively (Bennett), Brady Allen (Robbie), Aiden Lovekamp (Wyatt), Alexondra Lee (Holly), Stephen Dunham (Doug), Katie Featherston (Katie)
---
Plot
Teenager Alex's parents agree to take care of seven-year-old neighbour Robbie for a few days after his mother is taken away to hospital. Robbie and Alex's younger brother Wyatt become best friends. Alex finds Robbie to be very odd. Watching through various computer cameras that she gets her boyfriend to set up, she comes increasingly to believe that there is a supernatural force in the house. Robbie then starts to claim that Wyatt's real name is Hunter and tells him he is to come back to his real family.
---
Oren Peli's Paranormal Activity (2007) was a bona fide sleeper hit. Peli made it on a non-existent budget and pushed studio executives to get it released. Its' creepy atmosphere caused it to become a massive word of mouth hit with audiences. It gave new life to the Found Footage theme that had started with The Blair Witch Project (1999). Oren Peli went onto oversee two sequels Paranormal Activity 2 (2010), which received some very favourable notices, and Paranormal Activity 3 (2011), which many saw as flagging but still holds a good number of scares that makes it a worthwhile entry. Paranormal Activity 3's directors Henry Joost and Ariel Schulman return as the directors of Paranormal Activity 4 here.
The Paranormal Activity series has had a better run than most other franchises. They usually start with a groundbreaking hit and by the second and almost certainly the third entries are starting to show the cracks in stretching the premise so far or trying to come up with creative variations on the familiar. The Saw series is a perfect example of a franchise that flatlined after the first entry and kept dragging the familiar aspects out over and over again, while tying itself in a pretzel of continuity.
Despite a fair and creative run up this point, the cracks are starting to show in the Paranormal Activity series here. The backstory to the series remains vague and unexplained – mysterious occult cults, possessions, something targeting the family, possibly supernatural creatures involved – where you get the feeling that it is a rickety house in the sand that the series has been making up as it goes along. Paranormal Activity 4 does almost nothing to clear up any of the mystery and adds a bunch of other questions to the mix – like if Wyatt is Hunter then who is Robbie? (The piece of misdirection that makes us think initially that Robbie is Hunter is clumsily handled). Why are Katie and the cult conducting an elaborate charade to get him back? What is the invisible companion that turns up in the infrared footage? What does the post-credits coda in a Santeria store mean?
The problem that Paranormal Activity 4 faces is that the plethora of Found Footage films that have popped up trying to imitate the first film have fairly much milked the genre dry of all dramatic possibilities. Thus, Paranormal Activity 4 is stuck with only doing what has been done before. We get all the familiar tricks – people creepily entering bedrooms in the dead of night, objects abruptly being elevated/dropped into camera, blankets being whipped off sleeping people by supernatural forces, people opening doors/fridges etc and then closing them to find/not find others waiting there. The film seems to be straining with the effort of trying to do these moves in a new way – this time when the blanket is whipped off, the sleeping Kathryn Newton is elevated up into the air; there are plenty of scenes where people open doors and we ominously wait but the big surprise is most often that nobody is waiting there. Having done about all that it is possible to do with cameras that are static, handheld and infra-red in the previous films, this film's sole novelty is the dopey looking effect of an infra-red lens that causes everything in the room to be rendered in dots.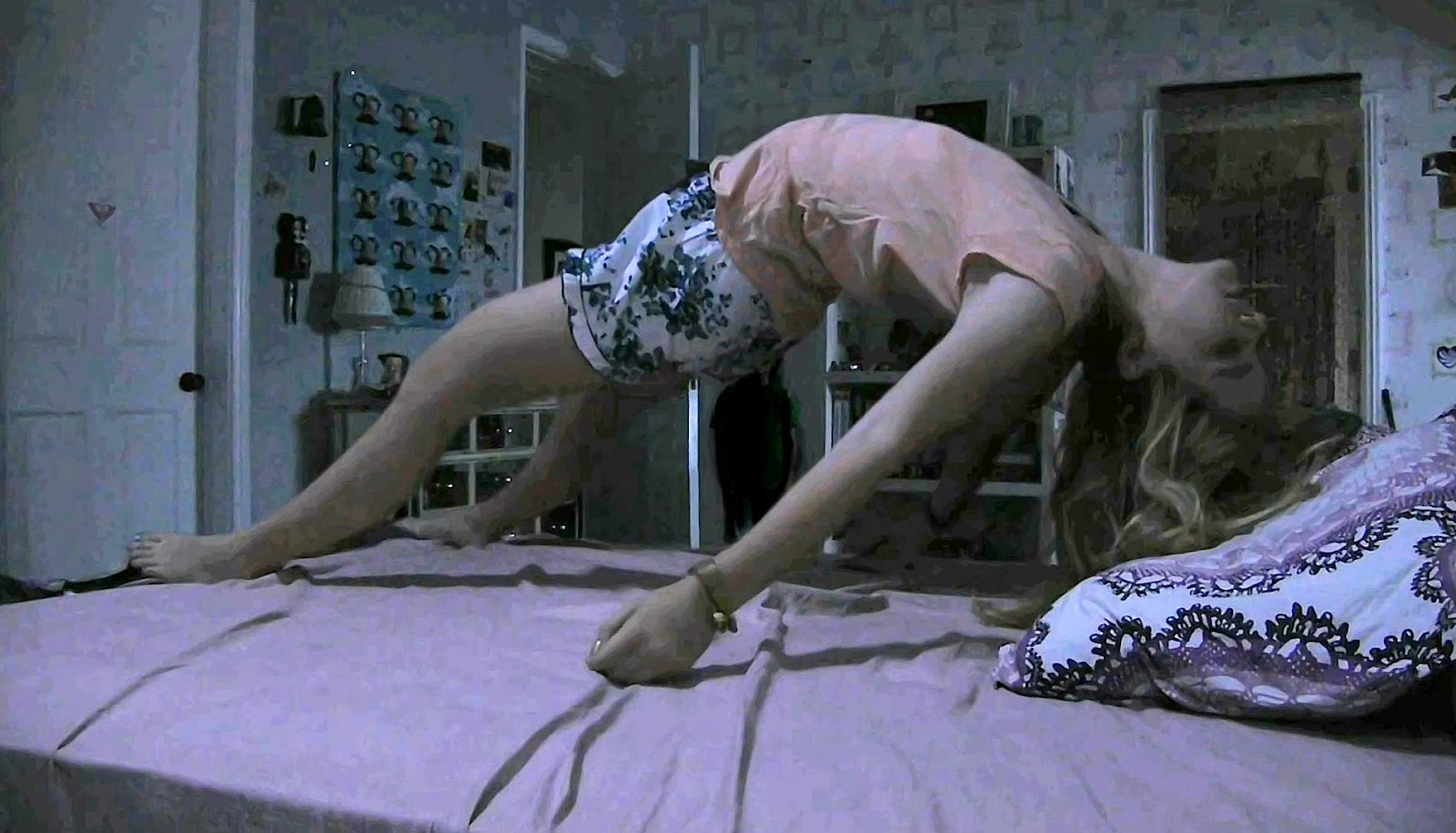 The disappointment of Paranormal Activity 4 is that it goes through all the moves but you feel that it is simply playing into expectations and delivering audiences the familiar jumps they expect. You can predict almost every move that the film wheels out. There are very few of them where the film does something unexpected and almost none where it has you on the edge of or jumping out of the seat.
This was followed by two further sequels Paranormal Activity: The Marked Ones (2014), Paranormal Activity: The Ghost Dimension (2015) and Paranormal Activity: Next of Kin (2021).
Directors Henry Joost and Ariel Schulman first appeared with Catfish (2010) and then made the previous entry Paranormal Activity 4. They subsequently made the zombie film Viral (2016) also for Blumhouse, the social media thriller Nerve (2016), the superpowers film Project Power (2020) and the superhero film Secret Hedquarters (2022), as well as produced the tv mini-series The Watcher (2022).
---
Trailer here
---