---
Crew
Director – Christopher Smith, Screenplay – James Moran & Christopher Smith, Story – James Moran, Producer – Jason Newmark, Photography – Ed Wild, Music – Christian Henson, Visual Effects – Men from Mars (Supervisors – Phil Attlefield & Simon Frame), Makeup Effects – Millennium FX (Supervisor – Neill Gorton), Production Design – John Frankish. Production Company – The UK Film Council/Qwerty Films/N1 European Filmproduktion GmBh & Co/Isle of Man Film/Dan Films.
Cast
Laura Harris (Maggie), Danny Dyer (Steve), Tim McInnerny (Richard), Toby Stephens (Harris), Andy Nyman (Gordon), Claudie Blakley (Jill), Babou Ceesay (Billy), David Gilliam (George Cinders), Sandor Boros (Coach Driver), Julio Drajko (Olga), Judit Viktor (Nadia)
---
Plot
A group of co-workers from the Palisade Defence armaments company travel away to a recently purchased company lodge in remote Hungary for a weekend of team-building exercises. On the coach ride there, they find trees blocking the road ahead. When the team leader Richard argues with the coach driver about taking an alternate route, the driver throws them all out. The group walk until they eventually come to a house that they presume to be the lodge. However, as they settle in, it becomes apparent that there are people in the area who are hunting them with lethal intent.
---
Severance was the second film from British director Christopher Smith. Christopher Smith made a highly impressive debut with the horror film Creep (2004). Creep was a film that showed Smith as a director with an instinctive grasp of the way that horror mechanics works and with a highly promising genre future ahead of him.
Although, rather than continue in the same vein, Christopher Smith makes a 90 degree about face with Severance and conducts a spoof of genre cliches. It is almost as though Smith made Creep to announce himself and show what he was capable of and then made Severance just to show that he didn't take himself too seriously. Like Creep, Severance is a British-German co-production.
You could say that Severance is to the genre of Backwoods Brutality films like Deliverance (1972), The Texas Chain Saw Massacre (1974) and in particular modern antecedents like Hostel (2005), the same that Shaun of the Dead (2004) was to Dawn of the Dead (1978). The original Backwoods Brutality cycle was spoofed towards the end of the original cycle in efforts like Motel Hell (1980) and Mother's Day (1980), albeit it to variable success. Christopher Smith doesn't set to making genre in-references, puncturing genre cliches or running them over with gags the way that Scream (1996) and Scary Movie (2000) and sequels do. Rather, like Shaun of the Dead, he keeps Severance evenly balanced between thrills and laughs.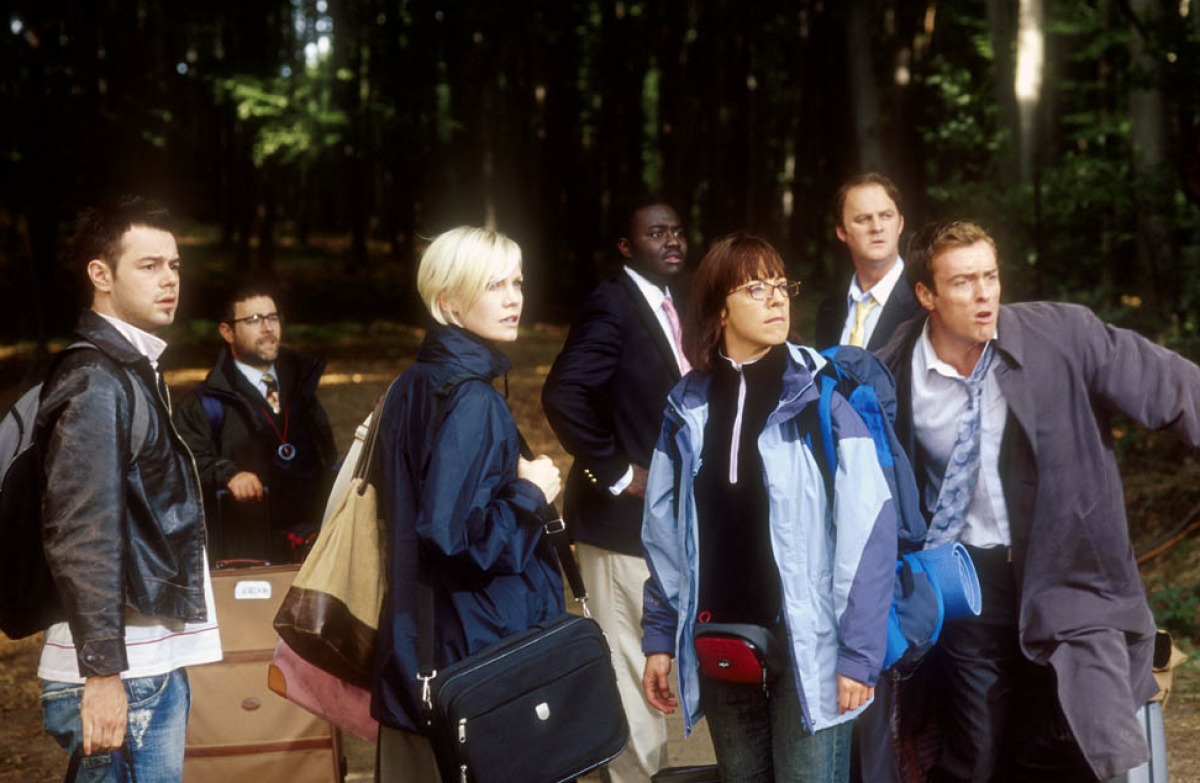 Not many horror comedies do both of these things successfully – usually the balance is more one way than the other, but Severance manages to work with a foot effectively straddled on either side of the fence. A nasty moment where Andy Nyman gets his foot severed in a bear trap is deflated in the very next scene where Danny Dyer is trying to squeeze the severed limb into a fridge; Toby Stephens has an amusing monologue about how the human head stays cognitive for several minutes after being severed and naturally when his own head is hacked off, it lies on the ground with the eyes rotating in fascination. Although, the funniest sequence is where David Gilliam wields a rocket launcher against the attackers – a sequence that has a very similar punch line to one that Peter Jackson played in Bad Taste (1988).
Smith also uses music to satiric effect – after the brutal attack sequence that takes place in the prologue, the opening credits play out against the absurdly tinkly cheerfulness of Itchykoo Park (1967), while the end credits go out on a rock reworking of We'll Meet Again (1939), the song that was satirically placed on the end of Stanley Kubrick's Dr Strangelove, or How I Learned to Stop Worrying and Love the Bomb (1964). Funny and all as Severance is, Christopher Smith also manages a number of scenes that have a genuine tension, particularly during the last quarter-hour of the film, where the humour is put aside altogether.
Christopher Smith has peopled the film with a fine cast, including Canadian actress Laura Harris best known as the sweetly innocent new girl in The Faculty (1998); the greatly underrated British actor Toby Stephens from Photographing Fairies (1997) and Die Another Day (2002); and Tim McInnerny from Blackadder (1983-9). What gives the film a great deal of life is the frequent sarcastic sniping and interplay between the actors. Tim McInnerny has a particularly amusing line in management-speak. Much of the show is stolen by a very funny performance from Andy Nyman playing a regulation quoting office nerd who is never happier than when he is serving the company.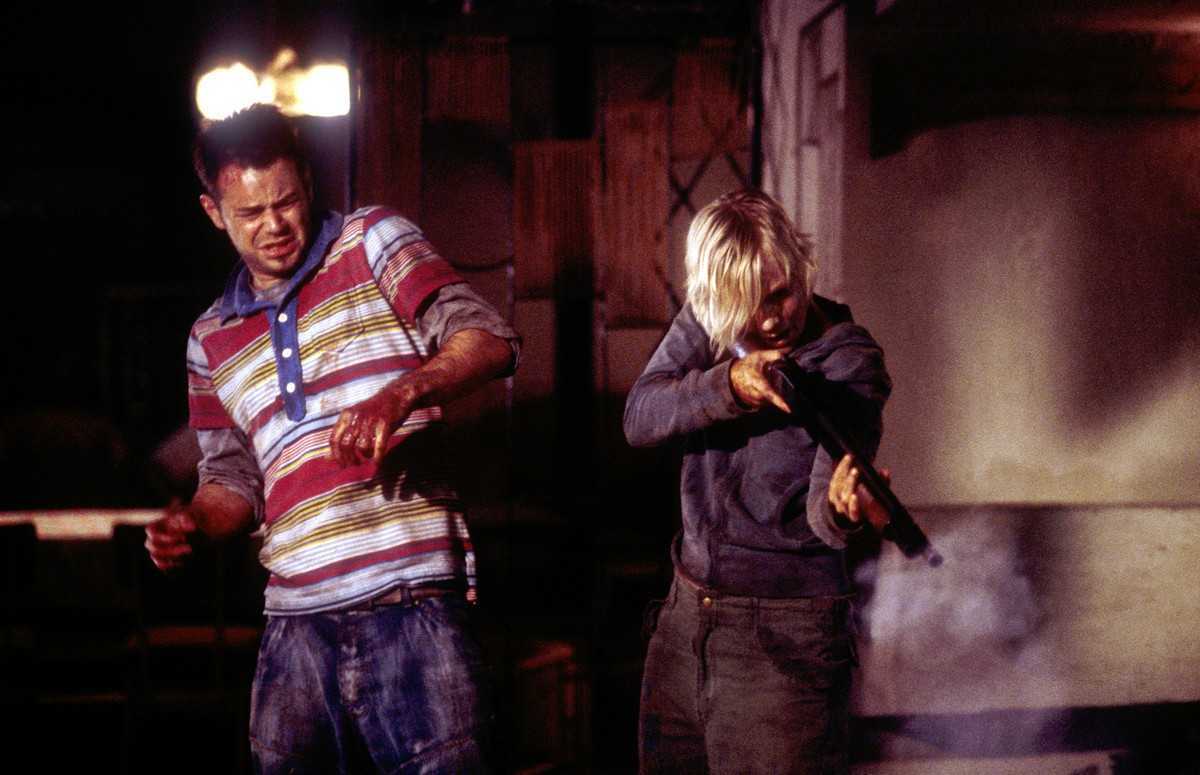 On a plot level, Severance is exceedingly generic – in any other hands, the script might have acted as a standard Backwoods Brutality script or a copy of Hostel. We never find out who the killers attacking the group are, for instance. Along with Hostel, 13 Tzameti (2005), Them (2006), I Spit on Your Grave 2 (2013) and Landmine Goes Click (2015), Severance demonstrates that Eastern Europe and former Soviet Bloc countries have become to the modern horror film that same thing that Backwoods America was to films like Deliverance, Texas Chain Saw and the original Backwoods Brutality cycle of the 1970s.
Christopher Smith subsequently went onto make the haunting timeloop film Triangle (2009), the excellent Black Death (2010), the tv mini-series Labyrinth (2012) about the quest for the Holy Grail, the Christmas film Get Santa (2014), the thriller Detour (2016) and the ghost story The Banishing (2020).
---
---