---
Spain. 2001.
Crew
Director – Stuart Gordon, Screenplay – Dennis Paoli, Based on the Short Stories Dagon and The Shadow Over Innsmouth by H.P. Lovecraft, Producers – Julio Fernandez & Brian Yuzna, Photography – Carlos Suarez, Music – Carles Cases, Digital Effects – Filmtel SA (Supervisor – Jaume Vilaseca), Mechanical/Makeup Effects – DDT Efectos Especiales (Supervisors – David Marti & Montse Rise), Production Design – Llorenc Miguel. Production Company – Castalao Productions/Televisio de Catalunya S.A. TVC/Via Digital/Estudios Picasso/Television de Galicia/Xunta de Galicia/Fantastic Factory.
Cast
Ezra Godden (Paul), Francisco Rabal (Ezequiel), Racquel Morono (Barbara), Macarena Gomez (Uxia), Ferran Lahoz (Priest), Brigit Bofarull (Nicky), Brendan Price (Howard), Victor Barreira (Young Ezequiel)
---
Plot
Stockbroker Paul is yachting on holiday near the Spanish coast with his girlfriend Barbara and another couple when a freak storm rams the yacht into a rocky outcrop. Paul and Barbara go to the village of Boca on the mainland to find help. However, when Paul returns to the yacht, the other couple have vanished, while back on shore he finds that Barbara is missing too. He is pursued by the villagers who are all mutated with fish gills or webbed fingers. He meets an old man who tells him how the villagers have given themselves over to the worship of Dagon, something that lives in a ruined city beneath the sea, in return for plentiful fish but how this has now begun to bodily mutate them. As he flees for his life, Paul discovers that Barbara has been taken as a sacrifice to bear Dagon's child. At the same time, a half-woman creature also regards Paul as her mate.
---
Sixteen years earlier, Stuart Gordon made Re-Animator (1985), which became a cult splatter classic. Re-Animator launched Stuart Gordon's career and ushered in a vogue of H.P. Lovecraft adaptations that included the likes of The Curse (1987), The Unnameable (1988), The Resurrected (1992), Lurking Fear (1994) and producer Brian Yuzna's Lovecraft anthology Necronomicon (1993). Stuart Gordon, along with producer Brian Yuzna and screenwriter Dennis Paoli, returned to H.P. Lovecraft immediately after with From Beyond (1986), although this proved a mixed affair. Over the next few years, Stuart Gordon went onto a variety of other genre films (see below), although has never had a success that electrified audiences again in the same way that Re-Animator did. With Dagon, Stuart Gordon reteams with Brian Yuzna and Dennis Paoli to make a third H.P. Lovecraft adaptation. All have clearly hoped to duplicate the success of Re-Animator, which is evident even down to bespectacled hero Ezra Godden who looks almost an identical ringer for Re-Animator's Jeffrey Combs.
Dagon is certainly a worthwhile return to Lovecraftian form for Stuart Gordon. Although what one soon realizes is that the film is not in fact an adaptation of H.P. Lovecraft's short story Dagon (1917) but more so of Lovecraft's The Shadow Over Innsmouth (1936). The Shadow Over Innsmouth has been a long-time dream project for Stuart Gordon and he once announced plans during the late-1980s to direct a production at Empire but this never got off the ground. Due to the circulation of some of Berni Wrightson's production artwork, Gordon's unmade version of The Shadow Over Innsmouth developed a mythic reputation as the ultimate Lovecraft project.
In terms of actual story, H.P. Lovecraft's Dagon is a slender piece (only 4 pages long) about a shipwrecked sailor who comes upon an island that rises up out of the ocean where he witnesses pre-hominid creatures worshipping a strange obelisk and then the emergence of a creature of the deep. [The definitive adaptation of the story is still Richard Corben's short film version Dagon – see The H.P. Lovecraft Film Festival – North (1999)].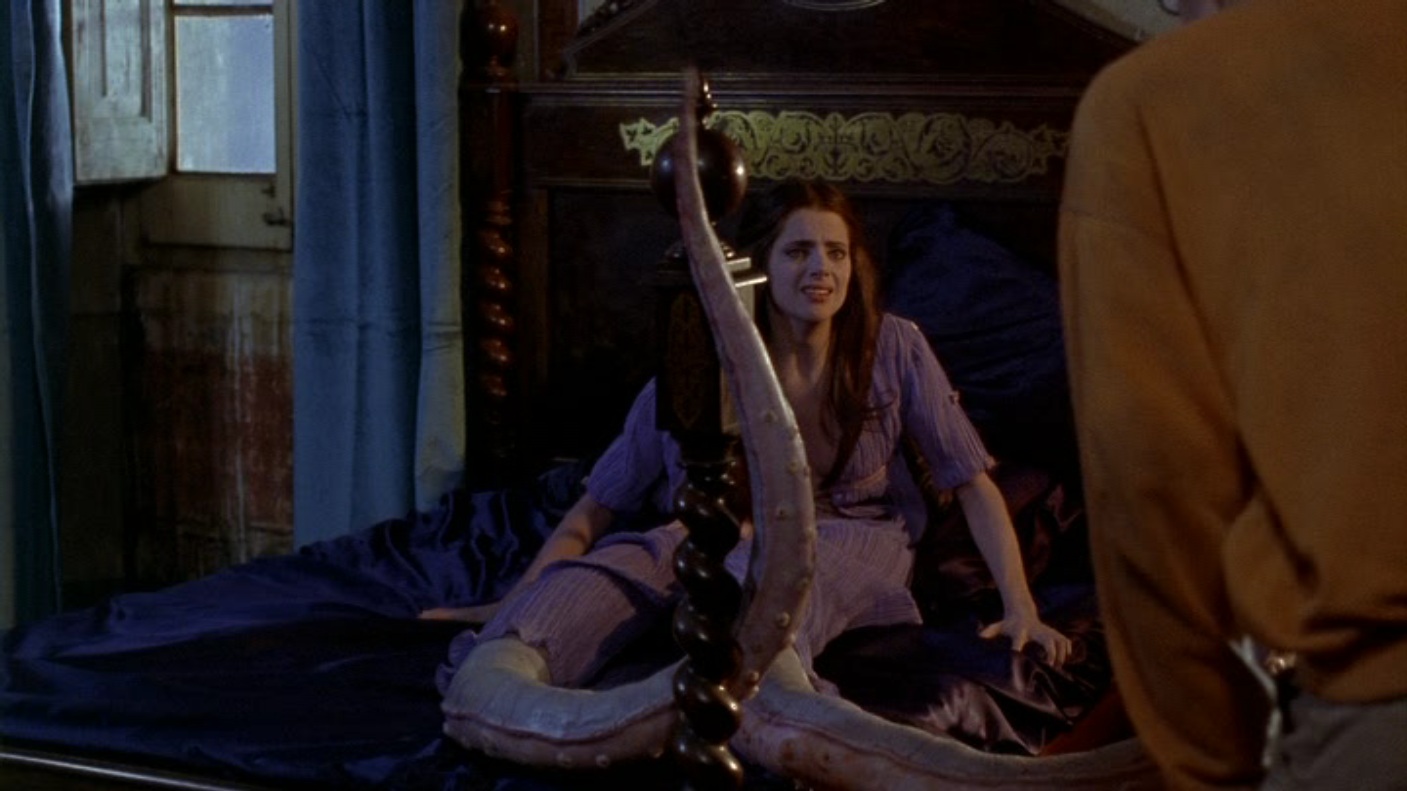 From The Shadow Over Innsmouth, screenwriter Dennis Paoli has incorporated a substantial amount more plot – the half-mutated fish folk worshipping creatures of the deep; the long flashback explanation from a whiskey-soaked octogenarian; the hero being hunted around mansions and old hotel rooms by the mutated townsfolk; the hero's dreams of swimming in the city of the deep; and his end realization that his ancestry is tied to the townspeople. Although some of the more outré elements of the film – the townspeople skinning others for obscure reasons, the octopus woman – are entirely invented by the film. Elsewhere, Dennis Paoli incorporates a medley of classic Lovecraftian themes – creatures from the abyss, catacombs and ancient cities, miscegenation, blasphemous occultic rites and sacrifices.
Out of Stuart Gordon's three H.P. Lovecraft adaptations to date, Dagon is the most authentically Lovecraftian in atmosphere. In fact, as H.P. Lovecraft adaptations go, Re-Animator, though it popularised Lovecraft on film, was almost the complete antithesis of H.P. Lovecraft – it being splattery and in-your-face with shock value, whereas Lovecraft's work derives its effect from leaving things undescribed; and with Stuart Gordon revelling in black humour, where Lovecraft's stories always come with a cold dread chill. In Dagon, Stuart Gordon drops the tongue-in-cheek black humour tone that marked both Re-Animator and From Beyond and concentrates on atmosphere, generally to the better. There is some creepy, well-sustained atmosphere running around the town with weird hoteliers and priests, villagers unnervingly revealing gills and webbed fingers, the mutated townsfolk trying to break into the hero's hotel room, shadowy figures pursuing the hero through the rainy streets, and an eerie scene where the hero half-thinks he is seeing his missing girlfriend in his room after he wakes from a dream. There is an off-centre weirdness of not knowing what is happening during these scenes.
That said, having discovered the atmospheric side of Lovecraft, Stuart Gordon fails to do much more than spend the film having hero Ezra Godden being chased around in the rain by shadowy mutant creatures. There are a couple of scenes where the film enters into the genuinely outré – one where Ezra Godden starts making out with the beautiful, piercing-eyed Macarena Gomez as she waits for him in a bed, only to pull back the covers and discover that she is a merperson with tentacles instead of legs; and a nasty scene where a bound Godden is forced to watch while the townspeople skin the old man alive.
Dagon is certainly the best-budgeted film that Stuart Gordon has had the opportunity to make in some years. Dagon was entirely financed and shot in Spain, where producer Brian Yuzna now maintains his own production company Fantastic Factory. The Galician port of Combarro lends a wonderfully atmospheric location with its narrowed, cobbled streets, old-style churches and ever-present rain. Excepting English-born Ezra Godden, the entire cast is Spanish and Stuart Gordon often leaves their dialogue undubbed. The downside of this is that much of the English dialogue scenes are accented – Francisco Rabal has a long scene where he narrates a flashback explaining what happened to the town but, in that most of this comes through a thick accent, what he is saying is frequently incomprehensible.
Stuart Gordon's other genre films include:- Re-Animator (1985), From Beyond (1986), Dolls (1987), the live-action Transformers film Robot Jox (1990), the vampire tv movie Daughter of Darkness (1990), the Edgar Allan Poe adaptation The Pit and the Pendulum (1991), the future prison film Fortress (1993), Castle Freak (1995), Space Truckers (1996), the Ray Bradbury adaptation The Wonderful Ice Cream Suit (1998) and the true crime based Stuck (2007). Gordon also came up with the stories for Honey, I Shrunk the Kids (1989), Body Snatchers (1993) and Progeny (1998).
Other films based on the works of H.P. Lovecraft include:- The Haunted Palace (1963), Die, Monster, Die/Monster of Terror (1965), The Shuttered Room (1967) and The Dunwich Horror (1969). The big success in the modern era was Stuart Gordon's splattery black comedy version of Re-Animator (1985), which popularised Lovecraft on film. This led to a host of B-budget Lovecraft adaptations, including Stuart Gordon's subsequent From Beyond (1986), The Curse (1987), The Unnameable (1988), The Resurrected (1992), Necronomicon (1993), The Unnamable II: The Statement of Randolph Carter (1993), Lurking Fear (1994), and other works such as The Dream-Quest of Unknown Kadath (2003), Beyond the Wall of Sleep (2006), Cool Air (2006), Chill (2007), Cthulhu (2007), The Tomb (2007), Colour from the Dark (2008), The Dunwich Horror (2009), The Color (2010), Pickman's Muse (2010), The Whisperer in Darkness (2011), The Dark Sleep (2013), The Haunter of the Dark (2015), Herbert West: Re-Animator (2017), Color Out of Space (2019), H.P. Lovecraft's The Deep Ones (2020), the tv series Lovecraft Country (2020), Markham (2020), H.P. Lovecraft's Witch House (2021) and The Resonator: Miskatonic U (2021). Lovecraft: Fear of the Unknown (2008) is a documentary about Lovecraft. Also of interest is The Manitou (1978), which features an appearance of the Great Old One; Cast a Deadly Spell (1991) and its sequel Witch Hunt (1994), a tv movie set in an alternate world where magic works and where the central character is a detective named H.P. Lovecraft; Juan Piquer Simon's cheap and loosely inspired Cthulhu Mansion (1992); John Carpenter's Lovecraft homage In the Mouth of Madness (1995); the fanboy comedy The Last Lovecraft: Relic of Cthulhu (2009) and the parody Call Girl of Cthulhu (2014); while the Elder Gods turn up at the end of The Cabin in the Woods (2012), Lovecraft (Paul Titley) appears as an imaginary companion in Ghostland/Incident in a Ghostland (2018) and In Search of Lovecraft (2008) features a tv news crew discovering that Lovecraft's works are true. Lovecraft's key work of demonic lore The Necronomicon also makes appearances in films such as Equinox (1970), The Evil Dead II (1987) and Army of Darkness (1992), and was also borrowed as an alternate retitling for Jesus Franco's surreal and otherwise unrelated Succubus/Necronomicon (1969) about a BDSM dancer.
---
Trailer here
---