(Durante la Tormenta)
---
Crew
Director – Oriol Paulo, Screenplay – Oriol Paulo & Lara Sendim, Producers – Eneko Lizarraga Arratibel, Mercedes Gamero & Mikel Lejarza, Jesus Ulled Nadal & Jaime Romero, Photography – Xavi Gimenez, Music – Fernando Velazquez, Visual Effects – Lamppost (Supervisor – Alex Villagrasa), Special Effects Supervisor – Lluis Rivera, Makeup Effects – Pablo Perona, Production Design – Balter Gallart. Production Company – Atresmedia Cine/Think Studio/Colose Producciones/Mirage Studio AIE/Marrowbone S.L.U./Atresmedia/Netflix/Vodafone/Cosmopolitan TV/Televisio de Catalunya.
Cast
Adriana Ugarte (Vera Roy), Chino Darin (Inspector Leira), Javier Gutierrez (Angel Prieto), Alvaro Morte (David Ortiz), Julio Bohigas (Nico Lasarte at 12), Nora Narvas (Clara Medina), Clara Segura (Hilda Weiss), Mima Riera (Maria Lasarte), Miguel Fernandes (Aitor Medina), Luna Fulgencio (Gloria Ortiz), Ruth llopis (Miranda), Albert Perez (Uncle Romin), Belen Rueda (Dr Karen Sardon), Francesc Orella (Dr Fell), Aina Clotet (Ursula), Ana Wagener (Inspector Dimas), Marco De Francisco (Aitor Medina at 12)
---
Plot
In 1989, as the fall of the Berlin Wall plays out on tv, twelve year-old Nico Lasarte sees things happening next door. He enters the house to discover that neighbour Angel Prieto has killed his wife Hilda Weiss. As Angel finds him there, Nico flees only to be hit and killed by a passing truck in the street. 29 years later, Vera Roy lives in the former Lasarte house with her husband David Ortiz, a banker, and their daughter Gloria. As a freak storm comes that will last the next 72 hours, Vera and David find an old tv and VCR. Playing it, they find video recordings made by Nico. Vera rises in the night as the tv comes on and is startled to find that she and Nico back in 1989 can see each other. She warns Nico not to go next door, saying he will be killed if he does. She wakes in the morning to find Gloria missing. She finds that David no longer recognises her and that instead of becoming a mother she went onto a career as a successful neurosurgeon. Realising that in saving Nico's life she has eliminated the timeline where she married David and had a daughter, Vera tries to find the way back to her life. In the course of doing so, she finds that Angel was never arrested for his wife's murder in this timeline.
---
Mirage was the third film from the rising name of Spanish director Oriol Paulo. Paulo had previously directed and written The Body (2012), a psychological thriller about a missing body at a morgue, and the thriller The Invisible Guest (2017). He has also written the scripts for Julia's Eyes (2010), a tense psycho-thriller about a blind woman, and the kidnap thriller Boy Missing (2016).
It becomes apparent soon into Mirage that Oriol Paulo has borrowed the basics of Frequency (2000). In that film, son Jim Caviezel and father Dennis Quaid find that freak sunspot conditions allow them to communicate across time by radio where the information Caviezel conveys creates changes in the timeline. The basic premise has served in a number of other films since then with the likes of the South Korean Ditto (2000) that set the premise in a high school; the Korean Il Mare (2000) and its English-language remake The Lake House (2006) where a couple exchange love letters across time; The Caller (2011) where Rachelle Lefevre makes telephone calls into the past; the Korean The Phone (2015) where a man finds he can make phone calls to his wife in the past; the South Korean Time Renegades (2016), a murder mystery between two men dreaming the other's life in different eras; and Don't Let Go (2019) where detective David Oyelowo receives cellphone calls from his niece in the past and tries to prevent her murder.
The initial scenes with Adriana Ugarte waking up to find her daughter missing, someone else living in her house, her husband Alvaro Morte not recognising her and that she has a job as a top neurosurgeon rather than as a nurse are all familiar to anyone who has watched an Alternate Timelines film – see examples such as Me Myself I (1999), The Family Man (2000) and The Butterfly Effect (2004). As a result, watching Adriana's confusion is more a matter of waiting for the character to catch up to where the audience is already at.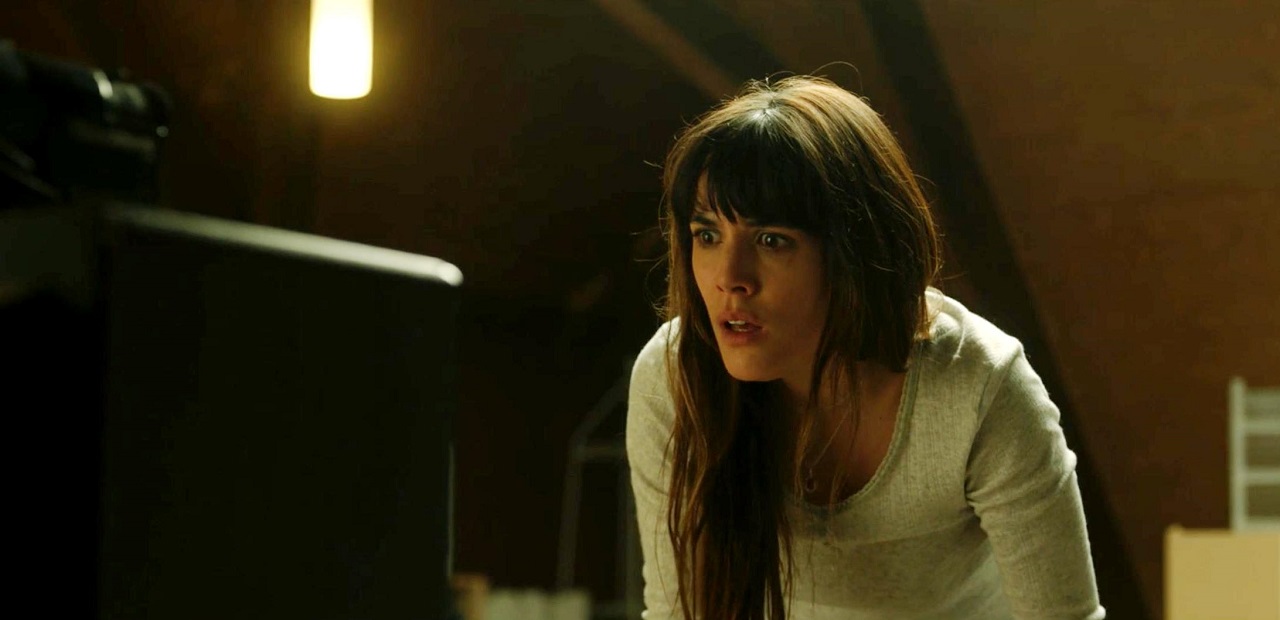 Nevertheless, the more you watch of Mirage's 128 minute runtime, the more it starts to absorb. It is a film where you need to watch every single seemingly incidental detail – where even a box of matches, a dropped watch or the patient that Adriana Ugarte preps for an operation – comes to have some significance later in the film. This may seem familiar at the outset but Mirage soon manifests as a tightly wound and absorbing story where the differences in the parallel timeline all lace into a complex murder mystery that occurs in one timeline but not the other. You can see some aspects like the identity of Nico falling into place from early in the film, nevertheless it is strong and well told. Once the mystery is resolved, the end of the film goes off at an unexpected tangent that proves rather delightful.
I did have some minor issues with some of the causal logic. [PLOT SPOILERS] If Leira only heard Vera mentioning meeting Aitor on the train while he was at the airport, how was he able to get the message back in time to his earlier self in order to wait to meet her since he was a young age? The other major issue comes after Vera creates a different timeline by preventing Nico's death in the past. This would simply be like a train switching tracks from the line of causal events it was on and proceeding along a new line, albeit where the original line ceases to exist any longer. Her throwing herself from the building near the end would only serve to kill herself in the new timeline. Instead of returning to her original timeline, she would be dead as she had done nothing other than kill her consciousness in the old timeline and would not be able to go back and inhabit her body.
---
Trailer here (English dubbed)
---