---
Crew
Director/Screenplay – Casey Tebo, Producers – Edward Hammn Jr. & Sean McKittrick, Photography – Terrence F. Hayes, Music – Robert DeLeo, Special Effects – Gary Tunnecliffe, Production Design – Brendan O'Conner. Production Company – Darko Entertainment.
Cast
Matt Bush (Brady Baxter), Riley Litman (Tommy Quinn), Britne Oldford (Lucia), Vanessa Lengies (Katie), Erik Palladino (The Texican), Matthew Willig (El Caballo), Steven Tyler (Kasape Sukka), Robert Miano (El Gato Enferno), Tristin Mays (Janie)
---
Plot
Brady Baxter comes home early from a trip on his birthday – only to find a note left on the toilet seat from the guy that his girlfriend Janie slept with last night. He walks out upset. His best friend, screenwriter Tommy Quinn, persuades him to get over the heartbreak by taking a trip to Mexico. They head over the border into Mexicali in search of what Tommy calls 'The Real Mexico'. A disreputable figure known as The Texican, who claims to be a government agent, gets them severely messed up on drugs and then drags them to a bar. Two girls, Katie and Lucia, drag Tommy and Brady back to a motel room – only, once there, the guys are handcuffed to a bed and made prisoner. The girls are in the employ of the fearsome cartel leader known as El Gato Enferno (The Sick Cat) who is certain that they are wealthy Americans and can be held for ransom. Tommy is killed and when Brady protests that he is an orphan and has no wealthy parents, the girls proceed to torture him.
---
Happy Birthday! was a fiction directorial debut for Casey Tebo who had elsewhere spent most of the 2010s directing live documentaries for various bands in particular for Aerosmith( whose lead singer Steven Tyler makes an acting appearance here). Perhaps the most interesting credit is for Darko Entertainment, the production company of Richard Kelly, director of Donnie Darko (2001), Southland Tales (2006) and The Box (2009). Darko Entertainment has produced a handful of other films, including I Hope They Serve Beer in Hell (2009), God Bless America (2011), Bad Words (2013) and Hell Baby (2013).
Casey Tebo immediately captures one's attention with a snappy opening where Matt Bush returns home unexpectedly on his birthday to greet his girlfriend (Tristin Mays) only to find a note left under the toilet seat from the guy she spent the night with commiserating with him. In the ensuing scenes where they head over the border, Tebo creates a wonderful portrait of the dark and dangerous world into which the two guys have descended. Erik Palladino plays a street hustler with dubious government credentials who introduces them to Aerosmith lead singer Steven Tyler as a shaman-come-drug cook who feeds them a blend of exotic drugs.
After Matt Bush takes the shrooms he was advised not to, this leads to a tripped-out scene in a bar where Bush cannot be sure if he is hallucinating the barman pulling a gun on him, Matthew Willig taking a dump in the middle of the room, the stripper slitting the throat of a patron and Erik Palladino being blown by a tranny, all before a wild romp in a motel room with the two girls that has Britne Oldford punching Riley Litman in the middle of sex and ends with both of them handcuffed to their beds.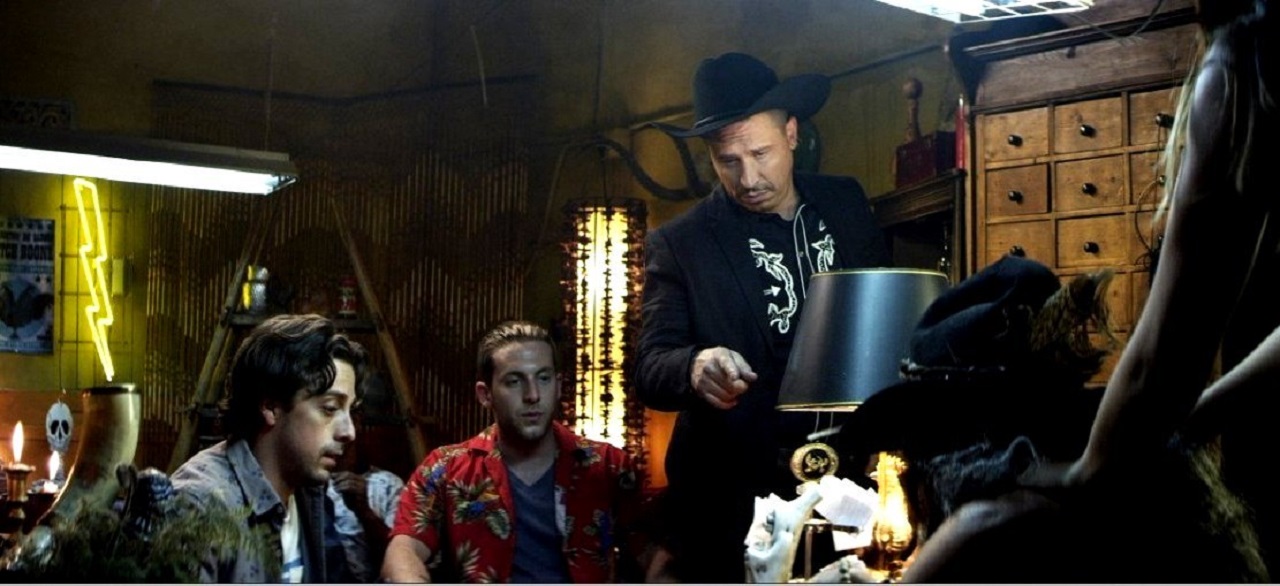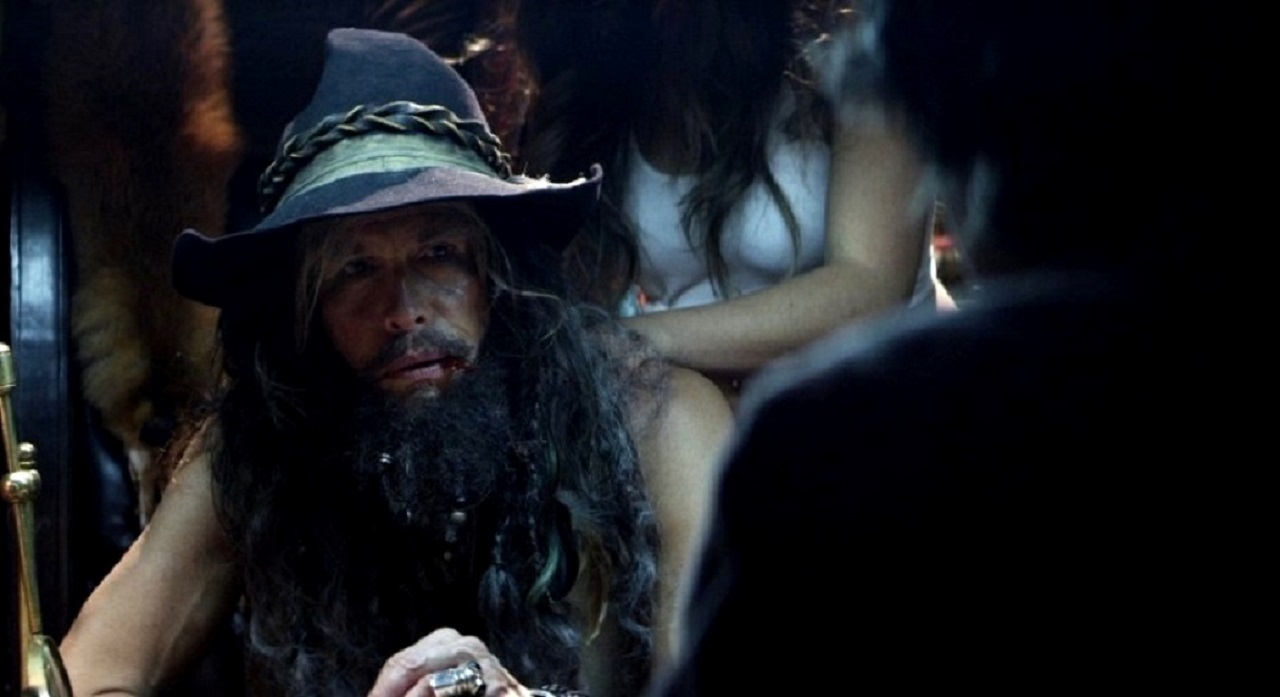 From the point that it takes on the feeling of a drug-induced nightmare, Happy Birthday! works rather effectively. There's the bizarreness of Matt Bush's imprisonment with the two girls alternately attempting to tempt/sexually use him and torture him – he is held in the closet in his underwear with tacks scattered on the floor to discourage him from emerging to at one point Britne Oldford pouring syrup over his body to allow chickens to peck him as a torture. All in in between ominous threats that he doesn't want El Gato Inferno to have to come and the suggestion that things have gone wrong and Riley Litman has been killed.
Eventually ([PLOT SPOILERS], everything that has transpired is revealed to be a big set-up a la The Game (1997) in order for Riley Litman to give Matt Bush a birthday surprise he will never forget. The Game twist has started to become a cliche twist – it was also used in the same year's, Fear, Inc. (2016), which placed an amusing horror film homage spin on it. This works rather well. (It is also cleverly tipped in the opening minute where we get an appearance of a mocked-up poster for the film and some of Riley Litman's dialogue). The set-up is reasonably clever and not too improbable and credibility-stretching as some of these films get – The Game being a notable example.
One of the more off-the-wall aspects of the film is Casey Tebo's penchant for characters voicing wacky theories about pop culture in monologues. In the opening scenes, Riley Litman is on the phone discussing a remake of Gremlins (1984) and saying he won't do it unless he is allowed to bring the racist subtext out into the open. Steven Tyler has a monologue about racial interpretations of films like Rocky (1976), Star Wars (1977) and The Avengers (2012),. After being introduced, head villain El Gato Inferno monologues about his love of Hollywood and father-son symbolism to be found in the films of Paul Thomas Anderson.
Casey Tebo next went on to direct the horror comedy Black Friday (2021).
---
---