---
Crew
Directors/Screenplay – Dan Berk & Robert Olsen, Producers – Garrick Dion, Allan Mandelbaum, Tim White & Trevor White, Photography – Matt Mitchell, Music – Andrew Hewitt, Visual Effects Supervisor – Andrew Sherman, Special Effects Supervisor – Philip A. Beck, Titles & Animation – Matt Reynolds, Prosthetic/Makeup Effects – After Lunch Effects (Supervisor – Peter Gerner), Production Design – Anne Simeone. Production Company – The Realm/Star Thrower Entertainment/Creative Wealth Media.
Cast
Bill Skarsgård (Mickey), Maika Monroe (Jules), Jeffrey Donovan (George), Kyra Sedgwick (Gloria), Blake Baumgartner (Sweetiepie), Danny Johnson (Officer Wells)
---
Plot
Mickey and Jules conduct an armed robbery of a gas station and get away with the proceeds – only for their car to run out of fuel not far down the road. They head to a nearby house and, finding nobody home, break in. Searching the house, they are shocked to find a young girl Sweetiepie chained up in the basement. Jules is determined that they rescue Sweetiepie and take her with them. Searching for a way to cut the chains, they are startled as the homeowners, husband and wife George and Gloria, return. Mickey pulls his gun and insists that George and Gloria free Sweetiepie. However, Sweetiepie then bites Mickey's hand, allowing George to overcome him. Mickey comes around to find they are prisoners in the house. A series of games between they and George and Gloria ensue as they seek to turn the tables and find a means of escape.
---
Villains was the third film from the writing/directing partnership of Dan Berk and Robert Olsen. The two had previously written-directed the thriller Body (2015) and the Glass Eye Pix sequel Stake Land II (2016), as well as written the script for Mike Mendez's fun body-hopping effort Don't Kill It (2016). They subsequently went on to make the body snatchers film Significant Other (2022).
Villains starts out with an appealingly quirky sense of humour. Bill Skarsgård and Maika Monroe are two characters that in almost any other film would be treated as objects of ridicule for their lack of intelligence. Instead, Berk and Olsen have an endearing likeability for them, while Skarsgård and Monroe both give performances that make them two of the most amiable losers one is likely to come across.
It becomes apparent soon into the film that Villains follows a path charted by other films such as The People Under the Stairs (1991), The Collector (2009), Don't Breathe (2016), Bad Samaritan (2018), Monster Party (2018), The Owners (2020), Hounded (2022), The Price We Pay (2022) and Little Bone Lodge (2023) that feature plots in which house burglars or criminals on the run enter homes only to come across something disturbed – the activities of serial killers and/or people being held prisoner. (See Home Invasion Thrillers).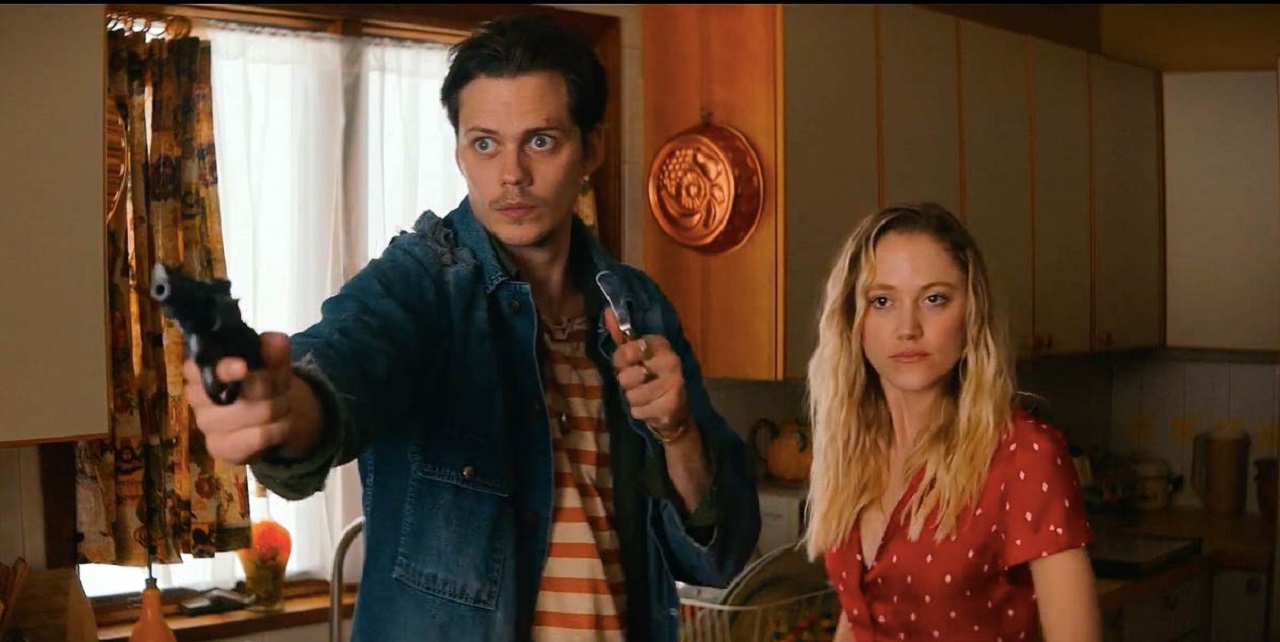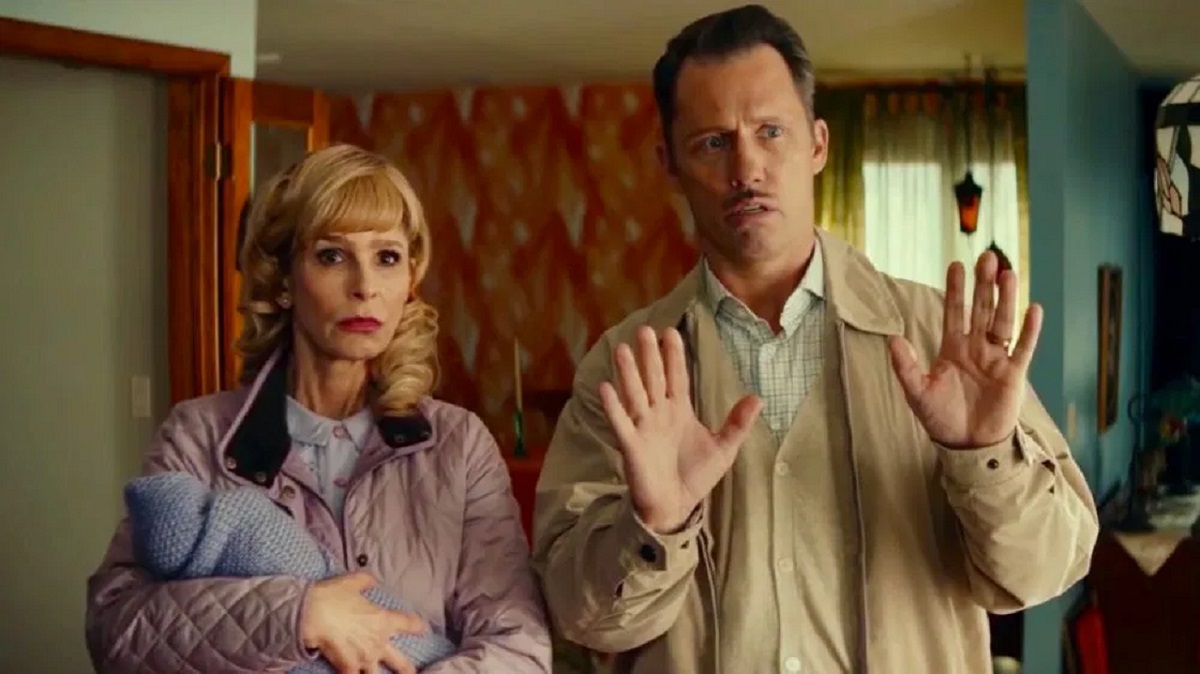 Much of the film is stolen by the veteran names in the cast. Jeffrey Donovan owns much of the early parts of the show with a serpentine charm, particularly in a scene using his salesman skills to outsmart a gun-wielding Bill Skarsgård. Kyra Sedgwick emerges to the fore in a demented scene where she comes onto and does a partial striptease for Bill Skarsgård as he is tied to a bed – with her at the age of 54, it becomes the sort of outlandish scene that you could imagine in a film like What Ever Happened to Baby Jane? (1962).
The fun of the film comes in the whiplash twists and turns the plot keeps taking – how we go from Bill Skarsgård demanding at gunpoint that Blake Baumgartner be freed to her biting his hand and then the two of them overcome and imprisoned; the escape from the cellar (via a laundry chute) that ends up in chaos at the front door; the successive attempts to escape that all go awry in the funniest ways. Berk and Olsen's sense-of-humour is appealingly offbeat, including scenes of Bill Skarsgård and Maika Monroe chained up in the cellar nonchalantly discussing business ventures they could take up when they get free, or his attempts to pick the lock using her tongue piercing.
---