---
Crew
Director/Screenplay – Ruth Platt, Producer – Darko Stavrik, Photography – Oskar Kudlacik, Special Effects – Phantom Special Effects (Supervisors – Harry Bryce & Martin Pryca), Makeup Effects Supervisor – Helen Lake, Production Design – Martin Pryca. Production Company – UrbanFox Films.
Cast
Robert Hands (Mr Gale), Evan Bendall (Finlay 'Fin' Tindall), Michaela Prchalova (Mia Vukovic), Rory Coltart (Joel Whitely), Tom Cox (Jake Tindall), Dolya Gavanski (Tanja), Joshua Wedge (Eddie), Charlotte Taylor (Fin's Mother)
---
Plot
Fifteen year-old Fin Tindall lives with his older brother Jake following the death of their mother. Also living with them is Jake's Russian immigrant girlfriend Mia who Fin secretly desires. In school, Fin and in particular his best friend Joel Whitely cause havoc. On Fin's sixteenth birthday, he and Jake are fooling around when the English teacher Mr Gale, who Fin had previously humiliated in class, knocks them both out. Fin comes around to find the two of them are tied up in Mr Gale's garage. There Mr Gale insists on giving them a lesson – with the threat of hammering nails into their hands if they do not comply.
---
The Lesson was a directorial debut for Ruth Platt. Prior to this, Platt had been an actress mostly on British tv going back to the late 90s with credits on shows such as Eastenders (1985- ), The Ruth Rendell Mysteries (1987-2000) and Holby City (1999- ), as well as appearing in the film The Pianist (2002). Platt subsequent to this, Platt went on to write-direct the subtle ghost story Martyrs Lane (2021).
The Lesson comes with an appealing premise for a psycho film – a mild-mannered school teacher snaps after constantly dealing with disrespectful pupils and imprisons two of them, torturing them in order to make them learn. Ruth Platt does a good deal to chart out the divide by making teacher Robert Hands milquetoast and ineffectual – he has the indignity of having his car keyed and Rory Coltart taunt him in class by smearing chewing gum into his hair – while making the two imprisoned juvenile delinquents as loathsome as possible. In this latter respect, Rory Coltart gives an abrasive and nasty performance that dominates much of the early half of the film – most disturbingly, it has the feel of being naturalistic and unrehearsed acting. By contrast, Evan Bendell, who becomes the point-of-view character when the torture starts, is made to seem much more subdued, even sympathetic.
The rapidity with which Coltart and Bendall go from fooling around on the roadside to being knocked out and imprisoned makes you gasp at its abruptness. After that point, The Lesson becomes a whole other film. It goes from a bleak portrait of today's youth to what you could almost call an intellectual Torture Porn film. We get some intense scenes with Robert Hands having Evan Bendall (plus an unconscious Rory Coltart) tied up in his garage and giving them the titular lesson upon threat (and frequent demonstration) of nailing Bendall's hands to the table. It is something that makes The Lesson resemble one of Pete Walker's films – see in particular House of Whipcord (1974) and House of Mortal Sin/The Confessional (1976) – that would always feature insane figures of establishment authority.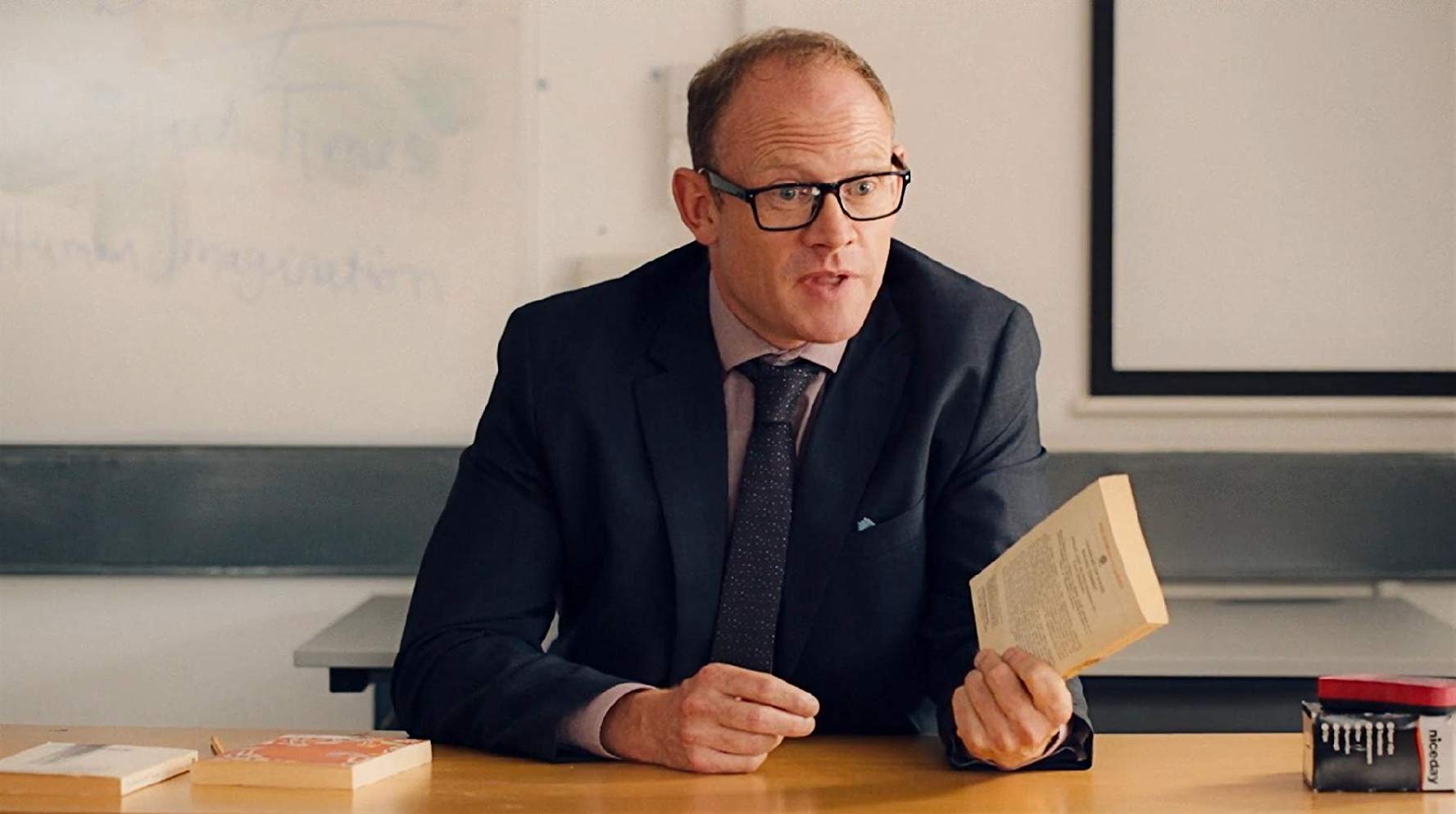 These scenes have an undeniably stark tension but what makes them fascinating is that Ruth Platt plays them in completely different ways to what you expect. Another abduction and imprisonment film would surely focus on the psychological twists and turns or the attempts of the prisoners to escape from their captor. By contrast, Ruth Platt's interest lies in the lesson that Robert Hands is trying to impart where he frequently gives flight to speechifying and discussion of various ideologies and literary classics/writers.
I defy any other Torture Porn or even abduction and imprisonment film to mention, let alone hold discussion about, feudalism and mediaeval land ownership, Rousseau's idea of innocence, or debate on the writings of Malthus, William Blake, Charles Dickens, Thomas Hobbes and works like Jane Eyre (1847), Animal Farm (1945) – even mention of the watered down film version Animal Farm (1954) – and Lord of the Flies (1954). It is the interesting idea of a torture film that afterwards leaves you feeling more enlightened in the letters than before you sat down to watch.
The ending reached is almost the antithesis of where a horror film traditionally goes. [PLOT SPOILERS] For all Ruth Platt's admiration of Robert Hands and using him as an opportunity to speechify, he is regarded as a dangerous maniac and killed off. The coda of the film has Evan Bendell and Michaela Prchalova going and finding Hands' flat filled with first editions and collapsing onto the bed in one another's arms. The end seems to show that change is possible (albeit after it having been tortured into a pupil) and finds a mid-ground between uncontrolled youth and an insanely authoritarian educational system in love and the pleasure of discovering the arts.
---
---