aka The Head That Wouldn't Die
---
USA. 1962.
Crew
Director/Screenplay – Joseph Green, Story – Joseph Green & Rex Carlton, Additional Writing – Doris Brent, Producer – Rex Carlton, Photography (b&w) – Stephen Hajnal, Theme Music 'The Web' – Abe Baker & Tony Restaino, Music Supervisor – Ed Craig, Special Effects – Byron Baer, Makeup – George Fiala, Art Direction – Paul Fanning. Production Company – Carlton/Sterling.
Cast
Herb Evers (Dr Bill Cortner), Virginia Leith (Jan Compton), Leslie Daniel (Curt), Adele Lamont (Doris Powers), Lola Mason (Donna), Bruce Brighton (Dr Cortner Sr), Bonnie Sharre (The Queen)
---
Plot
Medical intern Bill Cortner's fiancee Jan Compton is decapitated in a car crash. He rushes back to his laboratory with the head and manages to keeps it alive by placing it in a tray of chemicals. He then starts searching for another woman's body to attach the head to. He scours bars and hookers in his search for the perfect body. Meanwhile, Jan, now driven insane, psychically contacts the monster that Cortner keeps in the laboratory closet, the failed result of a previous experiment, and together they plan revenge for their hideousness.
---
The Brain That Wouldn't Die is a wonderfully entertaining exploitation film. Many people cursorily dismiss it as another bad bad film up there somewhere with Plan 9 from Outer Space (1959). Indeed, the very concept of a disembodied brain movie seems to automatically cast it in bad movie category along with the likes of They Saved Hitler's Brain (1964). However, The Brain That Wouldn't Die is made with such a perverse panache that it remains difficult to dislike.
Director Joseph Green tarts the film up with an amazing array of bikini parades and lingerie-clad catfights, and grinds away at the atmosphere with a seediness that becomes rather entertaining. In one amazing scene, Herb Evers sits perversely caressing the grotesque scar on a girl's face in an attempt to convince her to come back to his lab for a 'beauty treatment'.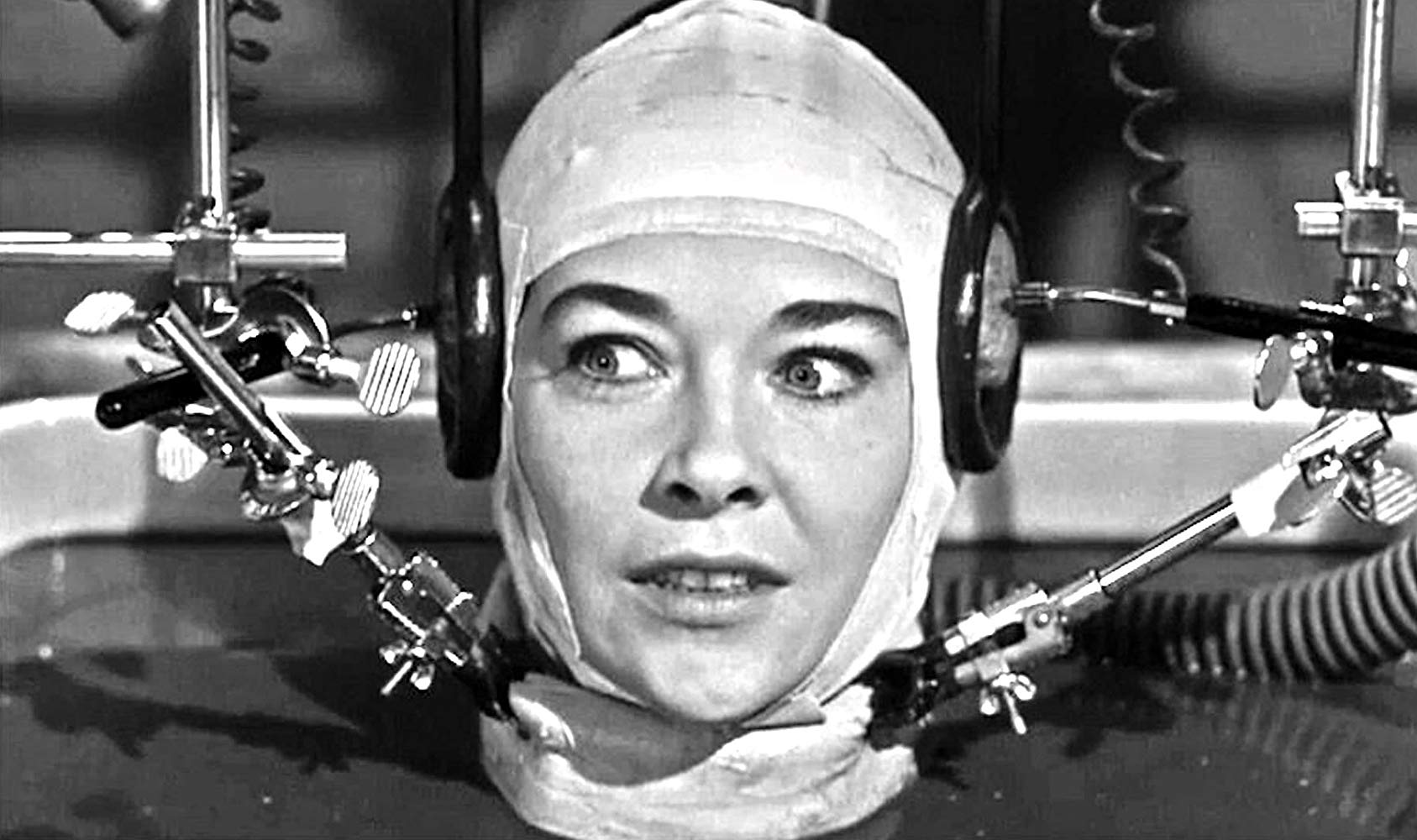 Virginia Leith delivers a hilarious and wonderfully overwrought series of maniacal rantings in a performance given almost entirely with her head sitting in a tray. The pseudo-scientific babble is played with such a conviction in itself that one almost ends up believing it too.
The emergence of the thing in the closet lives up to its grotesque promise and, in a display of gore that was quite sensational for the time, rips the arm off deformed lab assistant Leslie Daniel. There is a also wonderfully breathy sax score that adds a good deal of atmosphere to the proceedings.
Nearly sixty years later, the film underwent a remake The Brain That Wouldn't Die (2020), this time in colour.
---
Trailer here
Full film available online here:-
---