---
Crew
Director – Robert Day, Screenplay – Jean Scott Rogers, Producers – John Croydon & Charles Vetter Jr, Photography (b&w) – Geoffrey Faithfull, Music – Buxton Orr, Makeup – Walter Schneidermann, Art Direction – Anthony Masters. Production Company – Amalgamated Productions.
Cast
Boris Karloff (Dr Thomas Bolton), Francis de Wolff (Black Ben), Betta St. John (Susan), Francis Matthews (Jonathan Bolton), Christopher Lee (Resurrection Joe), Finlay Currie (Superintendent Charles Matheson), Adrienne Corri (Rachel), Nigel Green (Inspector Donovan), Frank Pettingell (Dr Blount), Basil Dignam (Chairman), John Gabriel (Dispenser), Yvonne Warren (Rosa)
---
Plot
London, 1840. Thomas Bolton is the hospital's top surgeon but deplores the surgical methods he must use, which involve cutting as quickly as possible to avoid pain to the patient. He is certain that some way can be found to prevent patients from feeling pain by anaesthetizing them during surgery. He begins to conduct research with various mixes of chemicals using himself as a test subject. Under the influence of drugs, he stumbles into the inn of Black Ben in the Seven Dials slum district where he does charity work among the poor. After Bolton drops the book containing his research notes, Black Ben withholds this in order to get Bolton to sign death certificates for the people that he and the murderous Resurrection Joe kill to sell their corpses for medical experimentation. Bolton's increasing addiction to his anaesthetic gas causes problems and he is suspended from the hospital. Unable to attain the chemicals he needs for both his addiction and his experiments, Bolton returns to the inn and enters into an illicit deal to break into the hospital dispensary.
---
Corridors of Blood is one of the early films from the English horror cycle. The film was originally made in 1958 under the title The Doctor of Seven Dials, was released briefly but was not widely seen until 1962 and then on a double-bill with Werewolf in a Girl's Dormitory (1961), where it was given a new title Corridors of Blood that made it sound much more like a horror film.
At the time that it was made, co-star Christopher Lee, who played the supporting part of the murderous Resurrection Joe, was a young, not particularly well known actor and had just appeared in Hammer's The Curse of Frankenstein (1957). Of course, after playing the title role in Hammer's next film, Dracula/The Horror of Dracula (1958), Lee became a major horror icon and one of the keystones of the Anglo-horror cycle. By the time that the film was eventually released, Christopher Lee's name had attracted such fame that the public was led to believe that he was the star of the show.
What becomes apparent in seeing Corridors of Blood is that it is not a horror film at all. It is more of an historical film about early medicine and the discovery of anaesthesia. (The character of Bolton is very loosely based on Connecticut dentist Horace Wells who in 1844 pioneered the use of nitrous oxide as an anaesthetic while pulling teeth. Wells also experimented on himself (although there is no record that he became a drug addict) and was ridiculed by his peers when the patient woke up during a demonstration).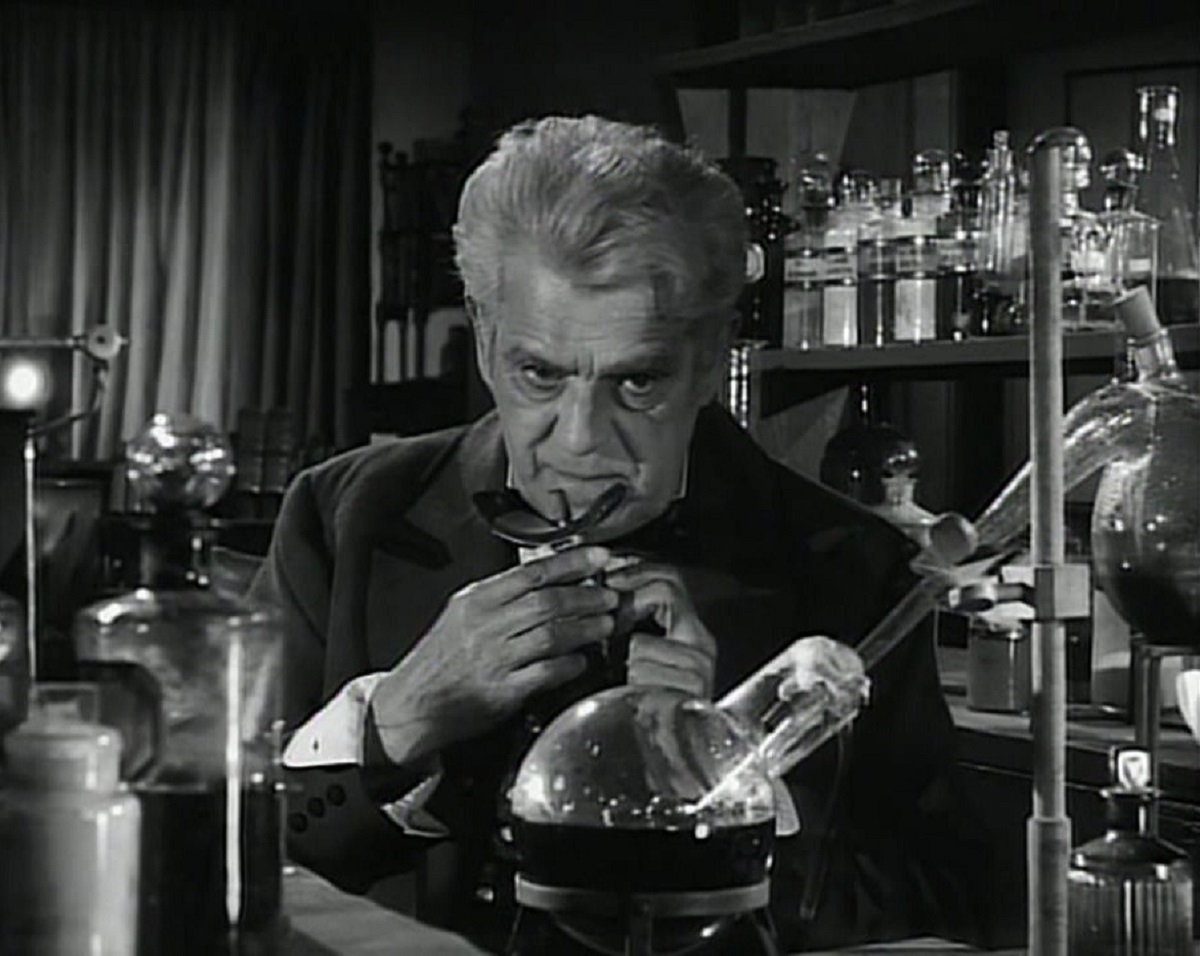 In various genre studies, commentators have often called Corridors of Blood a Sadean film and linked it with other films that came out around the same such as Horrors from the Black Museum (1959), Circus of Horrors (1960) and Peeping Tom (1960). In seeing the film, this is not the case either – while there are a couple of surgical scenes, these seem more matter-of-fact than lurid and there is nothing in the way of gratuitously sensationalistic murders. Trying to label Corridors of Blood as a Sadean film is surely akin to regarding tv's ER (1994-2009) as a gore show on the basis of its often graphical surgical scenes.
One gets the impression that Corridors of Blood started out as an historical film but other influences came in over the script – almost certainly the appearance of The Curse of Frankenstein and the sudden interest in English horror – to push it out of shape into being a horror film. This is particularly apparent in the casting of Boris Karloff. He is cast as an earnest but misguided scientist who becomes addicted to his own experimental anaesthetic gas. However, the way the film plays this, it is a portrait of drug addiction that seems to almost be wanting to turn into a Jekyll and Hyde story. It is an entirely melodramatic portrait of addiction – one where Boris Karloff undergoes a personality change and even suffers complete blackouts about what he has done while under the influence.
The film has many similarities to the Fredric March version of Dr. Jekyll and Mr. Hyde (1931) in that it also draws a dichotomy between the doctor's upstanding life in polite society and his consorting with unruly elements in the seedy inns of London, which clearly come to stand in for the dangerously carnal side of life that has been repressed both in the doctor's personality and by the polite society he comes from. To add to the horror connection, the film also throws in a subplot involving body snatchers – the Burke and Hare story (or some equivalent thereof) seems to hover in the background of a good deal of Anglo-horror and could be considered de rigeur for any film dealing with pre-20th Century medicine.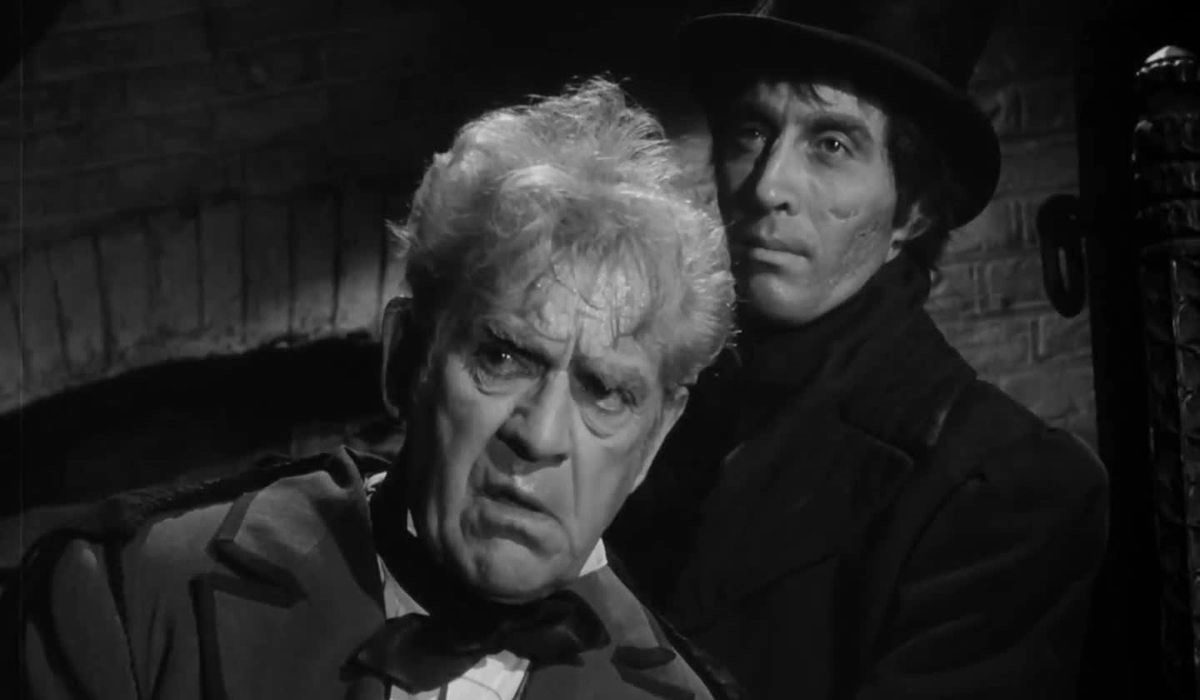 All things said, Corridors of Blood is a fair and reasonable film, whether considered either as horror or historical drama or some peculiar melange of the two. While clearly operating on a low budget (there is only a single painted backdrop of the city of London beyond the slum area, for instance), the art director has exerted some effort in making the sets and dressings look authentic for the period. Director Robert Day does a fair job and the story is reasonably absorbing. Boris Karloff plays well in the mad scientist role he perfected – a scientist whose endeavours seem highly sympathetic and not at all mad, really. Christopher Lee adds a sinister undercurrent as the murderous blackguard, while Francis De Wolff shines as the burly blackmailing innkeeper.
Director Robert Day made a number of other genre films. Having imported Boris Karloff for Corridors of Blood, Day also used him at the same time in The Haunted Strangler/Grip of the Strangler (1958), another very similar period film where Karloff plays an upstanding man with a hidden past as a murderer. Robert Day also made First Man Into Space (1959), a cheapie about a mutating returned astronaut; Hammer's lost world film She (1965), also starring Christopher Lee; as well as a host of Tarzan films – Tarzan the Magnificent (1960), Tarzan's Three Challenges (1963), Tarzan and the Valley of Gold (1967), Tarzan and the Great River (1968) and Tarzan and the Jungle Boy (1968). The majority of Day's work in the 1970s and beyond was in tv, where he made a number of genre tv movies including Ritual of Evil (1970) about an occult investigator and the psychic powers film The Initiation of Sarah (1978).
(Review copy provided courtesy of Kathy Tipping)
---
---