---
Crew
Director – Frank Darabont, Screenplay – Mark Patrick Carducci, Story – David A. Davies, Producer – Niki Marvin, Photography – Jacques Haitkin, Music – Michel Colombier, Special Effects Supervisor – William A. Klinger Jr., Production Design – John K. Reinhart Jr.. Production Company – Niki Marvin Productions.
Cast
Tim Matheson (Clint Goodman), Jennifer Jason Leigh (Joanna Goodman), William Atherton (Courtland Van Owen), Hoyt Axton (Sheriff Sam Eberly), Wayne Grace (Bill Scorby), Peg Shirley (Helen Eberly)
---
Plot
Clint Goodman runs a successful construction company. His wife Joanna hates the fact that they have left the city for rural life and urges him to accept a buy-out offer and leave but Clint likes what he has built up and declines. Joanna is having an affair with local doctor Courtland Van Owen. Courtland comes up with a plan to kill Clint off so they can take the money for themselves. He gives Joanna a vial containing a paralysing poison taken from one of his tropical fish. Joanna places this in Clint's glass of wine whereupon he collapses at the table. It is certified as a heart-attack by the coroner. Joanna quickly organises a funeral and makes plans to sell up the business and house as soon as possible. However, because Joanna spilt some of the poison, Clint did not receive a full dose and is only paralysed. He wakes up in the coffin and digs his way out. Returning home, he realises what has happened. He decides that instead of killing the two of them, he will plot an elaborate revenge scheme.
---
Buried Alive was a tv movie that would probably not be remembered today except for one small thing that became significant in retrospect – it was the directorial debut of Frank Darabont. Darabont had first appeared as the director of the 30-minute Stephen King adapted short film The Woman in the Room (1084), which gained good word of mouth. He then spent several years working on the scripts of various films including A Nightmare on Elm Street III: The Dream Warriors (1987), The Blob (1988), The Fly II (1989), Mary Shelley's Frankenstein (1994) and episodes of Tales from the Crypt (1989-1995) and The Young Indiana Jones Chronicles (1992-4).
A mere four years after making the relatively unhoned Buried Alive, Darabont went on to direct the Stephen King adapted The Shawshank Redemption (1994), which had Darabont nominated for Best Adapted Screenplay at the Academy Awards and is regarded as one of the great films of all time according to IMDB user polls. From there, Darabont went on to direct a further King adaptation with The Green Mile (1999) then The Majestic (2001) and back to King again for The Mist (2007). Darabont's career kind of imploded after he launched the hit tv series The Walking Dead (2010-22), only to be fired by the producers at the end of the second season and further embarrassed by the release of abusive emails. Apart from creating the short-lived tv series Mob City (2013), Darabont has not done a huge amount since then.
Buried Alive is a rough film. It has the feel of a director still getting used to his craft, missing various opportunities and cues but showing promise. It is a real surprise that within the space of only his very next film Darabont managed to pull it together for something as accomplished as The Shawshank Redemption that had him nominated for assorted awards and in the eyes of many is still his best work.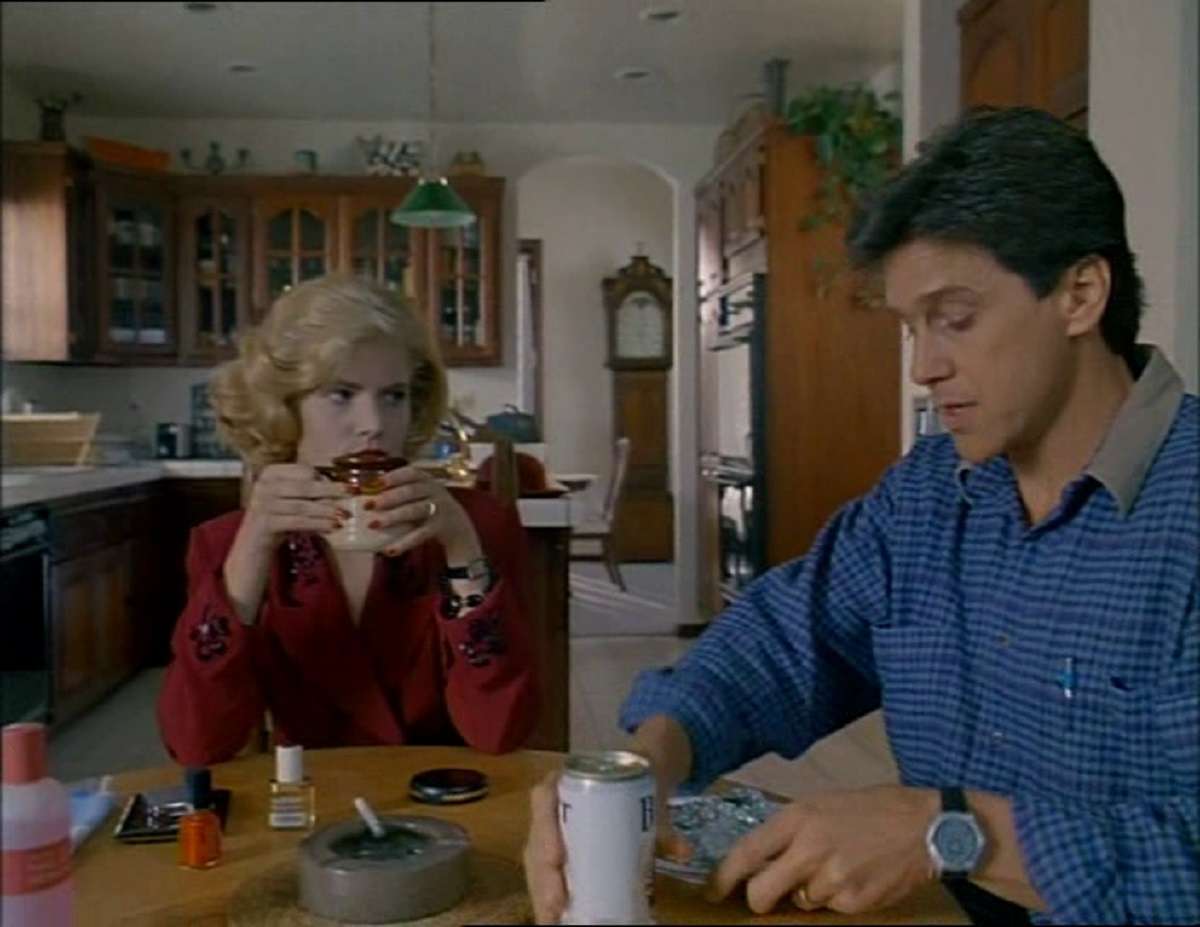 There are scenes here that Darabont lets falls through his hands. For a film entitled Buried Alive, surprisingly little is made of the scenes with Tim Matheson trapped in the coffin. He wakes up and is able to dig his way out within only a couple of minutes – compare this to the torturous suspense of something like Buried (2010) or the paranoia and tension at the ending of The Vanishing (1988). There is a scene on the morgue table where the attendant is about to cut open Tim Matheson's throat and insert an embalming tube where Darabont fails to generate much tension – compare this to the scenes with Richard Thomas on a morgue table in the Autopsy Room 4 episode of Nightmare & Dreamscapes: From the Stories of Stephen King (2006) that generates great tension despite the central character not being able to move a muscle.
Indeed, you are fully two-thirds of the way through and wonder if Buried Alive has been mislabelled as a horror film. The title certainly makes it so but the film seems little interested in the actual burial alive aspect and more in being a revenge thriller. On the other hand, the film does pick up considerably in the last twenty minutes in the scenes with Tim Matheson trapping Jennifer Jason Leigh and William Atherton inside the house where he has constructed a maze (overnight!) out of wood with sliding panels and uses these to exact his just desserts revenge on the two of them.
To some confusion, there were two films with the same title that came out around the same with this and the earlier released Buried Alive (1989) starring Robert Vaughn, which makes very slim claim to be based on Edgar Allan Poe.
---
---