---
Crew
Director – Robert Day, Teleplay – Kenette Gfeller, Don Ingalls & Carol Saraceno, Story – Tom Holland & Carol Saraceno, Producer – Jay Benson, Photography – Ric Waite, Music – Johnny Harris, Special Effects – Cliff Wenger, Art Direction – Herman Zimmerman. Production Company – Charles Fries Productions, Inc./Stonehouse Productions.
Cast
Kay Lenz (Sarah Goodwin), Morgan Brittany (Patty Goodwin), Morgan Fairchild (Jennifer Lawrence), Shelley Winters (Mrs Erica Hunter), Tony Bill (Paul Yates), Tisa Farrow (Alberta 'Mouse'), Robert Hays (Scott Rafferty), Kathryn Grant (Mrs Goodwin), Deborah Ryan (Bobbie Adams), Talia Balsam (Allison), Nora Heflin (Barbara), Elizabeth Stack (Laura O'Neill)
---
Plot
Patty Goodwin and her adopted sister Sarah sign into Waltham College as students. Both seek to be accepted into a sorority and apply to the exclusive Alpha Nu Sigma house. Patty is readily accepted because her mother was a member of the alumni, while the shy Sarah is rejected. However, Sarah is accepted by the Phi Epsilon Delta house who are regarded as losers by Alpha Nu Sigma. Alpha Nu house head Jennifer Lawrence then insists that Patty ignore and treat Sarah cruelly to demonstrate her loyalty. However, Sarah has occult powers, including the ability to move things with her mind. Mrs Hunter, the Phi Epsilon Delta housemother, encourages Sarah to find her powers and use them to take revenge against Alpha Nu Sigma for her humiliations.
---
The Initiation of Sarah was a modestly popular tv movie of its day. It is, to put it plainly, a blatant imitation of Carrie (1976). The two films have near-identical plots – in both, there is a mousy underdog of a heroine who undergoes numerous humiliations; in both, her principal tormentor is a beautiful blonde super-bitch; in both, she makes a transformation from mousy to beautiful after a guy appears to ask her out, although this turns out to be a cruel prank played on her by her bullies who then pelt her with something horrible (pig's blood in Carrie, what look like tomatoes and mud here) whereupon she gains her comeuppance against her tormentors with the use of psychic powers.
Certainly, the basics of Carrie manage to work well when transported into the elite world of the sorority house. More than anything, The Initiation of Sarah is a film about an underdog sorority standing up against the fascism of good looks and cliqueish bitchery. There at times that there seems something heartfelt and personal about the story on the part of the writers (two of whom notedly are women).
The film is slow moving – for all its being a copy of Carrie, there is very little in the way of psychic manifestations. There are odd plot ends that are left unanswered – throughout a mystery is made of Sarah not knowing who her parents were and it hinted that they have something to do with Phi Epsilon Delta's sinister past but this is a story strand that is forgotten and left unresolved.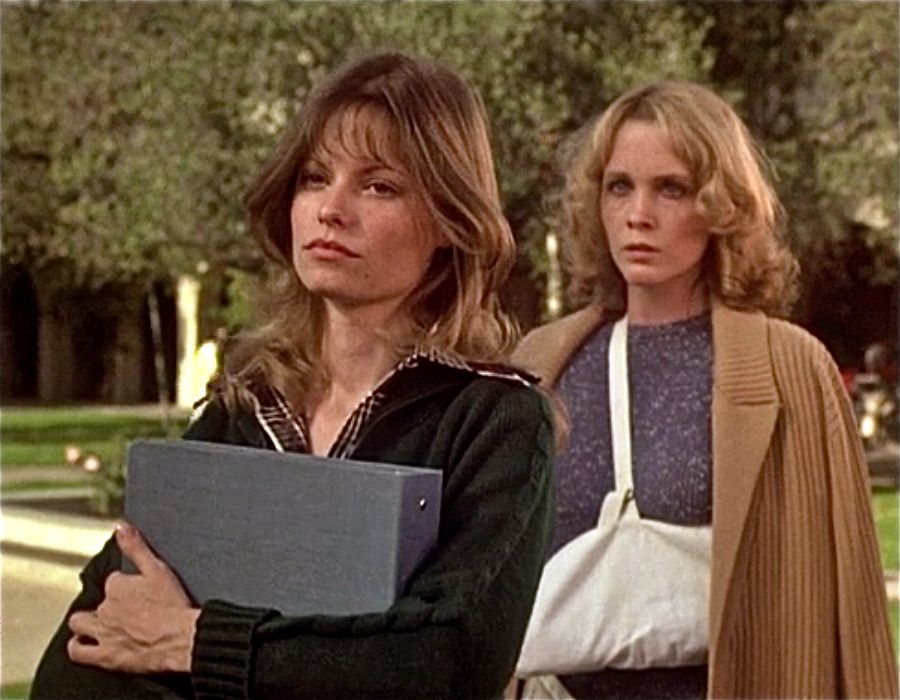 Where The Initiation of Sarah goes awry is when it tries to blend the basics of Carrie with a plot about sinister occult ceremonies going on in the sorority – perhaps an element that was inspired by the tv movie Satan's School for Girls (1973), which also aired on ABC. The film draws an intriguing analogy between occult rites and the sorority initiation ceremony in a series of crosscuts.
However, the film is let down in these scenes by the rather ridiculous sight of plump, brassy voiced Shelley Winters ritually chanting while outfitted in red robes. The producers have clearly tried to cast Shelley Winters in the mould of Piper Laurie's mother figure in Carrie and there is an identical climax in both films where Carrie/Sarah causes the Piper Laurie/Shelley Winters figure to be consumed in a fire.
This also serves to twist the climax of The Initiation of Sarah askew – as with Carrie, this should have consisted of Kay Lenz using her powers to take revenge against Morgan Fairchild and the Phi Epsilon Delta sorority but instead the climax involves Lenz suddenly standing up against Shelley Winters (who has otherwise been portrayed throughout as sympathetic) and realising that her powers are evil. It is something that in its last minute, left field arrival throws the film's sympathies and dramatic thrust off balance – throughout the film has tried to engage us in an underdog psychic comeuppance fantasy, yet when it comes to the expected payoff it suddenly gets cold feet and decries the powers as evil.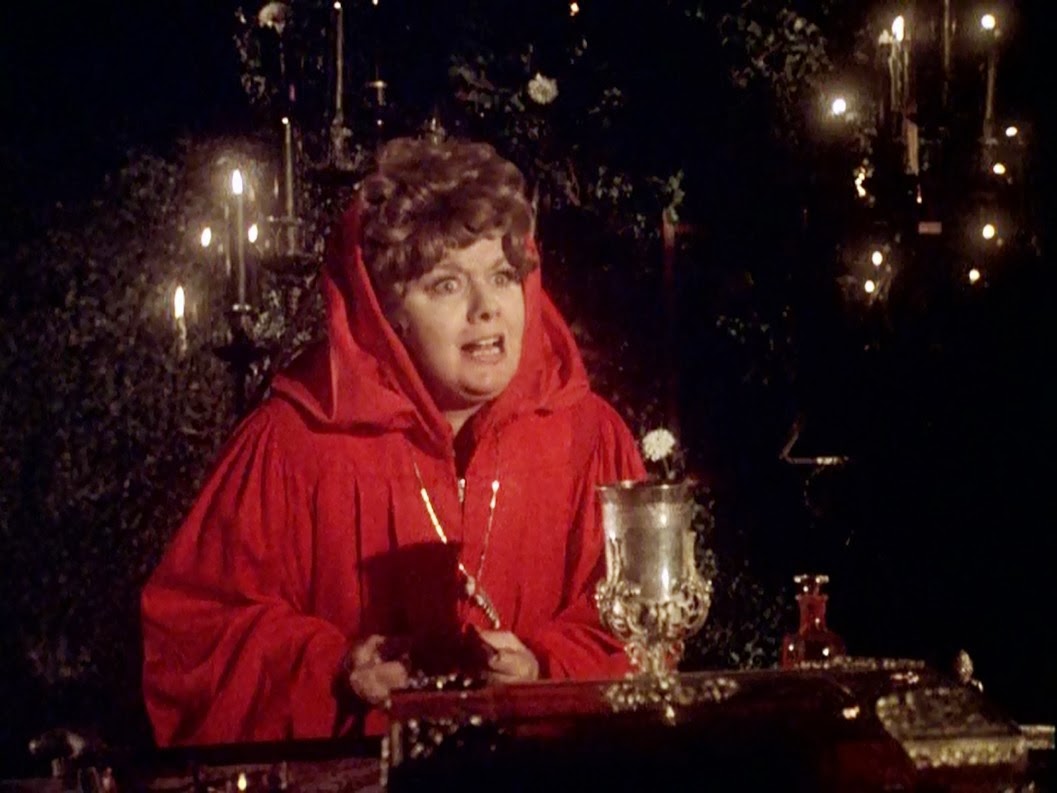 Kay Lenz is a worthy casting choice in the title role – an actress who both has a demure beauty, yet at the same manages to convincingly project being mousy and introverted. The big name on the credits is Morgan Fairchild, a few years before Fairchild found fame on tv's primetime soap Falcon Crest (1981-90). Fairchild's frosty platinum blonde blankness is perfectly suited to the role of uber-bitch. There is the prize schlock moment where, after humiliating Kay Lenz, Fairchild is psychically shoved into a fountain.
The film was remade as The Initiation of Sarah (2006) with Mika Boorem as Sarah, Summer Glau as the sister, Jennifer Tilly in the Shelley Winters role and even a reappearance of Morgan Fairchild, this time playing Sarah's mother.
The film is routinely directed by Robert Day, a veteran director from the British film industry who also made the genre likes of Corridors of Blood (1958), The Haunted Strangler (1958), First Man Into Space (1959), Hammer's She (1965) and various Tarzan films. Screenwriter Tom Holland later went onto direct various genre films such as Fright Night (1985), Child's Play (1988) and Thinner (1996).
---
---