---
Crew
Director – David Wellington, Screenplay – Doug Taylor, Producer – Pierre Grise, Photography – David Franco, Music – Pierre Bundock, Special Effects – Andrew Campbell, Makeup Effects – Michel Bougie, Art Direction – Sylvain Gingras. Production Company – Gold Gems Canada Ltd/Jack Bravman.
Cast
Lynne Adams (Alice Jarett), Wings Hauser (The Carpenter/Ed Byrd), Pierre Lenoir (Martin Jarett), Barbara-Ann Jones (Rachel), Louise-Marie Mennier (Laura Bell), Jon Cuthbert (Roland), Bob Pot (Farnsworth), Richard Jutras (Mr Mort), Robert Austern (Barns), Tony Ulc (Landis), Ron Lea (Sheriff J.J. Johnston), Griffith Brewer (Dr Flanders)
---
Plot
Alice Jarett has to be committed to a psychiatric institution by her husband Martin. After being released, she is taken to the new home that Martin has bought. Workmen are still completing repairs to the house as they move in. Alice wakes in the middle of the night and goes downstairs to meet a charming and friendly carpenter at work – although none of the regular day workers seems to know about him. When one of the workers trying to force his way with Alice, the carpenter comes to her aid and kills the man. Alice finds herself attracted to the carpenter at the same as he despatches others who threaten her. She learns that he is the previous owner of the house who became obsessed with perfecting it as the neglect of all else, only to then be murdered by his creditors.
---
The Carpenter was another film from the great 1980s era of Canucksploitation. For most of the world, the film was only ever seen in video release where it received mixed reviews. It is however a not uninteresting entry in the field that at least tries to do something different.
The film gives us a set-up – a heroine who has been locked in a psychiatric institution by her husband after a mental breakdown who returns home to a new house that appears to be haunted – that doesn't seem too different from any of a dozen tv movie ghost stories. Wings Hauser's Carpenter seems to have been construed as a Freddy Krueger-styled figure, which was the hottest trend there was on the genre scene in 1988. He appears and despatches Jon Cuthbert's would-be rapist with lines like "You're just going to have to learn to keep those hands to yourself." The difference is that while you expect each of the despatches to have a campy punchline, Hauser instead injects a handsome Southern politeness, turning from hacking Cuthbert up with a buzzsaw to sweetly tell Lynne Adams "Go get some rest" without missing a beat.
It is Wings Hauser – the only recognisable name present – and his charming homespun "yes ma'am" politeness that makes The Carpenter unusual and effective. The film is happy to play as the embodiment of an idealised romantic fantasy, while contrasting it with Hauser heading off to despatch people. (Even more oddly, heroine Lynne Adams never seems too upset by any of the murders of people around her; instead, calmly tells her husband as he comes home to find a dead body on the floor "that's your girlfriend"). Hauser, who spent most of his career playing crazies and menacing law enforcement types, has never been better. The film also maintains a certain ambiguity as to whether he is real or ghostly. There is also the interesting idea that he exists in a sympathetic state with the house and when it is damaged, he too is cut or his bones broken.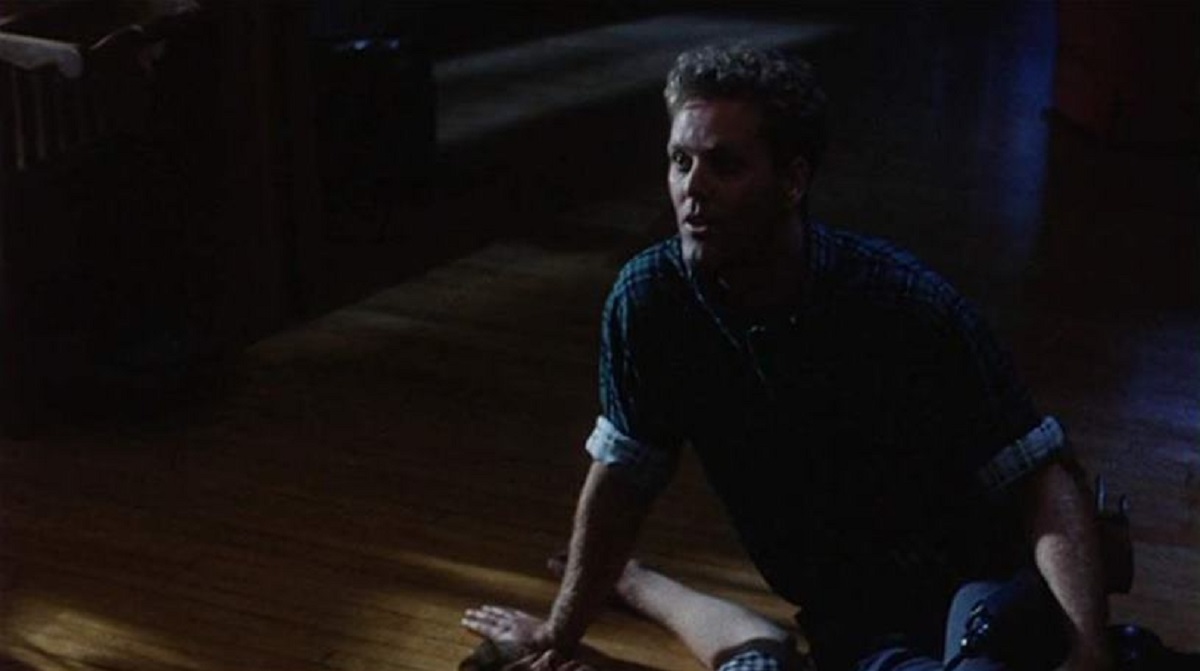 On the minus side, director David Wellington never does the horror elements very well. The various despatches are poorly staged and the gore effects unconvincing. The film falters badly at its ending, which feels tacked on to wrap the show up rather than a dramatic resolution that arrives naturally. Here, after Wings Hauser abruptly shoves her sister (Barbara-Ann Jones) against the wall (as opposed to having watched him slaughter various other people), Lynne Adams suddenly decides that he is a nauseous pig and fights back against him. It feels a happy upbeat ending tacked on more than anything, especially gives the point-of-view character's sudden, left-field motivation.
After making his debut here, David Wellington has gone onto make a handful of other films, none of any particularly high profile, as well as work as a director and producer in Canadian television. His only other venture into genre material was the anthology film A Touch of Murder (1990).
---