---
Crew
Director – Eric Louzil, Screenplay – Lloyd Kaufman, Eric Louzil, Carl Morano, Marcus Roling, Jeffrey W. Sass & Matt Unger, Story – Lloyd Kaufman, Carl Morano & Matt Unger, Additional Material Written by Andrew Osborne, Producers – Michael Herz & Lloyd Kaufman, Photography – Ron Chapman, Music – Bob Mithoff, Creature Construction/Animation – Brett Piper & Alex Pirnie, Greenie Created by Gary Young, Special Effects Supervisor – William J. Kulzer, Makeup Effects – John "J. Frog" Garcia, Melanie Kay, Charles Myrick & Thomas Perry. Production Company – Troma.
Cast
Brick Brosnky (Roger Smith), Lisa Gaye (Professor Holt), Leesa Rowland (Victoria), Scott Resnick (Dean Okra), Michael Kurtz (Yoke), Shelby Shepard (Professor Jones), Phil Rivo (Harvey)
---
Plot
Following the disaster at Tromaville High School, a new nuclear power plant has been rebuilt by the Nukamama Corporation. As part of the deal, a new school, the Troma Institute of Technology, has been built on the grounds of the plant. Reporter Roger Smith has gone undercover as a student at the school. However, he is finding difficulty getting any dates as all the girls tell him he smells. He signs up for the sex experiments being run by Professor Holt who pairs him with Victoria to make out while blindfolded. Roger and Victoria hit it off, he unaware that she is one of the species of subhumanoids that Professor Holt has created that have extra mouths in their stomachs. Meanwhile, Professor Holt is coming under pressure from Dean Okra to have some success with the subhumanoids but all they end up doing is melting down.
---
Troma Films was formed in the 1970s by New Jersey-based distributors Lloyd Kaufman and Michael Herz. Troma produce and distribute some of the most inept, bad taste films ever made. Troma hit their heights with the offensively nasty The Toxic Avenger (1984) and then followed it up with Class of Nuke 'Em High (1986) both of which have become cornerstones of the Troma cult ever since. Troma have also put out films such as Surf Nazis Must Die (1987), Redneck Zombies (1989), Stuff Stephanie in the Incinerator (1989), Sgt. Kabukiman N.Y.P.D. (1990), Chopper Chicks in Zombietown (1991), Tromeo and Juliet (1996), The Killer Condom (1997), Terror Firmer (1999) and Poultrygeist: Night of the Chicken Dead (2006), among a great many others.
Class of Nuke 'Em High, co-directed by Lloyd Kaufman under the pseudonym Samuel Weil, was one of Troma's biggest successes. It was sequelised for the first time with 'Subhumanoid Meltdown here. Troma went on to make three other sequels with Class of Nuke 'Em High Part III: The Good, the Bad and the Subhumanoid (1994), Return to Nuke 'Em High Volume 1 (2014) and Return to Return to Nuke 'Em High (2017).
Subhumanoid Meltdown quickly reveals itself as a typical Troma film. All the female students at the university wear bikinis, while there are frequent shots of them running about topless and students making out in the grounds. Typical of Troma's sophomoric attitude, the acronym for the school Troma Institute of Technology spells T.I.T. The film is supposedly set in New Jersey but the licence plates on the cars clearly say Arizona. Hero Rock Bronsky is a blonde body-builder who spends the entire film going around in a pink singlet and matching pair of shorts. 1991 was when Twin Peaks (1990-1) was on the airwaves and so Bronsky conducts a parody of the show walking around with a handheld recorder dictating notes to a Diane.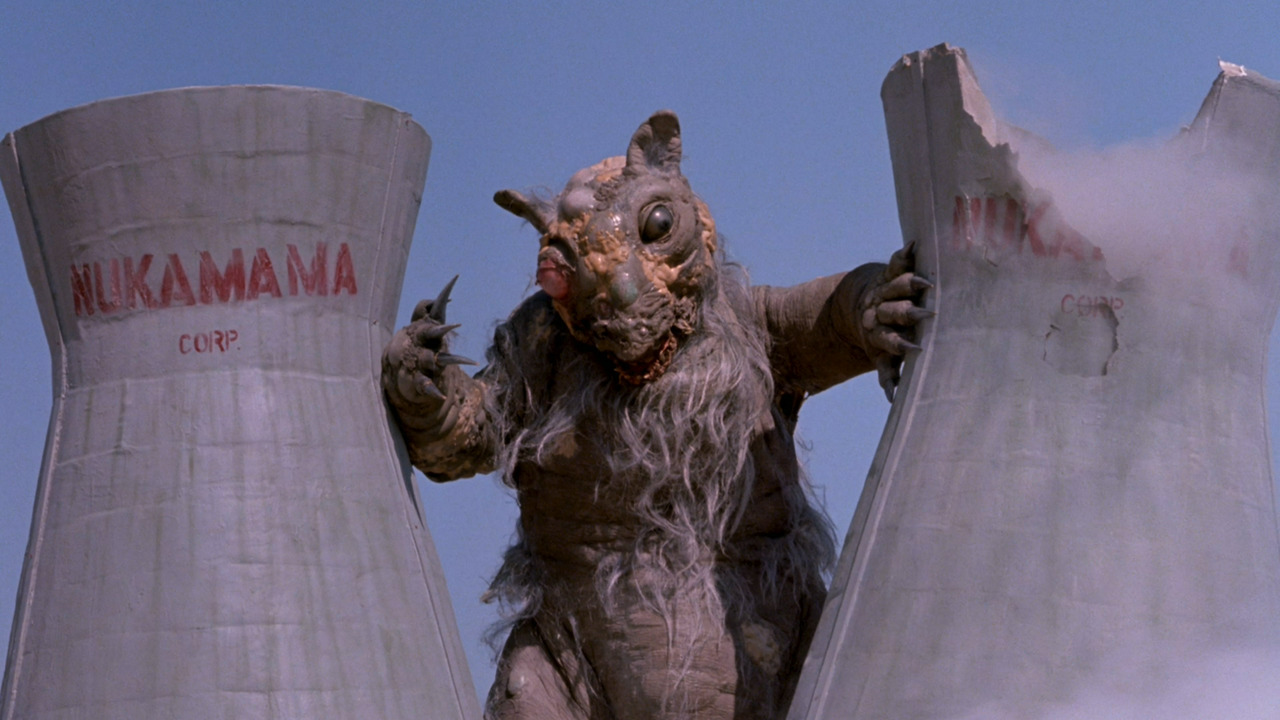 It rapidly becomes a film where nobody involved is taking anything seriously. It is not down at the level of revelling in bad taste that some other Troma films willingly embrace, more just goofy, silly fun. Although it does seem to be a film that willingly makes fun of fat people, most notedly the obese dean (Scott Resnick) who talks with a silly falsetto and is seen visibly sweating through some scenes.
Subhumanoid Meltdown feels like it has a better than usual budget for a Troma film. This leads to some halfway reasonable effects. There's the decidedly Cronenbergian effect of the subhumanoids who have a mouth in their stomach, which is put to various uses kissing, during sex, eating and even smoking cigarettes. There are other reasonably effective scenes like where the subhumanoid Harvey (Phil Rivo) is ordered to eat glass and keeps doing so even when he is profusely bleeding. There are even several minutes of stop-motion animated creature effects.
There are also the fair share of the typically cheap Troma effects – the giant squirrel is quite clearly crushing model vehicles as it goes about on its rampage – although the film is shot in a way that it is hard to tell whether this was intentional or not.
---