---
USA/Canada. 2011.
Crew
Directors/Screenplay/Photography – Astron-6 [Adam Brooks, Jeremy Gillespie, Matthew Kennedy, Steven Kostanski & Conor Sweeney], Producers – Michael Herz & Lloyd Kaufman, Music – Jeremy Gillespie, Special Effects – Adam Brooks & Jeremy Gillespie, Makeup Effects – Steven Kostanski. Production Company – Troma Team/Astron-6.
Cast
Adam Brooks (Ahab), Matthew Kennedy (Father John Sullivan), Conor Sweeney (Twink/Andrew), Amy Groening (Chelsea), Kevin Anderson (Father O'Flynn), Brent Neale (Detective Stegel), Mackenzie Murdock (Chris Fuchman), Meredith Sweeney (Sleazy Mary), Lloyd Kaufman (God/Devil), Garrett Hnatiuk (Walnut), Falcon Van Der Baek (Heaven Guide)
---
Plot
Twink, a teenage gay hustler in Tromaville, is shattered after his father becomes the latest victim of the Father's Day Killer, a serial killer who rapes and then slaughters fathers. Twink is briefly suspected by police but is released. He is taken in by Father John Sullivan, a Catholic priest who has been given an assignment by his dying mentor to find Ahab, the one-eyed maple tree tapper who has the knowledge to bring down the Father's Day Killer. Together the three of them go into action, following the trail of the Father's Day Killer, Chris Fuchman. Ahab reunites with his long-lost sister Chelsea who is now a stripper. However, after they despatch Fuchman, Chelsea becomes possessed by the demonic spirit that inhabited Fuchman, has sex with Ahab and is impregnated with evil. Stopping the evil that has been unleashed requires the three of them to commit suicide so they can travel down into Hell and face the Fuchman demon.
---
Father's Day is a release from Troma Films, the company who developed a cult following in the 1980s and 90s for their ultra-low-budget films that made a virtue of poor taste and frequently outrageous titles. Troma have been responsible for the likes of The Toxic Avenger (1984), Class of Nuke 'Em High (1986), Surf Nazis Must Die (1987), Stuff Stephanie in the Incinerator (1989), Sgt Kabukiman NYPD (1990), Chopper Chicks in Zombietown (1991), A Nymphoid Barbarian in Dinosaur Hell (1990), The Killer Condom (1996), Tromeo & Juliet (1996), Terror Firmer (1999) and Poultrygeist: Night of the Chicken Dead (2006).
In many cases, Troma act as a releasing agency for other people's films. In the case of Father's Day, they gave a miniscule budget to a group of filmmakers from Canada known collectively as Astron-6. The Astron-6 ensemble, who hail from areas as diverse as Vancouver, Toronto and Calgary, were making parody shorts on the festival circuit. Father's Day originally began as a spoof trailer, which they pitched to Troma along with several other titles. (Another of the spoof trailers, Star Raiders, a parody of the 1980s video-shot Star Wars (1977) copycat plays in the middle of the film). Troma granted Father's Day the benefit of a theatrical touring campaign. The reason why Father's Day received this treatment as opposed to any other Troma film is a good question – perhaps it was conceived as companion piece to Mother's Day (1980), one of the earliest Troma films, which had notedly just been remade as Mother's Day (2010) by Darren Lynn Bousman.
At first glance, Father's Day is almost too professional to seem like a Troma film. The production finish looks far slicker than the typical gungily shot Troma films – if anything, the way that Father's Day comes out resembles the look of another Canadian-made trailer-become-feature-film from the same year, the much more high profile Hobo with a Shotgun (2011). The actors even seem accomplished performers rather than the anonymous nobodies that Troma usually cast in their productions – co-director Adam Brooks carries off the grizzled eye-patched loner with gruff perfection, while co-director Matthew Kennedy is amusingly callow and wimpily earnest as the priest.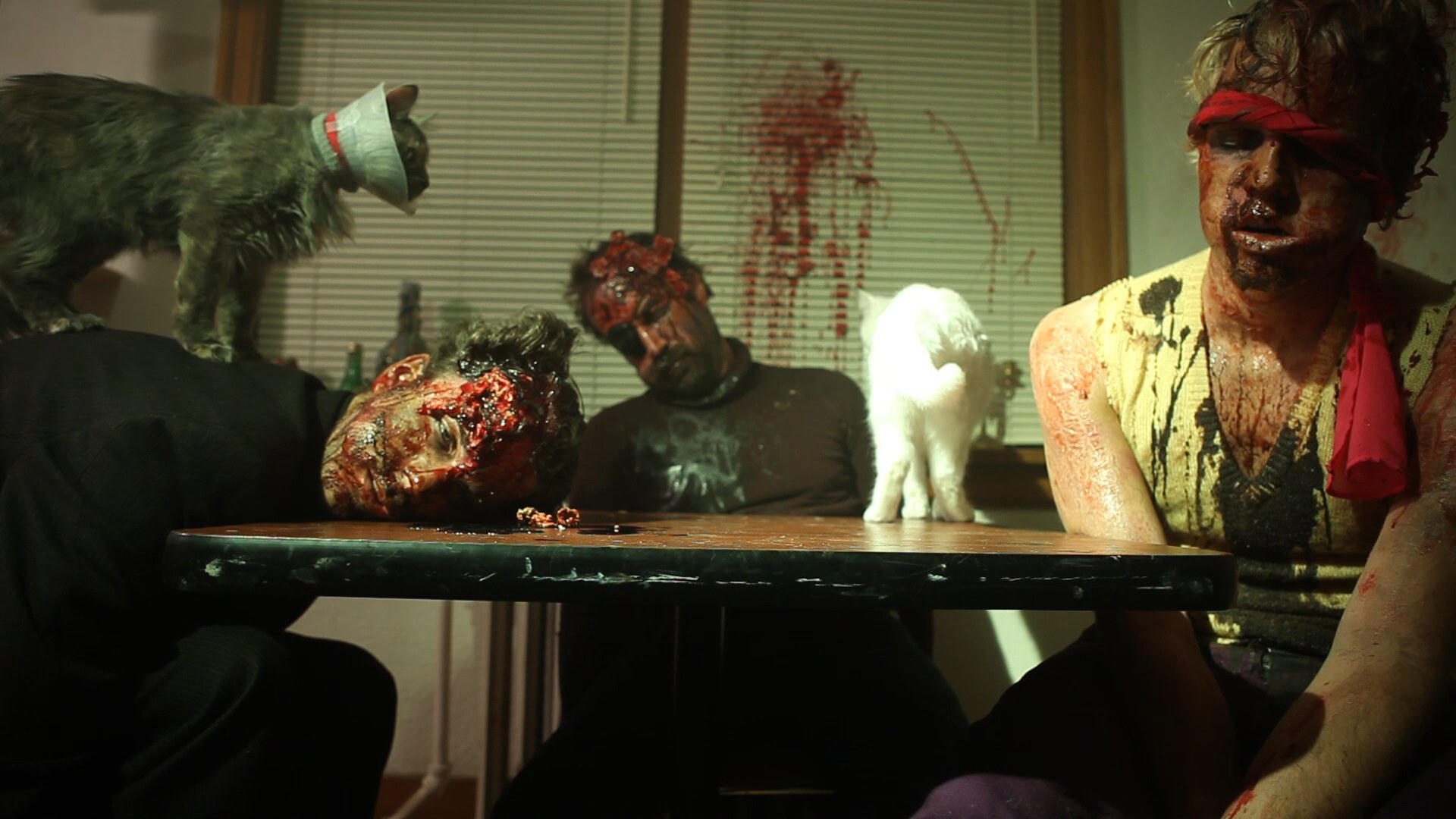 Of course, Father's Day would not be a Troma film if it did not readily venture into bad taste and here the Astron-6 collective prove more than eager to delve into and approximate the Troma house style. When it gets to scenes of The Fuchman giving one of the fathers a blowjob and biting his dick completely off and an alarmingly convincing closeup of someone stabbing a scalpel into their penis, you mind boggles at just what it takes to offend somebody these days.
On the other hand, almost certainly reflecting the collective nature of the production, which was shot in several different provinces of Canada by different directors and not in one continuous block of shooting, Father's Day seems schizophrenic. As Conor Sweeney and Matthew Kennedy tell in the Q&A after the film, they were given $30,000 by Troma to make one of their trailers into a feature film and after choosing the Father's Day trailer were then stuck with how to expand it out into a full-length film.
The film starts off with a group pursuing the so-called Father's Day killer – although the setting of Father's Day is so negligible that the film might as well just be called Father Killer. This takes up the bulk of the film, albeit with plenty of digressions and flashbacks where the shift between past and present is not always clear. In the latter quarter of the film, Fuchman (where we are not sure if this is the name of the killer or the demon) is revealed as being possessed and then killed. Adam Brooks's sister (Amy Groening) then becomes possessed after having incestual sex where he learns that this is going to cause her to birth something demonic, necessitating that the three of them venture down into Hell (by committing suicide seated around a kitchen table) where they encounter God (played by Troma head Lloyd Kaufman) and blast away a demon figure with shotguns and various weapons.
You can see Father's Day straining to come together in the editing department but it is clear there is often not a through story connecting everything. Moreover, in all of this coming in at 99 minutes, Father's Day feels overlong, as though none of the collective felt like they wanted to eliminate any of the precious scenes they had contributed in order to bring a tighter film. The zany Troma sense of humour emerges unevenly and never quite hits the stride in the way that classic Troma films did – although there is one rather funny exchange between Adam Brooks and Matthew Kennedy where Brooks tells a long, rambling story about maple syrup and trees with Kennedy straining to decipher what metaphor he is telling.
Various of the Astron-6 members subsequently went onto make the giallo homage The Editor (2014). Steven Kostanski later solo directed Manborg (2011), the W is for Wish segment of ABCs of Death 2 (2014), co-directed The Void (2016) with Jeremy Gillespie and solo directed Leprechaun Returns (2018) and P.G. Psycho Goreman (2020).
---
---