aka Basket Case 3: The Progeny
---
Crew
Director – Frank Henenlotter, Screenplay – Frank Henenlotter & Robert Martin, Producer – Edgar Ievins, Photography – Bob Paone, Music – Joe Renzetti, Makeup Effects Supervisors – Gabe Bartalos & David Kindlon, Makeup Effects – Atlantic West Effects, Production Design – William Barclay. Production Company – Shapiro Glickenhaus Entertainment.
Cast
Kevin van Hentenryck (Duane Bradley), Annie Ross (Granny Ruth), Gil Roper (Sheriff Andrew Griffin), Tina Louise Hilbert (Opal Griffin), Dan Biggers (Uncle Hal Rockwell), Jim O'Doherty (Little Hal), Jackson Faw (Bailey), Jim Grimshaw (Baxter), Denise Coop (Eve)
---
Plot
Following Duane Bradley's attempt to sew his deformed Siamese twin brother Belial back onto his side, Belial has been removed and Duane locked in a padded cell by Granny Ruth. Granny Ruth now releases Duane as she and the freaks plan a bus trip to Peachtree Valley to visit Uncle Hal Rockwell so that Belial's girlfriend Eve can give birth. The now half-mad Duane is upset that Belial will no longer mentally communicate with him. As Eve gives birth to twelve babies, all miniature versions of Belial, Duane makes an escape. However, he is captured by the sheriff's daughter Opal, who is a dominatrix that wants to keep him as her plaything. Two sheriff's deputies come seeking to capture Belial for the million-dollar reward that has been posted for him. In order to ensure that they capture Belial, they take the babies hostage.
---
Director Frank Henenlotter made a splash with his first film, the zero-budget Basket Case (1982), which became a cult hit. Basket Case was an inventive and often wittily perverse effort. Henenlotter next went onto make the even more extraordinary Brain Damage (1987). Around 1990, Shapiro-Glickenhaus Entertainment gave Frank Henenlotter some money to make films – he turned out Frankenhooker (1990), Basket Case 2 (1990) and Basket Case 3 all within a short space of time. All three films show Henenlotter moving away from the perverse originality of his first two films towards a campy effects-heavy horror comedy. (Henenlotter also co-wrote Frankenhooker and Basket Case 3 with Bob Martin, who was editor of horror cinema's leading magazine, Fangoria from 1979 to 1986. Martin had also written a novelisation of Brain Damage).
Basket Case 3 was Frank Henenlotter's last film for nearly two decades until Bad Biology (2008). After that he subsequently vanished as a creative force apart from documentaries on genre subjects with Herschell Gordon Lewis: The Godfather of Gore (2010) and That's Sexploitation! (2013) and the non-genre likes of Chasing Banksy (2015) and Boiled Angels: The Trial of Mike Diana (2018), both documentaries about controversial artists. All of which is a shame in that his first two films at least show a fierce low-budget originality.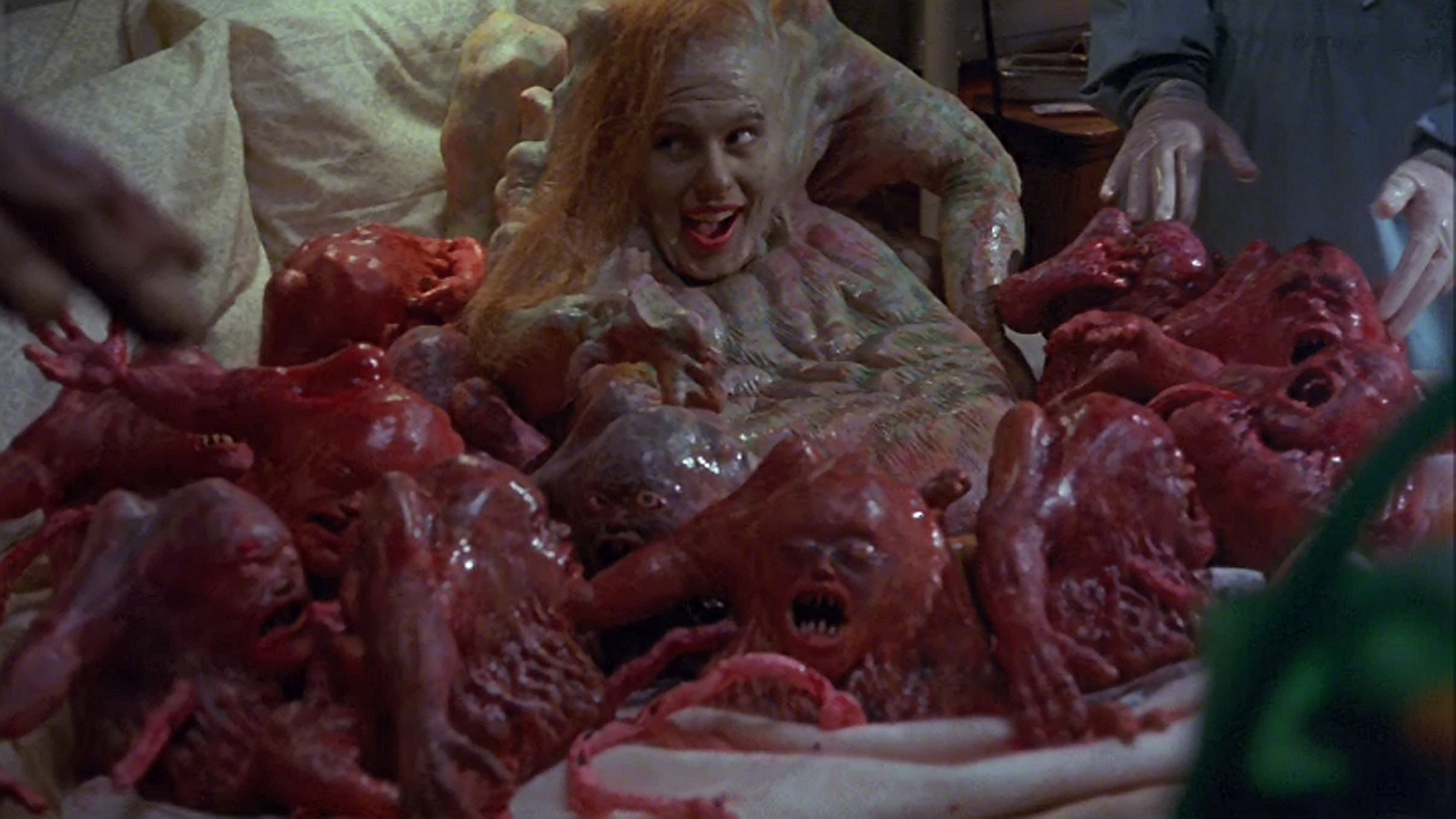 Basket Case 3 represents Frank Henenlotter's campy, effects-heavy approach pushed to its most unserious extreme and is almost certainly his worst film. Here the perverse imagery of the first film has been expanded until the film verges on the cartoonish. The film is filled with silly images like the freaks having a sing-along on a bus journey; or with Kevin van Hentenryck a prisoner in a jail cell and Tina Louise Hilbert as the sheriff's innocent daughter suddenly ripping her clothes off to reveal that she is a whip-wielding dominatrix underneath. There is a parade of silly OTT gore effects during the jail break sequence – a man strangled until his eyes pop out on stalks; a head turned all the way around; a victim's lip being grabbed in one freak's teeth and pulled until the owner's teeth are sticking out and so on.
Frank Henenlotter's direction has become so cartoony by this point that the perverse wit of the original has been entirely obliterated. There is the odd cute moment amid this – the horde of miniaturised baby Belials or the appearance of Robo-Belial at the end in a ramshackle exo-skeleton replete with fluffy dice above the cockpit. Otherwise, Basket Case 3 is Frank Henenlotter's least film.
---
---