---
Crew
Director/Screenplay – James B. Harris, Based on the Novel Blood on the Moon by James Ellroy, Producers – James B. Harris & James Woods, Photography – Steven Dubin, Music – Michel Colombier, Special Effects – Larry Fioritto, Makeup – Bill Myer, Production Design – Gene Rudolf. Production Company – Atlantic Entertainment/Harris-Woods Productions.
Cast
James Woods (Sergeant Lloyd Hopkins), Lesley Ann Warren (Kathleen McCarthy), Charles Durning (Dutch Peltz), Raymond Barry (Captain Fred Gaffney), Charles Haid (Delbert 'Whitey' Haines), Randi Brooks (Joanie Pratt), Jan McGill (Jan Hopkins), Vicki Wauchope (Penny Hopkins)
---
Plot
Police detective Lloyd Hopkins investigates the murder of a woman, found hung upside over the bed in her apartment. During the course of his investigation, he discovers several other similar murders and comes to believe that there is a serial killer behind them. However, the police chief refuses to back a full-scale investigation for lack of evidence. Hopkins' wife leaves him, seeing that he is becomes increasingly mentally unstable in his obsession. As Hopkins obsessively pursues the killer, he comes to believe that a woman poet from a feminist bookstore is crucially related to the killer's obsession.
---
Cop is an adaptation from Blood on the Moon (1984), a novel by crime writer James Ellroy, who also wrote the books that were later made into the films L.A. Confidential (1997) and The Black Dahlia (2006), among others. Cop was the fourth directorial film James B. Harris, a former Stanley Kubrick producer whose best work was probably the stark and tense nuclear war thriller The Bedford Incident (1965).
Cop may well be the ultimate anti-heroic cop thriller. It pushes its central character to such a dark extreme the film virtually becomes a Psycho (1960) of the Dirty Harry (1971) set. It is an obsessively urgent film. The entire film is carried by James Woods in his heyday in another of the twitchy, intense performances he specialises in. His very likability pushes an over-the-edge obsession into disconcerting places – scenes of him nonchalantly telling his daughter about police busts as bedtime stories and playing Russian Roulette with suspects are quite disturbing.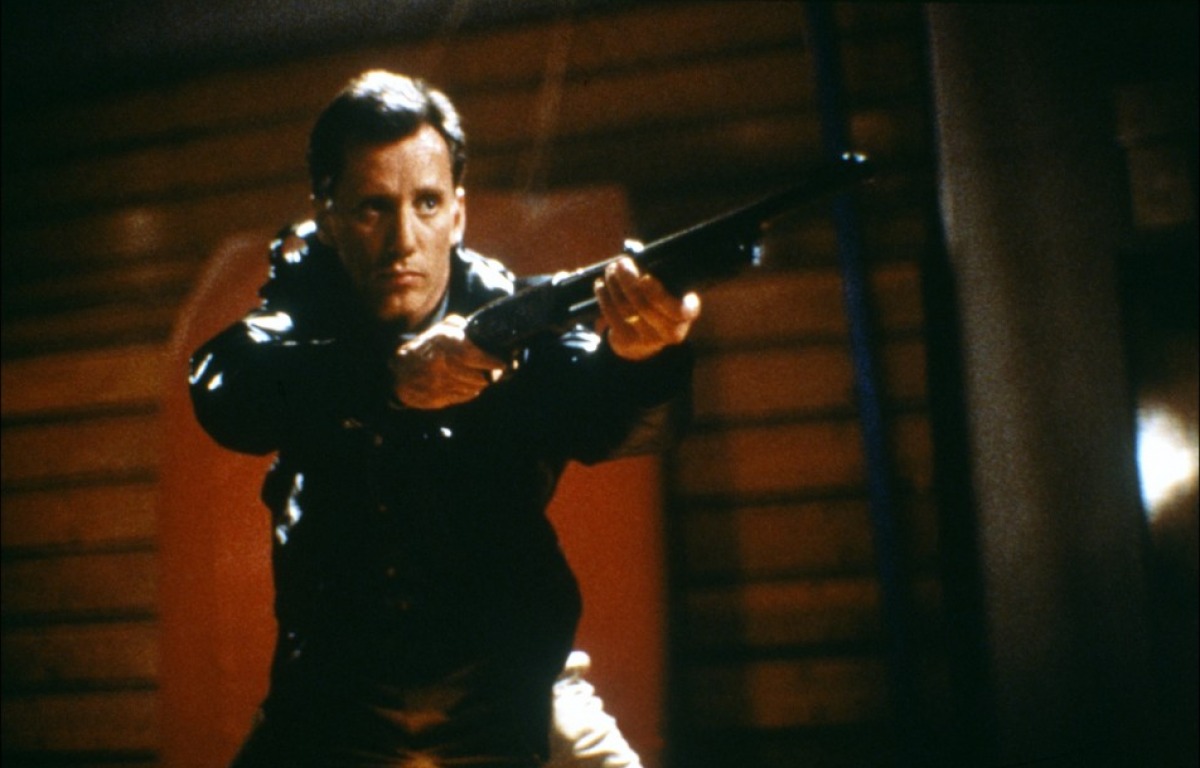 One soliloquy James Woods has about the necessity of shattering his daughter's innocence is genuinely shocking – "Every woman who does herself in is a little girl. Every hooker with a habit out working her ass for a pimp who gets wasted by some psychopath is a little girl. All of these little girls have one thing in common – disillusionment. And it all comes from one thing – a terminal disease that comes from way back when they're fed all the bullshit about how they're entitled to happiness like it's their birthright. Innocence kills. I see it every day of my life. Can't you see she's got to believe before it's too late?" The ending, which plays against all heroic expectation, is an effectively good shock.
However, Cop doesn't entirely work – the central character is so psychotically gripping that there is nothing left for the unfolding of the detective story and its contrivances, let alone the character of the psycho when revealed. The actual whodunnit plot swings good deal of incredulity – it does not ring as credible psychology that someone would become obsessed with symbolically killing the women that failed to stand up to protect Lesley Ann Warren when she was raped, yet would leave the actual rapists unpunished. However, the film's biggest slap in the face is Lesley Ann Warren, horribly miscast as a feminist (something she plays in her typically ditzy vacant way). The character is introduced with a gutsy toughness but is then insultingly whittled down as the film progresses, turning her into a panicking screamer and a lost romantic as the plot requires.
---
---