---
USA. 1996.
Crew
Director – Reb Braddock, Screenplay – Reb Braddock & John Maass, Producers – John Maass & Raul Puig, Photography – Steven Bernstein, Music – Joseph Julian Gonzalez, Special Effects Supervisor – Richard Lee Jones, Blood Effects – R.I.P. Odebralski, Production Design – Sherman Williams. Production Company – A Band Apart/Tinderbox Films.
Cast
Angela Jones (Gabriela), William Baldwin (Paul Guell), Mel Gorham (Elena), Barry Corbin (Lodger), Bruce Ramsay (Eduardo), Lois Chiles (Katrina Brandt)
---
Plot
Gabriela, a Colombian immigrant living in Miami, is fascinated with murders, in particular the recent activities of a killer nicknamed The Blue Blood Killer who targets and decapitates wealthy women. She obtains a job with a forensic cleaning company that specialises in removing blood and debris from murder sites. This allows her access to the sites of the Blue Blood killings. At the latest murder site, she finds that the victim has written the murderer's name on the floor but that this was been hidden beneath the spilt blood and missed by police. The killer, barman Paul Guell, returns to remove the evidence but is accidentally locked in the wine store. An obsessed Gabriela returns after hours to revel in the crime scene, just as Paul manages to free himself.
---
Curdled was produced by Quentin Tarantino's A Band Apart production company, one of several films that Tarantino produced for various other newcomer directors. In this case, Tarantino gave novice filmmaker Reb Braddock the opportunity to expand his short film Curdled (1991), which also starred Angela Jones, out to feature length. As the story goes, Tarantino saw the original short and was inspired by it to create Harvey Keitel's character of the cleaner in Pulp Fiction (1994) and paid Reb Braddock back the favour by backing him to make a full length film out of his short.
Alas, while some of Tarantino's others efforts to promote directors – Four Rooms (1995), From Dusk Till Dawn (1996), White Man's Burden (1996) – were successful, Curdled is one entry that almost entirely vanished without trace. After premiering at the Toronto International Film Festival, the film did not appear to receive any cinematic release (at least anywhere that anybody actually saw it), had a scanty video release and is only through channel-surfing in the odd hours of the night that one actually discovered it at all. Indeed, unlike the other Tarantino sponsored directors, director Reb Braddock has yet to make another film.
It is immediately apparent why Curdled vanished without a trace. It is not a bad film, it is actually an oddly appealing film. Unfortunately, it is not so stand-out that it has the eccentricity that gets itself noticed to arthouse audiences. It is certainly an almost unclassifiable film. Indeed, it seems a major miracle that a film about a forensic cleanup crew and a serial killer, which also happens to be an offbeat comedy rather than a thriller, managed to get made at all. Certainly, it does give some hope in the era of multiplex mass-marketing that eccentric boutique productions can still get made.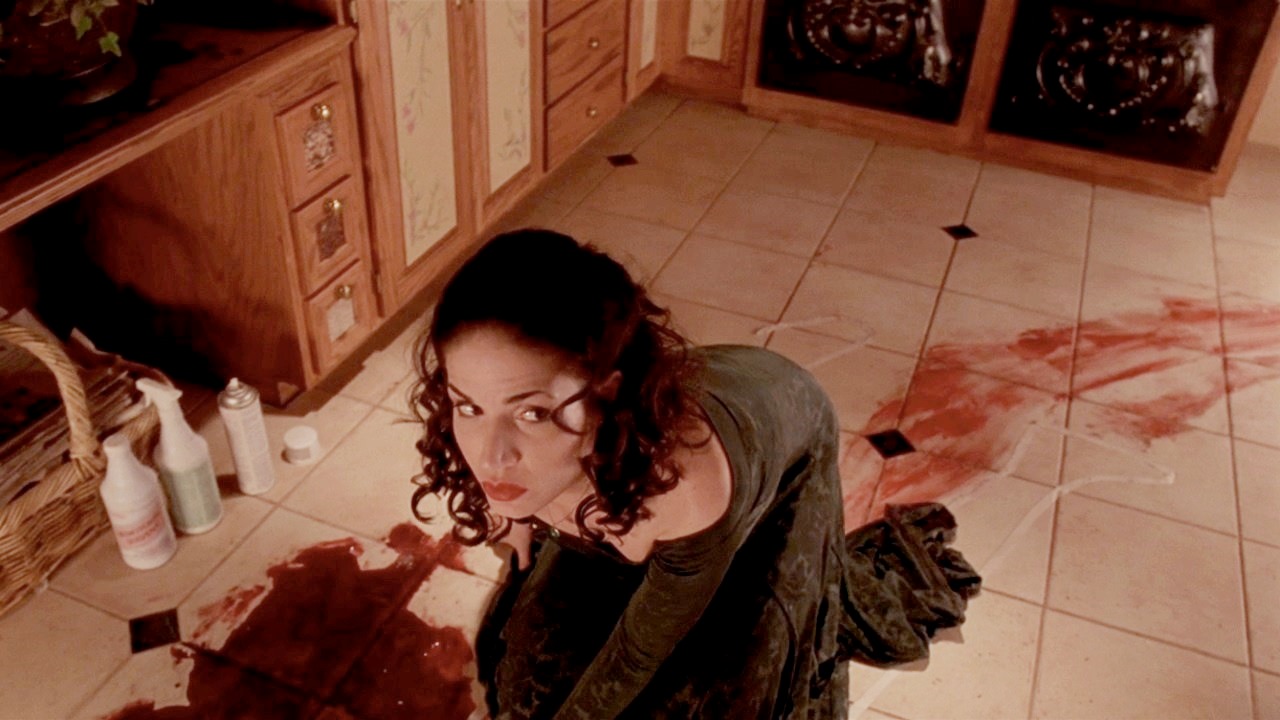 The film has a very offbeat sense of humour. You are never certain where it is going to go from one minute to the next. It is all geared towards a particularly weird ending that has Angela Jones dancing through the murder scene trying to recreate the victim's movements, followed by the appearance of William Baldwin's killer who then asks her to dance. There is a terribly black sense of uncertainty in these scenes where you are never sure whether she is being romanced by William Baldwin or about to be killed. The film eventually arrives at a positively hysterical scene where she asks him if the severed heads of his victims still talk after they have been removed – which acts as set-up for an hilarious final scene.
The film appears to be written with an insider's knowledge of the forensic cleanup profession – you are certain that one or other of the scriptwriters must have worked there at some point. Angela Jones has a sparkling presence as the murder-obsessed heroine. There is even a cute throwaway gag with a clip from the reality cop show Miami DOA that refers to the Gecko Brothers who vanished into thin air and then shows a picture of George Clooney and Quentin Tarantino from the Tarantino-scripted From Dusk Till Dawn. There is also a quite good conga score.
---
Trailer here
---