---
Crew
Director – Robert Rodriguez, Screenplay – Quentin Tarantino, Story – Robert Kurtzman, Producers – Gianni Nunnari & Meir Teper, Photography – Guillermo Navarro, Music – Graeme Revell, Visual Effects Supervisors – Diana Dru Botsford & Daniel A. Fort, Bat Visual Effects – VIFX, Digital Effects – The Post Group, Mattes – Illusion Arts, Makeup Effects – Kurtzman Nicotero Berger EFX Group, Production Design – Cecilia Montiel. Production Company – A Band Apart/Los Hooligans Productions.
Cast
George Clooney (Seth Gecko), Quentin Tarantino (Richard Gecko), Harvey Keitel (Jacob Fuller), Juliette Lewis (Kate Fuller), Tom Savini (Sex Machine), Fred Williamson (Frost), Ernest Liu (Scott Fuller), Cheech Marin (Border Guard/Chet Pussy/Carlos), Salma Hayek (Santanico Pandemonium), Michael Parks (Earl McGraw), Brenda Hillhouse (Gloria Hill), Danny Trejo (Razor Charlie)
---
Plot
Wanted for armed robbery, brothers Seth and Richard Gecko flee police pursuit across Texas. They take as hostage Jacob Fuller, a Baptist pastor who has lost his faith, along with his teenage daughter Kate and adopted Chinese son Scott. Seth agrees to them let go free if Fuller will drive them across the Mexican border in his RV. Across the border, they go to The Titty Twister, a dusk till dawn biker bar, to meet Seth's contact. However, once there, they find that the bar staff, the bikers, the strippers and bouncers are vampires and are thrust into a to-the-death fight for their lives.
---
For a time around the mid-1990s, Quentin Tarantino was the coolest guy in Hollywood. Tarantino's meteoric rise from videostore clerk to the leader of the new brat pack was the stuff of which Hollywood discoveries are made. Tarantino first emerged on the scene with the brash and brilliant crime thriller Reservoir Dogs (1992) and then slammed it home with the breathtaking Pulp Fiction (1994). Tarantino was the first of the filmmakers to emerge from the video generation – his films come packed with not only quotes but also entire monologues about film, tv and junk culture. He writes laconically naturalistic dialogue and made violence, dashed up with a nihilistic cynicism, ultra hip.
Less than a year after Pulp Fiction, Tarantino seemed to have his finger in every pie. He had only directed two films but had already had two books published about him; he directed episodes of ER (1994-2009); cameoed in films like Desperado (1995), Destiny Turns on the Radio (1995), Spike Lee's Girl 6 (1996), even The Muppets' Wizard of Oz (2005) for goodness sake; became possibly the most over-exposed interviewee around; lent his name to friends like Roger Avary and Robert Rodriguez to gain a wide audience for their films and united other fledgling directors in the anthology film Four Rooms (1995); as well as ushered a series of foreign imports and B movie video releases in under his name. Everywhere else people were reviving old Quentin Tarantino scripts – True Romance (1993), Natural Born Killers (1994) and From Dusk Till Dawn – that were sold but never produced when he was still a videostore clerk. Plus, the Tarantino-styled thriller with cynically chic underworld, non-linear plots and wry monologues inspired a host of imitators, ranging from the good – The Usual Suspects (1995), Out of Sight (1998), Sexy Beast (2001) – to the amusing – Get Shorty (1995) – the so-so – Things to Do In Denver When You're Dead (1996) – to the downright awful Killing Zoe (1994). After the disappointing Jackie Brown (1997), which certainly revived the career of Pam Grier but did little else, Tarantino disappeared for a time in the latter half of the 1990s, before making a return to screens with Kill Bill Vol. 1 (2003), Kill Bill Vol. 2 (2004), Grindhouse (2007) – see Death Proof (2007) – Inglourious Basterds (2009), Django Unchained (2012) and The Hateful Eight (2015).
Texan-born Robert Rodriguez is another customer altogether. Rodriguez's first film El Mariachi (1993), a South of the Border spaghetti Western, was made for $7000 and is perhaps one of the slickest no-budget films ever made. Desperado (1995), his big-budgeted Hollywood remake-come-sequel, successfully fused El Mariachi with the balletic pyrotechnics of the Hong Kong action film. It seemed natural that two such individualistic talents as Tarantino and Rodriguez, both riding the Hollywood outside edge, would not only meet but also strike up a friendship and a collaboration. This came about with From Dusk Till Dawn. The two have frequently worked together since – Rodriguez uncreditedly directed the scenes where Tarantino appears in Pulp Fiction and composed music for the Kill Bill films; while Tarantino cameos in Desperado and appears as a Guest Director for Rodriguez in Sin City (2005); the two collaborated on the double-bill Grindhouse (2007); and Tarantino produced Rodriguez's Machete (2010).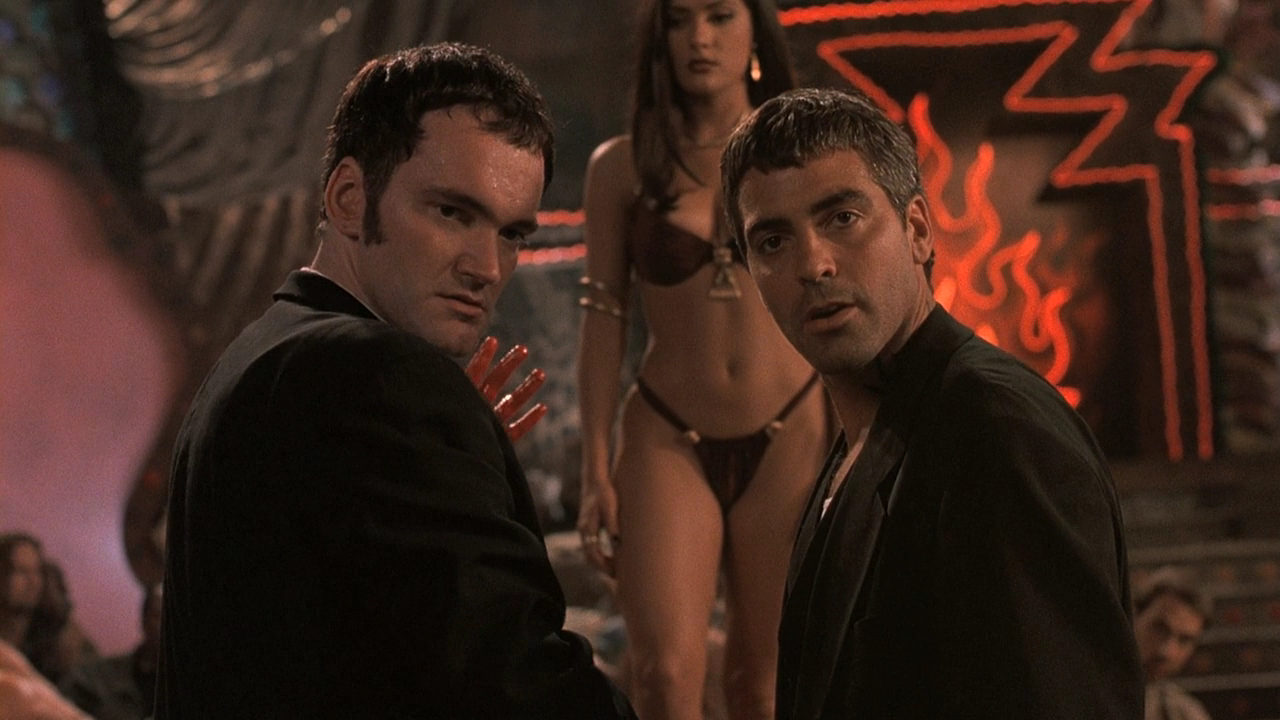 From Dusk Till Dawn began life as a script that Quentin Tarantino wrote circa 1990, developing out an idea for Robert Kurtzman who was intending to direct the film. Robert Kurtzman is a makeup effects man better known as the K in the high profile KNB EFX Group. While Kurtzman's version of From Dusk Till Dawn never went ahead, Kurtzman debuted later the same year as this with the inane robo-babe film The Demolitionist (1996) and then went onto make Wishmaster (1997), Buried Alive (2007), The Rage (2007) and Deadly Impact (2010). (Judging from Kurtzman's other films, his From Dusk Till Dawn would have emerged as a B-budget film at best).
In the mid-90s, the vampire film had reached a creative dead-end and became subject to relentless cross-hybridisation in search of novelty. Thus we had vampire cop shows – tv's Forever Knight (1992-6); vampire Westerns – Sundown: The Vampire in Retreat (1989); vampire Mafia – Innocent Blood/A French Vampire in America (1992); and lame title jokes like I Bought a Vampire Motorcycle (1990), Malibu Beach Vampires (1991) and Vampire Trailer Park (1991). From Dusk Till Dawn is a peculiar hybrid of vampire and action film. Imagine one half The Getaway (1971) and the other half I Am Legend (1954) but retooled as an all-out barroom brawl.
The first half of From Dusk Till Dawn is a reasonable getaway film. Robert Rodriguez maintains a strong degree of suspense and edgy character tension. That said, the film is surprisingly talky – especially in comparison to the balletic violence of Rodriguez's other films up to that point – the audience I was with clearly expected more and became restless. It is clearly an old Quentin Tarantino script – he has not yet polished his cult art – and contains none of his wittily existential monologues. Moreover, Tarantino seems stuck with a linear plot – part of the fun of both Reservoir Dogs and Pulp Fiction was the slick and exciting circuitousness of Tarantino's storytelling. That said, the opening monologue from the sheriff, which pulls back to reveal the two brothers hiding in the back of the store is classic Tarantino.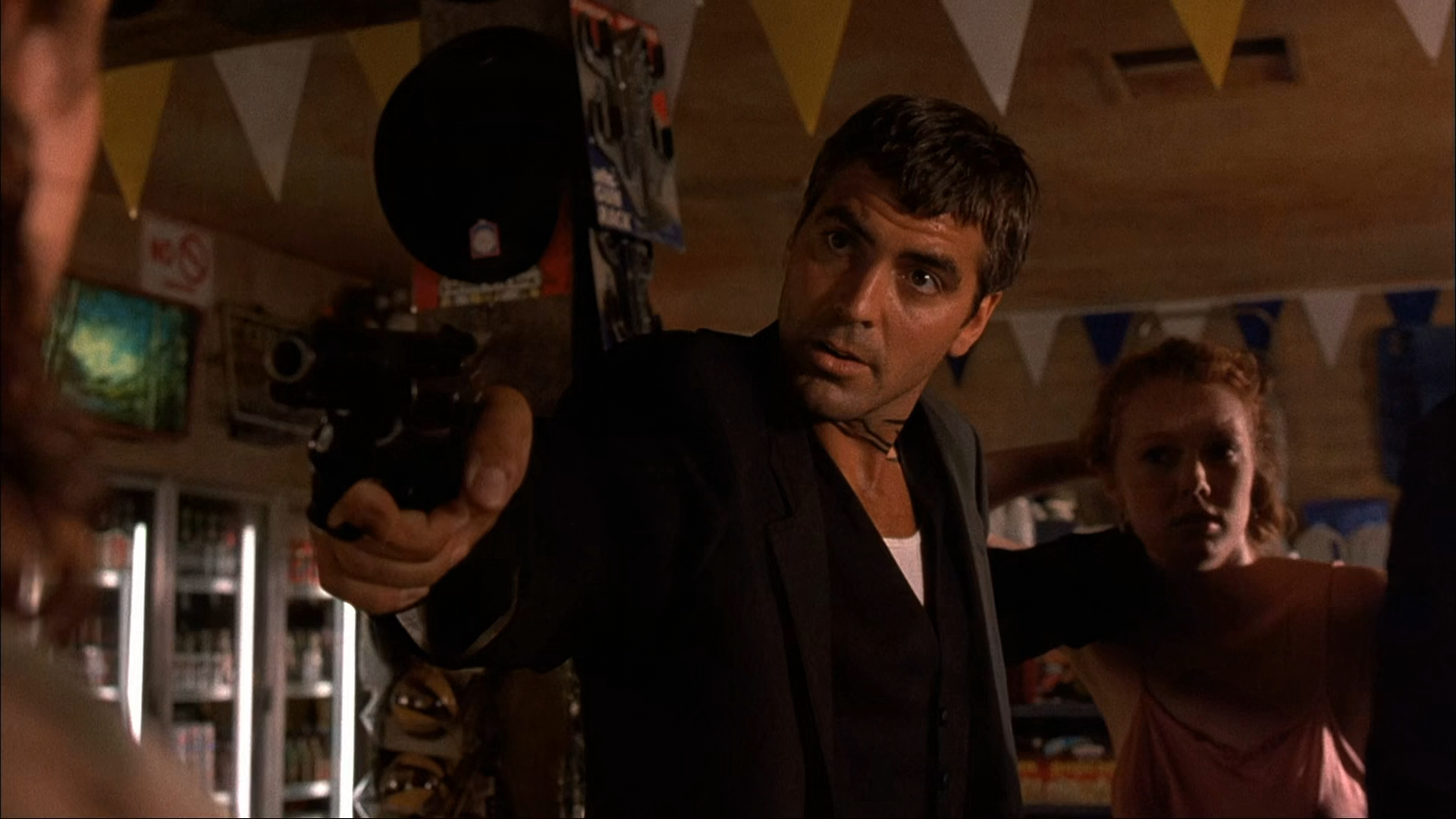 We have to wait over an hour to get to the vampires, whereupon From Dusk Till Dawn abruptly turns into something else altogether. The change of both plot and pace is bewildering. We suddenly go from slow tension to all-out action as Robert Rodriguez lets loose with pyrotechnics and creature effects. However, this half of the film is a decided disappointment. As a vampire/action film, From Dusk Till Dawn is a good action film but a fairly ordinary vampire film. It is easy to flow with the kinesis of Robert Rodriguez's direction but at the end one sat wondering what From Dusk Till Dawn had to say as a vampire film. It gives you a kinetic workover and brings on an impressive array of effects but has almost nothing to say. There are times it lacks plausibility – the humans seem to learn how to deal with vampires in no time flat and then afterwards have a five minute conversation about how to kill them. Nor is there any explanation of what a vampire bar is doing in the middle of nowhere.
The much-touted makeups are disappointing – some of the vampirised cast members look more laughable than horrific. After its introduction in Terminator 2: Judgment Day (1991), morphing surely became the most overused and tiresome technical innovation of the early CGI era. The transforming vampires here never look like biological creatures changing shape, they look like morphing effects. Certainly, there are some amusing interpolations on vampire tradition – the vampire hunter's arsenal includes condoms filled with holy water, a power drill with a stake on the end of it and a combination shotgun/crucifix. Take away the high-tech makeup effects however and all From Dusk Till Dawn is is the highest-budgeted and longest barroom brawl in cinema history. For all it matters, the vampires could have been replaced with bikers, zombies or mutant Hare Krishnas. When it comes to extended climactic all-out undead bloodbaths, Peter Jackson's Braindead/Deadalive (1992) did it ten times better (and on a fifth the budget of From Dusk Till Dawn).
The film is supported by a good cast, evidence of the clout that Quentin Tarantino's name was drawing. George Clooney's acting can be frankly bizarre at times – all full of seemingly spontaneous smirks, titters and head cricks. Here Rodriguez trims Clooney back to a handsome ruthlessness that comes with a charismatic and surprisingly heroic kick on screen. It is here that you can see the polishing of George Clooney's screen persona that had him celebrated as a major A-list heartthrob in the decade ahead.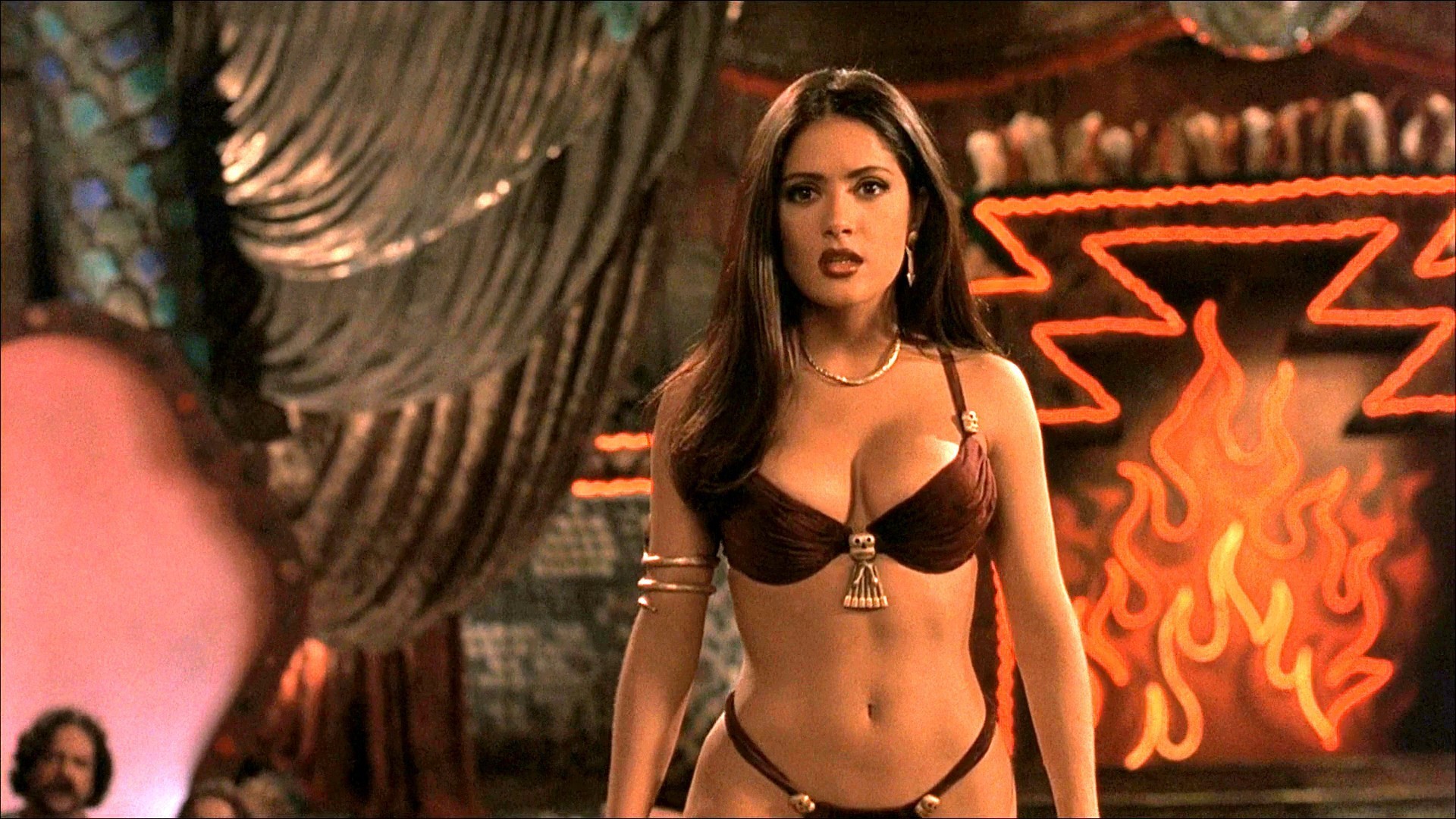 While Quentin Tarantino seems to have his finger in every pie, he has never come off as an actor – he has the on-screen personality of a snivelling weasel. He was awful in Desperado and Four Rooms and even worse in Destiny Turns on the Radio. Here however his twitchily dangerous Richard Gecko proves surprisingly convincing. Harvey Keitel brings a little too much of the baggage of his usually streetwise New York performances to the part to credibly play a milquetoast Baptist pastor. Juliette Lewis was for my money the best young American actress around in the 1990s – see the likes of Cape Fear (1991), Kalifornia (1993) and Tarantino's own Natural Born Killers – but From Dusk Till Dawn criminally fails to give her much to do.
From Dusk Till Dawn was followed by two made-for-video sequels, From Dusk Till Dawn 2: Texas Blood Money (1999) and From Dusk Till Dawn 3: The Hangman's Daughter (2000). Rodriguez subsequently spun the film out into a tv series From Dusk Till Dawn (2014-6), which managed to draw the entire plot of this film out into its first season, afterwards heading in new directions. The making of From Dusk Till Dawn was also depicted in the interesting theatrically-released documentary Full Tilt Boogie (1997).
After From Dusk Till Dawn, Robert Rodriguez went onto make a number of genre films, including the witty teen body snatchers film The Faculty (1998); the children's spy films Spy Kids (2001), Spy Kids 2: Island of Lost Dreams (2002), Spy Kids 3-D: Game Over (2003) and Spy Kids: All the Time in the World (2011); the superb ultra-violent film noir pastiche Sin City (2005), Rodriguez's single best film, and Sin City: A Dame to Kill For (2014); a further children's film The Adventures of Sharkboy and Lavagirl in 3-D (2005); half of Grindhouse (2007) with Tarantino, which was later seperately released as Planet Terror (2007); the children's film Shorts (2009); Machete Kills (2013), a sequel to his earlier Mexican-themed action film that frequently enters into science-fiction territory; the manga adaptation Alita: Battle Angel (2019); Red 11 (2019), a mind-bending work set during an experimental drug trial; and the kid superheroes film We Can Be Heroes (2020). Rodriguez has also produced Predators (2010).
Quentin Tarantino's only other venture into genre territory was his half of Grindhouse, which was released separately as Death Proof (2007), although his A Band Apart production company did produce the worthwhile race-reversed alternate world film White Man's Burden (1995) and the little-seen black comedy Curdled (1996) in which a forensic cleaner meets a serial killer.
(Nominee for Best Actor (George Clooney) and Best Makeup Effects at this site's Best of 1996 Awards).
---
---