---
USA. 1996.
Crew
Director – Brian Yuzna, Screenplay – Charles Finch, Stuart Gordon & Dennis Paoli, Producer – Pierre David, Photography – Levie Isaacks, Music – Alan Howarth, Makeup Effects Supervisor – Anthony C. Ferrante, Makeup Effects – Kevin Yagher Productions & J.M. Logan, Production Design – William V. Ryder. Production Company – Pierre David/Trimark Pictures/Novocaine Inc.
Cast
Corbin Bernsen (Dr Alan Feinstone), Linda Hoffman (Brooke Feinstone), Ken Foree (Detective Gibbs), Molly Hagan (Jessica), Patty Toy (Karen), Jan Hoag (Candy Wittridge), Virginya Keehne (Sarah Andrews), Earl Boen (Marvin Goldblum), Michael Stadvec (Matt), Christa Sauls (April Reign), Mark Ruffalo (Steve Landers), Tony Noakes (Detective Sunshine), Lise Simms (Paula Roberts)
---
Plot
Alan Feinstone is a successful, if fastidious and exacting, dentist in Los Angeles. One morning, he returns home unannounced to discover his wife Brooke having sex with the pool boy. His mind snaps and he becomes obsessed with rooting out decay. At his practice that day, he begins to torture, molest and kill his patients, determined to drill out the rot he sees inside them.
---
Brian Yuzna began as a producer for Stuart Gordon on films such as Re-Animator (1985), From Beyond (1986) and Dolls (1987), before making his own directorial debut with Society (1989). Yuzna then went onto become a genre regular with films such as Bride of Re-Animator/Re-Animator 2 (1990), Silent Night, Deadly Night 4: The Initiation (1990), Necronomicon (1993), Return of the Living Dead III (1993), Progeny (1998), Faust: Love of the Damned (2000), Beyond Re-Animator (2003), Rottweiler (2004), Beneath Still Waters (2005) and Amphibious 3-D (2010). Most of these are above-average horror films, made with a perverse tongue-in-cheek sense of humour. In the 00s, Yuzna relocated to Spain and founded Fantastic Factory, which focuses on producing quality low-budget genre films. (See below for Brian Yuzna's other genre films).
With The Dentist – which was one of two films that were announced the same year with the same title (the other by Tobe Hooper never emerged) – Brian Yuzna is working with a script that was originally written for Stuart Gordon. The Dentist is produced by Pierre David, the expat Canadian producer who has specialized in a string of psycho-thrillers, usually with job-title descriptions – The Paperboy (1994), The Secretary (1995), The Nurse (1997), The Landlady (1997) – although films that are usually far less tongue-in-cheek than The Dentist.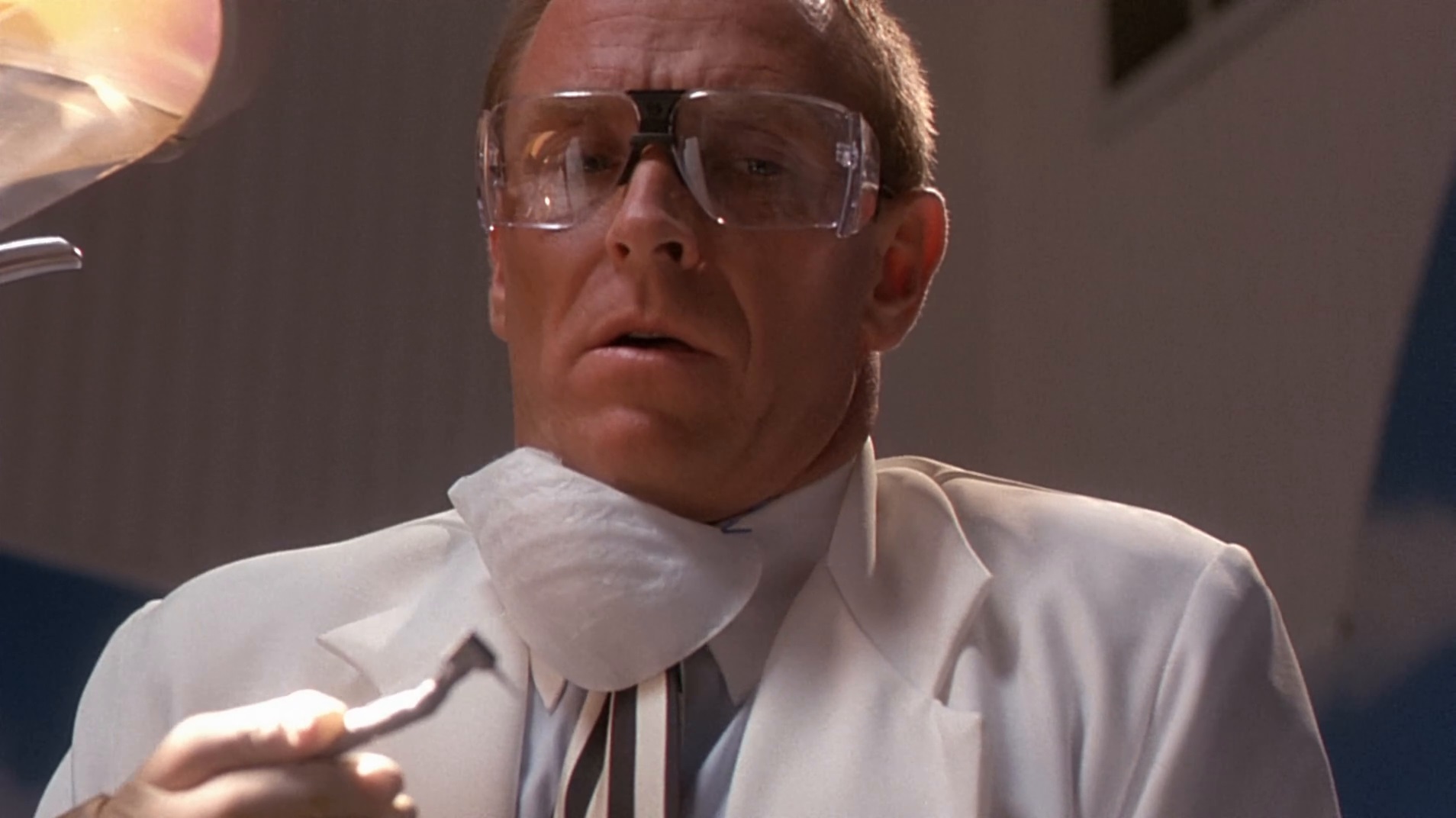 This is a film that plays on everybody's fear of dentists. Yuzna plays up all the inherent sadism – closeup images from inside the mouth of gums being injected, of teeth and even a tongue being drilled into. Yuzna always undercuts his films with tongue-in-cheek scenes of striking perversity. In one scene here, Corbin Bernsen comes home to find wife Linda Hoffman giving pool cleaner Michael Stadvec a blowjob and starts talking about her perfect bite and forces her to demonstrate by biting the poolboy's dick off. There is another perverse scene where an aroused Corbin Bernsen puts Christa Sauls under the influence of nitrous oxide and starts molesting her. In one sequence, Yuzna contrasts Corbin Bernsen lining up his glittering, steel instruments in soft focus closeup with scenes of his wife dressing and putting on her makeup to come and see him, ending in an incredibly nasty moment where he imprisons her in his dental chair and starts pulling out her teeth without any anaesthetic. There are other disturbing images with Corbin Bernsen forcing tax inspector Earl Boen's jaw to snap open with a retractor and injecting nurse Patty Toy in the neck with a syringe filled with air.
The Dentist headlines Corbin Bernsen who came to fame in the ongoing role of morally flexible marital lawyer Arnie Becker on tv's L.A. Law (1986-1994). Since the series' cancellation, Bernsen has been busy reinventing his career as a horror movie actor with films like The Killing Box (1993), Tales from the Hood (1995), Temptress (1995), Inhumanoid (1996), Killer Instinct (2000), Fangs (2001), Raptor (2001), Dead Above Ground (2002), Nightmare Boulevard (2004), Raging Sharks (2005), Submission (2006), Vipers (2008), The Ascension (2011) and Pizza Man (2011), as well as directing the zombie outbreak film Dead Air (2009) and much B-budget direct-to-video fodder. Here (and in the sequel, which he also produced), Bernsen gives an amusing control freak performance.
Brian Yuzna, Pierre David and Corbin Bernsen all returned for an also enjoyable sequel The Dentist 2 (1998).
Brian Yuzna has also produced a number of genre films including various Stuart Gordon works such as Re-Animator (1985), From Beyond (1986), Dolls (1987) and Dagon (2001), as well as Honey, I Shrunk the Kids (1989), The Guyver (1991), Infested (1993), the manga adaptation Crying Freeman (1995), Arachnid (2001), Darkness (2002), Romasanta: The Werewolf Hunt (2004), The Nun (2005) and Takut: Faces of Fear (2008).
---
Trailer here
---