---
UK. 1973.
Crew
Director – Douglas Hickox, Screenplay – Anthony Greville-Bell, Adapted from an Idea by/Producers – John Kohn & Stanley Mann, Photography – Wolfgang Suschitzky, Music – Michael J. Lewis, Special Effects – John Stears, Production Design – Michael Seymour. Production Company – Sam Jaffe/Harbor Productions/Cineman.
Cast
Vincent Price (Edward Lionheart), Diana Rigg (Edwina Lioneart), Ian Hendry (Peregrine Devlin), Milo O'Shea (Inspector Boot), Harry Andrews (Trevor Dickman), Michael Hordern (George Maxwell), Robert Morley (Meredith Merridew), Dennis Price (Hector Snipe), Robert Coote (Oliver Larding), Coral Browne (Chloe Moon), Jack Hawkins (Solomon Psaltery), Diana Dors (Maizie Psaltery)
---
Plot
Police puzzle over a bizarre series of murders, all of members of the theatrical Critics Circle. One critic Peregrine Devlin realizes that the murders are based on incidents in Shakespearean plays. Devlin discovers that behind the killings is former Shakespearean actor Edward Lionheart, who killed himself when the Critics Circle savaged his acting. However, Lionheart is alive and is now taking elaborate revenge on the critics he see as having ruined him.
---
The sublimely droll The Abominable Dr Phibes (1971), featuring Vincent Price as a deformed madman conducting tongue-in-cheek revenge killings, was a reasonable hit and led to a sequel Dr Phibes Rises Again (1972). Theater of Blood was one of several attempts by the same company, American International Pictures, to copy that success, again featuring Vincent Price playing a madman conducting tongue-in-cheek revenge.
Theater of Blood doesn't quite get Robert Fuest's droll sense of humour right but the idea of a bad Shakespearean actor conducting elaborate revenges using killings from Shakespearean plays has the right tongue-in-cheek grotesqueness. The film, while amusing, is played relatively straight and only rises to drollery that Dr Phibes had upon occasional moments.
One scene that does perfectly capture what the first Dr Phibes film with its hilariously understated deadpan humour was all about is where Vincent Price and daughter Diana Rigg sneak in and cut off Arthur Lowe's head – with the two placing on surgical gear, setting the surgical equipment out on the bed, injecting the sleeping couple in the buttocks, testing the sharpness of a scalpel by cutting a hair plucked from Rigg's head, and then Price starting sawing, posing with hilariously Shakespearean melodramaticism to have his brow wiped, the wife being disturbed and thinking the sawing is her husband snoring.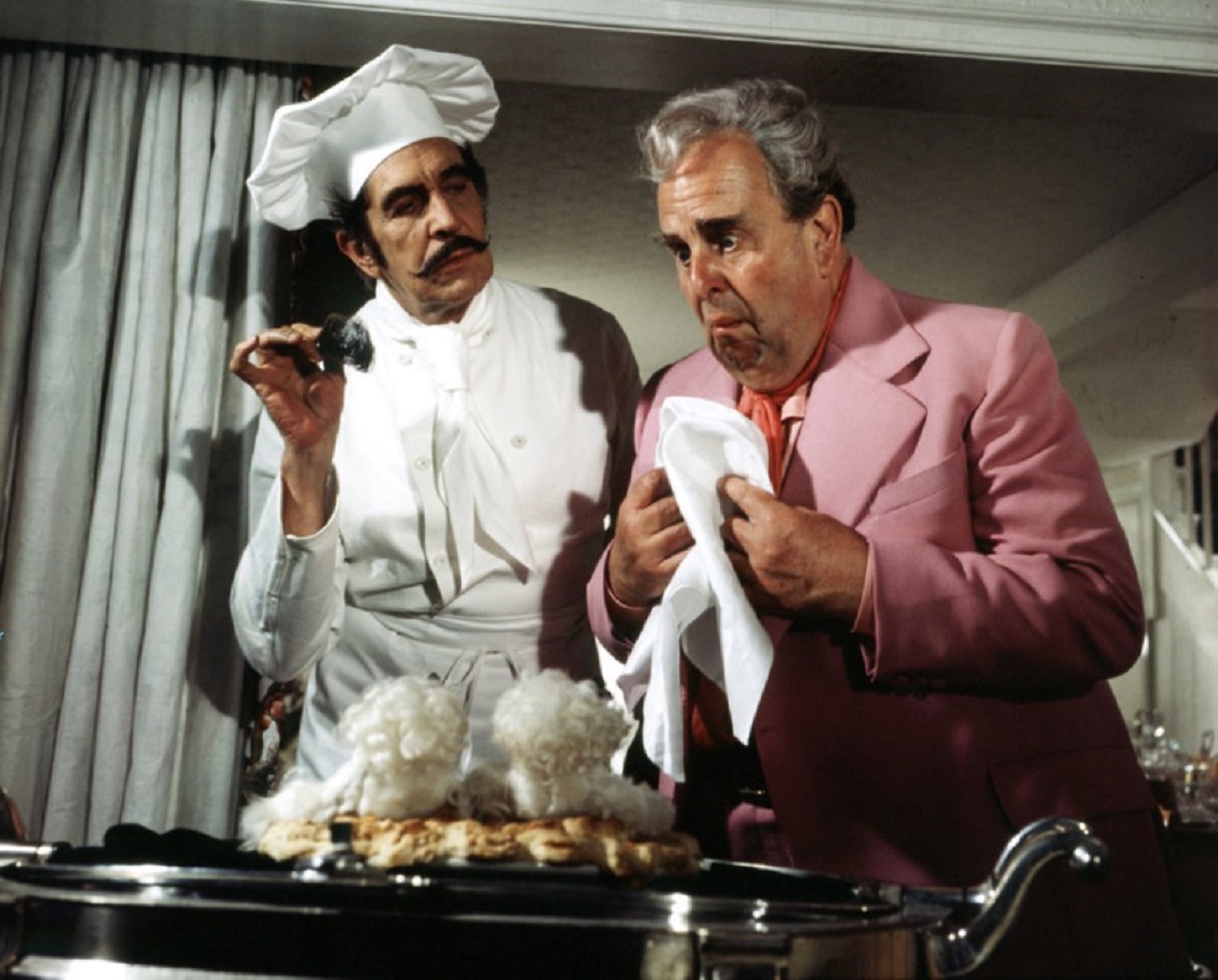 The most grotesquely funny scene is where Robert Morley is fed his two beloved poodles in a pie (in a scene modeled on Titus Andronicus). There are other moments like when Vincent Price and Ian Hendry replay the swordfight scene from Romeo and Juliet, crossing swords while bouncing up and down on a trampoline, that have a hilarious bizarreness. Certainly, when it comes to playing a hammy and over-the-top Shakespearean actor there is no-one better suited to the part than Vincent Price who rises to the requirements of the part magnificently.
Director Douglas Hickox had previously made the rather funny screen adaptation of Joe Orton's Entertaining Mr Sloane (1969) and went onto a minor career mostly directing tv, including an adaptation of The Hound of the Baskervilles (1983). He is also the father of genre director Anthony Hickox, who made Waxwork (1988), Sundown: The Vampire in Retreat (1989) and Hellraiser III: Hell On Earth (1992), among others.
In 2005, the film was adapted into a stage production in the UK with Jim Broadbent playing the Vincent Price role and Diana Rigg's daughter Rachael Stirling taking up the part played by her mother.
---
---