---
Crew
Director/Screenplay – Sean Byrne, Producers – Michael Boughen & Mark Lazarus, Photography – Simon Chapman, Music – Ollie Olsen, Visual Effects – Iloura (Supervisor – Julian Dimsey), Special Effects Supervisor – Angelo Sahin, Makeup Effects – Wicked of Oz Studios (Supervisor – Justin Dix), Production Design – Robert Webb. Production Company – Ambience Entertainment/Mark Lazarus/Film Victoria/The Melbourne International Film Festival Premiere Fund.
Cast
Xavier Samuel (Brent), Robin McLeavy (Lola Stone), John Brumpton (Daddy), Richard Wilson (Jamie), Jessica McNamee (Mia Valentine), Victoria Thaine (Holly), Andrew S. Gilbert (Paul Valentine), Suzi Dougherty (Carla), Victoria Eagger (Judith Valentine), Anne Scott-Pendlebury (Bright Eyes)
---
Plot
In smalltown Australia, Lola Stone asks Brent if he will go to the prom with her but he turns her down saying he is going with his girlfriend Holly. While rock climbing, he is attacked and knocked unconscious. He comes around at the Stone home to find he has been abducted by Lola's father who is preparing to put on a prom for Lola with Brent as her date. As Brent tries to escape, Lola and her father employ increasingly more sadistic tactics to keep him there, revealing that all of her other male friends have met sinister fates.
---
The Loved Ones was an Australian genre film that made a reasonable splash at various international and fantastic film festivals. It was a directorial debut for Sean Byrne who had previously only made a handful of short films. It served to give several among its cast a bigger name – lead actor Xavier Samuel was promptly cast in a minor role in the Twilight sequel Eclipse (2010) and played the monster in Frankenstein (2015), while Robin McLeavy appeared in Abraham Lincoln, Vampire Hunter (2012).
It felt odd trying to pigeonhole where The Loved Ones was going during the initial scenes. In some ways, the film is confusing – the word of mouth leads you to expect a horror film but the opening scenes seem more like a nowhere town slice of life drama. Eventually what we end up with seems like a Backwoods Brutality film such as The Texas Chain Saw Massacre (1974), or at least one of the Australian copycats of that like Wolf Creek (2005) and Storm Warning (2007), feeling like it has been crossbred with the Australian Suburban Mayhem (2006) and its central character of a young girl who is a tyrannical force of nature in her determination.
You might compare The Loved Ones to an American film like River's Edge (1986). Although they fall into very different genres, the central characters are not too different. While River's Edge believed that this world was heading towards a bleak social apocalypse, The Loved Ones remains cheerful in its uniquely Down Under way about the characters and their nowhere lives. The improbable attraction between Jessica McNamee and nerdishly pudgy Richard Wilson is a B plot that takes up a reasonable amount of screen time while never seeming to add to the main horror plot. Here you get the impression that Sean Byrne has a genuine affection for the characters he has created – especially Jessica McNamee's cynical Goth who moves through the film, owning the screen in her every appearance and spilling over with attitude to spare.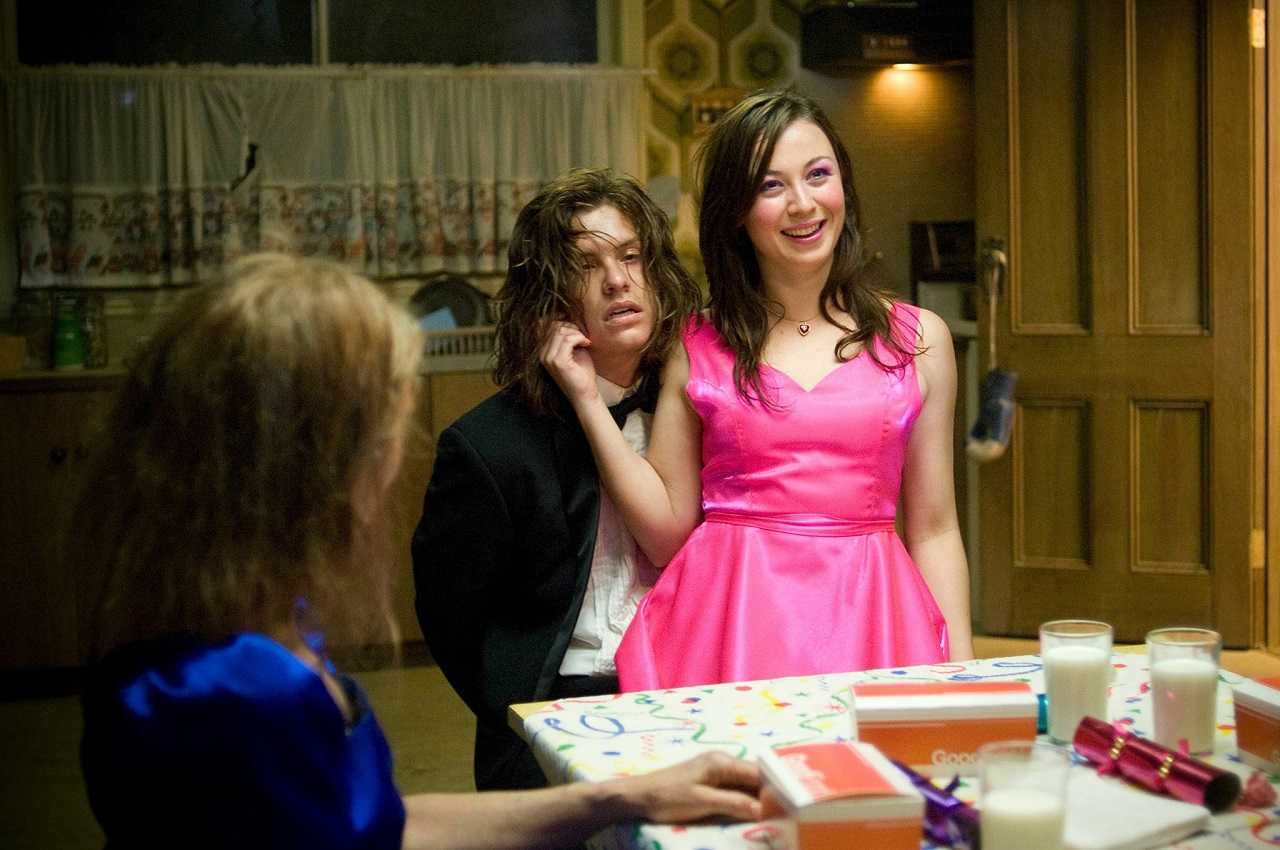 When he eventually finds his way there, Sean Byrne handles the horror element well – Xavier Samuel's feet being nailed to the floor in a grisly display of gore; the offhand moment where Robin McLeavy opens the cellar door and throws scraps of food down and figures there scurry to eat them; or her father (John Brumpton) drilling a hole in the centre of Xavier Samuel's forehead with a power drill and she preparing to pour boiling water in to turn him into a zombie (although I kept having my doubts as to whether having a hole drilled in the middle of his forehead would leave Samuel capable of getting up and walking, let alone driving a car, both of which he proceeds to do shortly afterwards).
When she gets the chance to open up and dominate the show, Robin McLeavy does amazing things. What makes her performance so startling is the way that she is dealing with material that often has a blackly funny undertow in the writing, yet plays it with a bright sparkly cheer. There is that chill scene where Xavier Samuel, bound at the dinner table, says he wants to go to the bathroom, whereupon she empties a glass, unzips him and holds his dick out while cheerfully smiling up at him "You've got ten seconds to go or Daddy's going to nail it to the chair."
The only complaint might be that the character we first meet – someone who is played as a nerdish wallflower – is completely contrary to the assertive and sexually aware character that we see once Xavier Samuel is imprisoned. Both Robin McLeavy and Jessica McNamee are incredible finds and I am most interested in keeping track of their careers after this point.
Director Sean Byrne subsequently went on to make the US horror film The Devil's Candy (2015).
(Nominee for Best Actress (Robin McLeavy) and Best Supporting Actress (Jessica McNamee) at this site's Best of 2009 Awards).
---
---