---
Crew
Director – Adam Egypt Mortimer, Screenplay – Brian DeLeeuw & Adam Egypt Mortimer, Based on the Novel In This Way I Was Saved by Brian DeLeeuw, Producers – Daniel Noah, Josh C. Waller, Lisa Whalen & Elijah Wood, Photography – Lyle Vincent, Music – Clark, Visual Effects Supervisor – George A. Loucas, Special Effects Supervisor – Michael Myers, Creature Design – Illusion Industries (Designer – Martin Astles), Production Design – Kaet McAnnery. Production Company – Spectrevision.
Cast
Miles Robbins (Luke), Patrick Schwarzenegger (Daniel), Sasha Lane (Cassie), Mary Stuart Masterson (Claire), Hannah Marks (Sophie), Chukwudi Iwuji (Braun), Peter McRobbie (Percy Thigpen), Andrew Bridges (Richard), Griffin Robert Faulkner (Young Luke), Nathan Reid (Young Daniel)
---
Plot
Luke is under stress with his university studies and his mother who is exhibiting symptoms of mental illness. In the midst of this, he keeps having hallucinations of his childhood imaginary companion Daniel. His psychologist suggests that he stop trying to resist these. Daniel appears and immediately offers more assured and sophisticated advice that helps Luke dealing with his mother and having success with girls. Luke allows Daniel to take over his body to have sex with a girl only for Daniel to beat up Luke's roommate. Increasingly, Luke feels threatened, believing that Daniel is a malevolent entity that wants to take over his life. As he tries to get help, everybody around him thinks he is going crazy.
---
Newcomer director Adam Egypt Mortimer made a reasonable splash a few years before this with the horror film Some Kind of Hate (2015) and Daniel Isn't Real is his follow-up. In between, Mortimer produced the horror anthology Holidays (2016) and directed the New Year's Day episode, as well as produced the sf film Sequence Break (2016). Daniel Isn't Real comes backed by Elijah Wood's Spectrevision horror producing company (see below for Spectrevision's other films). Mortimer adapts In This Way I Was Saved (2009), the debut novel from by Brian DeLeeuw, his co-writer on Some Kind of Hate and also the screenwriter for Curvature (2017) and Paradise Hills (2019).
We've had films about invisible and imaginary companions before. The classic in the genre is the delightful Harvey (1950) where James Stewart has a 6' invisible rabbit as a companion. There have been other works like Chocky (1984), Bogus (1996), Imagine That (2009) and the recent Jojo Rabbit (2019) to darker and more serious minded efforts like Donnie Darko (2001) and Hide and Seek (2005). Daniel Isn't Real perhaps most resembles a horror version of Drop Dead Fred (1991), a manic slapstick comedy where Phoebe Cates had her life taken over by childhood imaginary companion Rik Mayall.
The surprise of the film is Patrick Schwarzenegger, the son of Arnold Schwarzenegger and Maria Shriver, in the title role. Patrick has had a few minor roles before this in Scouts Guide to the Zombie Apocalypse (2015), Go North (2017) and Midnight Sun (2018) but one predicts his star is going to start rising from this point on. He is particularly captivating during the earlier scenes where he plays with a dark charisma, gently nudging Miles Robbins with the right lines to say to girls, how to talk his unstable mother down from going wild with scissors and the like. In fact, one would go so far as to say Patrick is starting to demonstrate more acting ability than his father ever did in his whole career.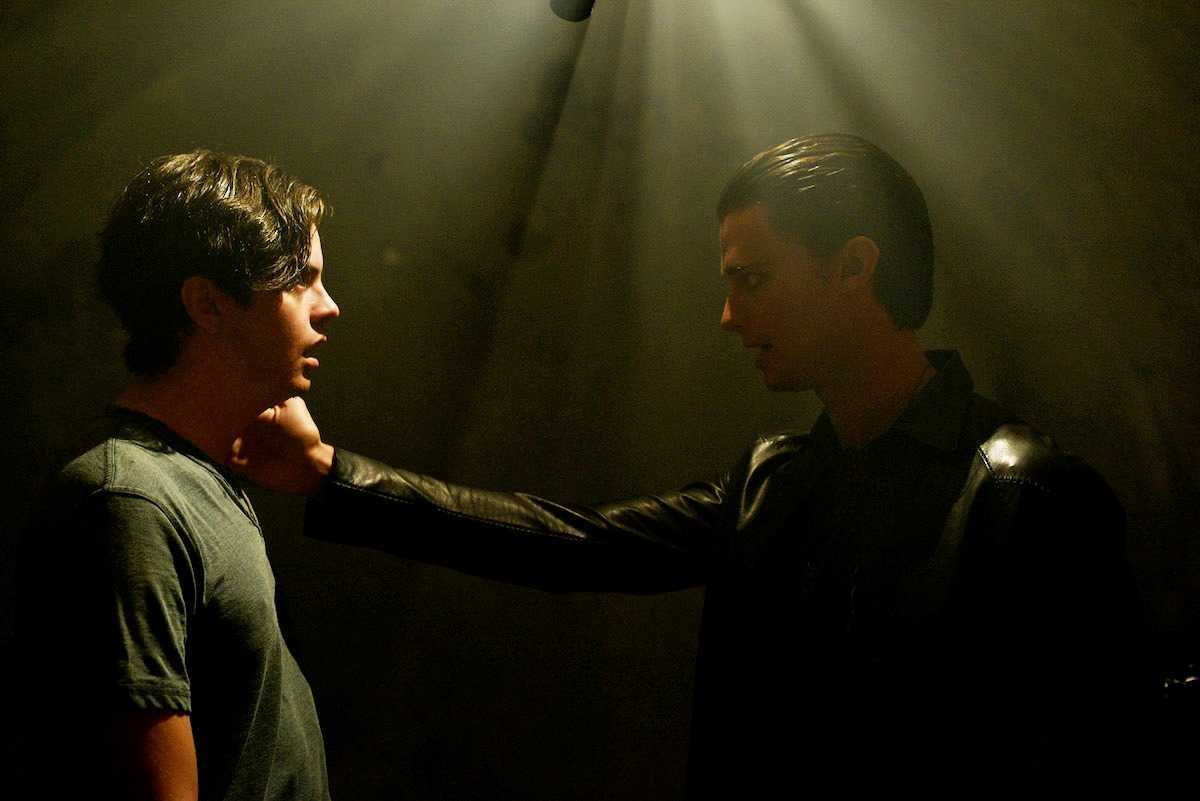 For a time, Daniel Isn't Real sits being a film about a guy with a charming and dangerous dark side that is prompting him to move out of his comfort zone into riskier territory. You are never clear whether Daniel is an imaginary companion or more than that – he does seem to have some existence outside of Luke's head such as being able to read over Sasha Lane's shoulder while Miles is elsewhere in the room. In the middle of the film, there comes the rather creepy scene where Miles Robbins has passed out in the bathroom at the party and a fascinated Patrick Schwarzenegger comes over, testing how unconscious Miles is before picking up a razor and putting it in Miles's hand, even nicking his neck with it. It is the sudden point where we go from thinking we are watching an imaginary person that exists in Miles's head to wondering what exactly is going on.
This is about the point that Daniel Isn't Real starts getting even darker. There's the scene where Patrick Schwarzenegger persuades Miles to let him take over his body – something that occurs in a series of icky Society (1989)-like face melting together effects – so he can have sex with Hannah Marks, only for the scene to end with him beating up Miles's roommate.
The film soon starts to in effect become a Jekyll and Hyde story with Miles fighting to stop the dark side from killing people and taking him over. There is still the point until a good way near the end where you sit uncertain as to whether Daniel is all in Luke's head or is some kind of malevolent entity. There is a particularly captivating scene where the psychologist (Chukwudi Iwuji) comes over to the apartment, puts himself and Miles into a hypnotic trance and is then startled to see Daniel present in the room and is forced to watch as Daniel proceeds to tear Miles's body open and dive inside. All amounts to a film that fearlessly dives in after and finds some pleasantly dark places.
Spectrevision have also produced other horror films such as Toad Road (2012), Cooties (2014), A Girl Walks Home Alone at Night (2014), Open Windows (2014), The Boy (2015), The Greasy Strangler (2016), Mandy (2018) and Color Out of Space (2019).
(Nominee for Best Supporting Actor (Patrick Schwarzenegger) at this site's Best of 2019 Awards).
---
---