---
Crew
Director – Craig William MacNeill, Screenplay – Clay McLeod Chapman & Craig William MacNeill, Based on the Chapter The Henley Road Motel from the Novel Miss Corpus by Clay McLeod Chapman, Producers – Douglas T. Brown, Daniel Noah, Josh C. Waller & Elijah Wood, Photography – Noah Greenberg, Music – Hauschka, Visual Effects – Space Monkey, Inc. (Supervisor – John DiValerio), Special Effects Supervisor – Gabriele Porter, Makeup Effects/Creature Design – Illusion Industries, Makeup Effects Supervisor – Todd Tucker, Production Design – Thomas William Hallbauer. Production Company – Chiller Films/Spectrevision.
Cast
Jared Breeze (Ted Henley), David Morse (John Henley), Rainn Wilson (William Colby), Bill Sage (Sheriff Deacon Whit), Aiden Lovekamp (Ben), Mike Vogel (Dad), Zuleikha Robinson (Mom), David Valencia (Marcus), Sam Morse (Derek), Andres Echavarria (Clayton)
---
Plot
1989. John Henley manages the Mtn. Vista Motel on a backroad in the middle of nowhere, while raising his eleven year-old son Ted on his own. The motel is financially struggling due to a lack of customers. In between helping his father, Ted relieves the boredom by collecting roadkill from the highway. He then leaves food scraps on the road so that more animals can be killed. After spotting a deer nearby, Ted leaves food to lure it to the road – only for this to cause William Colby to crash when he hits the deer in his car. Afterwards Colby takes a room at the motel where Ted befriends him, learning how Colby was travelling with a box containing his wife's ashes. In trying to deal with the boredom of life and various frustrations, Ted's fascination with death leads him to start thinking about killing people.
---
The Boy was a production from Spectrevision, the horror producing company headed by actor Elijah Wood. (See below for Spectrevision's other films). Craig William MacNeill had previously co-directed the little seen horror film The Afterlight (2009) and went on to produce/direct the horror tv series Channel Zero (2016) and direct the Lizzie Borden film Lizzie (2018). The Boy played at several international film festivals, although did not receive wide release despite having a surprising number of well-known names in its cast. The possible reason for this was confusion with William Brent Bell's much more high profile (although far less interesting) The Boy (2016) that came out ten months after.
The Boy is based on a single chapter from Miss Corpus (2006), the debut novel of Clay McLeod Chapman who also co-writes the script for the film. The novel has parallel plots that concern two men, one being Colby (played by Rainn Wilson in the film) who returns home to find his wife dead, the other a father who finds his son's dead body. Both set out on road journeys, encountering bizarre characters along the way. The Henley Road Motel was one of these chapters in which Colby stops off at the motel on his journey and this has been expanded to become the basis of a full-length film here.
The Boy is a variation on the evil child thriller that we have seen numerous examples of with the likes of The Bad Seed (1956), Village of the Damned (1960), Night Hair Child (1975), Who Can Kill a Child? (1976), The Godsend (1980), Bloody Birthday (1981), Mikey (1992), The Good Son (1993), Relative Fear (1994), Daddy's Girl (1996), Joshua (2007), The Children (2008), Case 39 (2009), We Need to Talk About Kevin (2011) and Better Watch Out (2016). (For more detail see Films About Evil Children)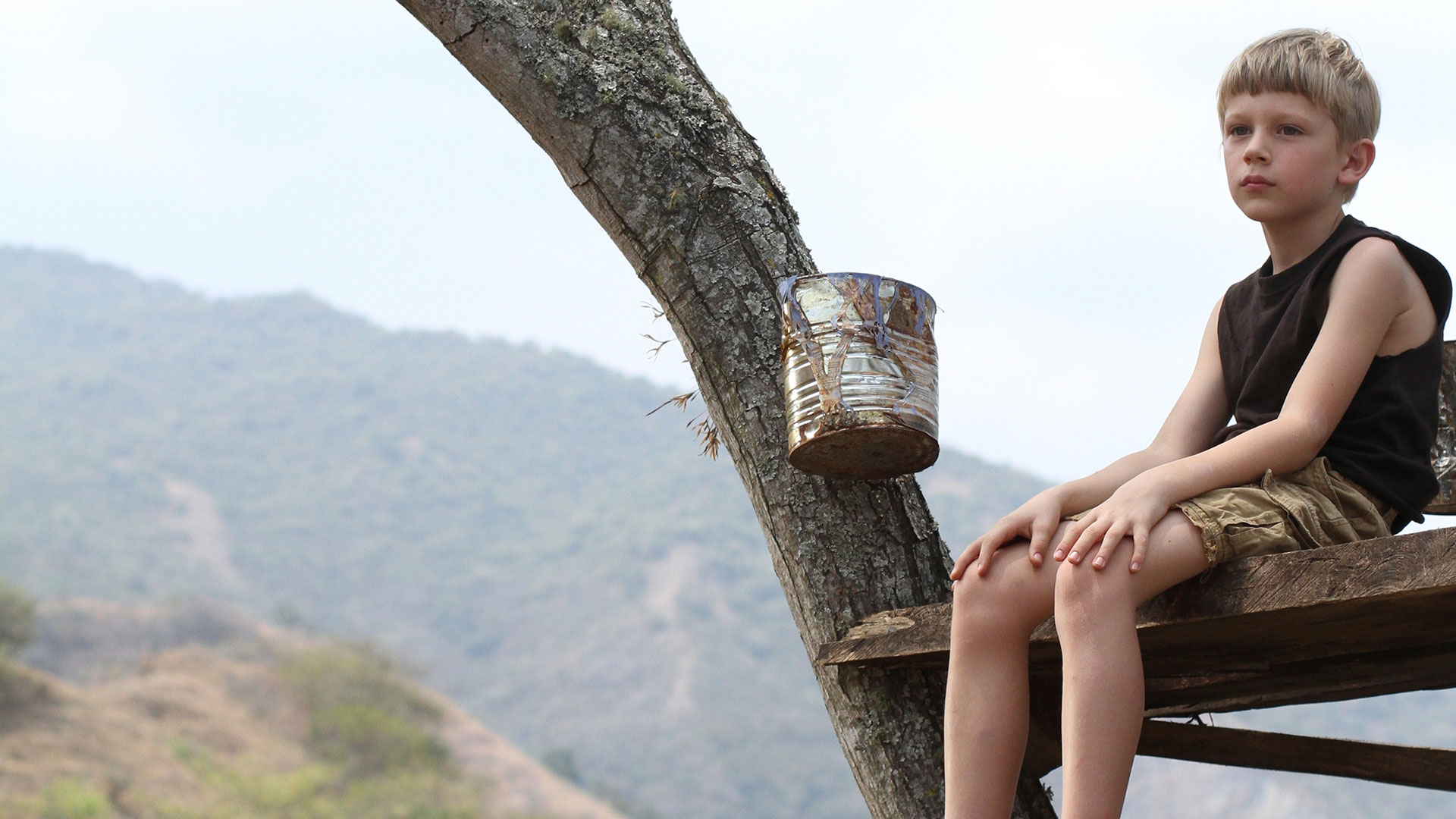 Most of these others are slasher film/psycho-thrillers usually about a child creating a trail of dead bodies as the story progresses. Not to say that doesn't happen here either but rather Craig William MacNeill gives us more a portrait of a place – an isolated backroads motel, a setting that is undeniably reminiscent of Psycho (1960). There is also something similar to the subsequent My Friend Dahmer (2017) in the portrait of the socially isolated kid collecting roadkill – both films open with scenes of the kid doing so – being obsessed with death and progressing on to next killing humans.
Craig William McNeill creates a slow burn film. It is a film as much about the location, the nowhere landscape (in actuality shot in Colombia rather than Nowheresville USA) and the slow, dull buzz of summer as it is about the psychopathology of the central character. This is something that makes it immediately different to almost any other psycho child film, let alone psycho film. The first twenty minutes of the film come with barely half-a-dozen lines of dialogue, for instance. As we watch the business of the motel and Jared Breeze collecting roadkill from the nearby road, things start to seem not right – like when he deliberately places some of his chips on the road in order to kill more animals, leading to the scene where he spots a deer and then litters the road so as to lure it out there.
The chill of the film comes in the impassive blankness of Jared Breeze's performance. You watch him not sure what he is going to do next. Equally, Craig William McNeill sits watching at a cool distance, not dramatically hyping anything. We see Jared splashing around in the swimming pool with the visiting boy before he abruptly but with calmly understated effect tries to hold the other boy's head under the water. Or the disturbing scene where Jared, following a contretemps with his father David Morse, storms away to the chicken coop and is seen kicking one of the chickens to death (it implied solely with sound effects). The film builds to an undeniably disturbing climax.
Spectrevision have also produced other horror films such as Toad Road (2012), Cooties (2014), A Girl Walks Home Alone at Night (2014), Open Windows (2014), The Greasy Strangler (2016), Mandy (2018), Color Out of Space (2019) and Daniel Isn't Real (2019).
---
---