---
Crew
Directors – Jonathan Milott & Cary Murnion, Screenplay – Ian Brennan & Leigh Whannell, Story – Ian Brennan, Josh C. Waller & Leigh Whannell, Producers – Tove Christensen, Georgy Malkov, Daniel Noah, Steven Schneider, Josh C. Waller & Elijah Wood, Photography – Lyle Vincent, Music – Kreng, Visual Effects – Space Monkey, Inc. (Supervisor – Joe DiValerio), Special Effects Supervisor – Josh Hakian, Makeup Effects Designer – Justin Raleigh, Makeup Effects – Fractured FX, Inc., Production Design – Thomas William Hallbauer. Production Company – Spectrevision/Glacier Films.
Cast
Elijah Wood (Clint Hadson), Rainn Wilson (Wade Johnson), Alison Pill (Lucy McCormick), Leigh Whannell (Doug), Jack McBrayer (Tracy), Nasim Pedrad (Rebekkah), Jorge Garcia (Rick), Ian Brennan (Vice Principal Simms), Cooper Roth (Patriot), Armani Jackson (Calvin), Morgan Lily (Tamra), Peter Kwong (Mr Hitachi), Sunny May Allison (Shelley)
---
Plot
In Fort Chicken, Illinois, Clint Hadson is not doing so well in his planned career as a horror writer and has returned home to stay with his mom. He takes a job as a substitute teacher at his old school, meeting fellow teacher Lucy McCormick and realising they went to school together. One of the girls in Clint's class abruptly turns and bites a chunk out of another student's face. She attacks others in the playground and the infection rapidly spreads around all of the children, turning them into flesh-eating zombies. Clint and the other teachers take refuge inside the school. The same thing appears to be happening all over the city and is caused by the eating of infected chicken pieces from a local poultry farm. As the group realise, the contagion only infects those under the age of puberty. They now try to find a means to get past the children and escape the school.
---
Cooties was the second film for Elijah Wood's Spectrevision production company and the first in which Wood had a starring role. (See below for the other Spectrevision films). While co-directors Jonathan Milott and Cary Murnion are making their debut, there is an interesting cluster of names on the script, including Leigh Whannell, a collaborator with James Wan on the scripts for Saw (2004), Dead Silence (2007), and Insidious (2010) and sequels who subsequently made his debut as director with Insidious Chapter 3 (2015), followed by the A.I. film Upgrade (2018) and The Invisible Man (2020); Josh C. Waller, a Spectrevision producer and director of Raze (2013) and Camino (2015), and Ian Brennan who co-created tv's Glee (2009-15) and Scream Queens (2015-7).
The zombie film has become a massively creatively exhausted genre in the last few years. Since the late 2000s, filmmakers have been turning to zombie parodies and throwing zombies in with absurdly incongruous things as in the likes of Zombie Beach Party (2003), Poultrygeist: Night of the Chicken Dead (2006), Zombie Cheerleader Camp (2007), Zombie Strippers! (2008), Attack of the Vegan Zombies! (2009), Stag Night of the Dead (2009), Big Tits Zombie (2010), Santa Claus vs. the Zombies (2010), Bong of the Dead (2011), Cockneys vs Zombies (2012), Pro Wrestlers vs Zombies (2014), Zombeavers (2014), MILFs vs Zombies (2015), Scouts Guide to the Zombie Apocalypse (2015), Attack of the Lederhosen Zombies (2016), Pride and Prejudice and Zombies (2016) and Fat Ass Zombies (2020). Starting out as a way to revive the zombie genre, the zombie parody is itself now starting to become a creatively exhausted vein.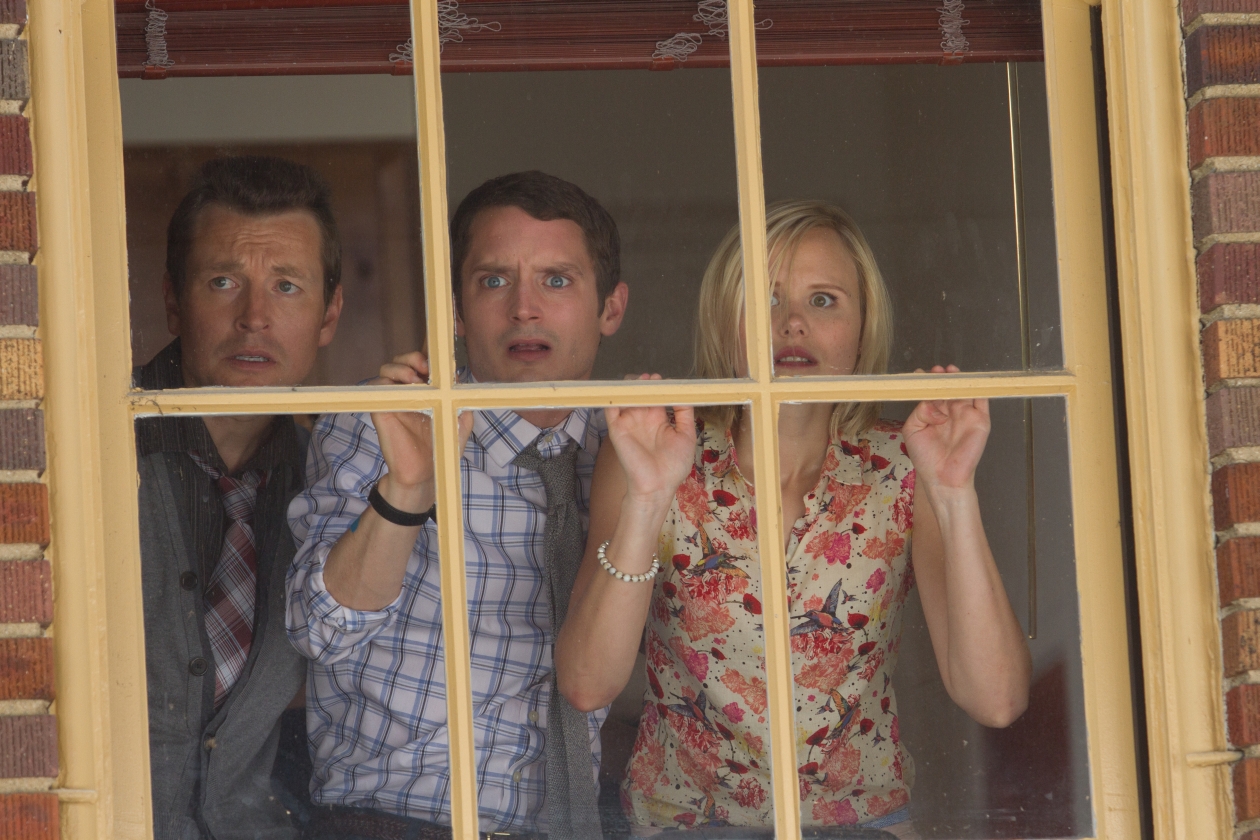 Nevertheless, Cooties is one effort that stands up rather well. Its treatment of zombies themes – the initial infection, the outbreak, the characters at siege inside a building – is not any different to standard. One twist we do get is that the zombies are all school-age children and the locale is an elementary school. I am willing to bet that one or other of the scriptwriters on the film had previously worked as a teacher – the film seems devastatingly on the ball in its wicked satire of teachers and their methods, even their peccadilloes and manner of speech. It is this sharp and witty humour, the wryly penetrating observation of the various characters and puncturing of their self-pretensions that make the film. Jonathan Milott and Cary Murnion have a very snappy pace and the film hits in with a great sense of delivery and just keeps going.
Milott and Murnion do well when it comes to the siege scenes. This is not a film that goes overboard on splatter and gore, although they don't entirely shy away from it either – there is notable macabre montage where we see the children using intestines as skipping ropes, a severed finger placed between the spokes of a bicycle wheel, removed eyeballs as marbles and so on. Mostly it is a film that seems to be having the time of its life deflating zombie movie cliches.
The greater triumph of the film is also its casting. Elijah Wood does well as the average dweeb with pretensions of being a writer, although much of the show is stolen by Raiin Wilson who has a fantastic line in tough guy bravado.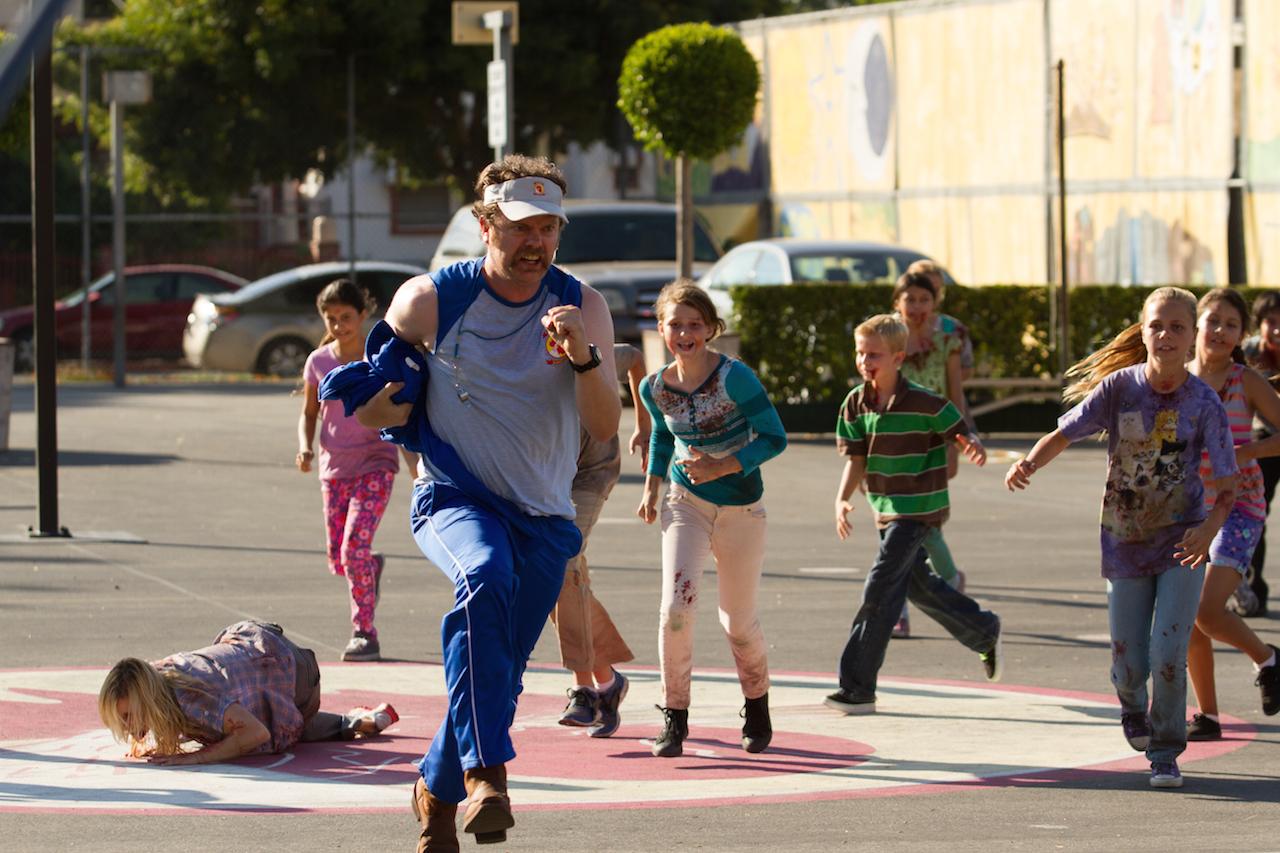 All of the supporting cast do well in the roles they have to perfectly on the ball comic ends. Scriptwriter Leigh Whannell also turns up as the teacher lacking in social graces that we first see reading a book on how to have a conversation, while his other co-writer Ian Brennan is also present as the wannabe hippie assistant principal.
Directors Jonathan Milott and Cary Murnion subsequently went on to make Bushwick (2017), which has a science-fictional scenario where a Brooklyn neighbourhood is invaded by armed militias, and Becky (2020) where a young girl defends against a home invasion.
Spectrevision have also produced other horror films such as Toad Road (2012), A Girl Walks Home Alone at Night (2014), Open Windows (2014), The Boy (2015), The Greasy Strangler (2016), Mandy (2018), Color Out of Space (2019) and Daniel Isn't Real (2019).
---
---