---
Crew
Director – Richard Stanley, Screenplay – Scarlett Amaris & Richard Stanley, Based on the Short Story The Colour Out of Space by H.P. Lovecraft, Producers – Daniel Noah, Josh C. Waller, Lisa Whalen & Elijah Wood, Photography – Steve Annis, Music – Colin Stetson, Visual Effects – User T38 S.L., (Supervisor – Joaquin Gutierrez), Special Effects – Cine Set LDA (Supervisor – Filipe Pereira), Makeup & Creature Effects – 13 Fingers Effects (Supervisor – Daniel Martin), Production Design – Katie Byron. Production Company – Ace Pictures /XYZ Films/Bro Films/Spectrevision.
Cast
Nicolas Cage (Nathan Gardner), Joely Richardson (Theresa Gardner), Madeleine Arthur (Lavinia Gardner), Brendan Meyer (Benny Gardner), Julian Hilliard (Jack Gardner), Elliot Knight (Ward Phillips), Tommy Chong (Ezra), Josh C. Waller (Sheriff Pierce), Q'Orianka Kilcher (Mayor Tooma)
---
Plot
Nathan Gardner, his wife Theresa and their three children have moved from the city to a remote farmhouse west of Arkham. One night a meteorite that emits a strange colour comes down in the front yard, although vanishes not long after. Soon the family find strangely coloured insects and plantlife blooming nearby. Ward Phillips, a hydrologist coming to study the water table in the area, determines that they are being affected by drinking water from the well that has contaminated by the meteorite. Theresa slices off her fingertips in the kitchen while cooking, while Nathan starts developing scaled skin. The animals on the farm start to mutate and then Theresa and the youngest Jack are fused together by the energy from the meteorite.e
---
After first seeing the killer robot film Hardware (1990), I was overwhelmed by director Richard Stanley's extraordinary Cyberpunk vision and the invention he was able to achieve on a minimal budget. I was happy to call Hardware one of the most exciting directorial debuts of the 1990s. Sadly, it was a promise that was never quite fulfilled. Stanley's next film was the fascinating supernatural serial killer film Dust Devil (1992) but this was plagued by distributor interference and has been little seen. Stanley next signed on for the big-budget remake of The Island of Dr Moreau (1996), only to be dumped by the studio interference not far into shooting. Lost Soul: The Doomed Journey of Richard Stanley's Island of Dr. Moreau (2014) is an utterly fascinating documentary about the debacle.
It is a misnomer to say that Richard Stanley has been absent for over two decades as is frequently being bandied around in the publicity for Color Out of Space. Although he has announced several dramatic projects, the only feature-length work that Stanley has directed since then has been The Secret Glory (2001), a documentary about the Nazi's obsession with the Holy Grail, and the voodoo documentary The White Darkness (2002). He did make a return to genre material with the Mother of Toads episode of the horror anthology The Theatre Bizarre (2011), as well as co-wrote the ghost story The Abandoned (2006) and the horror film Replace (2017) but has made no full-length works of fiction.
In reading up on the making of Color Out of Space, the main problem is not Stanley's unwillingness but inability to attract financing. He has written literally dozens of unfilmed projects. Stanley touted Color Out of Space for several years and finally received financing from Elijah Wood's Spectrevision company, where the film would seem a personal project pushed by Wood's production partner Josh C. Waller (who also plays the role of the sheriff). (See below for Spectrevision's other films).
H.P. Lovecraft (1890-1937) was a writer who casts a giant shadow over horror fiction. Lovecraft led a strange and closeted life. He only once ever moved out of Providence, Rhode Island where he was born. He published in pulp magazines of the day but rarely made any money from his writing and was never recognised outside of certain pulp magazines circles during the period he wrote. He lived on an inheritance for many years before being reduced to poverty and was unable to hold a job. He was a reactionary who hated the 20th Century and industrialisations and a noted Anglophile with some decidedly dubious racial views. And yet he produced a body of work – some 60 short stories and novellas and four novels, plus assorted poetry and a vast volume of correspondence with other authors who in turn borrowed from his mythos and ideas. Most of Lovecraft's wider recognition comes as a result of his friend August Derleth who launched Arkham House and republished all of Lovecraft's work.
What comes through Lovecraft's work is a sense of fear and the uncanny – of scientists and questors after forbidden knowledge; of ancient civilisations fallen due to miscegenation with non-human creatures; narrators who encounter horrors that have broken their minds. Lovecraft described a place in New England and invented towns (Dunwich, Arkham, Innsmouth, The Miskatonic University) that have caught on with readers who other writers who refer to these in their works. Lovecraft's most important contribution was the invention of the pantheon of Elder Gods with consonant-challenging names like Yog-Sothoth, Nyarlatotep and especially Cthulhu, and a sense of cosmic horror where Earth is a tiny island of ignorance surrounded by vast, all-powerful entities that lie slumbering or waiting to be called and whose very sight alone can drive a man insane. Lovecraft's work is so distinctive that it has been pastiched and parodied by numerous other writers including Robert Bloch, Neil Gaiman, Alan Moore and Stephen King to name but the most famous.
There have been a great number of Lovecraft films made, particularly since the success of Re-Animator (1985) in the 1980s. (See below for a full list of H.P. Lovecraft adaptations). Re-Animator unfortunately stuck Lovecraft adaptations with a particular style – gore-drenched with lots of slime and creature effects. However, this is the antithesis of the actual mood of Lovecraft whose horrors are not all in your face but 'indescribable' in their monstrousness. What most of the films miss is the mood of dread and cosmic horror – the few films that capture the essence of Lovecraft have not been direct adaptations but homages like John Carpenter's In the Mouth of Madness (1995) and Steven Kostanki's The Void (2016).
Lovecraft's The Colour Out of Space (1927) is a short story that runs to just over 12,000 words. This has been filmed several times – as the staid Die, Monster, Die!/Monster of Terror (1965) with Boris Karloff as the family patriarch and the terrible The Curse (1987) starring Wil Wheaton, which overran the show with cheap goo effects. In more recent years, we have had a couple of indie productions with Colour Out of the Dark (2008) and The Color (2010).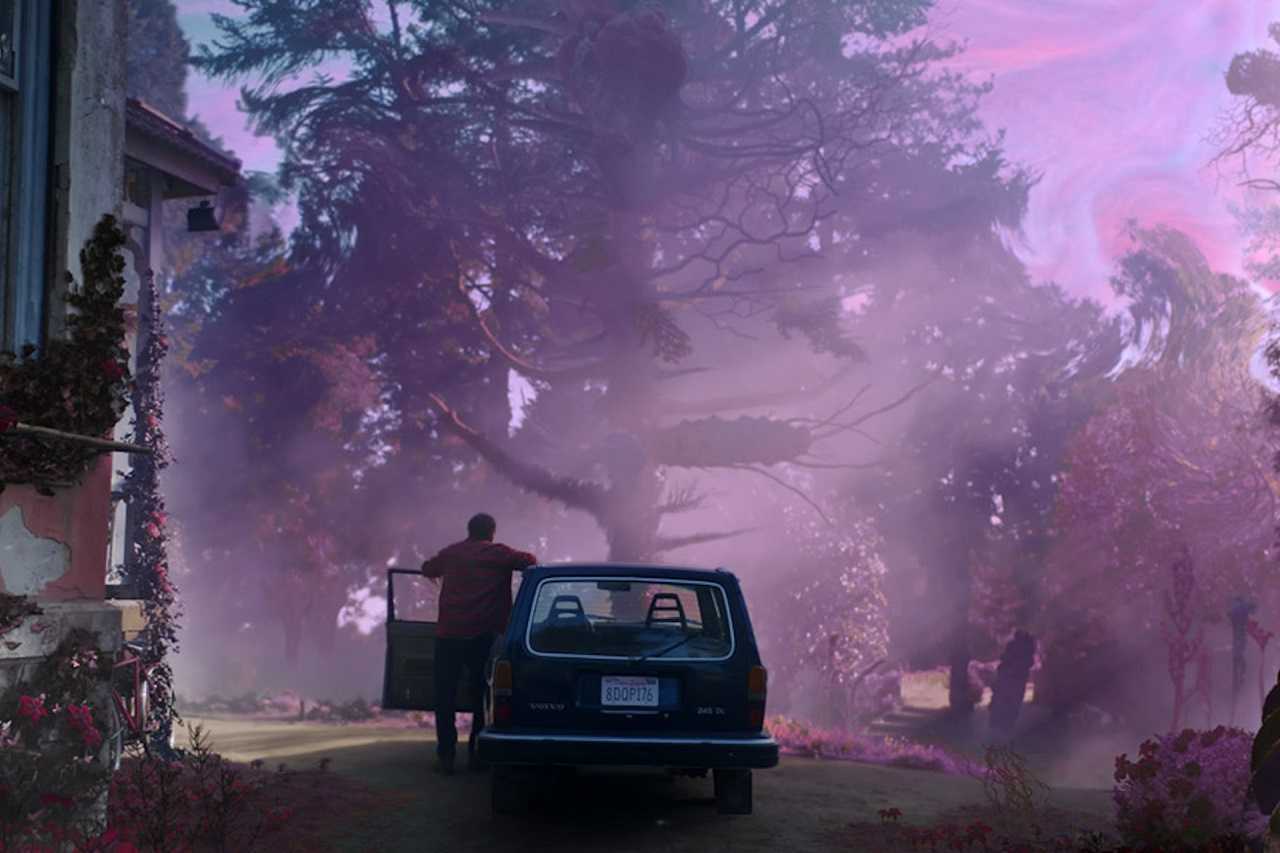 The original story takes place in the 19th Century with a farm being affected by a meteorite that poisons the water table and emits a colour that is unknown on Earth (Given the difficult of cinematically depicting an unknown colour, Stanley replaces this with a pink light). Stanley updates the story to the present, gives the characters more modern names than the ones out of the pioneer era that Lovecraft gave them (Nahum Gardner, his son Thaddeus) and reduces the timescale to a few days rather than over the course of two seasons that Lovecraft had it. Otherwise, he is surprisingly faithful.
As Color Out of Space starts in, it defies expectation. Hardware and Dust Devil are two films filled with respectively brash, exciting visual energy and an incredible sense of the uncanny. Contrarily, Richard Stanley gives us a portrait of a perfectly normal family and their doings. About the only oddity is that the daughter Madeleine Arthur is seen conducting magic rituals within the opening scene (no such scene is present in the book – although it should be noted that Stanley is a noted practitioner of magic). There is nothing here that looks as though it could be any different than say a regular romance or family drama.
Previously an A-list name, Nicolas Cage's career has gone in some interesting directions throughout the 2010s. One gets the impression that the big-budget films being offered were not as frequent as they once were and he has taken on some fare that others might overlook. This has led to some outright crap – Left Behind (2014), Pay the Ghost (2015), The Humanity Bureau (2017) and Jiu Jitsu (2020). It has also led to him taking on some smaller films that grant him the opportunity to go completely nuts in his performance with the likes of Mom & Dad (2017), Between Worlds (2018), Mandy (2018), Pig (2021), Prisoners of the Ghostland (2021Prisoners of the Ghostland (2021), Willy's Wonderland (2021) and The Unbearable Weight of Massive Talent (2022).
The surprise here is that Nicolas Cage gives a performance as a regular father that is as restrained and middle-of-the-road as Stanley's direction. That is at least for the first 40 minutes. After that point, the film starts to segue over into something much stranger – first with the gradual appearance of the pink-coloured flowers and insects. There is the ever-so-creepy moment where Joely Richardson is chopping carrots and then lifts up her hand with two fingertips sliced off to announce "Dinner's ready." Thereafter, Stanley (and Cage's performance) goes for broke.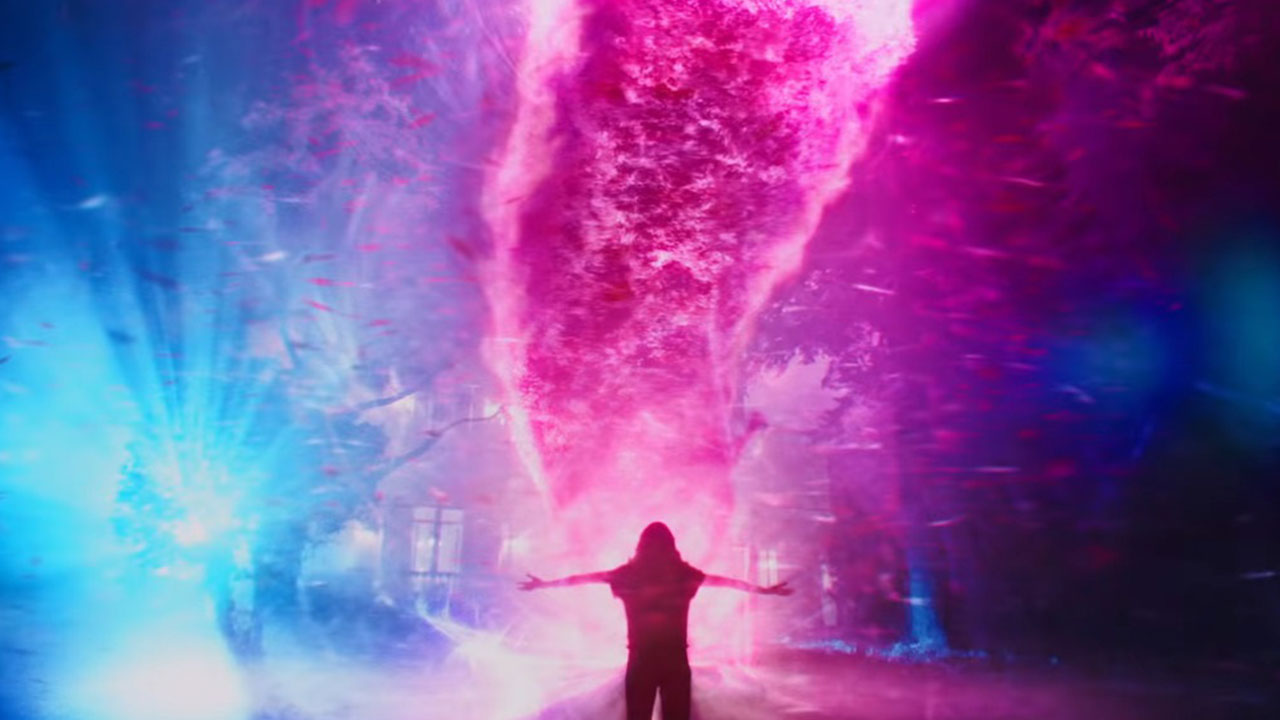 We get the sense of a normal area transformed into something otherworldly and uncanny. With weird temporal jumps, things lurking in the woods and barn that may no longer be human, something in the bottom of the well and the family members undergoing strange mutations, the film comes with a dread sense of not knowing what Stanley is going to pull out of his sleeve next. The film's tour-de-force set-piece is the scene where the colour fuses Joely Richardson and young son Julian Hilliard into a single entity, she slowly absorbing him into her back. The scenes with she pitifully calling out to the others hold something queasy and horrible.
Where Color Out of Space doesn't quite hit its heights is that it is clear that Stanley is operating on a less-than-stellar budget, particularly in the makeup effects department. Some of the scenes with the fused alpacas and the Theresa spider thing that attacks Madeleine Arthur clearly don't have top-drawer effects budgets and Stanley is forced to keep glimpses of them brief and in shadow. This is certainly in keeping with Lovecraft whose horrors were 'indescribable' ie. best left to the reader's imagination. On the other hand, you keep thinking that if Stanley had had the budget and resources of The Thing (1982) to hand and created something of that film's phantasmagoric horrors, he could have made a minor masterpiece. Nevertheless, with what he does have, he becomes one of the few directors to mainline the uncanny essence of Lovecraft.
Color Out of Space was greeted with a great deal of critical acclaim and Richard Stanley and Spectrevision have next announced an adaptation of H.P. Lovecraft's The Dunwich Horror (1929).
Spectrevision have also produced other horror films such as Toad Road (2012), Cooties (2014), A Girl Walks Home Alone at Night (2014), Open Windows (2014), The Boy (2015), The Greasy Strangler (2016), Mandy (2018) and Daniel Isn't Real (2019).
Other films based on the works of H.P. Lovecraft include:- The Haunted Palace (1963), Die, Monster, Die/Monster of Terror (1965), The Shuttered Room (1967) and The Dunwich Horror (1969). The big success in the modern era was Stuart Gordon's splattery black comedy version of Re-Animator (1985), which popularised Lovecraft on film. This led to a host of B-budget Lovecraft adaptations, including Stuart Gordon's subsequent From Beyond (1986), The Curse (1987), The Unnameable (1988), The Resurrected (1992), Necronomicon (1993), The Unnamable II: The Statement of Randolph Carter (1993), Lurking Fear (1994), Dagon (2001) and other works such as The Dream-Quest of Unknown Kadath (2003), Beyond the Wall of Sleep (2006), Cool Air (2006), Chill (2007), Cthulhu (2007), The Tomb (2007), Colour from the Dark (2008), The Dunwich Horror (2009), The Color (2010), Pickman's Muse (2010), The Whisperer in Darkness (2011), The Dark Sleep (2013), The Haunter of the Dark (2015), Herbert West: Re-Animator (2017), H.P. Lovecraft's The Deep Ones (2020), the tv series Lovecraft Country (2020), Markham (2020), H.P. Lovecraft's Witch House (2021), The Resonator: Miskatonic U (2021) and The Lurking Fear (2023). Lovecraft: Fear of the Unknown (2008) is a documentary about Lovecraft. Also of interest is The Manitou (1978), which features an appearance of the Great Old One; Cast a Deadly Spell (1991) and its sequel Witch Hunt (1994), a tv movie set in an alternate world where magic works and where the central character is a detective named H.P. Lovecraft; Juan Piquer Simon's cheap and loosely inspired Cthulhu Mansion (1992); John Carpenter's Lovecraft homage In the Mouth of Madness (1995); the fan parodies Lovecracked: The Movie (2006), The Last Lovecraft: Relic of Cthulhu (2009) and Call Girl of Cthulhu (2014); even a trilogy of animated children's film Howard Lovecraft and the Frozen Kingdom (2016), Howard Lovecraft and the Undersea Kingdom (2017) and Howard Lovecraft and the Kingdom of Madness (2018) in which a young Lovecraft encounters his own creations; while Batman faces Lovecraftian horrors in the animated Batman: The Doom That Came to Gotham (2023). The Elder Gods turn up at the end of The Cabin in the Woods (2012), Lovecraft (Paul Titley) appears as an imaginary companion in Ghostland/Incident in a Ghostland (2018) and In Search of Lovecraft (2008) features a tv news crew discovering that Lovecraft's works are true. Lovecraft's key work of demonic lore The Necronomicon also makes appearances in films such as Equinox (1970), The Evil Dead II (1987) and Army of Darkness (1992), and was also borrowed as an alternate retitling for Jesus Franco's surreal and otherwise unrelated Succubus/Necronomicon (1969) about a BDSM dancer.
---
---