---
USA. 2001.
Crew
Director – Gregory Gieras, Screenplay – Gregory Gieras & D.B. Smith, Producers – Patrick Ewald, Vicky Price & Morris Ruskin, Photography – Viorel Sergovici Jr, Music – Peter Bernstein, Special Effects Supervisor – Constantin Moise, Prosthetics – Ion Pana, Production Design – Radu Corciova. Production Company – Shoreline Entertainment/Mediapro Pictures/Insane Pictures.
Cast
Paulina Porizkova (Dr Maggie Belham), Larry Drake (Luther 'The Trasher' Wells), Judd Nelson (Quitz), Jurgen Prochnow (Dr Fallon), Bogdana Mirea (Sarah Belham)
---
Plot
Psychologist Maggie Belham is called out to the about-to-be-closed Crestmore Asylum to assess the brutal serial killer known as The Trasher who has just been apprehended by the police. However, The Trasher kills his guards and makes an escape. Maggie finds herself locked inside the asylum, trapped along with another patient who works as a janitor, as The Trasher comes after them, trying to find the keys to get out of the building.
---
Dark Asylum is a modestly effective psycho film. It was shot in the Romanian studios and with many of the personnel usually involved in various of Charles Band's Full Moon Productions films.
Dark Asylum features Larry Drake, who came to fame and obtained three Golden Globe Award nominations and an Emmy as the intellectually handicapped Benny Stulwicz on tv's L.A. Law (1986-1994) and then promptly turned to the horror genre to shake typecasting with memorable roles as the killer Santa in an episode of Tales from the Crypt (1989-96), as the finger-chopping villain in Darkman (1990) and Darkman II: The Return of Durant (1995), and as a psychopathic medic in Dr Giggles (1992). Here with bulked-up body, bald eggshell head, evilly narrowed eyes and a range of malevolently calculating expressions, Drake seems the ultimate escaped lunatic.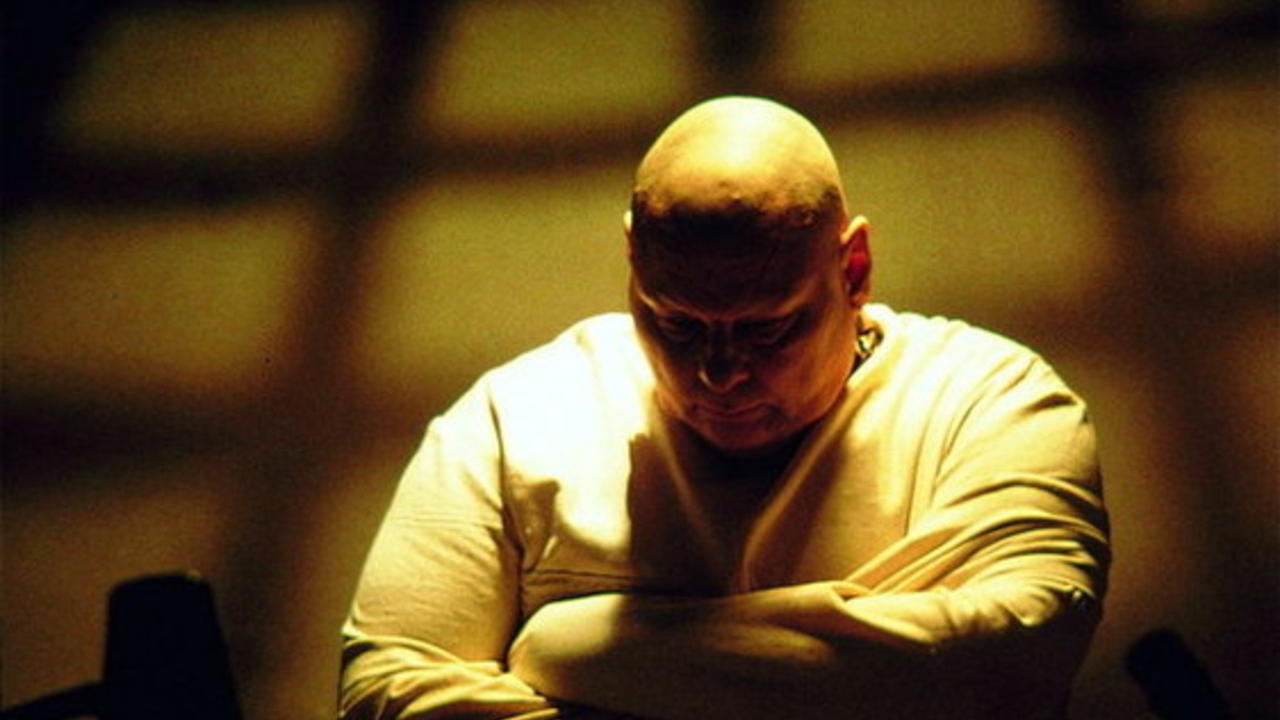 Director Gregory Gieras sustains the film is with an enthusiastic degree of energy. He keeps pushing the show with well-sustained suspense and piles on a series of constant unexpected turns – the hunt for the keys, Larry Drake on the radio fooling the others he is a cop, or coming after them as they run through the ceiling ducts smashing the roof open with a chair.
This is also weighed out with a perfectly balanced sense of tongue-in-cheek humour in scenes such as Larry Drake sewing himself back together again (a trick he also conducted in Dr Giggles) and the rather amusing scene at the climax where Paulina Porizkova handcuffs a pipe bomb to his wrist. The result make for a film that is far more entertaining than it might seem at first glance.
Director Gregory Gieras previously made genre films such as The Whispering (1995), Little Insects (2000) and Centipede (2004). He also wrote the scripts for Beeper (2002), Dark Island (2010), Beyond (2012), Big Ass Spider! (2013) and Day of Reckoning (2016).
---
---