---
USA. 1992.
Crew
Director – Manny Coto, Screenplay – Manny Coto & Graeme Whifler, Producer – Stuart M. Besser, Photography – Rob Draper, Music – Brian May, Visual Effects – Digital Fantasy Inc, Special Effects – Phil Cory, Makeup Effects – KNB EFX, Production Design – Bill Maley. Production Company – Largo Entertainment/Dark Horse Entertainment.
Cast
Larry Drake (Evan Rendell Jr/Dr Giggles), Holly Marie Combs (Jennifer Campbell), Keith Diamond (Officer Joe Reitz), Richard Bradford (Officer Hank Magruder), Glenn Quinn (Max Anderson), Cliff De Young (Tom Campbell), Michelle Johnson (Tamera), Darin Heames (Stu)
---
Plot
A psychiatric patient known only as 'Dr Giggles' – so named for his unnerving giggle – escapes from an asylum and returns to his hometown of Moorehigh where he begins a murderous spree using medical instruments as implements of death. He then becomes obsessed with curing teenager Jennifer Campbell after she is diagnosed with a heart condition.
---
Several years before Scream (1996) revived the slasher genre and deconstructed it into a series of sly genre interplays, there was Dr Giggles, which attempted the same but never caught on in the same way.
Dr Giggles takes the mold created by Halloween (1978) but transforms it into a slasher film for the 1990s. The subtext has undergone a striking metamorphosis – as usual, the kids are being punished, but this time they are not only being punished for their promiscuity but for not practicing Safe Sex as well. At the heart of Dr Giggles is Holly Marie Combs who radiates a sober intelligence beyond her years. She is like a frigid virgin beauty queen, a pure embodiment of the new 90s Just Say No sensibility. Jamie Lee Curtis never had such glacial beauty as Combs does.
Dr Giggles is one of the few parodies of the slasher genre that succeeds without having to resort to slapstick inanity or sacrificing any of the horror and suspense. The one-liner spouting horror villain is something that had became a tiresome caricature in the late 1980s but this is one of occasions where such a character actually works.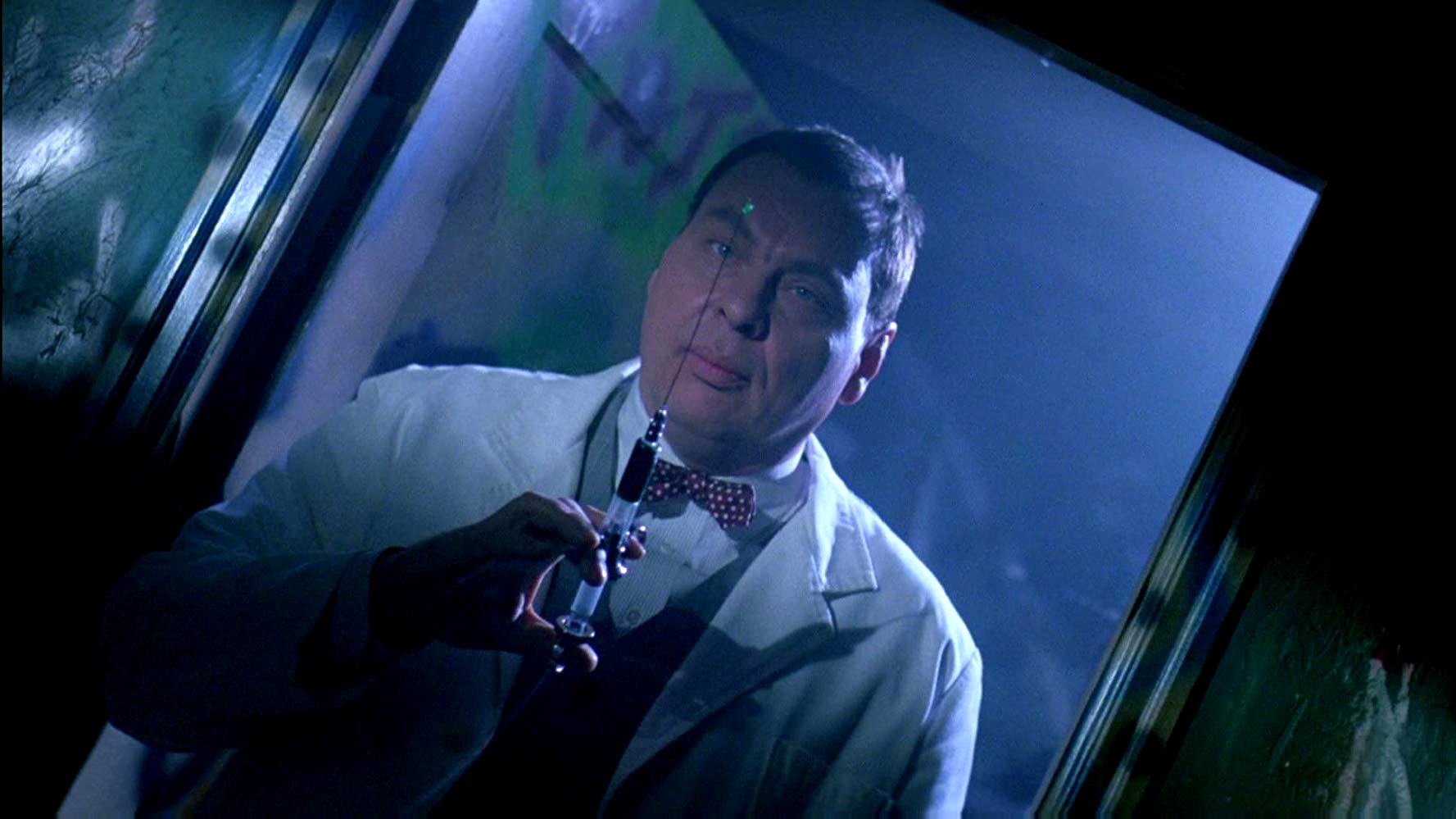 Larry Drake has an absolute ball with the role, conducting more medically related novelty deaths and tossing off more medical pun one-liners than one believed humanly possible. The funniest one-liner of all must be during Drake's final dispatch when, in his death throes, he turns directly to the camera and asks "Is there a doctor in the house?" Drake also affects the unnerving title giggle. It is something that takes on a disturbing weirdness, especially the scenes where he operates on himself and the giggle rises in pitch to where it seems both a giggle of pain and pleasure.
Director Manny Coto does not forsake the horror side of things either. This is one of the rarities of a horror film that has been cinematographically composed for the big screen. There are at least several sequences that memorably stand out – a stalking sequence inside a mirror maze where the screen itself refracts into multiple versions of the same image; the sequence where Larry Drake operates on himself; and the stunningly surreal image during a flashback sequence where the young Rendell cuts his way out of his mother's body from the inside, having been sewn in by his father.
Director Manny Coto has never returned to the horror genre. He has made a handful of children's movies with the likes of Star Kid (1997), The Other Me (2000) and Zenon the Zequel (2001), but mostly these days works as a producer on tv shows like 24, Enterprise, Odyssey 5, Dexter and American Horror Story.
---
Trailer here
---