---
USA. 2001.
Crew
Director – Daniel Sackheim, Screenplay – Wesley Strick, Producer – Neal H. Moritz, Photography – Alar Kivilo, Music – Christopher Young, Special Effects Supervisor – R. Bruce Steinheimer, Production Design – Jon Gary Steele. Production Company – Original Film Productions.
Cast
Leelee Sobieski (Ruby Baker), Stellan Skarsgård (Terry Glass), Diane Lane (Erin Glass), Trevor Morgan (Rhett Baker), Bruce Dern (Arnold Begleiter), Kathy Baker (Nancy Ryan), Chris Noth (Uncle Jack), Rita Wilson (Grace Baker), Michael O'Keefe (David Baker)
---
Plot
After their parents are killed in a car crash, sixteen year-old Ruby Baker and her younger brother Rhett are adopted by Terry and Erin Glass in accordance with the wishes of their parents' will and go to live at the Glass's home in Malibu. Ruby soon finds that things in the Glass house are not perfect – she and her brother are forced to sleep in the same room, she sees Erin shooting up drugs and Terry may have indecent intent toward her. She comes to believe that the deeply indebted Glass's are attempting to defraud them of their four million dollar inheritance and will kill to ensure that they get the money.
---
The Glass House was one amid the fad of teen psycho-thrillers that emerged following Scream (1996). Scream and its imitators fed the 1980s slasher film through the filter of irony and genre in-reference. The Glass House tries to be a post-Scream film – it opens with someone being attacked by a maniac and then pulls back to reveal this is only a slasher film being watched by teens in the audience. It feels a forced attempt to be a postmodern slasher film – you are never sure if this scene is meant to be ironic, satiric or what. Both Blow Out (1981) and Scream 2 (1997) did these pullbacks much more cleverly.
In truth, The Glass House is far more old-fashioned in origin than Scream and imitators and their reliance on 1980s slasher films. It is a Gothic thriller and a rehash of a subgenre of sinister new home stories, best exemplified by Flowers in the Attic (1987), to which this has many similarities. The twists and turns of the plot are tried and true for this form – it doesn't take too much to see that the designer Malibu beachfront home as a sinister Gothic mansion in modern guise.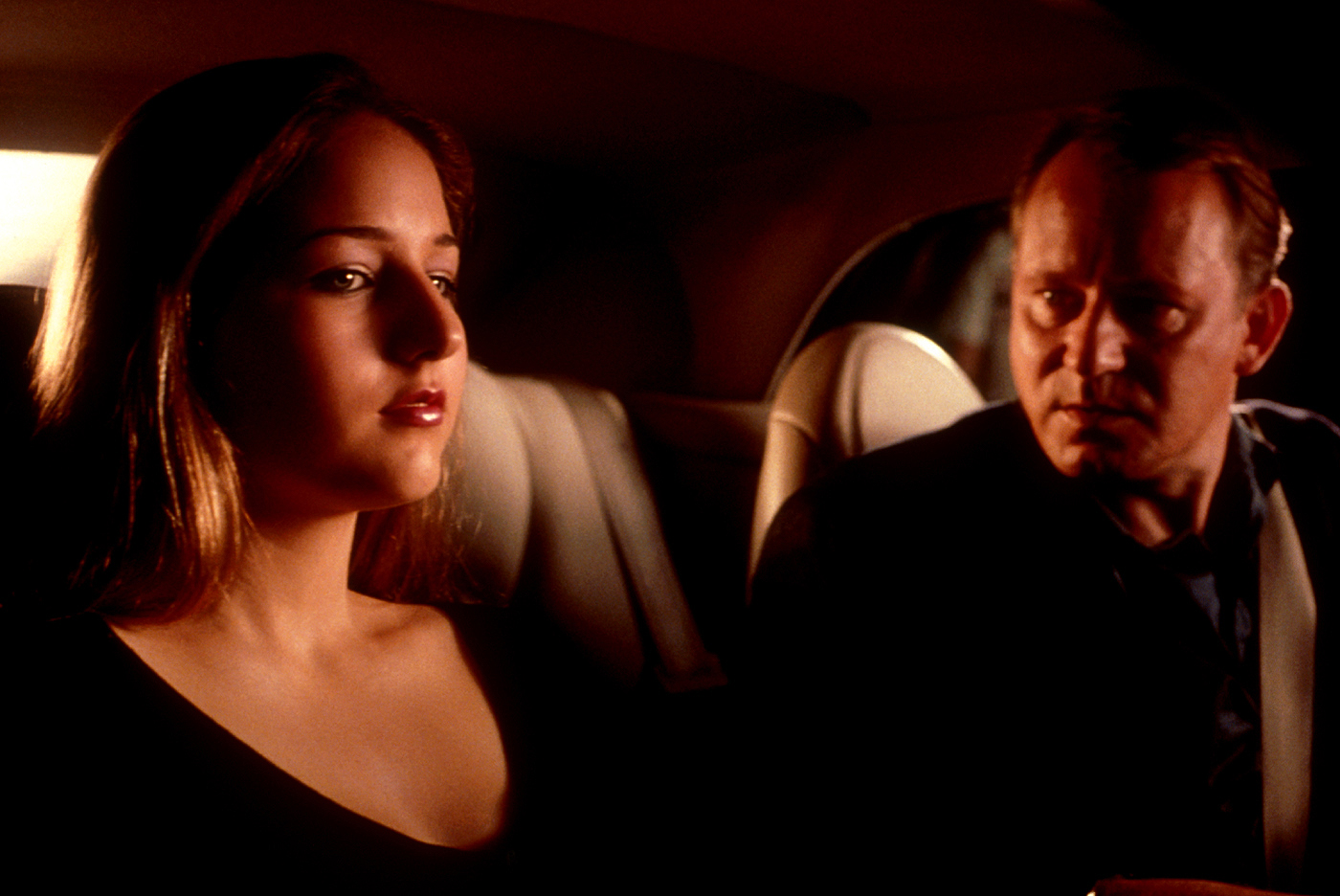 One didn't have much in the way of expectation for The Glass House, despite the presence of Wesley Strick on the script. Strick had written fine scripts like Cape Fear (1991), Wolf (1994) and directed The Tie That Binds (1995). Strick also seems to have a recurrent interest in malevolent adoptions – The Glass House has two children in fear of their new adoptive parents, while The Tie That Binds was about two adoptive parents in fear of their new child's evil birth parents.
That said, The Glass House pleasantly surprises. The script runs to predictable clichés. Most of the plot elements – the inheritance, the school inspector, the Mafia thugs, Leelee Sobieski's story not being believed – have easy arcs that never stray far from genre predictability. The script tends to be constructed more in terms of sinister circumstance than plausible reason for things happening – it is never made clear why Leelee Sobieski and her brother have to sleep together in the same room. Moreover, the way Stellan Skarsgård and Diane Lane manage to change this without notice in a single day, which also happens to be the very day that the welfare inspector visits, is not entirely plausible.
Nevertheless, from out of these elements, Wesley Strick and director Daniel Sackheim do an effective job of imbuing the film with sinister effect and threatening ambiguity. The film is beautifully photographed and Daniel Sackheim has a particularly good way of lighting the house and framing shots for maximum sinister effect threat, making Leelee Sobieski visually as much a trapped victim as she is circumstantially. The film also leaves one with a strong sense of the legal powerlessness of minors.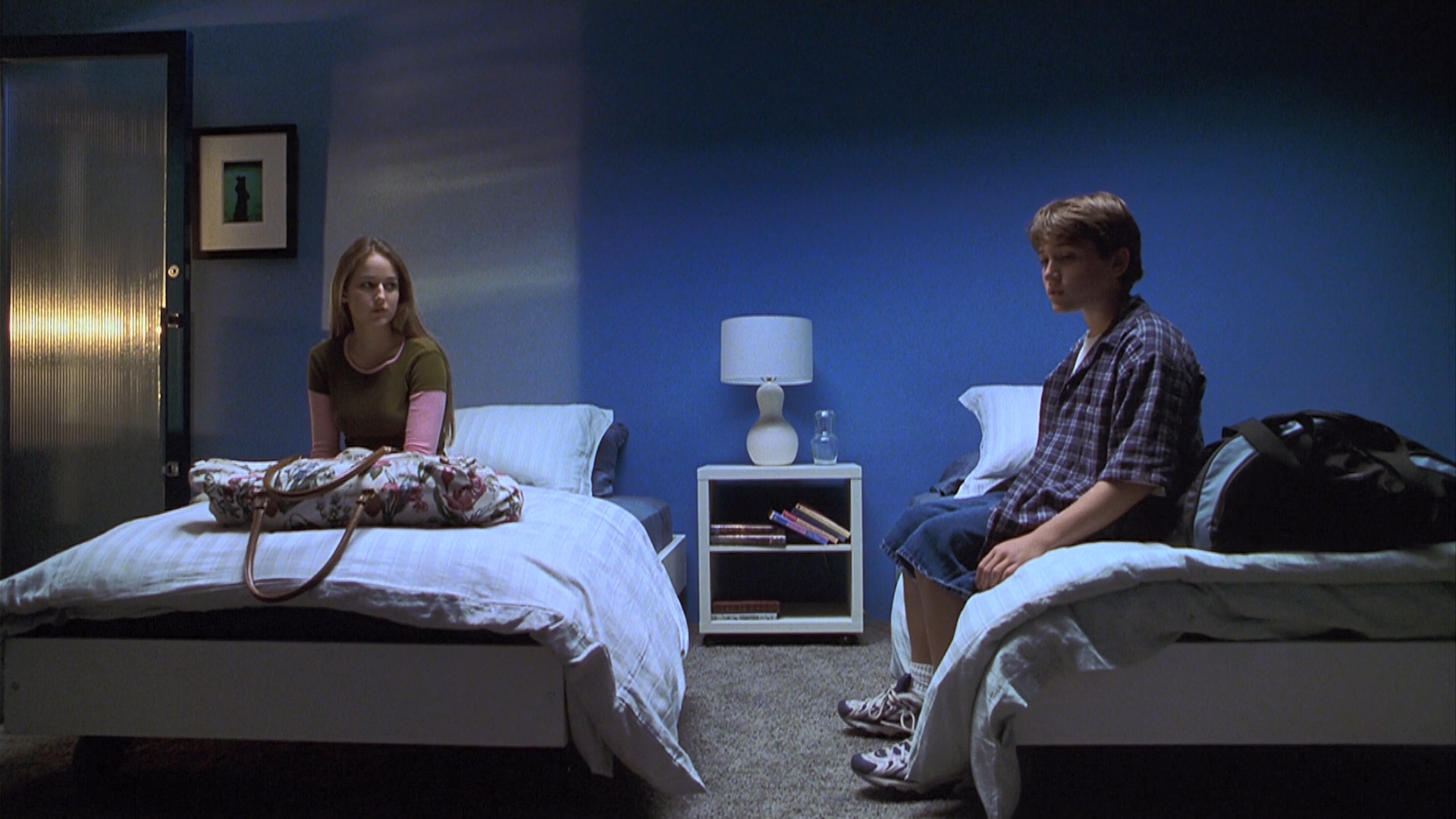 The Glass House was also one of a new series of PG-13 horror films, following Joe Lieberman's fascistic crackdown on the advertising of R-rated films during the 2000 election. [See also Soul Survivors (2001), which premiered one week before The Glass House]. Although The Glass House doesn't give any evidence of recutting, it does seem to touch upon themes – some violence, suggestions of Stellan Skarsgård's indecent intents toward minor Leelee Sobieski, drug use and sanctioned murder on the heroine's part at the end – that seem awkward in a PG-13 film and to properly belong more to an R-rated film.
Glass House 2: The Good Mother (2006) was a sequel that replayed the basics of this film with different characters.
The Glass House was the only theatrically-released film directed by Daniel Sackheim who has before and since spent his time directing and producing in television. His one other film of genre interest is the tv movie The Lottery (1996) based on the classic Shirley Jackson story.
---
Trailer here
---