aka Blackburn
---
Canada. 2015.
Crew
Director – Lauro Chartrand, Screenplay – Natasha Baron, Producers – Natasha Baron & John Sereda, Photography – Brendan Uegama, Music – John Sereda, Visual Effects Supervisor – Francois Latremoille, Special Effects Supervisor – Brant McGilroy, Makeup Effects – Healy FX Studios (Supervisor – John Healy), Production Design – Paul McCulloch. Production Company – 3B Productions.
Cast
Sarah Lind (Jade), Zack Peladeau (Shaun), Emilie Ullerup (Chelsea), Calum Worthy (Ryan), Alexander Calvert (Luke), Jacqueline Robbins (Iris), Joyce Robbins (Ivy), Lochlyn Munro (Rob), Brandi Alexander (Barb), Ken Kirzinger (Stephen 'Digits' Nelson), Brad Loree (Mike '3Eyes' Morris), Jen Soska (Poppy), Sylvia Soska (Posey)
---
Plot
A group of five friends are on a road trip through Alaska. A rockfall behind them and an accident on the road ahead forces them to take a detour along a backroad. Running low on gas, they come to an abandoned mine. Once inside, the group is pursued by the disfigured crazies that live there. They learn the history of the Blackburn Asylum that was built on the land above the mine and how the inmates took refuge down in the abandoned shafts after the asylum burned down.
---
The Blackburn Asylum, shortened to just Blackburn in some releases, was the second directorial outing for Lauro Chartrand, who had previously made the Steven Seagal action film Born to Raise Hell (2010) and subsequently went on to the psycho-thriller One Small Discretion (2017). Chartrand is better known in the industry as a stuntman, as well as occasional second unit director and has some small parts as an actor. He was previously married to actress Nia Peeples.
The Blackburn Asylum is like a Venn Diagram of intersecting genre themes. It sits astride the Backwoods Brutality genre, following the standard plot of a group of city slickers taking a backroads detour and running afoul of degenerate maniacs. On the other hand, the antagonists are not the inbred hillbillies of most Backwoods Brutality entries but have been imported from another intersecting theme – that of the abandoned asylum. On the third hand, despite being called The Blackburn Asylum, none of the film actually takes places in the asylum (aside from the brief flashback scenes) but instead in an abandoned mine. The abandoned mine setting has been used before in horror films – you are immediately reminded of the classic Canadian slasher film My Bloody Valentine (1981). Or perhaps even closer to that would be The Hills Have Eyes II (2007).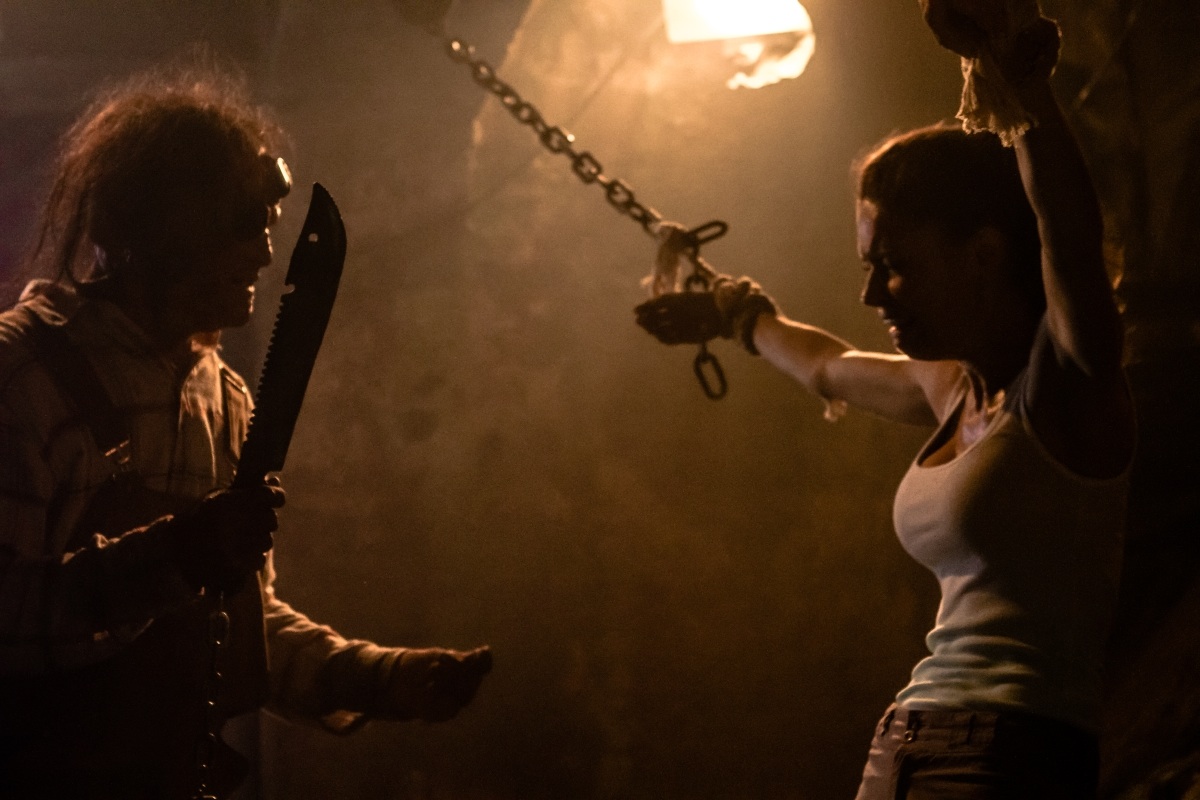 The Blackburn Asylum is capably put together. Lauro Chartrand delivers a solid degree of tension and some bloody novelty despatches. The film plays out reasonably well by a set of Backwoods Brutality/slasher film tropes and expectations. The quintet of characters are well rounded and with a series of internal tensions that come to the fore and play off each other throughout the course of the film. You might quibble that the mine seems to have an awful lot of active light sources for a supposedly abandoned pithead but it looks good on screen.
The best part about the film is Jacqueline and Joyce Robbins as a duo of steely-eyed twin sisters running a gas station in the middle of nowhere and with a habit of acting in unison. Chartrand seems to have a peculiar fascination with twins and also casts Canada's treasures Jen and Sylvia Soska, the directors of Dead Hooker in a Trunk (2010) and American Mary (2012), as two inmates in the post-credits scene.
---