aka Nurse
USA. 2013.
Crew
Director – Doug Aarniokoski, Screenplay – Doug Aarniokoski & David Loughery, Producer – Marc Bienstock, Photography (3D) – Boris Mojsovski, Music – Anton Sanko, Visual Effects – Arsenal FX (Supervisor – Jeff Kalmus), Crafty Apes (Supervisor – Chris LeDoux) & Switch VFX (Supervisor – Jon Campfens), Special Effects – Acme FX (Supervisor – Rob Sanderson), Prosthetic Makeup Design – Paul Jones, Production Design – Alicia Keywan. Production Company – Lions Gate.
Cast
Paz de la Huerta (Abigail Russell), Katrina Bowden (Danni Rogers), Judd Nelson (Dr Robert Morris), Corbin Bleu (Steve), Melanie Scrofano (Rachel Adams), Boris Kodjoe (Detective Rogan), Niecy Nash (Regina), Martin Donovan (Larry Cook), Chris Hoffman (Married Man/Fred)
---
Plot
Abigail Russell is a nurse who enjoys going out dressed to kill, picking up cheating married men and killing them. She develops a liking for Danni Rogers, the student nurse she has been mentoring. After seeing Danni fight with her boyfriend, Abigail takes her out on the town, slips her a roofie and then has her way with her. Afterwards, Danni, unable to remember what happened, feels uncomfortable. Abigail becomes fixated on her and sets out to eliminate the men in Danni's life who are pigs. When Danni becomes frightened by this, Abigail turns everything around and places the blame for her trail of bodies onto Danni.
---
Doug Aarniokoski is a director who has bubbled away, having turned out a number of films without ever doing anything of significance or gaining a name. He started out in the industry in the 1990s as an assistant director at Full Moon Productions and went onto other more high-profile films. Aarniokski first appeared as director with Highlander: Endgame (2000), followed by Animals (2008), also a horror film about sex (which he released under a pseudonym), and the post-holocaust survival film The Day (2011). He was also associated for a few years with a big screen revival of Red Sonja. Subsequent to this, Aarniokoski has worked as a tv director and as a producer on genre shows such as Sleepy Hollow (2013-7), Limitless (2015-6) and Star Trek: Picard (2020– ).
With Nurse 3-D, Doug Aarniokoski has thrown all conventional taste to the wind and set out to make a gloriously trashy epic – and in so doing has produced his best film to date. It is a film that is unafraid to go for the exploitation throat in terms of being pitched direct to blatant sex appeal in the person of Paz de la Huerta's substantially undressed and smoking hot body. Around her central presence, Aarniokoski has planted tongue in cheek and aimed for the rafters.
On one level, Nurse 3-D could be an average slasher film. Although what it resembles more so is a formula psycho-thriller in the Fatal Attraction (1987)-mold. In another film, Katrina Bowden would be the sweet innocent heroine who finds herself stalked and her life turned upside down by Paz de la Huerta. You can maybe think of a more standard psycho-thriller such as Single White Female (1992) or Kate's Addiction (1999). Indeed, you could draw analogy to the previously titled The Nurse (1997), which had Lisa Zane infiltrating and tearing apart a family for the sake of revenge.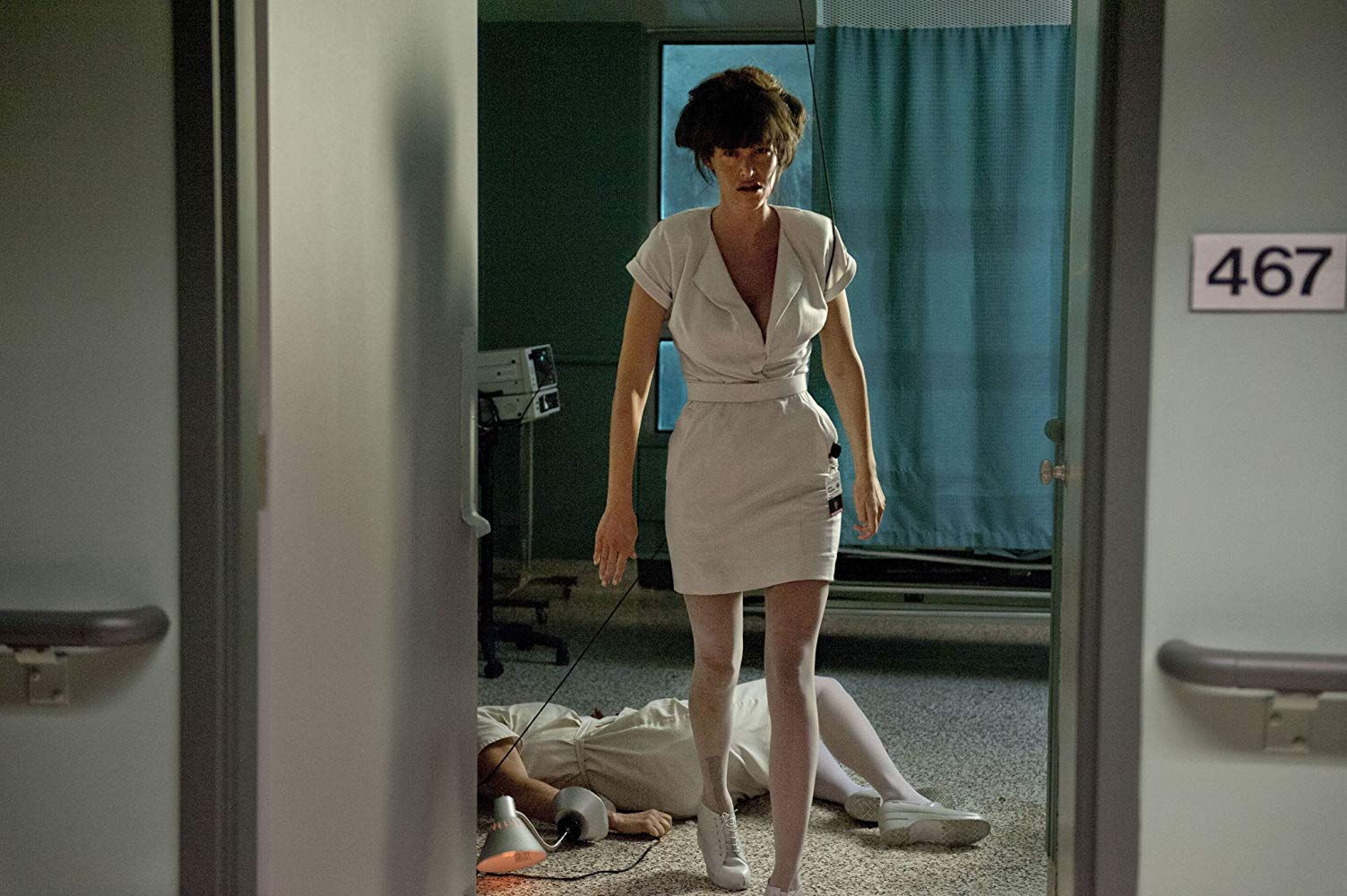 By contrast, this is turned on its head here – Paz de la Huerta becomes the identification figure oozing with seductivity, and we are asked to both desire her pneumatically-inflated lusciousness and cheer her on as she terrorises and progressively tears apart the life of a whitebread innocent. In tone, it feels more like we are in the midst of one of Rob Zombie's freakshows – House of 1000 Corpses (2003) and The Devil's Rejects (2005) – that cheer on a bunch of sadistic psychopaths as identification figure, albeit having been transplanted into what looks like a cartoonishly airbrushed world.
Much of the film is predicated on Paz de la Huerta – a model and actress who seems more famous for her outrages and oozing sexuality than doing anything of note. She has turned up in several films, as diverse as arthouse fare like The Limits of Control (2009) and Enter the Void (2009) and tv's Boardwalk Empire (2010-4) – almost always without clothes. Outfitted in high heels that make her look over six feet tall, a nurse's uniform short to the point of indecency and scarlet lipstick so thickly plastered it looks like a set of glue-on plastic lips, she seems to be trying to become the literal embodiment of an Alberto Vargas pin-up.
Not to mention that everything comes via her sarcastic monologue, which is one of the funniest voiceovers I've heard in some time – "I look like a slut but that is merely a disguise to lure the dangerous predators that walk amongst us" or "When the doctors here [at the hospital] say open wide, you better be sure they're wearing pants." The hilarity of the character is only let down by Paz de la Huerta's lack of real acting ability and sour-faced attitude – in her pouty delivery, the lines fall flat when they should have hit home with a darkly brilliant zing. In every other regard though, I loved Nurse 3-D – and for all the reasons that I shouldn't have.
---
---