---
Crew
Director/Screenplay/Producer – Dante Tomaselli, Photography – Brendan C. Flynt, Music – Michael Tomaselli, Special Effects Supervisor – Oliver Brig, Special Effects Modelmakers – Brig, Nicol Ardisson, Tom Dedde & Glen Hetrick, Makeup Effects – Glen Hetrick's Reaperductions FX Studio, Production Design – Michele La Rocca. Production Company – L.D. Media.
Cast
Irma St. Paule (Grandmother Mathilda), Danny Lopes (Bobby Rullo), Salvatore Paul Piro (Mr Rullo), Vincent Lamberti (Brother Nicholas), Christie Sanford (Sister Madeline/Mary Rullo), Gene Burke (Father O'Leary), Maureen Tomaselli (Sister Rosemary), Helen Palladino (Mary Canizzaro)
---
Plot
Bobby Rullo, a teenager at the St Anthony's Catholic school, accidentally impales one of the nuns in the head with his model airplane, killing her. Soon afterwards, he, his grandmother and the other nuns at the school are subject to a series of hauntings and killings, which are somehow related to the mysterious circumstances surrounding Bobby's late mother.
---
1999 was a year that brought a host of Catholic themed films – from The Divine Ryans (1999) to Dogma (1999), Stigmata (1999) and The Third Miracle (1999), all coming with surprisingly serious-minded theological proselytism and criticism. Maybe such a religiously minded upsurge was due to a peculiarly acute sense of anxiety related to the nearing millennium and its sense of import to Christendom. Among these, Desecration is the only one that slips back into conventional horror movie Catholicism – Stigmata did, but it was more like a serious theological movie dressed up in horror movie rags.
Desecration was a low-budget entry from 31 year-old New Jersey-based filmmaker Dante Tomaselli. As next-to-no-budget home-made horror films go, Desecration is reasonably well made. It is professionally photographed and the cast all give reliable performances, especially good being Irma St. Paule as the Italian grandmother. Dante Tomaselli creates a modest degree of atmosphere out of zombified and faceless nuns and sinister clown figures.
There are some entertaining schlocky scenes with a nun getting a model airplane impaled in her head and another of a nun being hacked to death by a pair of flying scissors. Tomaselli even throws in a bizarrely Freudian nightmare scene where the hero is in diapers caged in a baby's pen, surrounded by giant spelling blocks and toys and with his taunting mother shaking milk from a baby's bottle over him. (Although, with all this tortured Catholic and Freudian childhood imagery, you wonder if Dante Tomaselli might not be better off sinking the money he spent on this into therapy rather than trying to work it out on film).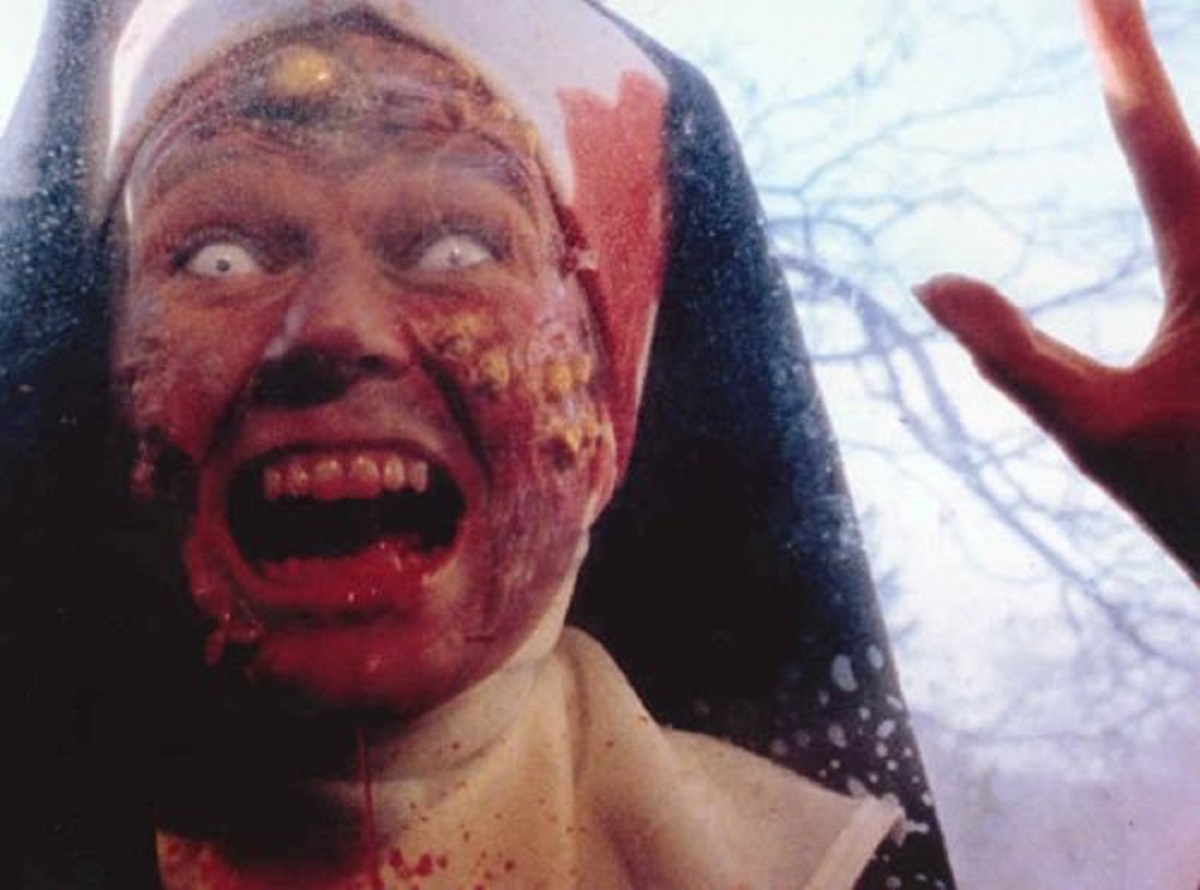 One of the opening credits for Desecration, nestled amongst the photography credits and actors names, acknowledges 'Special Thanks to Alfred Sole' – Sole being the director/writer who made the reverend mother of all guilt-ridden Catholic horror films Communion/Alice, Sweet, Alice (1976). Although, the film that all the heavy-handed Catholic imagery reminds of is the little seen Dark Waters (1993), a film similarly deep in tortured Catholicism and with exactly the same underlying problems as Desecration.
Unfortunately, the more one watches Desecration, the more it becomes apparent that there is nothing in the way of plot connecting any of it. None of the hints about Bobby's mother being of supposedly diabolic origin are made clear. It is not even apparent why these zombie nun apparitions and hauntings are happening or why people are being killed – there is the impression that the nun being killed by a model plane in the head at the start unleashed something but exactly what is bafflingly unclear.
Desecration feels like a haunted house fairground ride – it is persistently in your face, wanting to scare you. However, the more all the straining for effect is revealed to be backed by almost nothing of substance, the results eventually becomes wearying. The imagery seems so arbitrary, so much effect piled upon effect without connecting narrative thread, that Desecration ends up resembling a surrealist film that happens to be using horror conventions.
Dante Tomaselli subsequently went onto make several other low-budget horror films including Horror (2002), Satan's Playground (2006) and Torture Chamber (2013).
---
---