---
USA. 1999.
Crew
Director – Turi Meyer, Screenplay – Turi Meyer & Al Septien, Producers – Al Septien & William Stuart, Photography – Michael G. Wojciechowski, Music – Adam Gorgoni, Visual Effects – Grac Belli, Mechanical Effects – Ultimate Effects (Supervisors – John Hartigan & David Waine), Makeup Effects – Image Animation (Supervisors – Bill Deacon, Claire Jane Deacon & Gary J. Tunnicliffe), Production Design – Marc Graveille-Masson. Production Company – Artisan Entertainment/Aurora Productions.
Cast
Donna D'Errico (Caroline McKeever), Tony Todd (Candyman/Daniel Robitaille), Wade Andrew Williams (Detective Samuel Kraft), Nick Corri 'Jesu Garcia' (David De La Paz), Alexia Robinson (Tamara), Mike Moroff (Tino), Robert O'Reilly (Detective Sacco), Ernie Hudson Jr (Detective Jamal Matthews), Mark Adair-Rios (Miguel Velasco), Lupe Ontiveros (Abdula), Elizabeth Hayes (Annie Tarrant), Nicole Contreras (Christina De La Paz), Rena Riffel (Lina)
---
Plot
Caroline McKeever, the great-great-granddaughter of Daniel Robitaille, allows a gallery owner in East Los Angeles to present an exhibition of Robitaille's artworks, with the promotion exploiting the Candyman connection. At the opening, the owner challenges Caroline to say "Candyman" five times in a mirror. Immediately after, Candyman appears to her, killing the people around her and demanding that she cross over and join him.
---
Candyman: Day of the Dead was the third (and so far last) of the films begun with Bernard Rose's Clive Barker adaptation Candyman (1992). Candyman had been a modest international hit in theatres and an even bigger one on video. It was followed by a sequel, Bill Condon's dull Candyman: Farewell to the Flesh (1995), and this third entry, which was released direct to video. Candyman (2021) was a further sequel written and produced by Jordan Peele.
Candyman: Day of the Dead is at least better than Candyman: Farewell to the Flesh, although it is ultimately only a formulaic sequel. The plot is a rehash of the first (and second) film – woman summons Candyman who then becomes fixated on her, tormenting her, killing those around her and letting people believe that she is responsible.
Director Turi Meyer achieves some well-photographed atmosphere. Meyer does a particularly good job of winding in elements of Latino culture. Here the film is at its best, achieving a nicely subdued quietude. However, Meyer is less effective at generating scares. He tends to rely on irritating false jumps – someone leaping out pretending to be a psycho as soon as Donna D'Errico says Candyman five times in the mirror; D'Errico's roommate screaming but it turning out to only be for a role that she is rehearsing for; bodies swinging into the camera.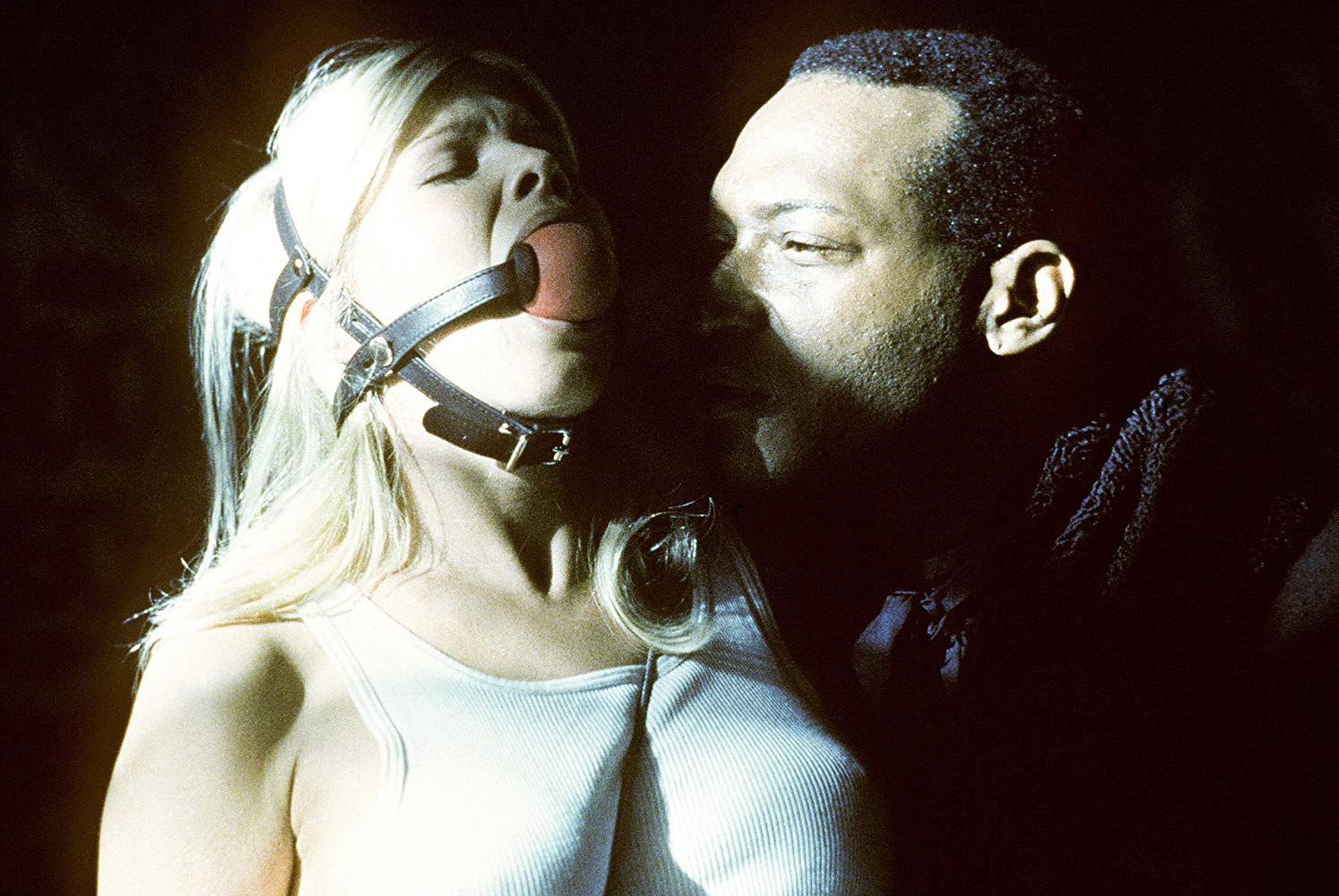 There is one original scene with Donna D'Errico arrested in a cop car as Candyman appears in the front seat, gutting the cop with a hook that tears right through the seat – only for her to then find she is trapped in the backseat with no door handles and having to climb over the body to get out (although the scene is subsequently ruined by the old hat cliche of the body returning to life just as she climbs across it). There is a silly ending with the means to kill Candyman coming out of nowhere – it being introduced as a bogus solution only a moment before it is used. Although, the final epilogue about killing Candyman by killing the myth is a thoughtful and original end (?) to the series.
Candyman: Day of the Dead stars former Playboy model and Baywatch (1989-2001) starlet Donna D'Errico who, not unexpectedly, spends a lot of time running around in her underwear.
Turi Meyer had previously directed Sleepstalker (1995) and went onto direct the dire Alien Express/Dead Rail (2005). Meyer has also written other genre films such as Leprechaun 2 (1994), Galgameth (1996) and Wrong Turn 2: Dead End (2007) and served as a story editor and producer on tv's Smallville (2001-11), The Vampire Diaries (2009-17) and Salem (2014-7).
---
---