aka American Driller Killer
---
Crew
Director/Photography – Matt Jaissle, Screenplay/Producers – Matt Jaissle & Justin Scro, Music – Matt Hundley, Last Revival & Justin Scro, Makeup Effects – Lily Wolf. Production Company – VidEvil Video.
Cast
Justin Scro (Reno Miller), Alyssa Rose Shultz (Carol Miller), Jan Merriman (Hooker #1), Lily Wolf (Hooker #2), Chris Heikka (Sam Shapiro), Cody Wainscott (Larry the Rapper), Nate Diggity (Street Preacher)
---
Plot
In Detroit, Reno Miller is a struggling screenwriter, under pressure from his wife Carol to get a real job. He gets a big break when he is hired by producer Sam Shapiro – only for Shapiro to then be dragged away to a nasty fate by mob associates. Facing his wife's angry outburst, Reno instead picks up the power drill he has brought and kills her. He then goes out onto the street and uses the drill to kill everybody from the loud punk band downstairs to prostitutes and random strangers he comes across.
---
Although it was not widely seen as such when it first came out, Abel Ferrara's The Driller Killer (1979) was a shock classic. It was labelled a Video Nasty back in the day but subsequently developed a cult status. The plot concerned a frustrated artist (played by Ferrara himself), driven crazy by mounting bills and a noisy band in the neighbouring apartment who goes out into the streets and releases his frustrations by killing people with a power drill.
The Driller Killer was mentioned for a remake at one point during the 2000s/10s but this has never emerged. This would appear to have come about with Detroit Driller Killer, also known as American Driller Killer. That said, Detroit Driller Killer is made with such a painfully low budget that one suspects that filmmakers Matt Jaissle and Justin Scro would have lacked the funds to pay for the rights, which makes Detroit Driller Killer presumably an uncredited remake.
Ferrara didn't give us much more than the character of Reno, a frustrated artist and his penchant for killing people with a power drill. Here Reno becomes a frustrated screenwriter and also gains a wife who nags Reno about mounting debts (and becomes his first victim). There is still the band next door who become victims later in the show, although there is not a huge amount beyond that in the original to emulate.
Detroit Driller Killer starts out seeming promising. The opening moments offer a tour of a socially dissolute Detroit, showing abandoned and boarded-up buildings, even focusing on a dead rat on the pavement. Your hope is that Matt Jaissle might create a rich metaphor out of the social collapse of the city in the last few years into an outward expression of the central character's inner frustrations.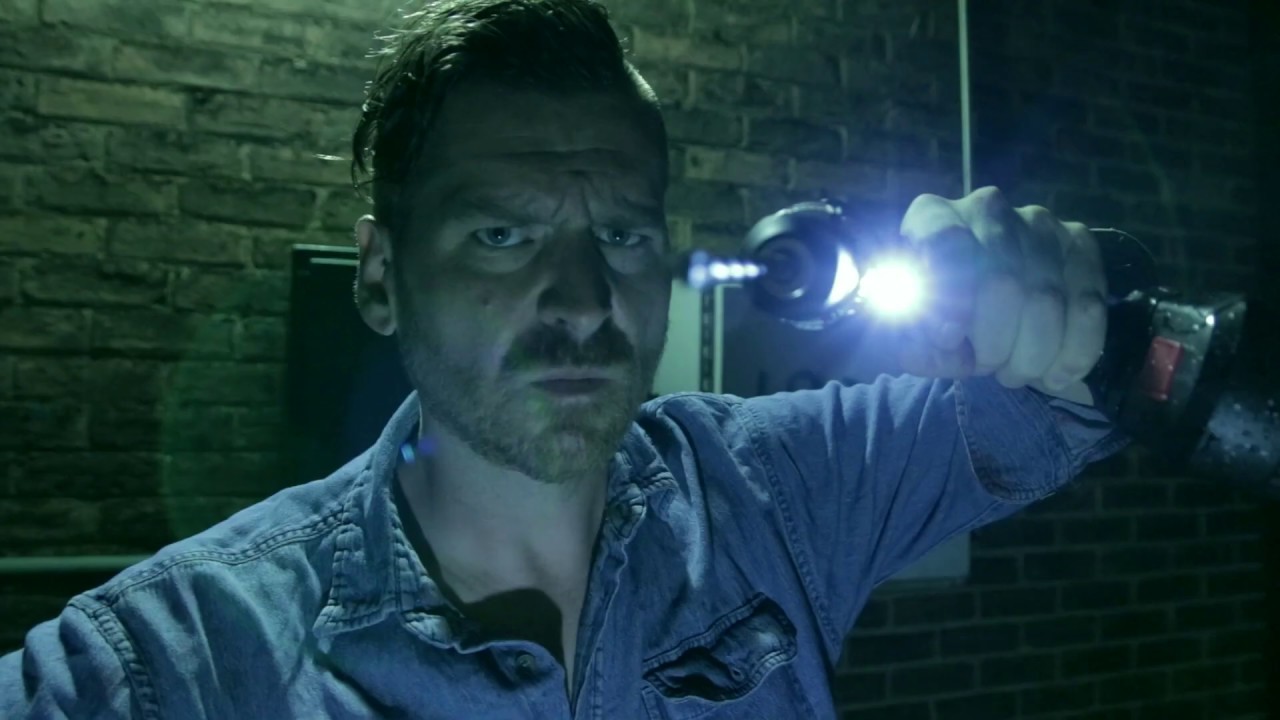 But oh boy, one's hopes are in vain. Words escape me for coming up with decent analogies for Detroit Driller Killer. I guess the nearest I can equate it to is as a horror movie equivalent of The Room (2003) in terms of the laughably gaping gulf between the film's pretensions and their delivery. This comes with an extraordinary ineptitude that includes performances and dialogue that feel like nothing a human being would ever utter. The driller killings look completely fake.
Scenes frequently had one laughing out loud – like the one involving two hookers (one of whom is the film's makeup effects artist Lily Wolf) that driller killer (and co-writer) Justin Scro encounters where one of the hookers grabs the power drill and pursues Scro with it threatening him while yelling "You motherfucker, I just wanted to suck your dick," before tripping on the curb and somehow managing to impale the drill through her eye.
Some of the funniest scenes are those between Justin Scro's killer and the imaginary kid that turns up and has conversations with Scro as they wander down a railway track. The kid keeps plying him with questions. "Do you collect the body parts? … You could sell the brains on EBay. Stomachs are very valuable … Do you fill up the bath and bathe in the blood like it's a nice bubble bath? … Do you jizz on them?" before Scro responds "If I whack these guys, you'll leave me alone?" and the kid agrees "I'll leave you alone but make it bloody."
The ineptitude of some of the scenes near the end where Scro sits in an alley and gives a whole bunch of seemingly improvised monologues to an imaginary police officer and others boggle the mind. The film ends on a freestyle rap party that just goes on and on before Scro's killer bursts in and eliminates everybody.
(Winner Worst Film in this site's Worst Films of 2020 list).
---
Trailer here
---