---
Crew
Director – James Foley, Screenplay – Christopher Crowe, Producers – Brian Grazer, Ric Kidney & Karen Snow, Photography – Thomas Kloss, Music – Carter Burwell, Production Design – Alex McDowell. Production Company – Imagine Entertainment.
Cast
Reese Witherspoon (Nicole Walker), Mark Wahlberg (David McCall), William L. Petersen (Steve Walker), Amy Brenneman (Laura Walker), Alyssa Milano (Margo Masse), Todd Caldecott (Gary Rohmer)
---
Plot
Teenager Nicole Walker meets David McCall and is charmed by his sweetness and sincerity. She begins to spend all her time with him. Her father Steve is suspicious of David, even though he is perfectly behaved. When David sees Nicole giving her best male friend Gary a hug, he flies into a rage, beats Gary and leaves her with a black eye. She tells David she does not want to see him again, however he charms her into coming back. Her father confronts David but David fakes bruises and tells Nicole that her father beat him. David's behaviour becomes increasingly threatening and he kills Gary and trashes her father's car. When her father retaliates by trashing the house where David and his friends live, they declare all-out war and mount an assault on the Walker home.
---
Fear is a modestly effective psycho-thriller. It is a well made and a well budgeted production. It was directed by James Foley, who also made the great Glengarry Glen Ross (1992) and another excellent underrated thriller, After Dark, My Sweet (1990), a further psycho-thriller with Perfect Stranger (2007), plus Fifty Shades Darker (2017) and Fifty Shades Freed (2018). Foley does a decent job generating the suspense and sustains the climax well. The film also has a fine cast, including Reese Witherspoon, William Petersen and in particular a then unknown Mark Wahlberg.
Mark Wahlberg surprised one considerably with Fear. At the time, he was a juvenile delinquent high-school dropout and a petty criminal who had done jail time, before finding fame as controversial white rapper Marky Mark and then stumbling into acting. How Wahlberg went from high-school dropout and jailbird to Hollywood leading man and later the multi-million dollar club, is one of the great rags-to-riches stories of our time. At the time of Fear, Wahlberg was a complete unknown and would not become a familiar face until his next film, Paul Anderson's Boogie Nights (1997). Surprisingly, for a complete unknown, he proved to be the best thing about the film. His performance is particularly effective simply in its quiet manneredness and he does an excellent job in swinging between a romantic tenderness and a dangerous, calculating threat.
Unfortunately, while well made, Fear remains a deeply conservative film – it was after all made by director Ron Howard's production company Imagine Entertainment. It starts out with an interesting, dramatically loaded set-up. It tells the story from Reese Witherspoon's point-of-view and has her drawn between two poles – Mark Wahlberg, whom she falls in love with but who proves to be dangerously controlling, and between her father William Petersen, who is much more obviously controlling but who turns out to eventually be right in his suspicions about Wahlberg. It is a psycho story along the lines of Fatal Attraction (1987) but cast in terms of a parental rebellion drama.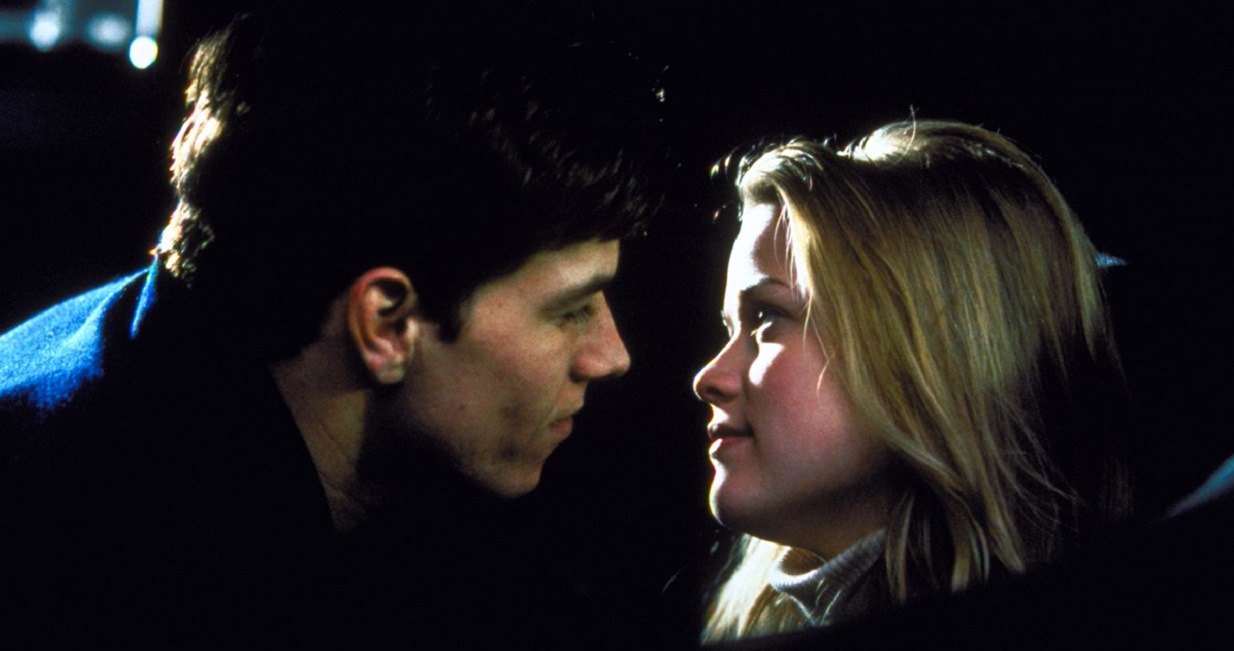 Unfortunately, that is all there is to the film. What Fear eventually ends up doing is failing to take William Petersen's position with any appreciable criticism and only reinforcing his conservative desire for control. No criticism is ever made by the film of his threatening behaviour toward Mark Wahlberg and desire to control Reese Witherspoon – he is only doing it for her own good and there is no wrong in his outbursts of anger.
The script never ends up pushing things far enough – a much more morally complex telling would have made William Petersen's position right in the end but with Reese Witherspoon unwilling to go back and accept it because he acted so unreasonably. There is a scene where Mark Wahlberg taunts William Petersen and suggests that he is out of control because of his failing business and his inability to keep it up in bed but nothing further ever eventuates of this. Similarly, there is a scene where Reese Witherspoon's best friend Alyssa Milano deliberately flashes her panties at William Petersen and he is tempted to look, but nothing is ever made of this either.
A far more interesting film would have allowed William Petersen's failings and temptations to be brought to the fore by Mark Wahlberg's presence, as was the case in Martin Scorsese's Cape Fear (1991) where the presence of the psycho of the show served to bring out underlying family tensions. In the end, there is no real battle to the film. The unimaginative title tells it all, as does the poster tagline: "We can be together. Forever." It stacks the question. We know in advance that Mark Wahlberg is the bad guy so there is no suspense on our part when we see Reese Witherspoon torn between him and her father. Witherspoon's waywardness, her decision to lose her virginity, her rebelling against William Petersen's control, are all seen not so much as being punished but as wrong decisions brought about by her lack of responsible thinking. Despite the teenage focus that Fear was sold with, it is in reality a film aimed at conservative parents – it is merely a fantasy where parents' worst fears about the company their children keep is allowed to come true.
(Nominee for Best Actor (Mark Wahlberg) at this site's Best of 1996 Awards).
---
---