---
USA. 2001.
Crew
Director/Photography – Don E. Fauntleroy, Screenplay – George Saunders & Richard Dana Smith, Producers – Pierre David & Noel A. Zanitsch, Music – Richard Bowers, Production Design – Carmi Gallo. Production Company – World International Network, LLC.
Cast
Shannon Sturges (Liza Stewart/Leah Tyman), Perry King (Dr Robert Stewart), Lesley-Anne Down (Helen Coburn), William R. Moses (Dr Brad Stewart), Michele Greene (Felicia Laurel), Luisa Leschin (Greta Molina), Michael Fairman (Orville Gleason), Max Gail (Ted Vance)
---
Plot
In Tallahassee, Florida, Ruben Tyman is hit while riding his bicycle by a car driven by Felicia Laurel. Cardiologist Robert Stewart is the first to come by the accident scene and has to make the choice between saving Ruben or Felicia and chooses Felicia. At the hospital, Ruben's sister Leah is so distraught at learning about the choice that Stewart made that she goes to pulls the plug on Felicia's life-support but is forced to flee as a nurse comes. One year later and Leah, now calling herself Liza, has married Robert and is living in Los Angeles. As Robert's wife, she methodically sets about destroying his life, believing that he murdered Ruben.
---
The Perfect Wife is one of the psycho-thrillers made for cable and video release by Canadian producer Pierre David. David has produced numerous such psycho-thrillers – indeed, he has spun a whole series out with the prefix Perfect –, including The Perfect Nanny (2000), The Perfect Tenant (2000), The Perfect Husband (2004), The Perfect Neighbor (2005), The Perfect Marriage (2006), The Perfect Assistant (2008), The Perfect Teacher (2010), The Perfect Roommate (2011), The Perfect Boss (2013), The Perfect Boyfriend (2013), The Perfect Girlfriend (2015), The Perfect Stalker (2016) and The Perfect Soulmate (2017).
Pierre David's psycho-thrillers have become so numerous that they tend to slip into an easy formula and The Perfect Wife is no different – a stranger inveigles their way into a household seeking revenge and proceeds to tear apart the life of their intended target; there is a predictable range of victims along the way, including the person from the psycho avenger's past, who get eliminated, with all but the target of the revenge being the last one to work out what is going on. Within this same basic formula, David's films have become increasingly better at what they do and as such The Perfect Wife proves a fair and reasonable outing.
Don E. Fauntleroy, better known as a cinematographer and often credited as Don E. FauntLeRoy, does a fair job, although never quite tunes the suspense as tensely as some of David's better films. There is not enough tension generated in the scenes where Shannon Sturges is interrupted in the process of killing people. Although there is a nasty scene with Shannon Sturges attacking Michele Greene in an SUV with a syringe. Fauntleroy does mount a reasonable climax with Sturges trying to kill Perry King with carbon monoxide poisoning in his car, followed by a fadeout that becomes an ironic twist on the opening of the film.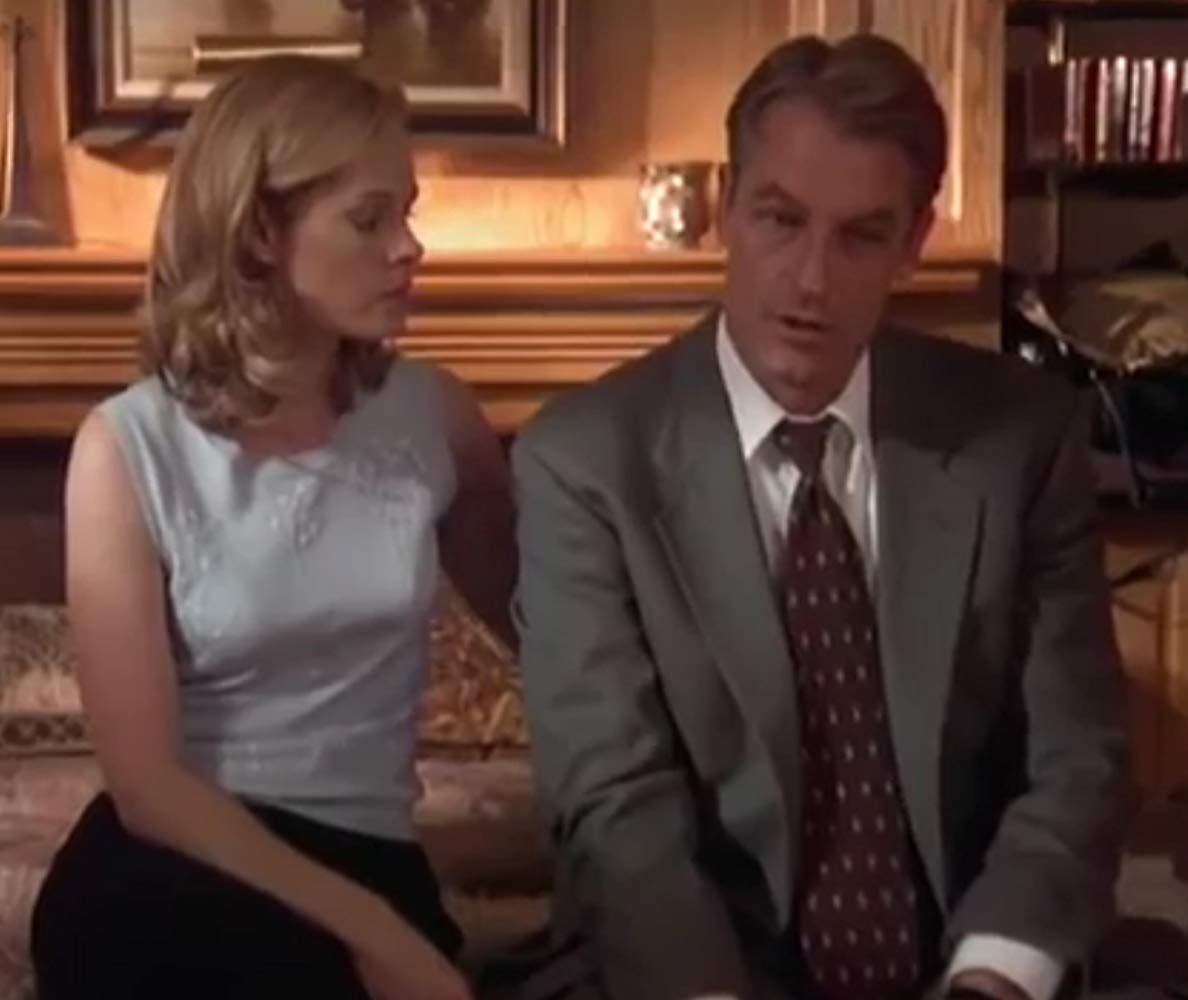 There is a fine jolt at the start where we go from Shannon Sturges having tried to switch off the monitor of accident victim Michele Greene at the hospital only to be interrupted, where Fauntleroy cuts to one year later where we now see Sturges married to Perry King, the same doctor who let her brother die. In the title role, Shannon Sturges has a certain immaculately beautiful blonde blandness, which does lend to some effective moments, like seeing her whisper endearments, "Ssssh, let go, Mr Gleason. Ssssh," while smothering Michael Fairman with a pillow.
Pierre David also has a habit of recruiting former tv stars to topline his films. The Perfect Wife features Perry King, the former star of Riptide (1984-6), one season of Melrose Place (1992-9) and various mid-1980s glossy soap opera mini-series. Perry King has also appeared in several Pierre David films, including A Clean Kill/Her Married Lover (1999), Stranger at the Door (2004) and The Perfect Neighbor. As with many of the stars that David recruits, Perry King also takes an Associate Producer role on The Perfect Wife. While all give decent performances, the show is fairly much stolen by a supporting appearance from Michele Greene, another former tv star best known as a regular on L.A. Law (1986-94), who fires the film up when she makes a surprise appearance at midpoint as a blackmailing tramp.
---
---