(Il Silenzio dei Prosciutti)
---
Italy/USA. 1994.
Crew
Director/Screenplay – Ezio Greggio, Producers – Ezio Greggio & Julie Corman, Photography – Jacques Haitkin, Music – Palmer Fuller, Special Effects Supervisor – John C. Hartigan, Makeup Effects – David Barton, Production Design – James William Newport. Production Company – Thirtieth Century Wolf.
Cast
Billy Zane (Agent Jo Dee Fostar), Dom de Luise (Dr Animal 'The Cannibal'), Ezio Greggio (Antonio Motel), Charlene Tilton (Jane Wine), Joanna Pacula (Lily Wine), Martin Balsam (Martin Balsam), Stuart Pankin (Colonel Pete Putrid), John Astin (Ranger), Shelley Winters (Mrs Motel)
---
Plot
A killer is on the loose. Trainee FBI agent Jo Dee Fostar is assigned to go to an asylum for the criminally insane and obtain the advice of Dr Animal, a psychiatrist nicknamed 'The Cannibal' because he cut his victims up and placed them in pizzas after he was disbarred from the profession. Meanwhile, Jo's fiancée, secretary Jane Wine, steals $400,000 from her workplace and flees, signing into the Cemetery Motel run by the creepy Antonio Motel. While she is showering, Motel comes in and stabs her, shoots her with an Uzi and then finally blows her up with a bazooka. Jo and Jane's sister Lily head to the motel to find out what happened to her.
---
The Silence of the Hams comes in the style of movie spoofs such as Airplane/Flying High (1980), The Naked Gun: From the Files of Police Squad (1988) and Hot Shots! (1993). It sets out to be a much-needed spoof of the psycho-thriller and chooses the then recent target of The Silence of the Lambs (1991) as the butt of its humour, as well as taking a large swipe at Psycho (1960). Less than a year earlier had also seen Carl Reiner's quite similar psycho-thriller spoof Fatal Instinct (1993) venturing into the same territory.
As with the style perpetuated by Airplane, the film conducts numerous visual gags – at the asylum, a guard opens an eyehole in a wooden door but then the camera pulls back to reveal the guard is carrying a small board with an eyehole in it around on a stick; as Charlene Tilton flees with the money, she hears voices debating in her head but then the camera pulls back to show the voices come from people yelling at her through loud hailers in a truck driving alongside; a clock's hands are seen spinning in a classic cinematic time-lapse device and these have to be nailed down.
The gags come fast and furious. Director Ezio Greggio serves them up so relentlessly that it never matters when some fall flat, the others just keep coming. For some reason, Greggio has it in for the Clinton presidency – we meet Bush and Clinton lookalikes jogging whereupon Bush comments: "I see the Presidential escort is out. But where is the President, I only see her husband," and later, "Why's he puffing so hard? You know he doesn't inhale."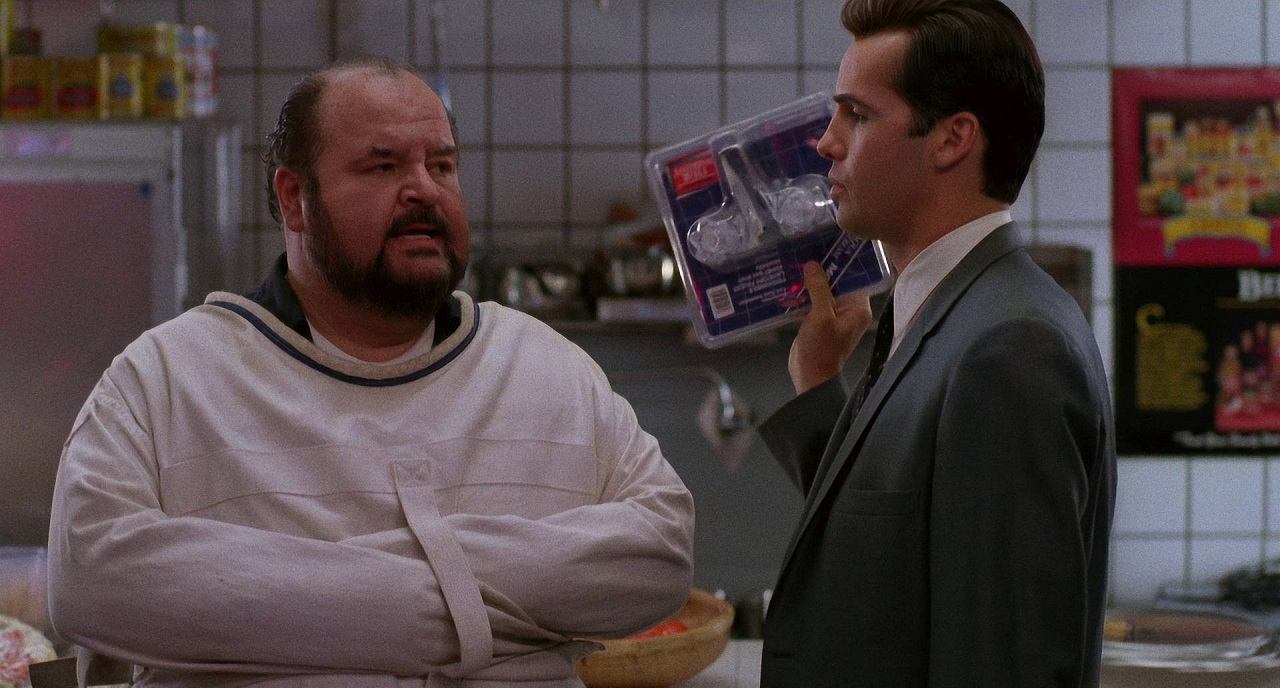 The film conducts a good many jokes on its source targets. Martin Balsam appears playing exactly the same role he did in Psycho. There is a parody of his famous stabbing and falling down the stairs – here he is stabbed with knives, carrots, vibrators and umbrellas and, as the camera follows him down the stairs, he takes off and starts flying through the sky in back projection. There is naturally a parody of the Psycho shower sequence – the jittery string music comes from an orchestra sitting outside the shower and when Greggio fails to stab Charlene Tilton, he employs an Uzi and a rocket launcher.
Dom de Luise does an amusing parody of Hannibal Lecter – "If I ate fava beans, I'd be free," he says, "I'd blow that back wall right out." Billy Zane watches as de Luise walks up around the walls and roofs of his cell and comments: "He doesn't even obey the laws of physics." There are all sorts of gags – a parody of Sharon Stone's crotch-flashing scene in Basic Instinct (1992) – this time the flashee has hairy man's legs. John Astin turns up doing a turn on his role from tv's The Addams Family (1964-6), replete even with his own Thing.
The climax of the film has everybody removing masks to reveal they are somebody else – "Dallas was never like this," comments Charlene Tilton. In the highly amusing epilogue, director Ezio Greggio takes a shower, only to be stabbed by the ghost of Alfred Hitchcock. Although The Silence of the Hams received a thorough trashing when it came out, it is amiably silly fun.
---
Trailer here
---