---
USA. 1947.
Crew
Director – George Cukor, Screenplay – Ruth Gordon & Garson Kanin, Producer – Michael Kanin, Photography (b&w) – Milton Krasner, Special Photography – David S. Horsley, Music – Miklos Rozsa, Production Design – Harry Horner. Production Company – Kanin Productions.
Cast
Ronald Colman (Anthony John), Edmond O'Brien (Bill Friend), Signe Hasso (Brita Kaurin), Shelley Winters (Pat Kroll), Joe Sawyer (Captain Ray Bonner), Philip Loeb (Max Lasker), Millard Mitchell (Al Cooley)
---
Plot
Broadway star Anthony John is offered the title role in a production of Shakespeare's 'Othello'. His ex-wife Brita Kaurin agrees to play opposite him as Desdemona, the wife that Othello strangles at the climax of the play. The play premieres to resounding success. However, after playing the part for two years, Anthony has become so caught up in the role of Othello that he gets carried away and almost strangles Brita for real on stage. He tells Brita that he wants to reconcile with her but she is now involved with another man. Hurt by her rejection, Anthony goes to the apartment of waitress Pat Kroll and strangles her while ranting lines from the play. A journalist tries to tie the murder into publicity for the play but this only serves to push Anthony's disturbed mind even further over the brink.
---
A Double Life is an interesting work of psychological film noir from George Cukor. Cukor was one of the legendary Hollywood directors. He gained a reputation as a Chick Flick director well before the term was even coined and was responsible for classics like Dinner at Eight (1993), Little Women (1933), Camille (1936), Romeo and Juliet (1936), The Philadelphia Story (1940), Gaslight (1944), Born Yesterday (1950), A Star is Born (1954) and of course My Fair Lady (1964). At one point, Cukor was working as the director of Gone with the Wind (1939) but ended up being removed by David O. Selznick. Cukor's only other venture into genre material was the fairytale adaptation The Blue Bird (1976).
A Double Life is an interesting experiment in film noir on George Cukor's part, if one that is in the end unsatisfying. Cukor jumps in with a great arsenal of stylistic tricks – double-exposures, dissolves, lighting effects and the use of interior monologue – many of which were way ahead of their time. Out of all of this, Cukor conjures an intriguingly torrid atmosphere.
The film feels accurate in its depiction of the backstage life of a big theatre production, although Cukor's staging of excerpts from Othello do make the film's pace drag, these being allowed to take over for several minutes at a time. Cukor beefs the film up with amusing characters on the periphery – the reporters chatting as they wait for the coroner's verdict, the wig-makers discussing black versus white coffee, Edmond O'Brien holding auditions with one starlet who keeps insisting that she is right for the role. Notable is Shelley Winters in one of her earliest performances as a suggestively cheap bimbo – "Don't talk funny no more … in fact, don't talk at all."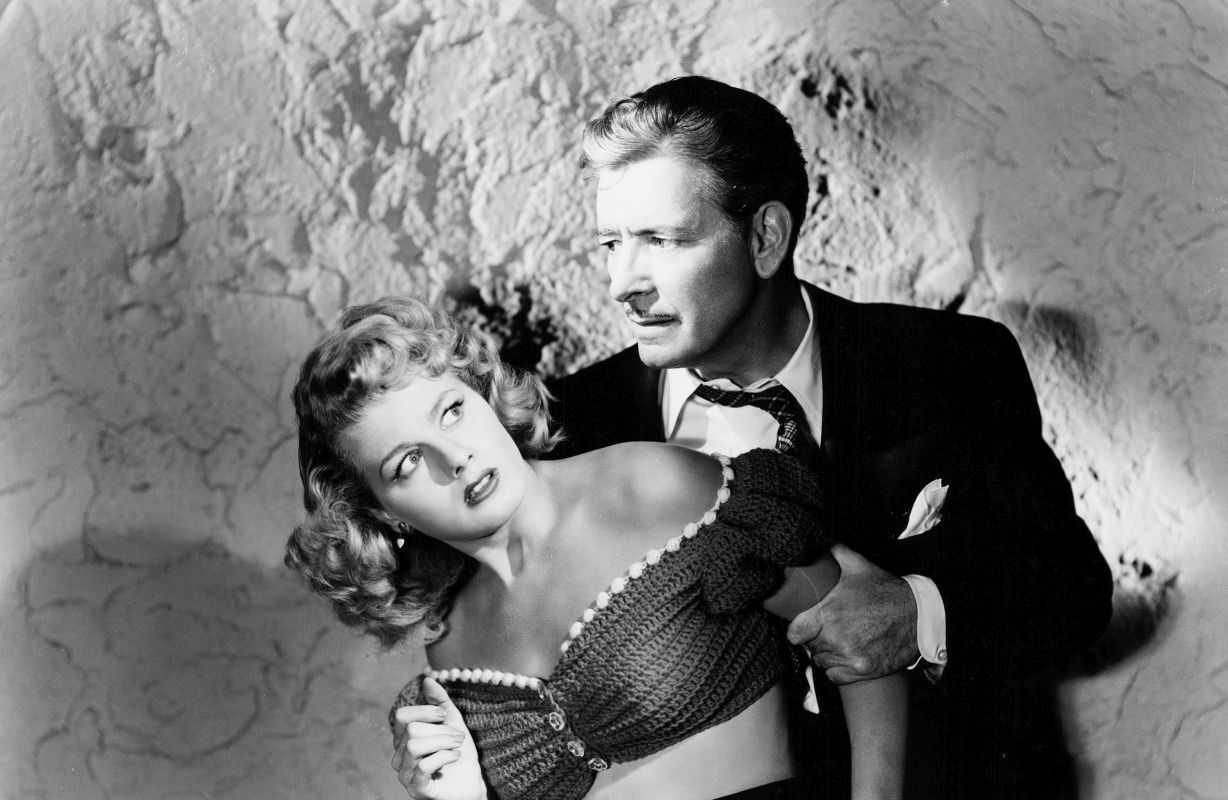 On the other hand, A Double Life works less effectively when it comes to the thriller elements. The film never travels inside the psychology of Ronald Colman's psychotic over-identification with the role of Othello – overwork and an excess of character acting is given as an explanation (in some ways, the entire film could be seen as a Frankensteinian critique of the Stanislavski school of acting). However, Ronald Colman is clearly behaving in an unbalanced way before he even accepts the part so these seem cod explanations at best.
Furthermore, the script seems to abruptly wrap itself up without ever going to the places it seems to intimate it is heading (as though an upbeat ending had been enforced on Cukor by the studio). There is the strong sense that things are being set up for a symbolic replaying of the Othello-Iago-Desdemona triangle between Ronald Colman, wife Signe Hasso and Edmond O'Brien as her boyfriend – the logical way for the ending to play out would have been as the play does with all three parties dead due to jealousies and malicious lies. But before we can ever get anywhere into this, the film comes to an abrupt and unsatisfying close with Ronald Colman stabbing himself on stage and a happily transcendent ending that cannot help but ring false as he begs Signe Hasso's forgiveness before expiring.
---
---