---
Crew
Director/Screenplay – Frank LaLoggia, Producers – Charles LaLoggia & Frank M. LaLoggia, Photography – Fred Goodrich, Music – Frank LaLoggia & David Spear, Visual Effects Supervisor – Peter Kuran, Photographic Effects – John Eggett & Jerome Seven, Effects Animation – Chris Casady, Makeup – Derek De Vore, Art Direction – Carl Zollo. Production Company – LaLoggia Productions.
Cast
Stefan Arngrim (Andrew Williams), Elizabeth Hoffman (Margaret Buchanan/Mikhail), Kathleen Rowe McAllen (Julie Fanshaw/Gabrielle), Daniel Eden (Tony), Roslyn Gugino (Marie), Jack Holland (Father Thomas Damon/Raphael), Barry Cooper (Mr Williams), Frank Birney (Father Arthur Daly), Paul Haber (Mark Landers), Alice Sachs (Mrs Williams)
---
Plot
Three angels come to Earth and take on human form to track down the incarnation of Lucifer. This turns out to be 18-year-old Andrew Williams. Andrew is bullied and cruelly tormented at school. As people gather for Easter celebrations, Andrew comes into his full Satanic powers, raising an army of the undead and taking psychic revenge on his tormentors.
---
This low-budget rip-off of The Omen (1976) was the first film from Frank LaLoggia. Fear No Evil received some very favourable reviews in a number of genre publications. A few years later, Frank LaLoggia made the highly impressive ghost story Lady in White (1988). Since then, with the exception of the psycho-thriller Mother (1995), LaLoggia has become one of the genre's lost great promises.
Fear No Evil was a fitful start for Frank LaLoggia. Some of the early scenes display the flourishes of style that LaLoggia demonstrated with enormous confidence in Lady in White. Like the exterior shot of the family home where the Devil child's growing up is very effectively characterised by voiceovers of the parents who are being turned against each other by him, or the birthday party with effects such as books shutting themselves and shadows passing on the wall independent of an owner. However, after such an assured opening, Fear No Evil falls apart.
Fear No Evil is notable as an Omen clone for drawing itself from Frank LaLoggia's lower-class Italian-American Catholic background (the same background that Lady in White also draws from). However, LaLoggia seems in considerable confusion as to what type of film he is making. Instead of being evil incarnate, the teen anti-Christ is characterised as someone so bullied and introverted that he hardly speaks. Far more so than any Omen-styled showcase killings, Fear No Evil becomes more of a Carrie (1976)-styled supernatural powers revenge fantasy.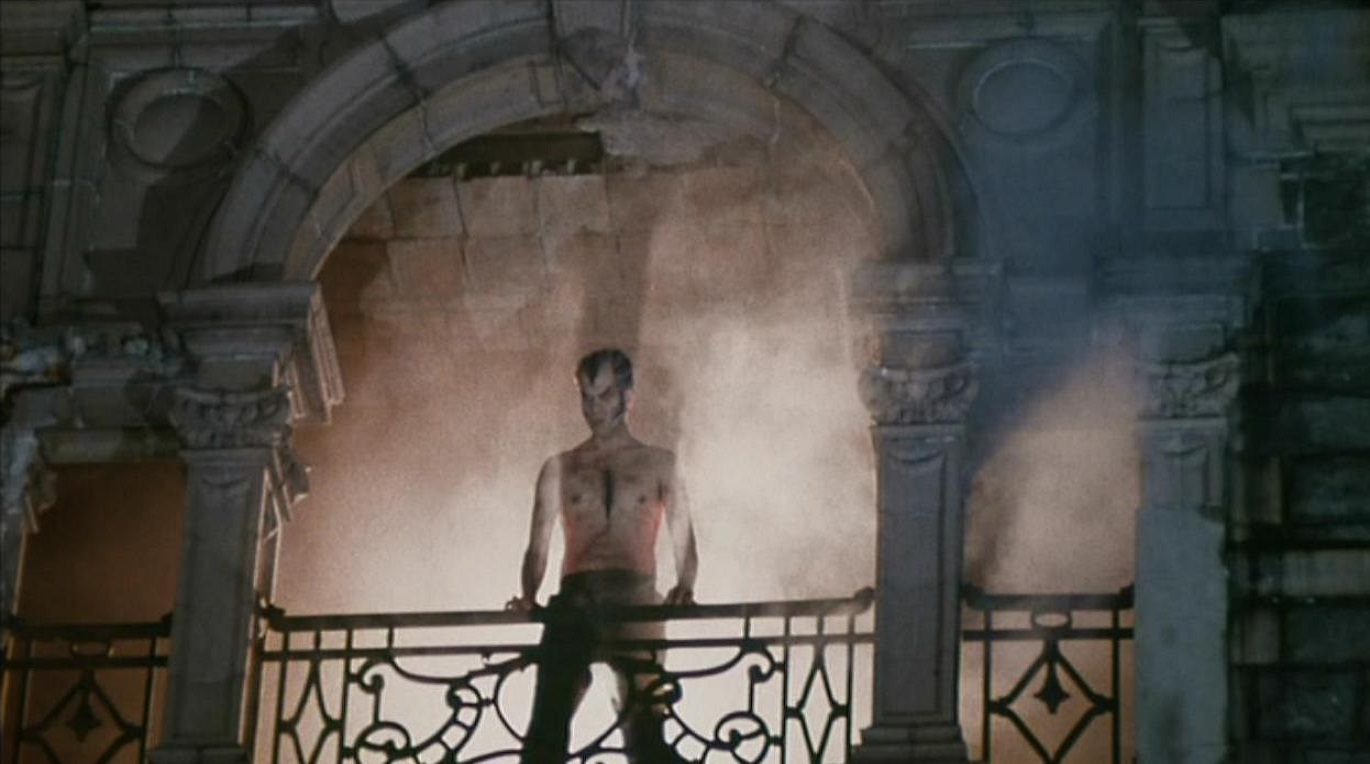 Stefan Angrim's performance – he was once the cute kid on Land of the Giants (1968-70) – does not exactly help either. Arngrim plays either totally repressed or to the opposite extreme, wildly overacting – one scene with him parading around in a negligee and black makeup makes him look more like a drag queen than the Devil.
Frank LaLoggia's direction is constantly dragged down into cheap effect – some of the novelty death sequences such as the character splattered with a basketball in the gut or the macho bully who suddenly develops breasts have a silly sensationalism about them. LaLoggia seems to constantly struggle for more without knowing the dividing line – although the climax filled with Star Wars (1977) and Close Encounters of the Third Kind (1977)-styled light effects is a mini-marvel of low budget achievement.
---
---