---
Crew
Director – Janusz Kaminski, Screenplay – Pierce Gardner, Story – Pierce Gardner & Betsy Stahl, Producers – Meg Ryan & Nina R. Sadowsky, Photography – Mauro Fiore, Music – Jan A.P. Kaczmarek, Visual Effects – Cinesite (Supervisor – Jay Riddle), Special Effects Supervisor – Clay Pinney, Makeup Effects – The Winston Studio (Supervisor – John Rosengrant), Production Design – Garreth Stover. Production Company – New Line/Prufrock Films.
Cast
Winona Ryder (Maya Larkin), Ben Chaplin (Peter Kelson), John Hurt (Father Lareaux), John Diehl (Henry Birdson), Sarah Wynter (Claire Van Owen), Elias Koteas (Deacon John Townsend), Philip Baker Hall (Father James), Alfre Woodard (Doctor), Brad Greenquist (George Viznik), Anna Berger (Mrs Levotsky)
---
Plot
As a thirteen year old girl, Maya Larkin was delivered from demonic possession. Several years later, she is asked to act as a lay observer in the exorcism of Henry Birdson, a mathematics teacher turned serial killer. However, the exorcism goes wrong, leaving the priest traumatized and Birdson in a coma. In the present day, Maya deciphers the numerical codes in Birdson's cryptic scribblings and comes to believe that they point to Peter Kelson, a writer who has written several books on killers, who will become possessed as the Anti-Christ on his 33rd birthday. Kelson regards this as nonsense but soon events around him start to convince him that the prophecy is about to come true.
---
Genre films in the latter half of the 1990s are notable for, among other things, the regurgitation of late 1970s/early 1980s B films on big-budgets long after the initial trend had died down. First there were the big-budget copies of Alien (1979) like Species (1995) and The Relic (1997), then big-budget copies of Mad Max 2 (1981) – Waterworld (1995) and The Postman (1997) – and then a whole new cycle of slasher films beginning with Scream (1996).
This was followed before a revival of the 1970s genre of occult/possession films, which was created by classics such as Rosemary's Baby (1968), The Exorcist (1973) and The Omen (1976). This revival trend began with Stigmata (1999), End of Days (1999), Bless the Child (2000), Lost Souls, and of course the highly successful re-release of the re-edited Exorcist in 2000 followed by the prequel Exorcist: The Beginning (2004). And that is before we arrived at the mid-00s fad for direct remakes of 1970s/80s horror films.
One had little expectation of Lost Souls. The film's release had been announced but delayed for over a year. The film was produced by Meg Ryan and starred Winona Ryder, neither of whom seem natural candidates for the horror genre. When Lost Souls did open, it was to surprisingly negative reviews. Mindedly, it did not have a terribly inspiring promo campaign – "Evil Will Possess You." Contrarily though, Lost Souls emerged as a quite reasonable film.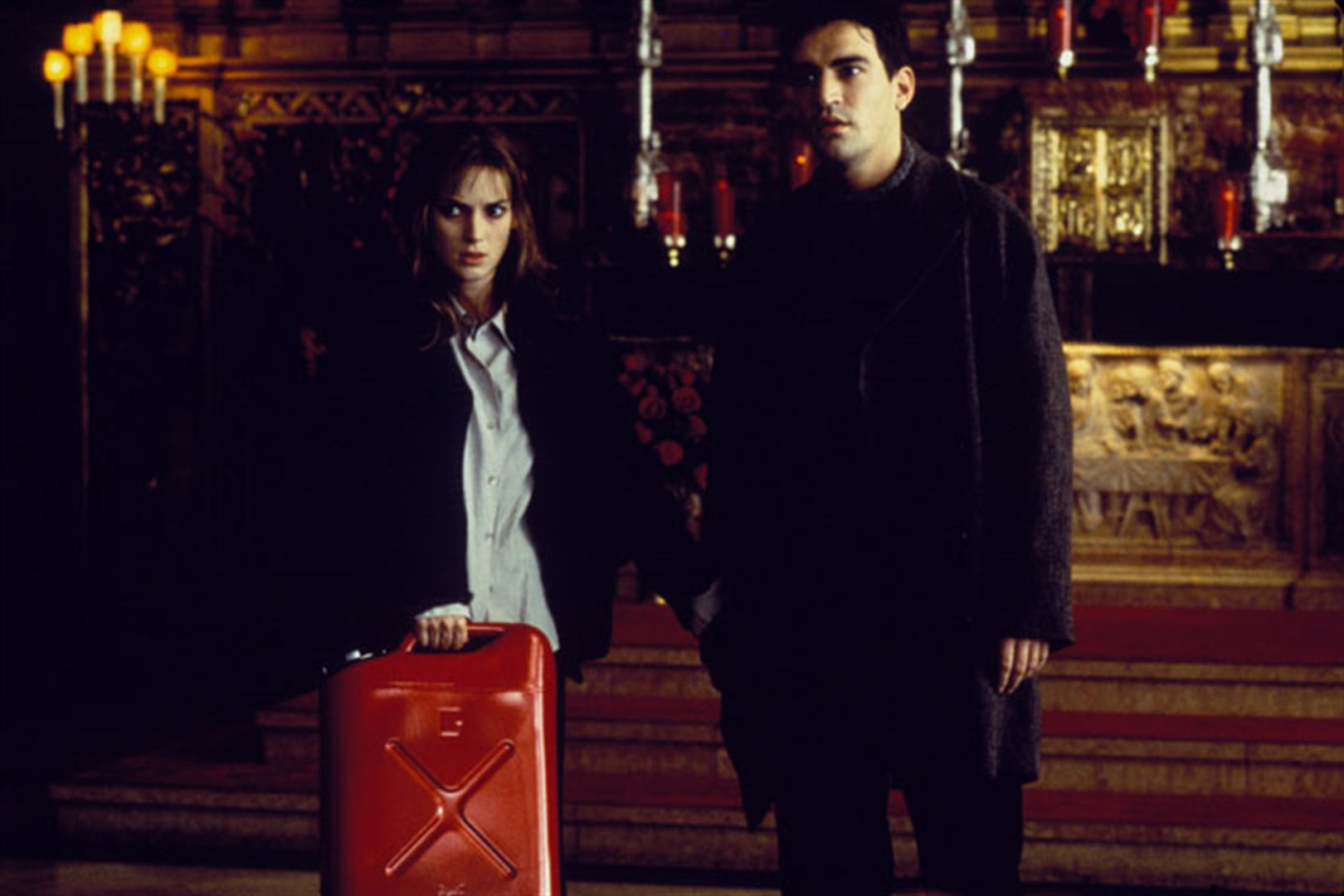 Lost Souls was the directorial debut of Janusz Kaminski, previously a cinematographer for Steven Spielberg on all of his films since Schindler's List (1993), winning Academy Awards for his work on both Schindler and Saving Private Ryan (1998). The plot sits just between the hokey and interesting – in another director's hands, Lost Souls could have been a pedestrian vehicle but Janusz Kaminski makes it work with great conviction. Kaminski shoots with a cinematographer's eye – the film comes with all the light sources over-exposed and the colour bleached out of the frame to give it a hauntingly washed-out almost monochrome luminescence.
Kaminski's scares are subtly evoked – Ben Chaplin unable to hear anything when he plays the tape on his stereo while his neighbour is being deafened; John Diehl's appearances to Winona Ryder holding a knife and stalking her around a house or the moment Diehl opens his eyes from the coma; the toppling of a statue of Christ when Ben Chaplin enters a church to beg divine help.
Lost Souls is worth comparing to both End of Days and Bless the Child, its closest cousins among the modern Exorcist/Omen revivals. Both of these feed the occult film cliches through the modern CGI film. And both fail exactly where Lost Souls succeeds – they pour on flashy CGI angelic/demonic visitations and special effects but to a contrary lack of any effect. On the other hand, Janusz Kaminski almost entirely eschews any CGI or makeup effects and concentrates on psychologically driven scares with subtle and effective results. Indeed, it is a surprise that Lost Souls waited on the shelves so long – it offers exactly the same effective psychologically-derived horrors that The Blair Witch Project (1999) and The Sixth Sense (1999) created a new audience for.
(Nominee for Best Cinematography at this site's Best of 2000 Awards).
---
---