---
Crew
Director/Screenplay – Conor McMahon, Story – Demian Fox & Conor McMahon, Producers – Michael Lavelle, Kate McColgan, Conor McMahon & Greg Newman, Photography – Michael Lavelle, Music – Ray Harman, Creature Design/Prosthetic Effects – Johnny Murphy, Production Design – Mark Kilbride. Production Company – MPI Pictures/Workshed Films.
Cast
Niamh Algar (Sarah), Stephen Cromwell (Mark), Gerry O'Brien (Farmer), Ged Murray (The Creature)
---
Plot
In County Offaly, Ireland, a farmer digging for peat on his farm uncovers a creature. A couple, Mark and Sarah, are driving through the countryside when they become lost and their car then gets stuck in the mud. Mark walks to the nearby farmhouse to look for help and comes across the farmer in an ill state. When he returns with Sarah, they are attacked by creatures that shun the light.
---
Conor McMahon is an Irish director who has specialised in horror films. Although he has not gained an international name yet, McMahon has been consistently putting out genre films for the better part of two decades now with the likes of Dead Meat (2004), The Disturbed (2009), Stitches (2012) and Let the Wrong One In (2021).
With From the Dark, Conor McMahon has created a horror film stripped to its basics – two characters and the single location of a farmhouse and near environs as they are attacked by creatures. It should be pointed out that aside from the smaller cast this is a mix that is not too different from the classic Night of the Living Dead (1968).
On the other hand, the lack of anything more than this makes From the Dark frustrating. There is no explanation of what the creatures are – are they zombies or vampires, especially given that they have characteristics of both? Even the scene where we see one of the creatures dug up from a peat field at the start gives us no clue.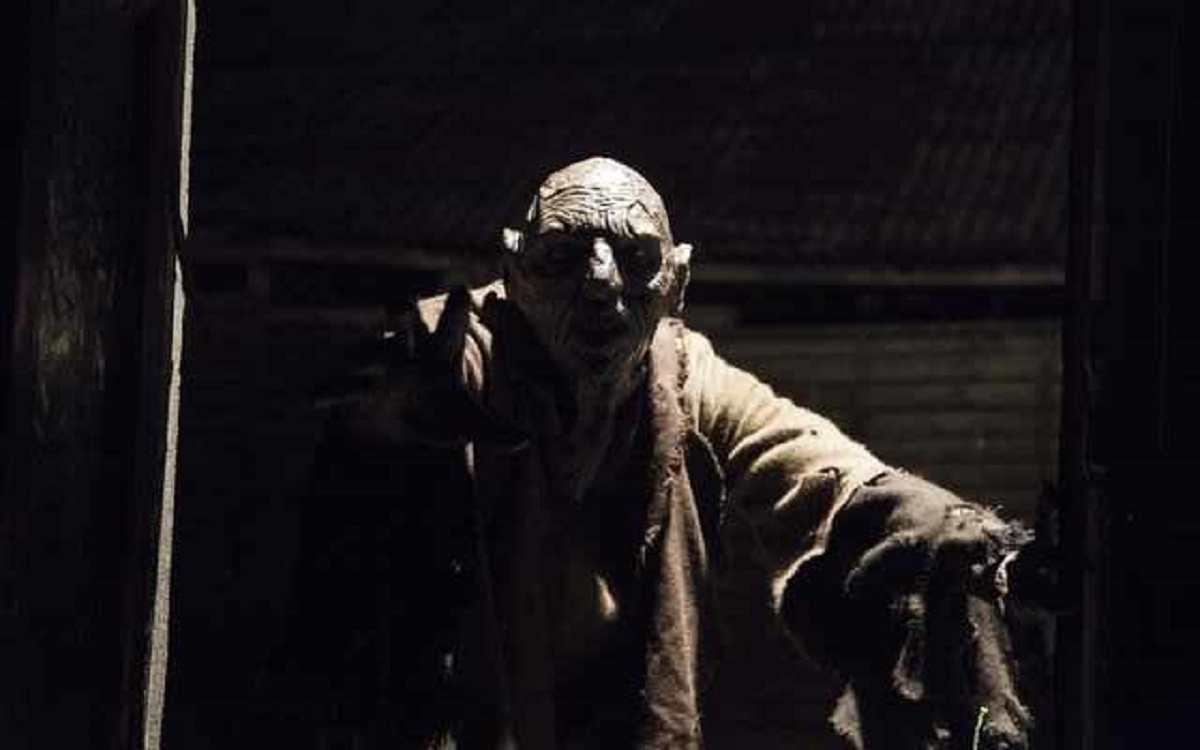 The other thing that should be said is that a horror film stripped of all externals – what the creatures are, almost anything in the way of background detail about the two central characters – ends up being dull. The film is just a series of attack scenes. While some directors could pull this off, one would have to say that Conor McMahon is not one of them.
There are one or two scenes where McMahon pushes what we have to an extreme with some effect – like where an infected Stephen Cromwell is tied up in the bathroom and bashes his head against the hand basin, knocking out his own teeth; or a scene where Niamh Algar's finger is bitten and she makes the decision to cut it off with a chisel. However, outside of isolated scenes such as these, there is nothing in the film that keeps you on the edge of the seat.
---
---