---
Crew
Director/Adaptation – Akshay Akkineni, Dialogue – Abhijeeth Deshpande, Additional Dialogue – Bejoy Nambiar, Based on the Screenplay by Karthik Subbaraj, Producers – Siddarth Roy Kapur & Bejoy Nambiar, Photography (3D) – Jayakrishna Gummadi, Music – Gaurav Godkhindi, Ramon Ibrahim, Saurabh Kalsi, Mikey McCleary & Shamir Tandon, Background Score – K, Visual Effects – Prasad Films Labs Mumbai Pvt. Ltd. (Supervisor – Sachin Bole), Production Design – Donald Reagan Gracy & Anita Lata Rajagopalan. Production Company – UTV Spotboy/Getaway Films.
Cast
Ashkay Oberoi (Kunal Malkholkar), Parvathyy Omanakuttan (Nikita 'Nikki' Malkholkar), Rajesh Sharma (Mr Kapoor), Santush Darrne (Lobo Shinde), Hussain Dalal (Sameer Yadav), Onkar Das Manikpuri (Sadhu), Dipannita Sharma Atwal (Mrs Ghost), Arunoday Singh (Mr Ghost), Sonali Sachdev (Priya Kapoor), Diya Chalwad (Anjali), Rituparna Chowdhury (Anita), Gulshan Pandev (Inspector Pandev), Umesh Jagtap (Haunted House Inspector), Jai Shankar Tripathi (Haunted House Constable)
---
Plot
In Mumbai, Kunal Malkholkar works as a delivery driver for Slices Pizza, hoping to one day make it up through the company ranks and earn a decent living. His wife Nikki, who writes horror stories, announces that she is pregnant but Kunal worries that he does not earn enough to provide for a child as well. Kunal is then asked to make a delivery to a house. However, when he enters the house, he finds mysterious things happening, including ghosts and visions of dead bodies. He finds he is unable to get out and calls Nikki to come and help. The police then arrive at the house and free Kunal, only for him to be told that nobody has lived in the house since a family were murdered there four years earlier. Nikki has gone missing and Kunal is held as a suspect in her disappearance. Throughout he is certain that a supernatural agency is at work.
---
The Indian film Pizza (2012) was a moderate success. It was made for the Tamil-speaking people, a filmmaking subculture of its own that gets the nickname Kollywood. Its effectiveness came in that it offered one of the better M. Night Shyamalan-styled Conceptual Reversal Twists that has taken over the ghost story since The Sixth Sense (1999), As appears to be frequent custom in India, the film underwent two remakes with each version pitched to a different cultural group and language group. While the original was made in Tamil, this is the Bollywood remake (which was also released in 3D) and there were other versions shot for the Kannadian and Bengali-speaking peoples.
The remake is faithful to the 2012 original on all the basic points. It follows the plot closely – the pizza delivery guy and his wife who discovers she is pregnant; his delivery to an apparently haunted house where he becomes trapped inside by what he later realises is the ghosts of people that were murdered; his wife going missing; and then the big shaggy dog twist ending. The remake even copies the same coda in the ending.
The crucial difference is that this version gets all of the story condensed into a 107 minute timeframe whereas the 2012 film took 127 minutes, an extra twenty minutes of runtime, in the telling. This version spends far less time with the young married couple and their anguish over having a child – there is no real drama to their chocies here, whereas in the original he was pleading with her that the time is not right due to their financial situation.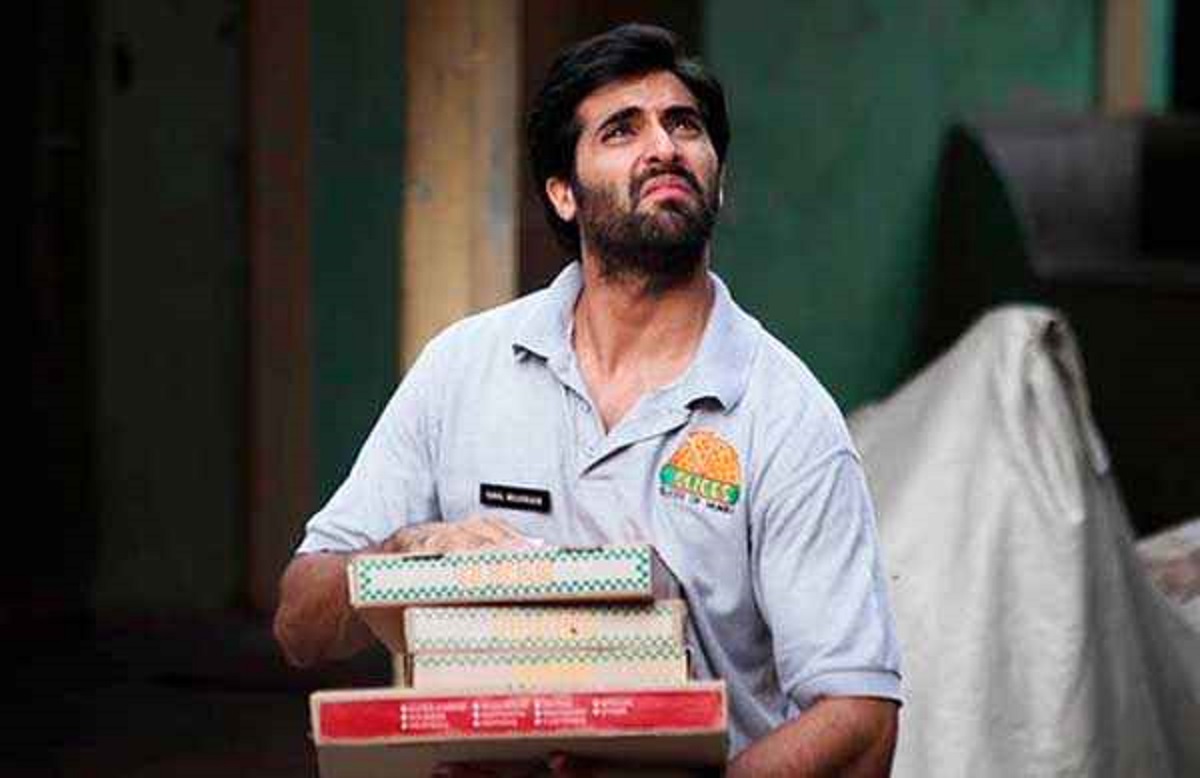 The only significant addition over the original is an opening scene where Ashkay Oberoi enters a lift where an old man spookily stands facing the wall – the scene would have some effect but for the fact that it is lifted directly from the Thai ghost story The Eye (2002).
There are some minor bonuses such as a wonderfully stylised animated opening titles sequence. Like the first film, this is a Bollywood film made without familiar elements of the genre – the long song and dance numbers, the requisite romantic element, although some songs do play on the soundtrack at certain intervals. Akshay Akkineni clearly wants to signal he is a fan of classic horror films and thus has posters of Dracula (1931), The Black Cat (1934) and Berserk (1967) around the apartment.
For all that, much of the film feels like it has been condensed into a series of spooky jumpshocks rather than that it hangs on its clever Conceptual Reversal Twist like the first film did. Akshay Akkineni delivers a series of spooky scenes – a ghost couple and little girl, ghostly faces appearing out of the corner of the frame to whisper things, the child doing a spider-walk, the couple found hanging, bloody footprints. On the other hand, much of it feels forced and fails to provide anything that might be spooky to anybody over the age of ten, Not to mention that while Akshay Akkineni sets up the twist ending, the payoff falls flat and comes without the jolt twist that the original did.
---
Trailer here
---