---
Crew
Director – Martin Wilson, Screenplay – Michael Boughen, Producers – Pam Collis, Neal Kingston & Michael Robertson, Photography – Tony O'Loughlan, Music – Tim Count, Visual Effects Supervisors – Glenn Cone & Michael Mier, Special Effects Supervisor – Chris Corbee, Production Design – Adam Head. Production Company – Thrills & Spills Productions.
Cast
Katrina Bowden (Kaz Fellows), Aaron Jakubenko (Charlie), Jason Wilder (Luke), Kimie Tsukakoshi (Michelle Minase), Tim Kano (Joji Minase), Te Kohe Tuhaka (Benny), Tatjana Marjanovic (Tracy)
---
Plot
Charlie, a former marine biologist, and his girlfriend Kaz, a former nurse, run a seaplane charter service along Australia's Pearl Coast, although the business is on financial thin ice. Charlie accepts a charter from Joji and Michelle Minase to fly them out to Hell's Reef. Michelle's grandfather was the sole survivor of a famous shark attack incident and she has come to scatter his ashes. They then discover a dead body on the reef and find that it came from a yacht. Charlie announces it is their duty to search for any survivors. They find the yacht and put down on the water to search only for the seaplane to be attacked by a shark and sunk. They escape aboard a life raft and set out rowing for the coast. However, the shark lurks in the water following them.
---
The killer shark film has gained a notoriety of its own ever since Jaws (1975). Since then it has undergone a series of strange permutations to become a genre as ridiculous as it is possible to get with B-budget hits such as Mega Shark vs Giant Octopus (2009) and Sharknado (2013). Following these, we have had a series of films that seem to be combining sharks with the most absurd things possible – see examples such as Avalanche Sharks (2013), Post Apocalyptic Commando Shark (2018), Santa Jaws (2018), Ouija Shark (2020) and Sharks of the Corn (2021), along with a great many others. These, both serious and ridiculous, have become so prolific in the 2010s that I have devoted a whole topic to it here at Killer Shark Films.
There is another subset of these killer shark films that focus on the human survival aspect with people trapped in shark-infested waters. These began with Open Water (2003) and include the likes of The Shallows (2016) and 47 Meters Down (2017), all of which have enjoyed reasonable success, and the subsequent Adrift (2017), Maneater (2022), The Requin (2022), Shark Bait (2022), Shark Waters (2022) and The Black Demon (2023). Great White is an Australian entry that falls into this category. The film was a directorial debut for Martin Wilson, previously a director of commercials. Producers Neal Kingston and Michael Robertson returned to the killer shark film not long after with The Reef: Stalked (2022).
Australia's previous ventures into the killer shark genre sit between the extremes of the gripping The Reef (2010), which has a number of similarities to this concerning a quartet of people who are forced to swim through shark-infested waters after their yacht sinks, and the ridiculous 'sharks in a supermarket' film Bait (2012), I sat down to watch Great White unclear as to which way things would go. The first thing you notice is that it is beautifully photographed with the camera making great use of the natural locations. Indeed, the film becomes a triumph of drone photography with the camera pulling back to super-wide angles to show the tiny plane or life raft as no more than a dot on the ocean.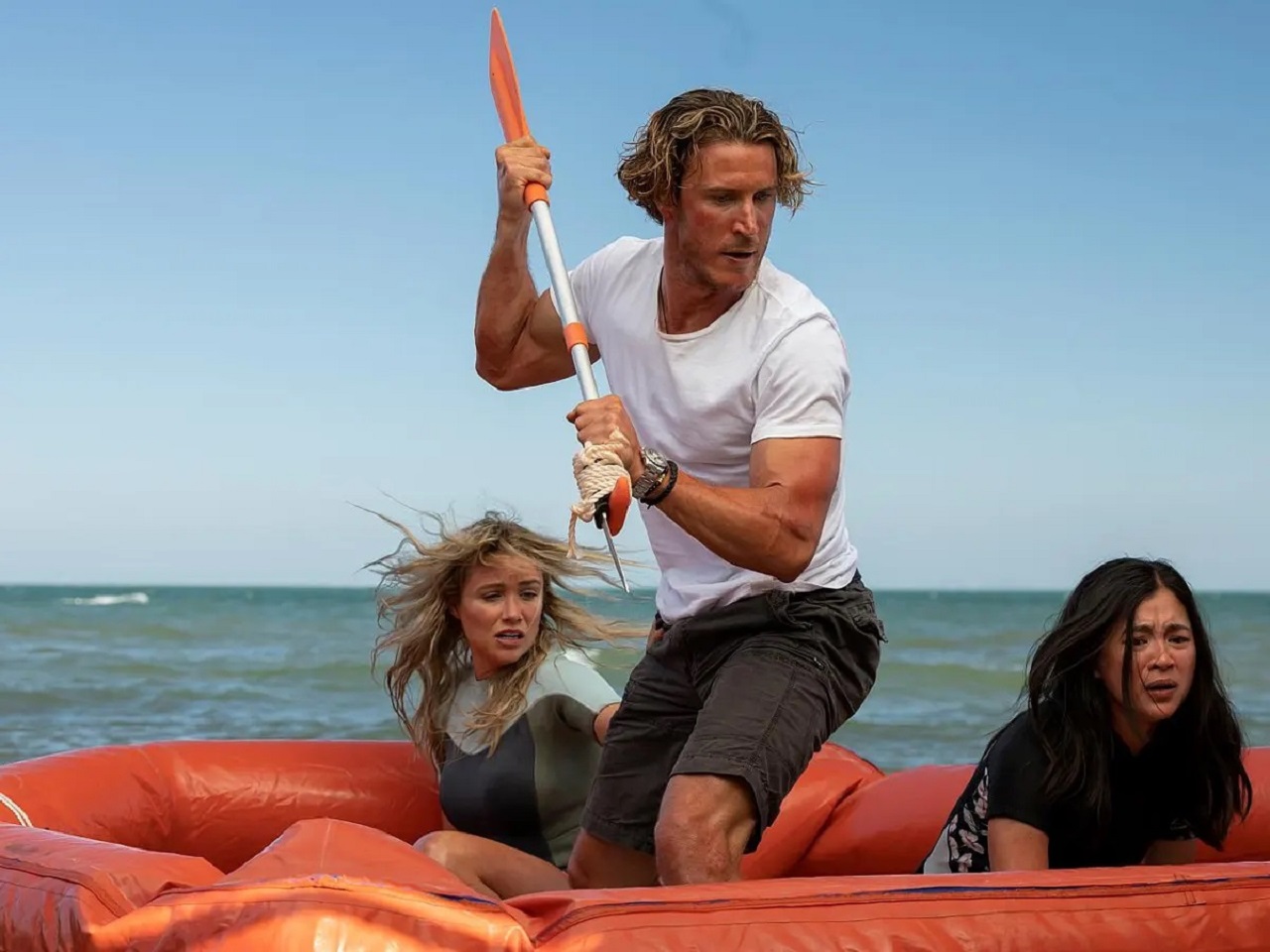 After various complications – a trip to the reef, a dead body and a sunken yacht discovered – the seaplane is downed (around the 30 minute mark) and the group set adrift on a flimsy life raft, Thereafter the film rides the tensions aboard the raft – bickering with the self-interested individual who is wasteful of the minimal resources and opts for a different course of action (which given the way things turn out would actually have had the greater survival guarantee) – and the threat without – the lurking shark and various scenes where people fall overboard, the paddle is dropped as someone drifts off to sleep necessitating a swim to retrieve it, the shark overturning the raft, the raft developing a leak and so on.
The drama is all solid. The film maintains a reasonable level of suspense during all of the abovementioned scenes. Martin Wilson gets assorted shots with the shadow of the shark sinisterly gliding under the raft, unexpectedly appearing along the side of the boat and so on. You cannot deny a reasonable tension but what you also have to say is that a good deal of this is familiar. One has watched enough killer shark films by now (both serious and ridiculous) that it all falls into much of a muchness with little that is unique and standout. The only time it feels that the film does find this is a tense sequence with Aaron Jakubenko and Katrina Bowden underwater facing off against the shark with only a flare gun and then trapped inside the wreck of a ship.
---
Trailer here
---