---
Australia/Singapore. 2012.
Crew
Director – Kimble Rendall, Screenplay – John Kim & Russell Mulcahy, Additional Writing – Shayne Armstrong, Duncan Kennedy, Shane Krause & Justin Monjo, Producers – Peter Barber, Todd Fellman & Gary Hamilton, Photography (3D) – Ross Emery, Music – Joe Ng & Alex Oh, Visual Effects Supervisor – Marc Varisco, Visual Effects – Blackmagic Design, Postmodern Sydney (Lead Supervisor – James Rogers), Special Effects Supervisor – Angelo Sahin, Animatronics Supervisor – Grant Lehmann, Makeup Effects/Shark Design – Steven Boyle, Makeup Effects/Prosthetics Supervisor – Samantha Lyttle, Production Design – Nicholas McCallum. Production Company – Darclight/Blackmagic Design/Pictures in Paradise/Story Bridge Films/Screen Queensland.
Cast
Xavier Samuel (Josh Simons), Julian McMahon (Doyle), Sharni Vinson (Tina Radcliffe), Phoebe Tonkin (Jaime), Martin Sacks (Todd), Alex Russell (Ryan), Lincoln Lewis (Kyle), Cariba Heine (Heather), Adrian Pang (Jessup), San Wyllie (Kirby), Alice Parkinson (Naomi), Qi Yuwu (Steven), Damien Garvey (Collins), Richard Brancatisano (Rory Radcliffe)
---
Plot
Oceania, Queensland, Australia. Lifeguard Josh Simons is with his fiancee Tina Radcliffe when his best friend, Tina's brother Rory, is attacked and devoured by a shark. One year later, Josh and Tina have parted and he is working in a local supermarket. As Josh arrives at work for the day, several dramas erupt in the supermarket – Tina returns but accompanied by Steven, a new boyfriend from Singapore; Jaime, the girlfriend of employee Ryan, is caught shoplifting and management calls in the police – none other than her father Todd; Doyle is forced by the hoodlum Kirby to take part in an armed robbery of the supermarket for the sake of his brother, only for Todd to see this, pull his gun and everything erupt into a hostage situation. Just at that moment, the supermarket is hit by a tsunami. In the aftermath, various survivors take refuge from the flood waters on the tops of the shelves. They then discover that the tsunami has also brought in a twelve-foot long great white shark and that it is prowling the flooded supermarket aisles looking for prey. Meanwhile, in the flooded carpark level below, more survivors try to take refuge as another shark prowls the waters hunting them.
---
The killer shark film began with Jaws (1975). In becoming the No 1 box-office hit of all time in its day, Jaws spawned a host imitators, including other such killer shark films as Mako: The Jaws of Death (1976), Tintorera (1977), Up from the Depths (1979), Shark/Great White (1982) and Devil Fish (1984), as well as several sequels. Into the late 1990s/early 2000s, the killer shark film has gravitated towards the arena of the B movie with the likes of Shark Attack (1999), Shark Hunter (2001), Megalodon (2002), Dark Waters (2003), Red Water (2003), Shark Zone (2003), Blue Demon (2004), Hammerhead (2005), Raging Sharks (2005), Shark Swarm (2008), Malibu Shark Attack (2009), Dinoshark (2010), Sharktopus (2010), Shark Night 3D (2011), Snow Shark: Ancient Snow Beast (2011), Swamp Shark (2011), Jurassic Shark (2012) and Shark Week (2012).
Amidst these, Bait may possibly take the award for the most absurd killer shark film ever made. One must remember that this is a genre that has also churned out the increasingly ridiculous likes of Shark in Venice (2008), Mega Shark vs Giant Octopus (2009) and sequels, Jersey Shore Shark Attack (2012), 2-Headed Shark Attack (2012), Avalanche Sharks (2013), Sharknado (2013), 90210 Shark Attack (2014), Raiders of the Lost Shark (2015), Roboshark (2015), Shark Exorcist (2015), Zombie Shark (2015), Atomic Shark (2016), Ice Sharks (2016), Ozark Sharks (2016), Piranha Sharks (2016), Planet of the Sharks (2016), Sharkansas Women's Prison Massacre (2016), Sharkenstein (2016), House Shark (2017), Trailer Park Shark (2017), Post Apocalyptic Commando Shark (2018), Santa Jaws (2018), Ouija Shark (2020), Sky Sharks (2020), Noah's Shark (2021), Sharks of the Corn (2021), Virus Shark (2021) and Shark Side of the Moon (2022).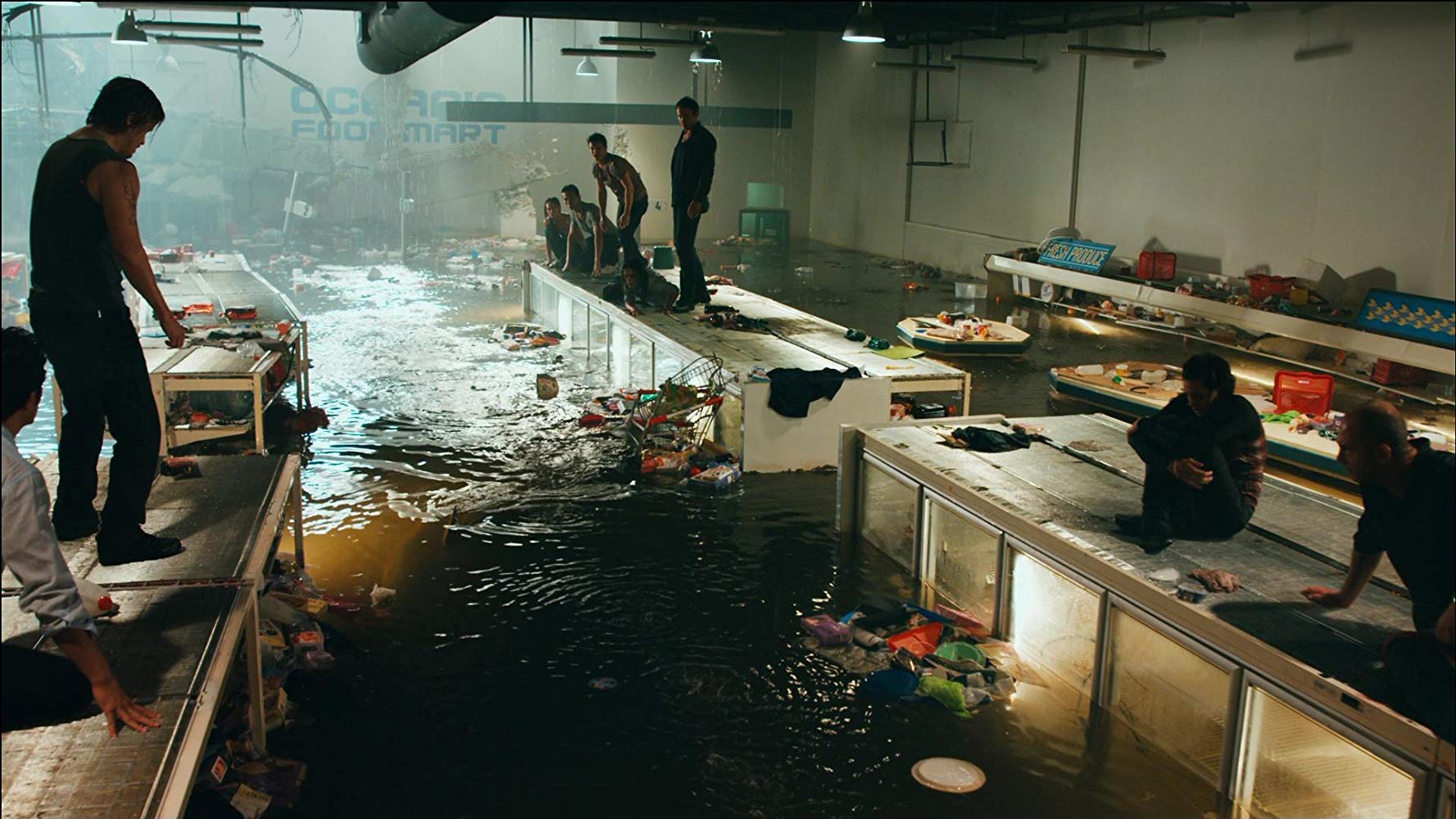 Bait is an Australian and Singaporean co-production. The film is directed by Kimble Rendall, a former second-unit director on various Australian-shot Hollywood films, who had previously made his directorial debut with the slasher comedy Cut (2000). Bait is also written/executive produced by Russell Mulcahy, the well-known Australian director who has made the likes of Razorback (1984), Highlander (1986), The Shadow (1994) and Resident Evil: Extinction (2007), among others. Early announcements for Bait listed Mulcahy as director, although one is unsure whether that was the case and he subsequently exited the production or if this was misreporting.
Bait is a film that heads into absurdity from the moment you read its capsule premise – that of a shark hunting people in a supermarket. The film itself never recovers from this. The plot set-up involves a series of improbably contrived dramas that you only get in disaster movies – the hero meets his ex with a new boyfriend; another girl is arrested for shoplifting by her police officer father; an armed robbery going wrong. Bad writing and dialogue cliches abound. Much of the film seems contrived in order to show the maximum amount of teens in bikinis and/or with buffed physiques.
Bait is a film that is entirely one of schlock effect. The film is constantly throwing up ridiculous images that leaves unable to stop laughing – of Qi Yuwu in a shark cage made up of shopping trolleys and with cans of food for weights wading through the water to get to a power switch; Adrian Jessup struggling to get into a ventilation duct and the shark leaping out of the water between the aisles to devour him; Phoebe Tonkin trying to batter the shark's snout with a meat tenderiser; and the final despatch that involves Xavier Samuel jumping to hang upside down from a set of pipes and fire a taser into the oncoming shark's mouth and electrocute it.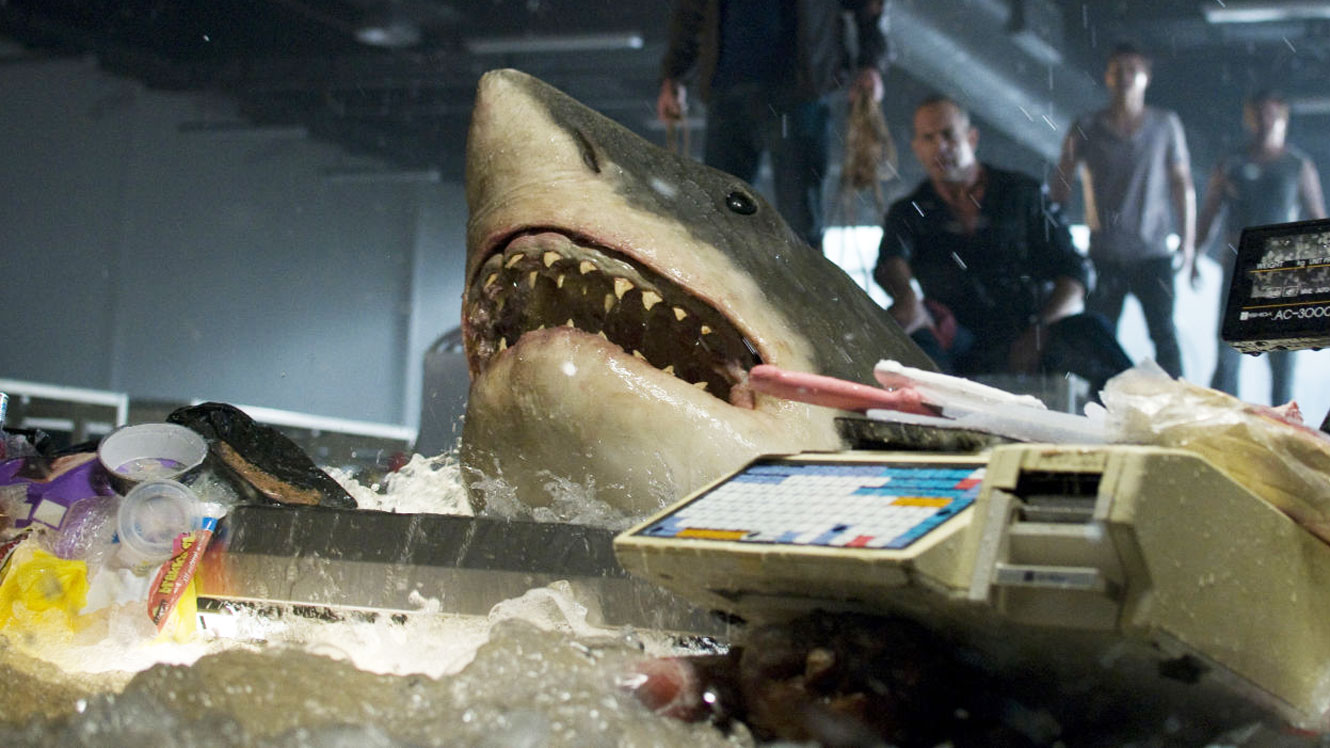 Some of the worst scenes are those between Lincoln Lewis and Cariba Heine as an airheaded teen couple trapped in a car in the carpark. Though their car is covered by water and a shark is prowling outside, the two of them sit there bitching at one another about cellphone coverage and whether or not he should use her Gucci shoes to break the windscreen and whether they are real or fake shoes. These scenes come with moments of prize bad dialogue such as Cariba Heine's accusation: "You're a dog murderer. That's worse than a people murderer."
Piranha (2010) showed the amusing possibilities of filming an animal attack film in 3D and is something that Bait and several other films having taken this as a source of inspiration. The filming of Bait for 3D leads to even further absurdities. Indeed, the film's credibility collapses within the first few minutes when we get a shark jumping straight up out of the water, snapping a surfboard in two, devouring the surfer and then snapping its jaws into camera. Elsewhere we get absurd into-the-audience's-lap shots such as where cogs fly through the air to impale someone in the forehead or of severed feet floating out of the shark's mouth and into camera. To cap off and make a silly film even more absurd, Bait ends on a passover with the final image being of a seagull flying away from the devastation out to sea, only for another shark to jump out of the water and into camera to devour it.
Director Kimble Rendall next made the adventure film 7 Guardians of the Tomb (2018).
(Winner in this site's Worst Films of 2012 list).
---
Trailer here
---