---
Crew
Director/Screenplay – Aramis Sartorio, Producers – Aramis Sartorio & Karen Sartorio, Photography – Matt Holder, Music – MC Comczechmi, Special Effects – 1313 FX, Production Design – Karen Sartorio. Production Company – Baby Yetti Productions/Tree Man Entertainment
Cast
Aramis Sartorio (Tommy Pistol), Karen Sartorio (Herself), Mia Tyler (Casting Agent), Barbara Mochrie (Boss's Mom), Jim Camp (Bookstore Owner). Snuff Said:- Caleb Emerson (Snuff Boss), Vincent Cusimano (Snuff Camera Man), Dave Corsile (Hotel Manager), Mike Andrews (Train Conductor), Mike Esposito (The Gimp), Kimberly Kane (Sergeant Kane), Evette Williams (Sandy), Mia Tyler (Girl #4), Silvestre Rios (The Tool Master). 10 Minutes of Fame:- Camilla Lim (Lynn), Al Burke (Arnold Schwarzenegger), Karen Sartorio (Arnold Assistant), Jordan Lawson (Shades), Jon L. Brody (Security Guard T.G.), David Burke (Security Guard Burke). Attack of the Staph Spider:- Daisy Sparks (Daisy), John Karyus (Skanky), Jessie Lee Nun (Porn Camera Man), Grungy (Himself), Karen Sartorio (Make-Up Artist)
---
Plot
After being fired from his latest job, Tommy Pistol's wife Karen walks out on him, sick of him getting nowhere in his endless efforts at trying to make it as an actor. Sinking into a slump, Tommy stays at home alone. Sitting in front of his tv with penis pump in hand, he has a series of dreams. Snuff Said:- A novice with a dream of being an actor, Tommy comes to Hollywood from New York, unaware that the big role he has been cast in is in a snuff movie. There his enthusiasm for the part makes him an unexpected star. 10 Minutes of Fame:- Tommy sneaks onto the set of an Arnold Schwarzenegger film. Determined to get to the top by any means, he kills Schwarzenegger and puts on his skin. When the production crew easily see through this, he kills all of them. Set assistant Lynn realises her destiny is to take on and defeat the crazed Tommy. Attack of the Staph Spider:- The porn director Tommy tries to get his latest film finished. However, his leading lady Daisy is bitten by a spider in the alleyway. She then develops massive oozing pustules and these start to infect the rest of the crew.
---
Aramis Sartorio is better known as pornographic actor Tommy Pistol. Under the Tommy Pistol pseudonym, Sartorio has been a prominent player in the so-called alt.porn movement, in particular with works that have blended porn and horror. A sample of titles include the likes of Re-Penetrator (2004), The XXXorcist (2006), Porny Monster (2007), playing the Robert De Niro role in Taxi Driver: An XXX Parody (2011), A Wet Dream on Elm Street (2011) and Evil Head (2012), among others. Similarly, his wife, billed here as Karen Sartorio (who gives the best performance in the film as Tommy's surprisingly sympathetic wife during the opening scenes, and appears in minor roles in the other segments) is better known as adult actress and occasional director Gia Paloma.
The Gruesome Death of Tommy Pistol is a film that Aramis Sartorio has made based around his Tommy Pistol alter ego. Although the film does employ some pornographic actors – Sartorio/Pistol as the lead in all three segments and the wraparound, Karen/Gia Paloma, and Daisy Sparks in the third episode – it is not a pornographic film. Sartorio originally made it as a series of short films and these have been compiled/expanded to make a full-length film along with the addition of a wraparound that vaguely explains them as the dreams of the Tommy during a porn and penis-pump induced dream, depressed after his wife has left him. All of the segments feel like they have been intended down around the level of the average Troma film – that is to say, played out in a frenetically farcical tone, aimed directly for gross-out and bad taste effect amid plentiful absurd gore effects, and with the performances (usually all amateurs) played at a cartoonish level.
There is a mild amusement to the first segment Snuff Said – a naive actor thinks he is getting a chance at the big time unaware that he is being cast in a snuff film – that is quickly lost amid the episode's constant loud and cartoonish overstatement. Aramis Sartorio's playing of the naive simplicity of the unworldwise Tommy gets annoyingly OTT after a time, although there is one fine scene where Sartorio gives a seemingly off-the-cuff piece of improv direct to the camera about where he came from and his aspirations in the industry while sitting on a ladder. The segment does feature some entertainingly ridiculous deaths – a woman cheese gratered to death, another having her breasts gouged out with a juice squeezer.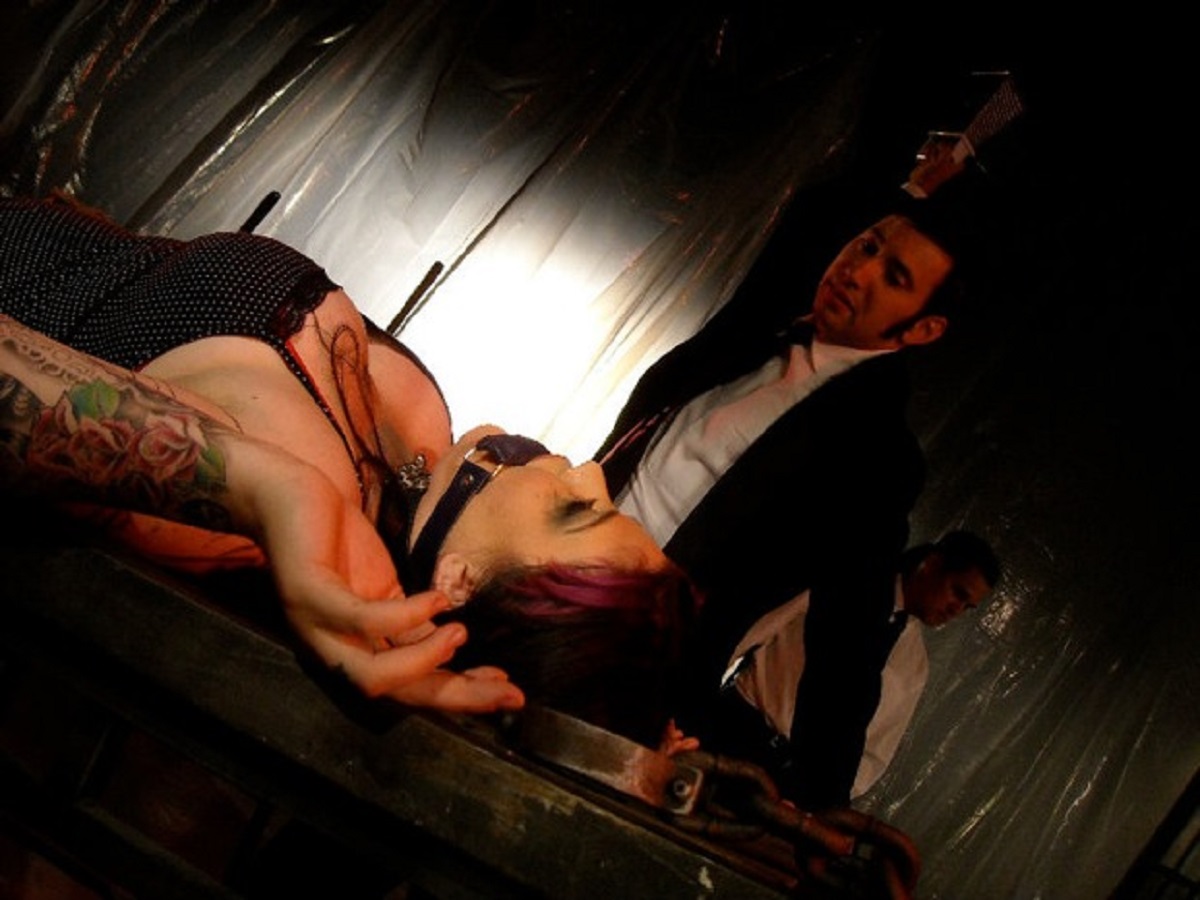 The second episode 10 Seconds of Fame starts well with Sartorio satirising a Hollywood film shoot and the characters to be found on the set. Alas, the segment loses it about the point that it steps over into genre territory and Sartorio puts on the skin of 'Arnold Schwarzenegger' – which looks exactly like they didn't even bother to make the effort when it came to makeup effects and just settled for wrapping pieces of ill-fitting plastic sheeting around Sartorio. The episode slows right down when it comes to the extended fight between Sartorio and Camilla Lin.
The third and final episode Attack of the Staph Spider is the most Troma-esque of the stories. The episode takes place on a porn film set and features some moderately explicit scenes of Daisy Sparks performing. It is a segment where you get the impression that Aramis Sartorio set out to make the exact opposite of one of his porn films and emphasise the gross and disgusting – be it Daisy Sparks popping massive pimples on her ass, masturbating with a dildo while covered in oozing sores or John Karyus as a baldingly nerdy production lackey who licks puss off toilet seats and is dressed in grotesque drag to play the female performer in a scene. At least you say that Aramis Sartorio succeeds in terms of his apparent goal of grossing his audience out.
Aramis Sartorio subsequently went onto direct the zombie porn films Beyond Fucked: A Zombie Odyssey (2013) and The Walking Dead: A Hardcore Parody (2013).
---
---