aka Deadball
(Deddoboru)
---
Crew
Director/Adaptation – Yudai Yamaguchi, Screenplay – Keita Tokaji, Producers – Yoshinori Chiba & Shin Torisawa, Photography – Masakazu Oka, Music – Nobuhiko Morino, Visual Effects Supervisor – Tsuyoshi Kizuno, Makeup Effects Supervisor – Yoshihiro Nishimura, Production Design – Nori Fukuda. Production Company – Nikkatsu/Sushi Typhoon.
Cast
Tak Sakaguchi (Jubei Yakyu), Mari Hoshino (Shinosuke Suzuki), Miho Ninigawa (Principal Ishihara), Miho Hanta (Frau Ilsa), Koichi Yamadera (Baseball Announcer), Ryosei Tayama (Warden Mifune), Jhonmyon Pe (Eyeball), Takamasa Suga (Musashi), Mickey Curtis (Father)
---
Plot
Teenager Jubei Yakyu is playing baseball with his father but throws the ball with such force that he is propelled into orbit and the impact of the ball kills his father. Following a violent crime spree, Jubei is arrested. He is sentenced to Juvie League, a tough reformatory prison run by the Nazi Principal Ishihara. Ishihara determines that Jubei will join her baseball team. After assorted violent threats from her guards, Jubei agrees and recruits various other inmates to form the team Pterodactyl Gauntlet. However, without even giving them any time for them to practice, Ishihara announces that they will play the murderously tough all-girl team St. Black Dahlia High School the next day.
---
Yudai Yamaguchi is as a Japanese genre director. Yamaguchi started out as an associate of Ryuhei Kitamura where he worked on Kitamura's first short film Down to Hell (1997) and wrote the screenplays for Kitamura films such as Versus (2000) and Alive (2003). He then made his directorial debut with Battlefield Baseball (2003). From there, Yamaguchi went onto direct Chromartie High School (2005), The Present (2005), Tanami: The Baby's Curse (2008), Abductee (2013), span class="filmref">Chin-Yu-Ki: The Journey to the West with Farts (2016) and span class="filmref">Rokuroku: The Promise of the Witch (2017), as well as episodes of the anthologies Ten Nights of Dreams (2006), An Encyclopaedia of Unconventional Women (2009) and The ABCs of Death (2012). He also co-directed Yakuza Weapon (2011) and most famously Meatball Machine (2005).
Dead Ball is a follow-on from Yamaguchi's Battlefield Baseball, an absurdly over-the-top film in which a regular high school baseball game ws turned into a combat sport. Dead Ball is not a sequel, just more of the same basic idea. Battlefield Baseball was made before the advent of the gonzo Japanese splatter film – see the likes of Tokyo Gore Police (2008), Vampire Girl vs Frankenstein Girl (2009), Mutant Girls Squad (2010) etc – indeed the genre essentially began with Yamaguchi's Meatball Machine. These feature over-the-top splatter, bizarre bio-mechanoid transformations and schoolgirls in panties. You suspect if Yamaguchi had made Battlefield Baseball a few years later it would have ended up something more like Dead Ball.
There was a Canadian author W.P. Kinsella who is probably best known for the book that became the film Field of Dreams (1989). Kinsella was obsessed with baseball and it regularly wrote fantastic baseball stories about vampire, werewolf, alien and angelic players, among other variations. Yudai Yamaguchi feels like a Japanese version of W.P. Kinsella – that is if maybe Kinsella has ever turned to making gore-drenched horror movies.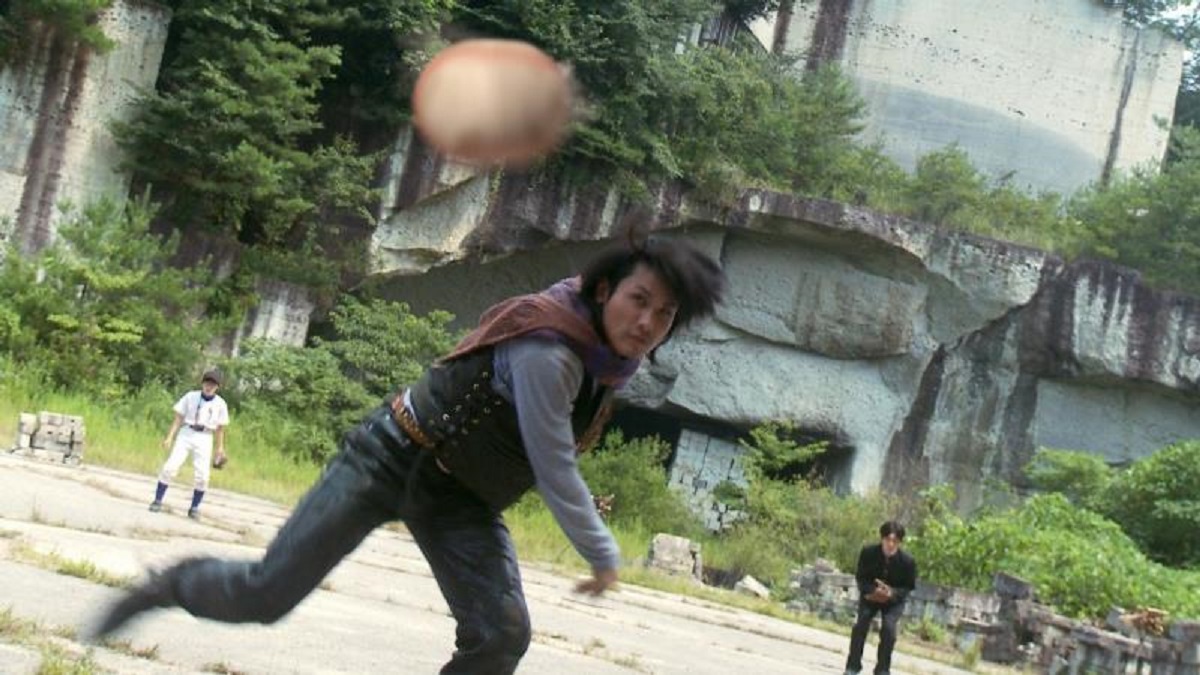 Dead Ball (that is the way it is spelt on the opening credits, although other reviewers write it as Deadball) feels exactly like a follow-on from Battlefield Baseball but where Yamaguchi has reconfigured the basics of Battlefield Baseball to conform to the gonzo Japanese splatter film. The setting has been transferred to a prison – although this is a ridiculously over-the-top prison that seems to have been modelled on Story of Ricky (1991) – and includes the absurdity of a Japanese woman warden with a fetish for outfitting her and her guards in Nazi regalia.
Dead Ball is soon filled with all the ridiculously over-the-top moves that are expected of a Japanese gonzo splatter film – heads being splattered by baseballs, the warden having multiple pens impaled in her face, and baseballs that defy the laws of physics, develop tentacles or turn into bolas to slice off players' facial features. There is the player called Ratman who gets trapped by a giant cheese-baited mousetrap on the baseball field, while there is another player called Abatar 8D in a dig at James Cameron's then recent Avatar (2009) who wears 3D glasses and is given an injection that turns his skin blue. We even get a climactic scene with a Nazi baseball-playing cyborg mecha.
While his ready adoption of the gonzo Japanese splatter film has allowed Yudai Yamaguchi to reinvent Battlefield Baseball in far more creative directions, he also makes a very random film. The reality is that for all the absurd splatter effects that Yamaguchi piles on, Dead Ball is just not a very good example of the gonzo Japanese splatter genre.
Also a negative point for me was that the film also gets a little free and easy with its homophobic slurs. The term 'faggot' is liberally slung around as an insult. We get jokes made about enforced anal cavity searches, while one of the bad guys is blown up accompanied by the lines "There are two people I hate – those who abuse political power and homos with bad taste."
---