---
Crew
Director – Emmanuel Osei-Kuffour, Jr., Teleplay – Stephen Herman & Emmanuel Osei-Kuffour, Jr., Story – Stephen Herman, Producer – John Brister, Photography – Hilda Mercado, Music – Brandon Roberts, Visual Effects – VFX Legion, Special Effects Supervisor – Mik Kastner, Production Design – Ryan Martin Dwyer. Production Company – Blumhouse Television.
Cast
Mamoudou Athie (Nolan Wright), Phylicia Rashad (Dr Lillian Brooks), Amanda Christine (Ava Wright), Tosin Morohunfola (Gary Wright), Charmaine Bingwa (Miranda Brooks), Donad Watkins (Thomas Brooks), Nyah Marie Johnson (Ashley Brooks), Han Soto (Dr Reed)
---
Plot
Nolan Wright is recovering from an accident that killed his wife and has affected his memory. He is struggling to remember ordinary things and is in danger of having his daughter Ava taken away for neglect after he forgets to turn up at school to pick her up. He is recommended to Dr Lillian Brooks for a radical treatment that may help him regain his memory. She places him inside Black Box, a Virtual Reality simulator. However, she is in fact seeking to use Black Box to bring her late son Donald back to life.
---
Black Box was one of a series of four tv movies released by Blumhouse (see below for their other films) on Amazon Prime under the label 'Welcome to Blumhouse'. The films were released two at a time, two weeks apart. The other films consist of the non-genre The Lie (2018), which was released along with Black Box, and Evil Eye (2020) and Nocturne (2020) that were released seven days later. Black Box represents a directorial debut for Emmanuel Osei-Kuffour, Jr.
There have been a number of films amnesia about before. See films like The Groundstar Conspiracy (1972), Mulholland Dr. (2001), Time Lapse (2001), The Bourne Identity (2002), Fractured (2013), Amnesiac (2014), The Maze Runner (2014) and Radius (2017), not to mention Christopher Nolan's ingenious Memento (2000). For more genre examples see Films About Amnesia.
Black Box is no different to these. We start with Mamoudou Athie slowly trying to piece his life back together in the aftermath of a memory loss. This is a tried and true plot and Black Box does nothing particularly different to any other works, although these scenes do have a fine performance from young Amanda Christine as Mamoudou's daughter. For a time, the film gives the impression that it is being a horror film with images of a contorted figure spider-walking around but this proves deceptive.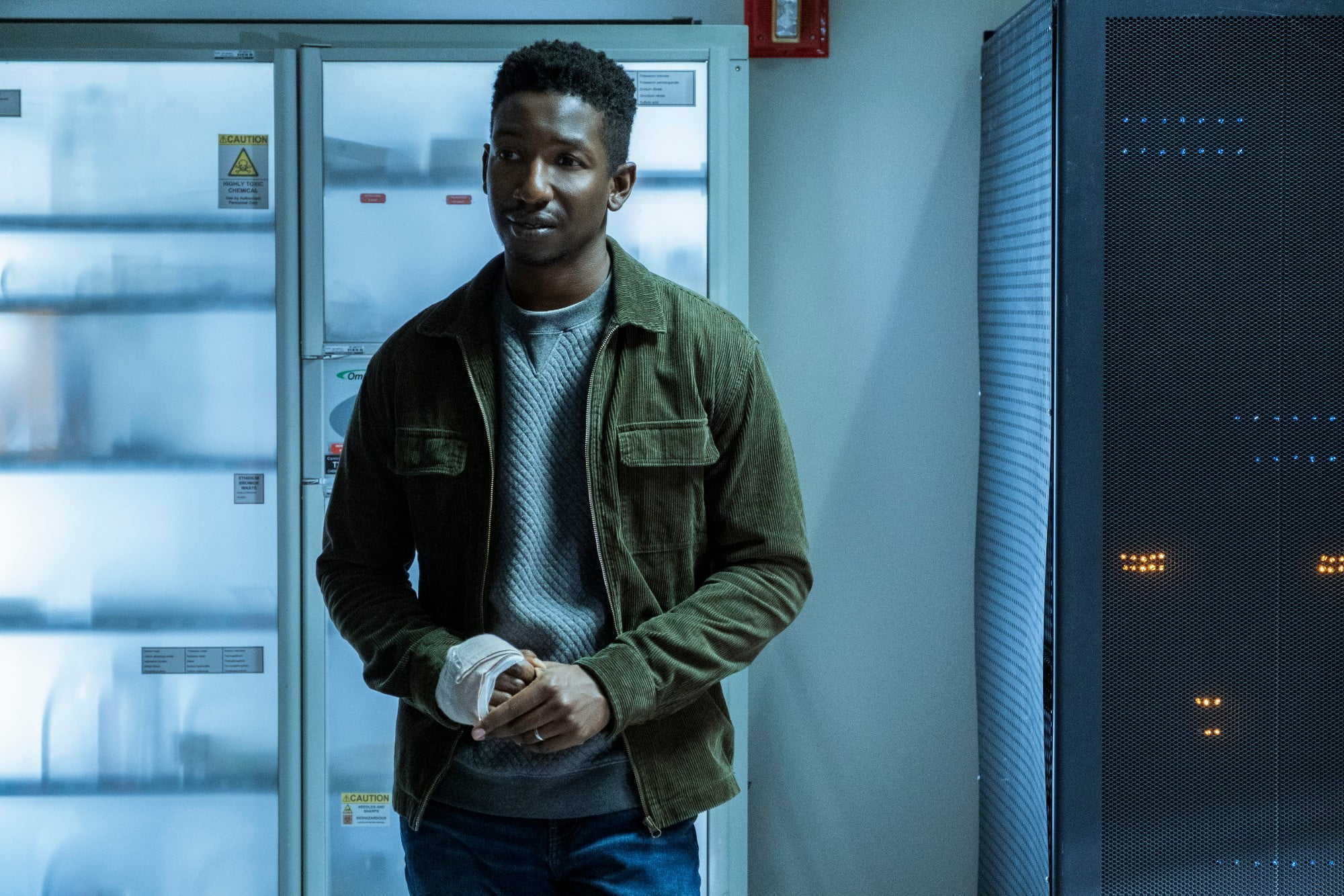 Mamoudou is then drawn in via a series of experiments conducted by Phylicia Rashad and the twist becomes that she has brought her dead son's personality back to life inside Mamoudou's body. The film then becomes about the son trying to reconnect with his wife Charmaine Bingwa while in another man's body. These sections end up being one of the better parts of the film, containing some well acted scenes with the two of them. (The only confusion is that they end with Mamoudou being hit over the head by her but we never get to find what happened subsequent to that, just jump to Mamoudou returning to Phylicia).
The main problem is the film's twist. The body theft/transference plot is a familiar one that ranges all the way from Black Friday (1940) and La Machine (1994) to Self/less (2015) and Criminal (2016) and the more recent likes of Lifechanger (2018) and Possessor (2020). Black Box does nothing different to any of these, except perhaps pitch the body theft plot as an initial amnesia plot and suggestion we are watching a horror show before trying to do a soft M. Night Shyamalan twist on us and reveal that something else is going on.
The main problem with Black Box is that once the principal twist is out of the bag the film progresses to a not particularly interesting conclusion. Indeed, with the stale, predictable happy wrap-up, it feels like an ending you can see coming a long way off. Not to mention one that seems to play down the realities of brain damage and neurological disorder where people don't make instant recoveries and can in many cases by affected for years after and never recover full functionality.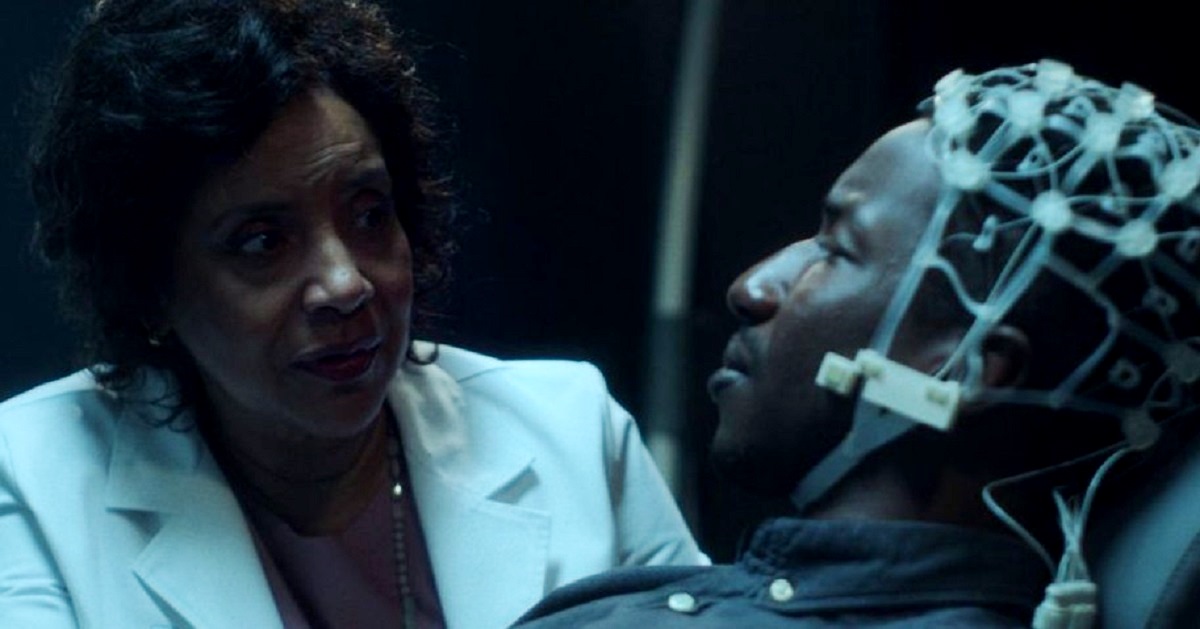 This pales alongside some of the film's other absurd notions – like the idea that an EEG can contain an entire person's memories and personality. For that matter, the film seems confused as to what Virtual Reality is – it has nothing to do with hypnotism nor neurological experiments. It is a reactive environment in much the same way as watching a film and playing a videogame is, not somewhere you can retreat into and create a safe space inside your own memory.
Jason Blum and his Blumhouse production company have produced a number of other genre films including:- Hamlet (2000), Paranormal Activity (2007) and sequels, Insidious (2010) and sequels, Tooth Fairy (2010), The Bay (2012), The Lords of Salem (2012), The River (tv series, 2012), Sinister (2012) and sequel, Dark Skies (2013), Oculus (2013), The Purge (2013) and sequels, the tv mini-series Ascension (2014), Creep (2014), Jessabelle (2014), Mercy (2014), Mockingbird (2014), Not Safe for Work (2014), Ouija (2014) and sequel, 13 Sins (2014), The Town That Dreaded Sundown (2014), Unfriended/Cybernatural (2014), Area 51 (2015), The Boy Next Door (2015), Curve (2015), The Gallows (2015), The Gift (2015), Jem and the Holograms (2015), The Lazarus Effect (2015), Martyrs (2015), Visions (2015), The Visit (2015), The Darkness (2016), Hush (2016), Incarnate (2016), The Veil (2016), Amityville: The Awakening (2017), Get Out (2017), Happy Death Day (2017), The Keeping Hours (2017), Split (2017), Stephanie (2017), Bloodline (2018), Cam (2018), Delirium (2018), Halloween (2018), Seven in Heaven (2018), Truth or Dare (2018), Upgrade (2018), Black Christmas (2019), Ma (2019), Prey (2019), Don't Let Go (2019), Sweetheart (2019), The Craft: Legacy (2020), Evil Eye (2020), Fantasy Island (2020), Freaky (2020), The Hunt (2020), The Invisible Man (2020), Nocturne (2020), You Should Have Left (2020), Black as Night (2021), The Black Phone (2021), Dashcam (2021), Madres (2021) and Firestarter (2022).
---