---
Crew
Director – Rob Savage, Screenplay – Gemma Hurley, Rob Savage & Jed Shepherd, Producer – Douglas Cox, Visual Effects Supervisor – Steve Bray, Pyrotechnic Effects – Mike Knights, Makeup Effects Designer – Dan Martin. Production Company – Shadowhouse Films/Boo Urns Limited
Cast
Haley Bishop (Haley), Jemma Moore (Jemma), Caroline Ward (Caroline), Radina Drandova (Radina), Emma Louise Webb (Emma), Edward Linard (Teddy), Seylan Baxter (Seylan), Alan Emrys (Alan)
---
Plot
During the Corona Virus lockdown, Haley gathers a group of friends, Jemma, Emma, Radina, Caroline and Teddy, to hold a séance on Zoom. Haley brings in the medium Seylan who guides them through the process. As the séance begins, Jemma appears to contact the spirit of Jimmy, a boy from high school. However, when Seylan goes to answer a call at the door, Jemma confides in the others that she made Jimmy up. Spooky things then start to happen. When they re-contact Seylan, she tells them that Jemma did a foolish thing, that calling up an imaginary person has allowed malevolent forces loose. The participants now come under supernatural attack.
---
Host had the distinction of being the first major film shot during the Corona Virus lockdown of 2020 and released in July of that year. Three months earlier, there had been Charles Band's Corona Zombies (2020) but that was largely comprised of recycled stock footage. Before that was Mostafa Keshvari's Corona (2020), which actually began shooting before the pandemic began but was not released until August of 2020. Host – not to be confused with Bong Joon-ho's The Host (2006) or the Stephenie Meyer-adapted The Host (2013) – comes from Rob Savage who had made a variety of short films since the late 2000s and one full-length film with the non-genre Strings (2012).
Savage recounts how he made a mock clip about a Zoom conference during which he investigates noises in his attic and is attacked by supernatural forces, using a clip taken from [Rec] (2007). This proved an unexpected viral success and Savage received a production deal with the Shudder network to expand the idea to a full-length film. Operating with a script that was largely improvised, Savage and his actors created the film remotely in their own homes in the midst of lockdown, each setting up their own lighting and doing their own makeup, even arranging their own effects scenes.
Host is essentially Unfriended (2014) updated for the era of the Covid lockdown. Unfriended was the idea of a Found Footage Film that took place across social media where the film screen was represented by a computer screen across which various pop-up windows appeared and the characters interacted. The only real difference is a slightly different supernatural menace – something unleashed during an internet séance – and the Skype messages are replaced by a Zoom call, which became the video messaging service de rigeur during the lockdown.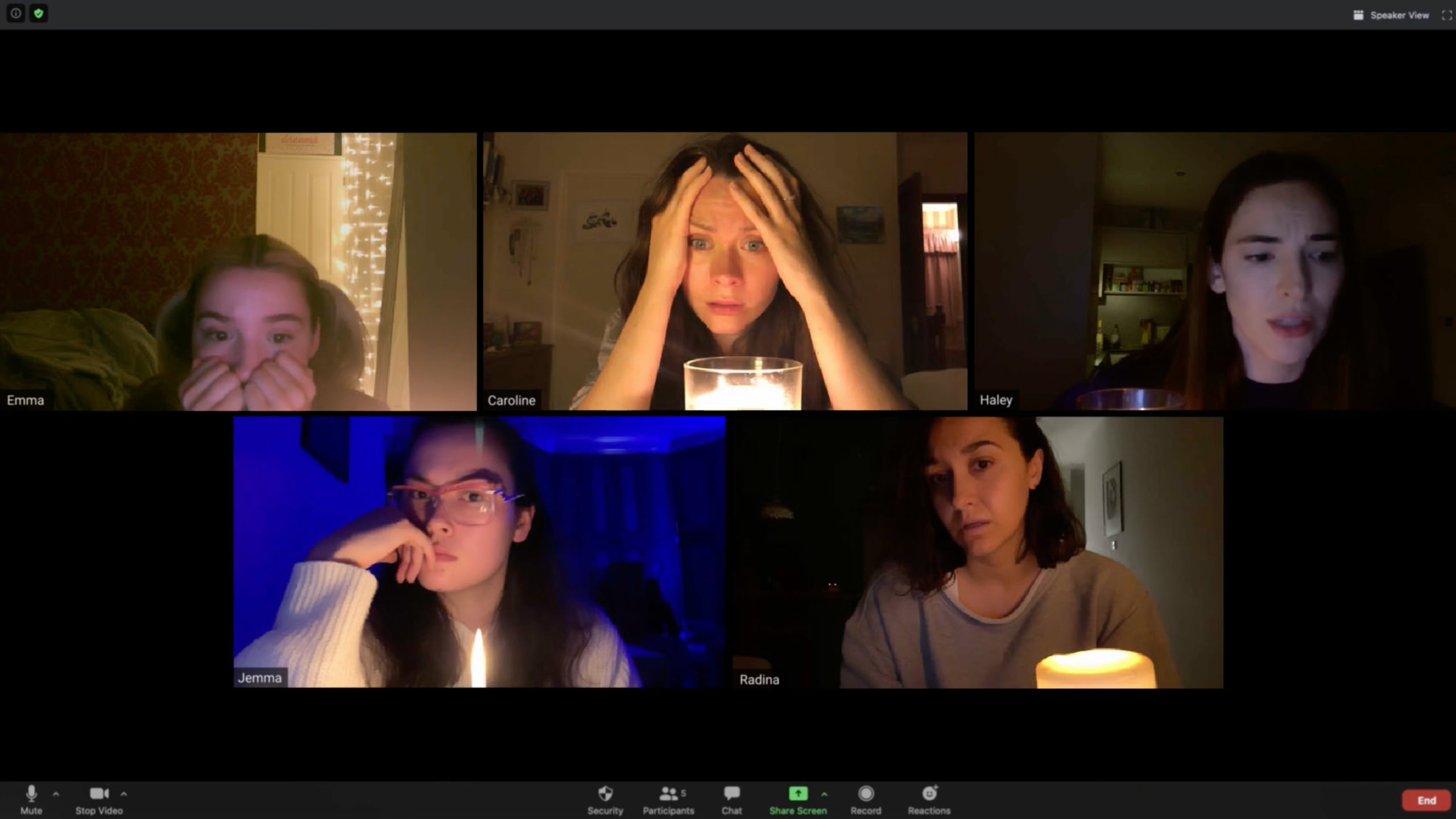 The film has a fairly simple premise but Rob Savage does an effective job of absorbing one into it. The film is even amusing enough to have the medium asking "Is there a knocking?" only to deflate it as she has to go and answer a knock at her door. Savage starts to jolt us with scenes where people's chairs are unexpectedly dragged across the floor, bulbs explode, video backgrounds take on a life of their own and bodies drop down from the roof. It is a solid range of jumps and the creation of a reasonably eerie atmosphere. The five principal female and and one male actors all do credible work with the best performance coming from Jemma Moore.
The film comes in at a non-commercial 58 minutes. The running time of the dvd version is padded out by a further ten minutes of footage where we see Savage and the cast undergoing a séance with an actual medium. Watching it you get a sense of deja vu. Here you can see that Savage and the crew have incorporated actual scenes and dialogue from their séance into the film – in particular, the lines about them imagining a rope and cutting it and the medium being interrupted by a knock at the door.
The film became a surprise success, clearly having something that appealed to people at home during lockdown. It gave a big boost to Rob Savage who netted a three-film deal with Blumhouse on the back of this. The first of these to emerge was the crazed Found Footage film Dashcam (2021).
---