---
Crew
Director – James Wan, Screenplay – Leigh Whannell, Producers – Jason Blum, Oren Peli & Steven Schneider, Photography – David M. Brewer & John R. Leonetti, Music – Joseph Bishara, Visual Effects – Spypost (Supervisors – Michael Janov & Darren Orr), Special Effects Supervisor – Bart Dion, Makeup Effects – Fractured FX, Inc., Production Design – Aaron Sims. Production Company – Alliance Films (UK) Ltd/Haunted Movies.
Cast
Patrick Wilson (Josh Lambert), Rose Byrne (Renai Lambert), Lin Shaye (Elise Rainier), Barbara Hershey (Lorraine Lambert), Leigh Whannell (Specs), Angus Sampson (Tucker), Ty Simpkins (Dalton Lambert), Andrew Astor (Foster Lambert)
---
Plot
School teacher Josh Lambert and his wife Renai move into a new house with their three young children. Not long after they move in, the oldest son Dalton falls off a ladder in the attic and goes into a coma. He is brought back from the hospital three months later still in the coma. Spooky things start to happen in the house – doors closing, apparitions, threatening figures seen over Dalton's bed. Even when they move to another house, the spooky occurrences continue. Josh is reluctantly forced to confront the reality of these and bring in medium Elise Rainier. She tells them that Dalton is an accomplished astral projectionist but has become lost on one of his out-of-the-body journeys. Various disembodied forces including a demon are seeking to find a way in to inhabit Dalton's body. It is up to Josh to rediscover his lost childhood abilities and venture out of his body to rescue Dalton.
---
Insidious was the fourth full-length film from James Wan. Wan and his co-writer/star Leigh Whannell had an enormous hit with his directorial debut Saw (2004), although had limited involvement with the increasingly more sadistic and extreme subsequent entries. The sequels are different from the original Saw, which is less a Torture Porn film than it is a work of torturous psychological suspense. James Wan next went onto make the evil puppets film Dead Silence (2007) and the revenge film Death Sentence (2007). While both of these met with more mixed response, they are fine films in their own right. Insidious was also the third occasion that James Wan has worked with a script from his good friend Leigh Whannell. (Whannell can be seen in Insidious playing the role of the bespectacled paranormal investigator).
Insidious is co-produced by Oren Peli, the Israeli-born director who made a big splash on the genre scene a couple of years earlier with Paranormal Activity (2007), a micro-budgeted Found Footage film that he shot in his own home, where Peli created a series of haunted happenings that transpired solely via cctv cameras. For a time, Insidious looks almost like it is attempting to be a Paranormal Activity 3 as it follows ghostly happenings taking place in the suburban home of a married couple. When the evil entity starts targeting the child of the family, you can draw a number of similarities to Paranormal Activity 2 (2010). All that seems missing is the relaying of the story via security and handheld cameras.
On a pure plot level, there is nothing particularly original to Insidious. Leigh Whannell's script is composed of largely generic elements that in a less accomplished director's hands would have emerged as routine. What you cannot deny is that James Wan manages to jangle the audience's nerves and even causes you to jump out of your seat on a number of occasions – scenes with Rose Byrne being spooked by sinister voices on the baby monitor; shapes inside the bedroom; the figure that attacks Rose Byrne in her dream; the kid running out of the periphery of the frame; the scene where Angus Sampson sees two dead girls in his 3D viewer. There is a genuine jump in the scene where Barbara Hershey starts recounting her dream and then suddenly sees the red-and-black faced demon standing behind Patrick Wilson. The seance scene that takes place with Lin Shaye encased in a gas mask contraption where everything is illuminated by sparking flash bulbs as the words relayed from Dalton become increasingly sinister seems completely out of this world.
While these scenes play out as an effective variant on a standard haunted house film, the last third of the show becomes less interesting. The script tosses up some interesting ideas about astral projection, about Dalton having become lost in a place called The Further while travelling and other disembodied souls and demonic forces seeking to occupy his body. However, when Patrick Wilson finally astrally projects himself to go and rescue his son, The Further looks like nothing more than the set for the house lit in dim shadows and where Wilson's grand venture into the afterlife consists of no more than going upstairs to rescue his son from where he is locked in a cupboard.
For the idea that is created here, the delivery seems decidedly underwhelming, almost as though the script conceived something much wilder but the budget ran out when it came to delivering it. You keep thinking that if Insidious had the budget, James Wan and co could have had to Patrick Wilson venturing into a realm akin to What Dreams May Come (1998) or Enter the Void (2009). The demon figure is disappointingly little more a cast-off copy of Darth Maul from Star Wars Episode I: The Phantom Menace (1999) and in fact proves to be a red herring where the real nemesis of the story turns out to be something introduced near the end. The film goes out on a twist ending that you can see coming.
Patrick Wilson has been a fine and worthwhile rising actor in the last few years – see him in works like Angels in America (2003), Hard Candy (2005), Watchmen (2009) – but Insidious casts he and Rose Byrne in roles that give them little to do. The scene-stealer of the film is Lin Shaye, usually cast as a comic old lady or someone wandering in her wits ever since There's Something About Mary (1998), who delivers the role of the medium with a smart and welcome intelligence.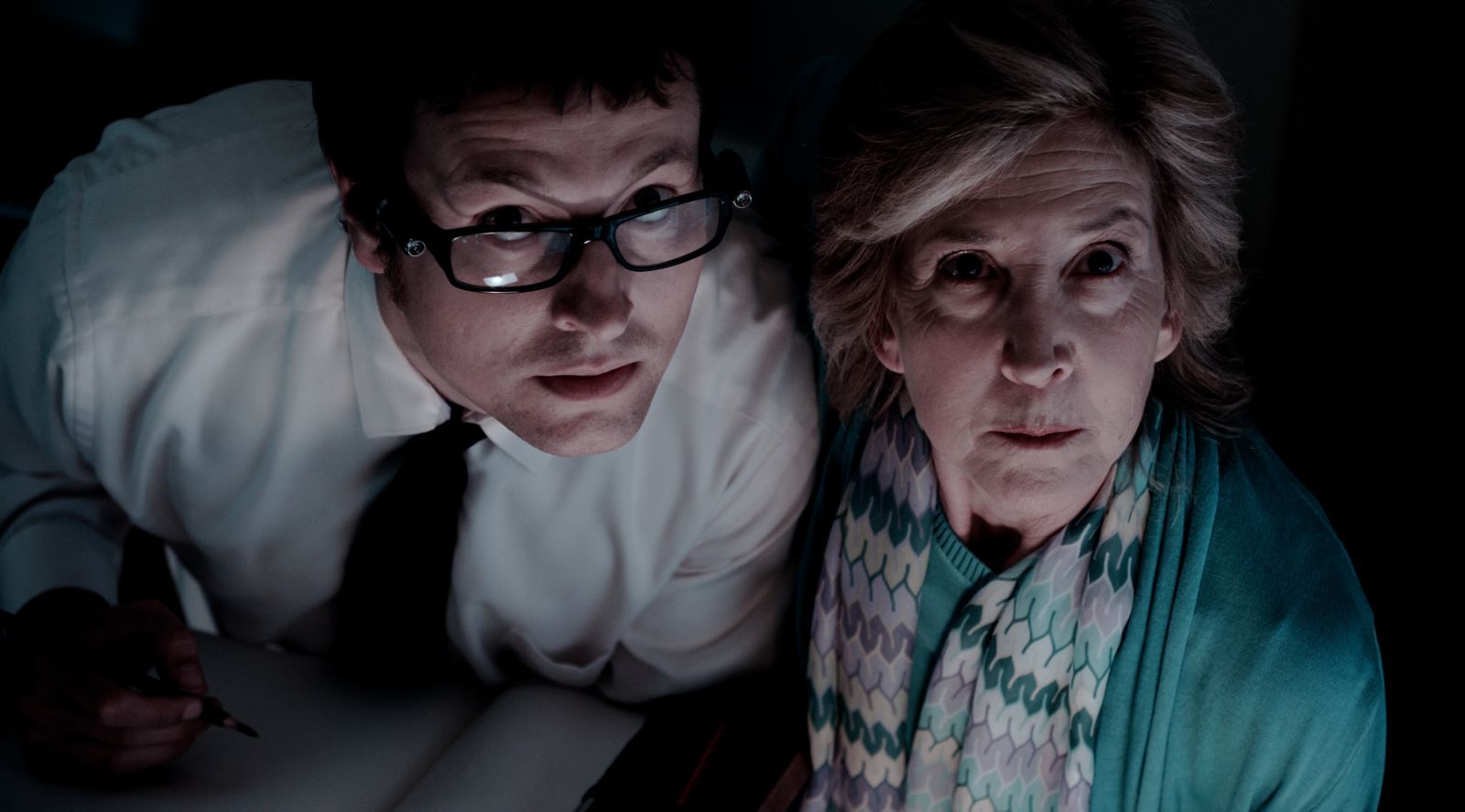 James Wan and the principal cast reunited for the also worthwhile Insidious Chapter 2 (2013), while Leigh Whannell took over as director/writer for Insidious Chapter 3 (2015) and this was followed by Insidious: The Last Key (2018). Insidious is parodied in Scary MoVie (2013) and A Haunted House 2 (2014).
James Wan along with Patrick Wilson next made the supposedly true-life haunting/possession film The Conjuring (2013) and its sequel The Conjuring 2 (2016), followed by Aquaman (2018) and Malignant (2021). Wan has also produced all of the Saw sequels, Annabelle (2014), Demonic (2015), Lights Out (2016), Annabelle: Creation (2017), The Nun (2018), Annabelle Comes Home (2019), The Curse of La Llorona (2019), the tv series Swamp Thing (2019), The Conjuring: The Devil Made Me Do It (2021), Mortal Kombat (2021) and the tv series Archive 81 (2022- ).
Jason Blum and his Blumhouse production company have produced a number of other genre films including:- Hamlet (2000), Paranormal Activity (2007) and sequels, Tooth Fairy (2010), The Bay (2012), The Lords of Salem (2012), The River (tv series, 2012), Sinister (2012) and sequel, Dark Skies (2013), Oculus (2013), The Purge (2013) and sequels, the tv mini-series Ascension (2014), Creep (2014), Jessabelle (2014), Mercy (2014), Mockingbird (2014), Not Safe for Work (2014), Ouija (2014) and sequel, 13 Sins (2014), The Town That Dreaded Sundown (2014), Unfriended/Cybernatural (2014), Area 51 (2015), The Boy Next Door (2015), Curve (2015), The Gallows (2015), The Gift (2015), Jem and the Holograms (2015), The Lazarus Effect (2015), Martyrs (2015), Visions (2015), The Visit (2015), The Darkness (2016), Hush (2016), Incarnate (2016), The Veil (2016), Viral (2016), Amityville: The Awakening (2017), Get Out (2017), Happy Death Day (2017), The Keeping Hours (2017), Split (2017), Stephanie (2017), Bloodline (2018), Cam (2018), Delirium (2018), Halloween (2018), Seven in Heaven (2018), Truth or Dare (2018), Upgrade (2018), Black Christmas (2019), Ma (2019), Prey (2019), Don't Let Go (2019), Sweetheart (2019), Black Box (2020), The Craft: Legacy (2020), Evil Eye (2020), Fantasy Island (2020), Freaky (2020), The Hunt (2020), The Invisible Man (2020), Nocturne (2020), You Should Have Left (2020), Black as Night (2021), The Black Phone (2021), Dashcam (2021), Madres (2021) and Firestarter (2022).
(Nominee for Best Supporting Actress (Lin Shaye) at this site's Best of 2010 Awards).
---
---